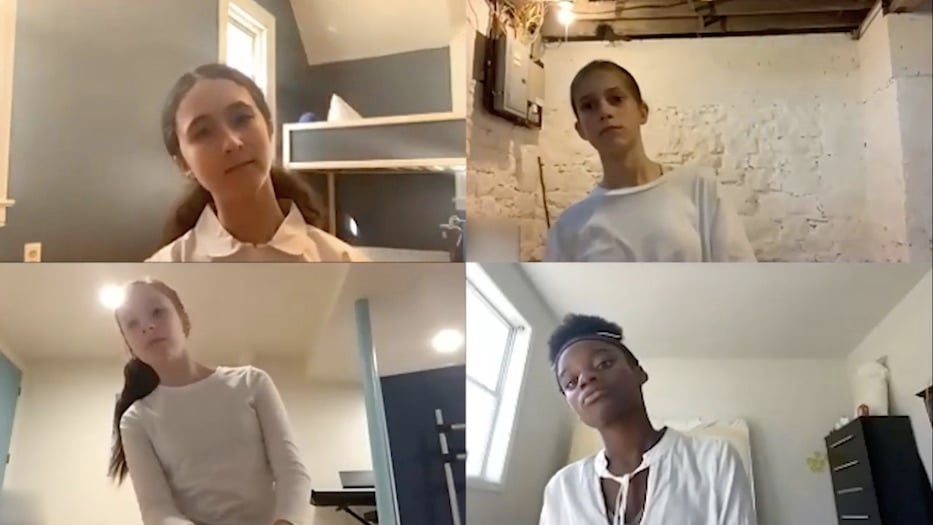 Dance | Arts & Culture | Yale University | COVID-19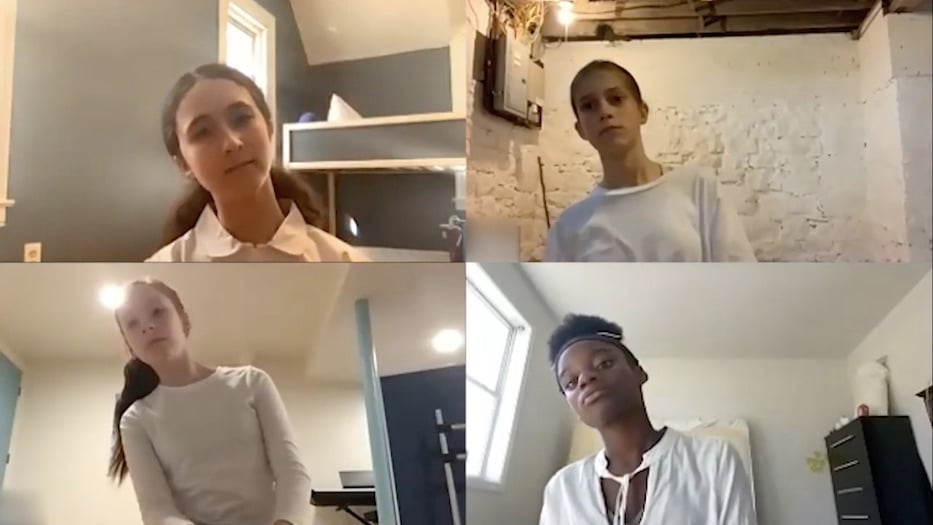 NMS students Alana Rose, Clara Causa, Naomi Gitelman, and Zara Baden-Eversman in Renee Robinson's work for Transpositions: Dance Poems For An Online World. Screenshot from YouTube.
A countdown blasts over the video frame, willing a dance into existence. Four faces appear, moving in time with Ciara's "Level Up." Heads whip in one direction, then travel upwards and scan the ceiling. Ciara belts, and chins point at the ground. A verse starts, and viewers see a single dancer at one time.
The dancers are part of Transpositions: Dance Poems for an Online World, a new collaboration among the Yale Dance Lab, Yale Schwarzman Center (YSC), and 16 choreographers working across the globe. From February 15 through through May 10, a new video in the series will appear each week. The project is spearheaded by Emily Coates, associate professor and director of dance in the Theater and Performance Studies Program at Yale.
"It came out of the cataclysmic change in our lives last year," Coates said in a recent phone call. "I had a couple of goals. I wanted to direct as many resources at Yale to the dancers I know and love. I also wanted to create a way to bring the students together, to feel like they were in community and in collaboration. And it led to this kind of sprawling design."
As Coates built the project, she reached out to choreographers both in and outside of the university, with the hope of making it a project that could knit together both town and gown and the international dance community. She contacted dancers on and off campus, including 12 of Yale's dance groups and the Premier Dance Company at NMS.
Then she sketched out the program, which entailed two, two-hour sessions over Zoom between choreographers and dancers. In addition to Coates, choreographers include Aimee Meredith Cox, Aki Sasamoto, Brian Seibert, Bronwen MacArthur, Cécile Feza Bushidi, Christopher Rasheem-McMillan, Gregory Maqoma, Hanan Hameen, Iréne Hultman, Jenna Riegel, Shayla-Vie Jenkins, Jennifer Harrison Newman, Kellie Ann Lynch, Lindsey Bauer, Lacina Coulibaly, and Renee Robinson. All come to movement from different backgrounds.
Beyond dance, Coates' collaborators included Yale School of Drama students Natalie King and Jacob Santos and video artist Kyla Arsadjaja, who graduated with her MFA from the Yale School of Art last year. She said she settled on the project's title because she sees dance as an extensive corporeal language, and choreographers as its poets and storytellers.
"When I created the Yale Dance Lab, one of the goals was to let people know how complicated and rich dance can be, choreographed designs can be," Coates said. "When you really consider any dance movement, these come out of aesthetic lineages, cultural geographies, histories, and there's a lot of information packed into every single movement."
The result has looked different for every dancer. In Robinson's work, which premiered March 8, NMS dancers Alana Rose, Clara Causa, Naomi Gitelman, and Zara Baden-Eversman fill the frame, their faces split into quadrants as if they are on a Zoom call. As the beat drops on Ciara's "Level Up," they begin to move, mirroring each other carefully. Their movements are precise, almost robotic.
The video switches to a single dancer, comes back together, and then lets the boxes multiply. Set to a soundtrack that came out when people could still dance together without abandon, it feels like a meditation on the replicated rhythm of Zoom itself. The young dancers communicate a world turned upside down, in which they are simultaneously living in three dimensions and flat one-inch boxes. Their ability to keep moving through it is a small, meaningful an act of resistance.
Some of the videos probe adapted processes and the fickle, malleable nature of time in a global pandemic. Others go back to early education, when young people are just becoming aware of their bodies. In a collaboration with Maqoma, Yale students Joan Agoh, Mari Chiles, Zafirat Ndacky, and Sebastian Quaade both sing and interpret movements to "Bana ba Sekolo," a Sesotho sing-song nursery rhyme calling children to school.
As students sing, time and space collapse in on each other. They are very much in 2021—Zoom leaves no question about that—but also, it seems, communing and sharing information with their younger selves. They lift and lower their limbs desperately, as if to break free of Zoom's virtual confines. They integrate elements of traditional African dance and wordlessly bring in a conversation around natural hair. There is music and silence, stillness and fluid movement. They look closely at the camera, in what Ndacky later called "invading someone's personal space through a screen" in a talkback.
"We're all trapped in our own boxes, but we're using the screen to like, invade yours," she said. "And to invite you into our space."
Many of the choreographers found that Transpositions gave them unexpected time and space to experiment. Sasamoto, for instance, worked with three sculpture artists, all of whom are undergraduates at Yale who are also interested in dance. From a residency in Saché, France, she connected with the students to create a work that both reflected and bore witness to their respective lived experiences. After 12 months of experiencing work away from her students, she said the exercise pushed her to rethink both the moment and the platform.
"I think output is so scarce right now, so just feeling like somebody is seeing you with the same intent, someone who is looking for composition, is very good for creators right now," she said. "In my section, I wanted to make each participant an audience to each other. Rather than just looking at a screen, I wanted to figure out how to use this platform to figure out how to be a choreographer, dancer, and audience at the same time."
Hameen, a New Havener who is currently living in Senegal, worked with a group of tap dancers affiliated with the university. During the first two-hour period, she and dancers spoke about what they wanted from the project, including emotional phrases that they could transcribe into movement. Hameen dove into the history of tap, going to its roots in African dance and the way it became an art form with Black Americans at its core. She pumped Afrobeats and talked through the multiplicity of a diaspora.
"I like to do a collaborative approach," she said. "I like for the dancers to be involved. And this was totally unfamiliar to the dancers I was working with. That set a beautiful entry point to find ways to connect. "
After talking to dancers about what they wanted to express, the group got to work. Hameen gave dancers a warmup, and "then it just flowed." In a recent Zoom call, she said that she does not want to give too much of the project away because the video has not yet premiered.
She added that for her, the exchange of movement—which she has often called a universal language—was only part of the equation. She was equally interested in the exchange of ideas among the dancers and herself. She recalled their surprise when she told them she lived just blocks away from Yale when she was in New Haven, tearing down a mental wall between town and gown. She found herself feeling grateful for the possibilities of Zoom.
"How can we connect and how can we utilize this space what we have?" she said. "While we're kind of confined, we can also reach anything and anyone we want to. I wanted them to really grab that and take this in. Even though this is all going on, there's blessings here. There's opportunities here. Even though this is happening, you still can find ways to live, to keep going, to grow."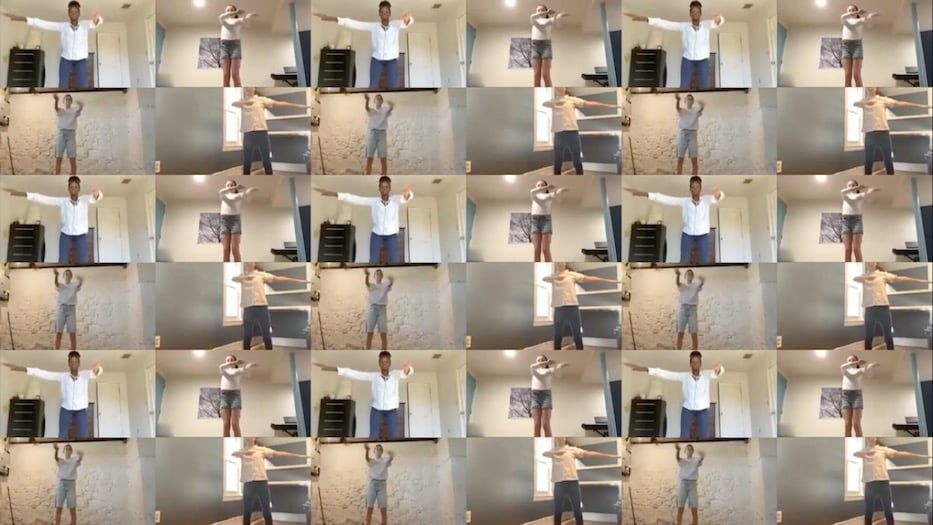 That kind of artistic cross-talk was fundamental to Transpositions, said Coates. Even before the pandemic, she saw arts institutions putting an emphasis on finished, often marketable products over the process. Like visual artists, theater makers, and musicians, dancers often don't have the financial and institutional support to experiment. Ensconced in the Yale Dance Lab—which is attached to a university with a $31.11 billion endowment—Coates doesn't was able to break free from that mold.
"We lose sight of process for an emphasis on product," she said. "In leading the dance curriculum here at Yale, we can fight that emphasis on product over product. with Transpositions, I was mainly thinking, this is for us. This is for everyone involved. I didn't put pressure on what we should share. The impulse and the emphasis was on a human exchange. That experience is really the work of art."
She added that she is also excited for future projects at the YSC, which has declared an interest in more directly supporting New Haven artists. It comes at a time when the city has proposed cutting a senior center, public library, and fire station if Yale does not raise its annual voluntary contribution to New Haven.
Transpositions: Dance Poems for an Online World runs from Feb. 15 through May 10. A new video drops every Monday. View them here.