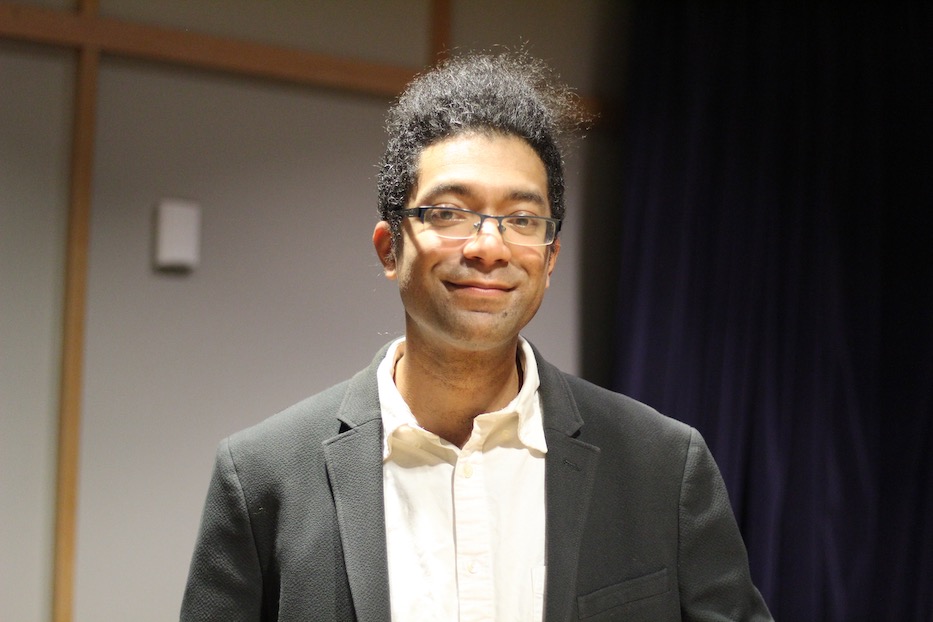 Culture & Community | Music | opera | Arts & Culture | Neighborhood Music School | Arts & Anti-racism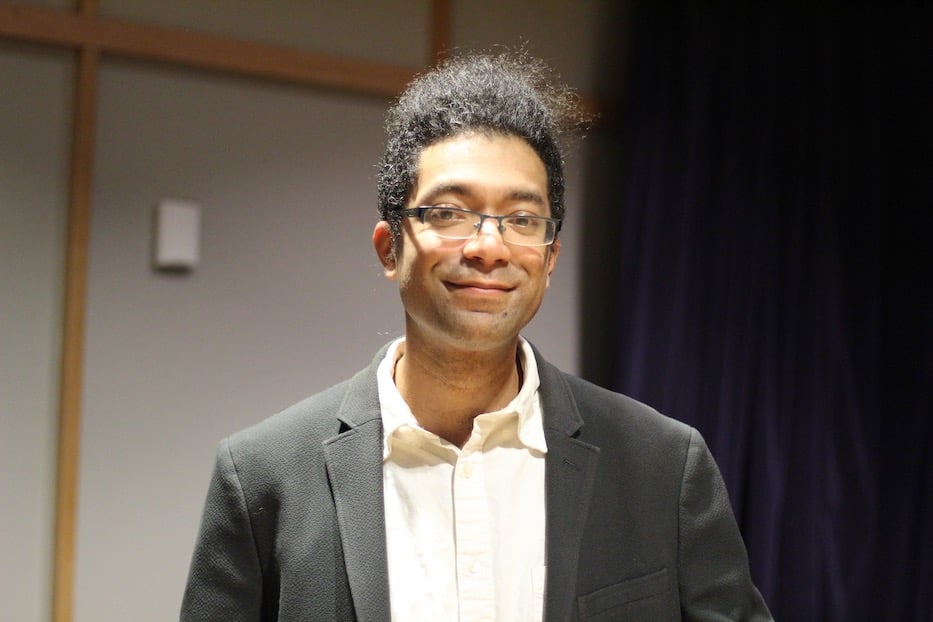 Adam Matlock. Lucy Gellman Photo.
The four voices rose one on top of the other, richly layered as they wove a story of a city upturned. One moment, and the audience was still in the clean box of an elevator, along for a ride they didn't yet know the story of. Another, and they were in front of Tulsa's towering courthouse, suspended in a thick web of sound. If a listener closed their eyes, they could see it all unfolding: the moment a gathering became a mob, the shot that pierced the air, the way a single untruth spiraled into devastation.
A voice quivered and climbed. "It was the way things have always been. The way things still are."
The voices belong to What Riot?, an opera based on the 1921 Greenwood Massacre from musician, educator and environmentalist Adam Matlock, with a libretto by writer and New Haven Independent Arts Editor Brian Slattery. On a recent Friday, Matlock premiered the first act for an audience at the Neighborhood Music School (NMS) on Audubon Street, where he is also a teacher. Close to 20 people attended, including Clark and several of the Bitsie Fund committee members.
The work is supported by a $5,000 grant from the Bitsie Clark Fund for Artists, of which Matlock was a 2019 awardee. A recording of the first act features vocalists Sarah Golley, Anne Rhodes, Jermaine P. Woodward and Matlock himself; Matlock and Slattery are currently working on the second act.
"This sets the stage for the story. This is going to be the info dump," Matlock said of the first act before pressing a play button on his computer that filled the space instantly with sound. "This is still an unfolding story in some sorts of ways."
It's a labor of love—sometimes painfully so—that has been churning in Matlock's mind for the better part of a decade. In 2012, Matlock saw a Tumblr post on the 1921 massacre that piqued his interest. Like many of his contemporaries, he didn't know details—this singular event that catalyzed the destruction of Tulsa's "Black Wall Street"—and started reading about it wherever he could. Wikipedia entries led to articles, which led to books at the library.
As he read, he combed through a story that seemed eerily familiar. In 1921, a 19-year-old Black man named Dick Rowland used the elevator in Tulsa's Drexel Building, on the way to the bathrooms on the top floor. Sometime between his trip down and exit from the building, something happened—a trip, perhaps, or a misplaced footstep—and he left running.
Soon, rumors were circulating that he had assaulted or attacked the elevator's operator, a 17-year-old white woman named Sarah Page (he had not). By the following day, police had arrested him.
By Matlock's account, which is drawn from the historical record, there was supposed to be an investigation; police intended to keep the arrest quiet. And then the Tulsa Tribune, which thrived into the early 1990s, ran the story. White people, not entertaining the possibility of Rowland's innocence, lost their minds. Tulsa, flowing with oil money, began to hiss and boil. Or as Golley says in the recording, "That's just it. The town went boom."
When Matlock first read the history, the words stayed with him. For one, it felt horrific and also prescient, as though not that much had changed between 1921 and 2012. Even the terminology seemed wrong to him: "it was still being called a riot" instead of a massacre, he recalled at NMS. At the same time, he was struck by the sheer drama of the event, in which he could feel the contours of an opera brewing. Friday, he added that he sees adding images, projections, and movement as stage dressing, along with live actors who have non-speaking or minimal speaking roles. He's already mapped out some of that future hoped-for production.
But for an "info dump," it is not overly didactic (Matlock has included program notes with the full libretto, for those who struggle to parse the words in real time). In the specter of Greenwood is the reminder of so many broken systems, and how they contribute to the continued disenfranchisement of Black people in this country today. In it, one can see the ease with which white people fall into a fog of disbelief, and the media's complicity in locking up and ending the lives of Black people. One can see the way violent untruths lead to death, destruction, and historical omission.
And one can see how little seems to have changed in the century since the massacre.
In the four voices present, the audience also gets a breadth of opinion—the contrarian, the person who believes the history of the massacre with equal outrage and conviction, the person who turns to the evidence, the person who has heard and listened to the rumors. While writing the music that flows under, around and through them, Matlock said that he was inspired by composers Anthony Braxton, Anthony Davis, and several jazz musicians and improvisers.
A listener can hear that from the first moments of the show, infused by jazz, bebop, funk, instrumental improvisation and the classical conventions of opera itself. Over quivering notes, voices begin to cut into each other, one after the other. Each has something to say (in song), and Matlock knows when to mine a scene for its eerie quietude, when to shake an audience aurally into being. His most interesting passages are loud and at times discordant, mirroring the voices that can't reconcile this history. Throughout, drums build a driving rhythm, propelling the work forward.
Together, music and libretto form a moving narrative, reminding the audience how present the story still is. Take the second scene of the first act, for instance. Voice One (Matlock) and Voice Three (Woodward) quarrel over the legitimacy of anything Page may have said, and the value of a police investigation. Voices four and two buttress them on either side with context. As the voices weave around each other, a listener can close their eyes and see the back and forth unspool in front of them:
Voice Four (Golley): And I'll tell you what I heard. That they didn't know each other before that day. And he stepped on her foot by accident. She almost fell over. Dick Rowland grabbed her arm to catch her, and she screamed.

Voice One (Matlock): Then why did he run?

Voice Three (Woodward): It was America, in 1921, and Dick Rowland was a young black man. Why do you think he ran?

Voice Two (Rhodes): But he ran. And the police got involved. They arrested Dick Rowland on Tuesday.
Matlock and Slattery have captured a rhetorical tug-of-war that sits at the heart of the massacre, and also at the heart of increasingly polarized viewpoints today (there are a lot of masterful moments like this, including the tension around the word "riot" itself). It conjures much more recent memories—of Paul Witherspoon and Stephanie Washington and the triple police occupation of New Haven, of Chicago police shooting 16 bullets into Laquan McDonald's teenage body; of neighbors calling the cops on nine-year-old Bobbi Wilson for spraying spotted lanternflies in her quiet New Jersey neighborhood.
Or as Matlock said crisply during the talkback, "This is not an isolated incident."
But they also fill the act with vital history, telling the story of Greenwood in a way that feels both intimate and relatable. "We didn't need to go anywhere else. We had a school and a hospital, groceries and pharmacies. Newspapers," sings Voice Four (Golley), and a listener pans to Detroit's Black Bottom and Georgia's Oscarville and even New Haven's Dixwell Avenue. They may find themselves asking: What happened? And why?
In this sense Matlock has given New Haven a gift, adding something completely new—and wonderfully accessible—to the discourse around this history, and the need to make right a persistent and incomplete dominant narrative. The closest New Haven analogue may be a.k. payne's Ain't No Dead Thing, a work about the massacre that premiered online at the Yale Cabaret in 2020, but even that comparison feels forced. payne exists on a plane that is lyrical and at times otherworldly; Matlock and Slattery are interested in the intersection of art and archive.
It leaves a listener excited for act two, on which the two are currently working.
"A Herculean Task"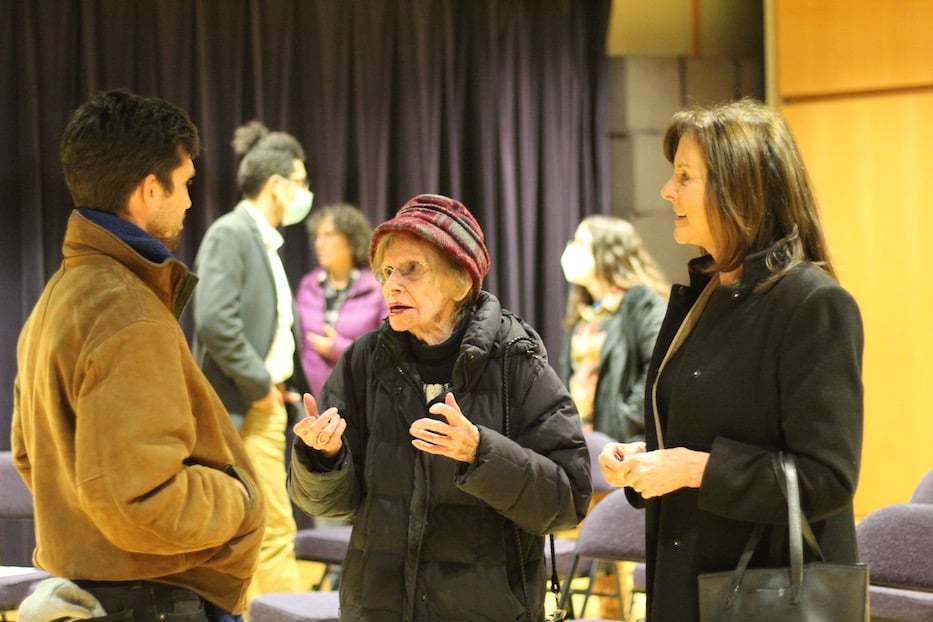 New Haven Independent Editor Tom Breen, Bitsie Clark, and Mimsie Coleman.
In a talkback after the recent listening session, several attendees said they had been moved by the work, and had learned more in 30 minutes than they had in years of civics classes. While more people are learning about Tulsa every day—thanks in part to popular works like HBO's Watchmen, and in part to the current moment—Matlock noted that the massacre is still not part of mainstream American history.
"When you see how this thing expanded from this sort of misunderstanding in an elevator," it takes on a life larger than itself, said Matlock. He added that he is already thinking about staging, using techniques like projection and movement to convey a massive explosion.
In the front row, Clark and members of the Bitsie Fund's selection committee hung on to every word. Robin Golden, who sits on the selection committee, said that she had never heard how the massacre started. The opera had opened her eyes. Next to her, Mimsie Coleman praised it as "a herculean task."
Some pressed on that idea of an expanded version. Playwright, poet and educator Steve Driffin, who was a 2021 Bitsie Fund recipient and has seen his work come to fruition, asked Matlock about the casting. It's something he sat with himself earlier this year, when bringing Death By 1,000 Cuts: A Requiem for Black and Brown Men to multiple theaters in New Haven and later New York.
Matlock nodded, letting the question seep into the music that still hung low in the air. He sees Voice One as a white man, "a sort of gadfly" who pushes back skeptically on everything he hears about the riot. Voice Two will be "a Black woman who has probably known about this" for most of her life. Voice three is a Black man "who has not heard all the details" and Voice four is a "well-intentioned white lady," Matlock said.
Others hung onto the history. Educator and cycling activist Mike Twitty said that the work had moved him in its ability to show state-sanctioned violence and generational trauma through art.
Anthropologist Amity Doolittle, who is a board member at NMS and senior lecturer at the Yale School for the Environment, noted how easily white people disbelieve the racism baked into American history, because it seems too horrendous to be true.
She said that the opera reminded her of research that she and students did in New Orleans following Hurricane Katrina in 2005. While they were doing interviews, people kept telling her that city government had bombed the levees to save parts of the city.
She refused to believe it until she looked into the history, and learned that the levees were bombed—not in 2005, but in 1927. In an act to save the heavily touristed, largely white French Quarter, Black neighborhoods flooded. Hundreds of people died as water gushed into their neighborhoods. What had once sounded to Doolittle like a conspiracy theory was rooted in deep and unresolved historical trauma.
Noah Bloom, the executive director of NMS, asked Matlock about the process of writing itself, and how he moved through it. While the work has been taking shape for the past four or five years, Matlock said that the bulk of writing took place in the summer of 2020, against a backdrop of protests decrying police violence and he state-sanctioned murders of George Floyd, Breonna Taylor, and Ahmaud Arbery.
He got through it by watching footage of protests—maybe not the best for his mental health, he said—and "taking long breaks." In an interview after the show, he acknowledged that the work is not uncomplicated: white consumers and arts leaders will pay for Black trauma much faster than they will pay for Black joy. His belief in the story is part of what keeps him going.
"I think generally, like, I have never really bought into the American dream ideal," he said. "I don't feel like it [this work] has changed my opinion."