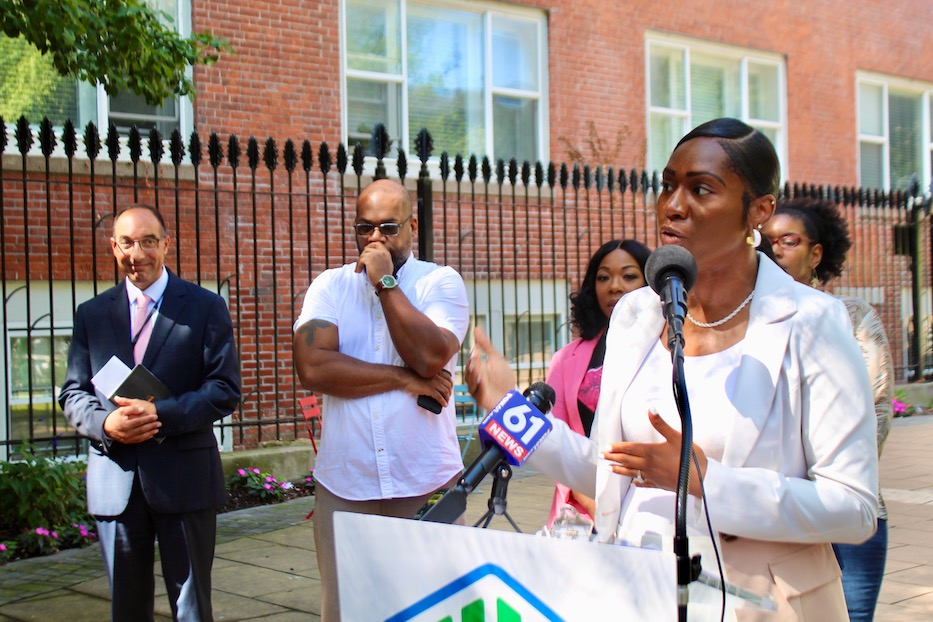 Black-owned businesses | Culture & Community | Downtown | Arts & Culture | Elicker Administration | Arts & Anti-racism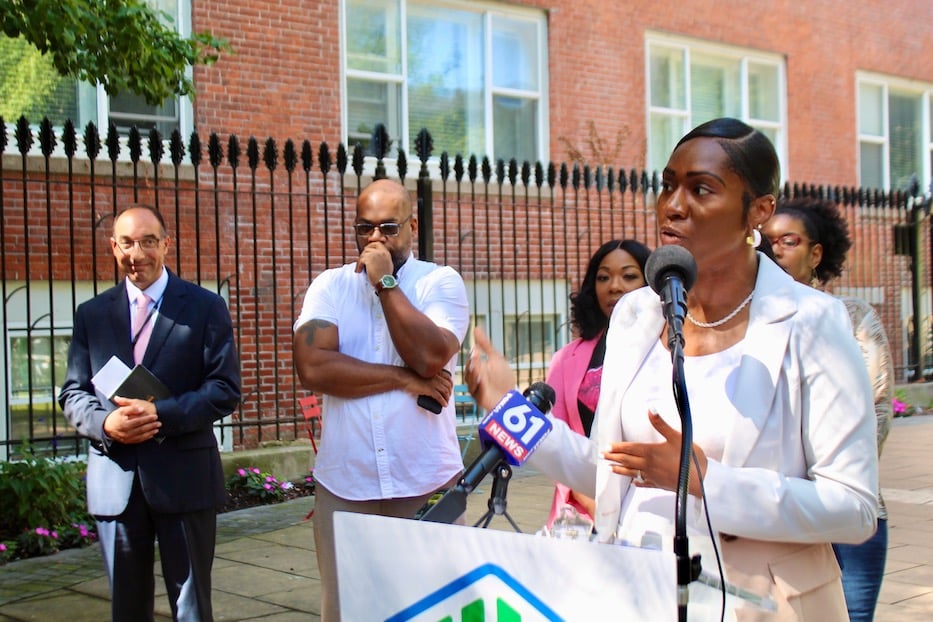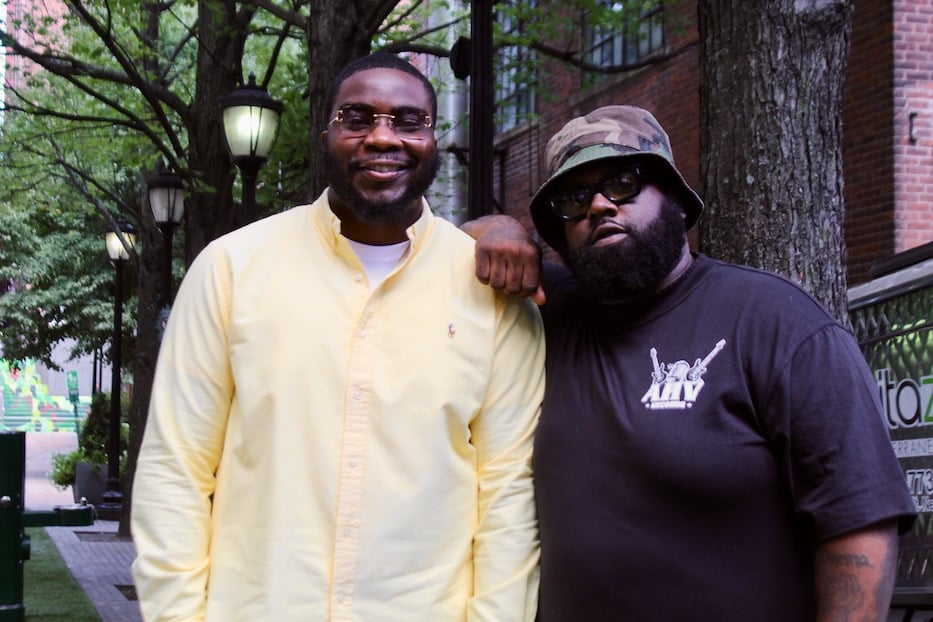 Top: City Cultural Affairs Director Adriane Jefferson. Bottom: Aaron Rogers and Rashad Johnson. Lucy Gellman Photos.
Arden Santana runs an educational hub that folds in arts and history of the African Diaspora. Athena Murphy has a lip gloss brand that builds generational wealth one cruelty-free tube at a time. Ricky Alan Draughn knows how to slip from a slow groove into a heart-pumping rhythm. And at the center of it all, producers Aaron Rodgers and Rashad Johnson just want to give back to the city that raised them.
Those are just some of the minds behind New Haven's upcoming Black Wall Street Festival, organized by The Breed Entertainment and the City of New Haven for Saturday afternoon in downtown New Haven. Wednesday morning, vendors, city officials, and several Black artists, educators and business owners announced the event at Temple Plaza, where it is scheduled to run from 12 to 6 p.m. The address is 160 Temple St.
"I can't tell you enough how much this means to our community," said city Cultural Affairs Director Adriane Jefferson. "So many of our residents who feel like they have been unseen, unheard, who feel like they haven't had a platform to thrive for a very long time are now going to be able to show their talent, their skills, and be able to build back economic wealth."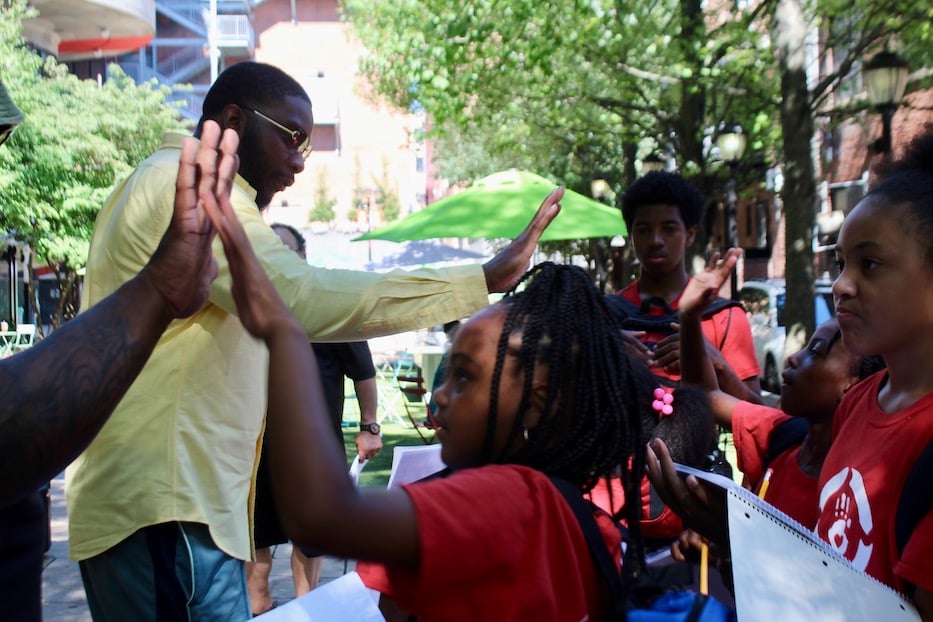 Johnson and Rogers with kids from Harris & Tucker School. Johnson, now 31, is an alum of the program.
Co-founders of The Breed, Rogers and Johnson birthed the idea for the festival several months ago, and have worked with the city's Department of Arts, Culture & Tourism to make it a reality. Saturday, attendees can expect over 25 Black business owners, from visual artists, authors and musicians to small-batch soap, makeup, and skincare product companies. Throughout the day, musicians including FUNkSHUN, Ricky Alan Draughn and DJ Eazy will lay down the event's soundtrack.
Both Rogers and Johnson said the event is something they have dreamed about for years. Both grew up in New Haven—Rogers in the city's West Hills neighborhood and Johnson in the Hill. Both fell in love with music through their church families, Rogers at Varick Memorial AME Zion, and Johnson at Holy Ghost Deliverance Two on Mead Street. As they grew up, both saw that "there was really a lack of resources for Black businesses," Rogers said.
In 2009, they launched The Breed Entertainment, which now includes an educational arm called The Breed Academy, as a way to give back to the city that raised them. They also made a deliberate choice to stay in New Haven, instead of moving to a larger music mecca like Los Angeles. In the past four months, the two have organized events supporting over 100 artists; this will mark the season's culmination.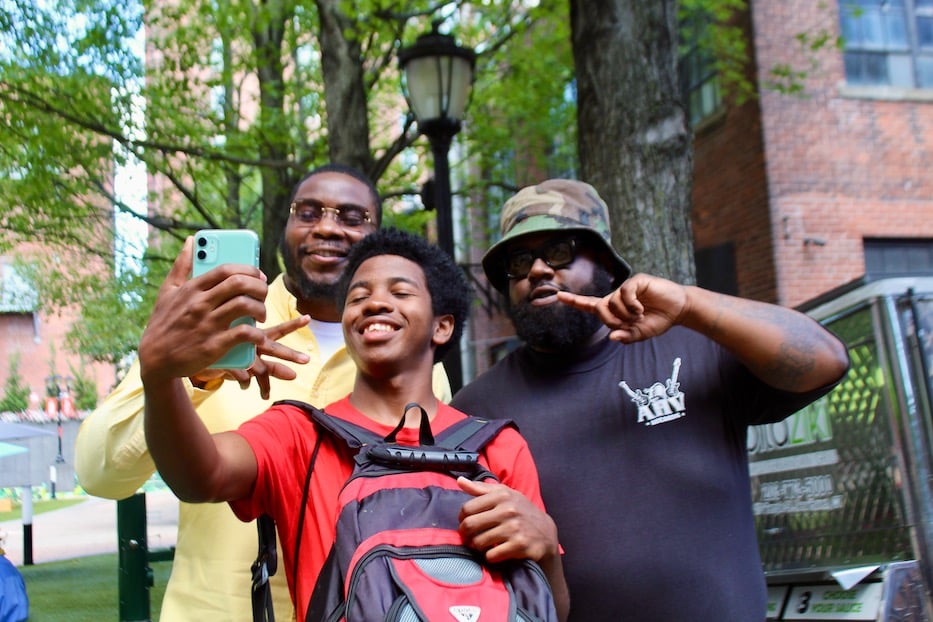 Aaron Rogers and Rashad Johnson with rising Chrystophe Obiang-Ze, a rising senior at Cooperative Arts & Humanities High School and a counselor at Harris & Tucker. Lucy Gellman Photos.
"The Black Wall Street Festival is really really big not only for our community, not only for the businesses, but for the children," Rogers said, and on cue attendees clapped for students from Harris & Tucker School who listened intently and scribbled down notes in their red t-shirts. "The children need to see Black businesses thrive. They need to understand that it's possible for them too."
Wednesday, speakers focused on the significance of bringing such a festival into the heart of New Haven. Introducing the event, Jefferson took a moment to educate attendees on the history of Black Wall Streets across the country, all of which were systematically, often violently destroyed by white people who saw these prosperous Black neighborhoods as economic competition and a threat to whiteness itself.
While the most well-known example may be Tulsa, Oklahoma, which a white mob burned and bombed to the ground in 1921, Jefferson pointed to the town of Oscarville, Georgia, a model for Black economic prosperity that now sits submerged beneath a man-made lake. Dozens of such examples exist across the country, she added, including in Virginia, North Carolina, Alabama and Oklahoma. One of those, the town of Boley, Okl., is now the subject of a children's book by Connecticut Poet Laureate Marilyn Nelson.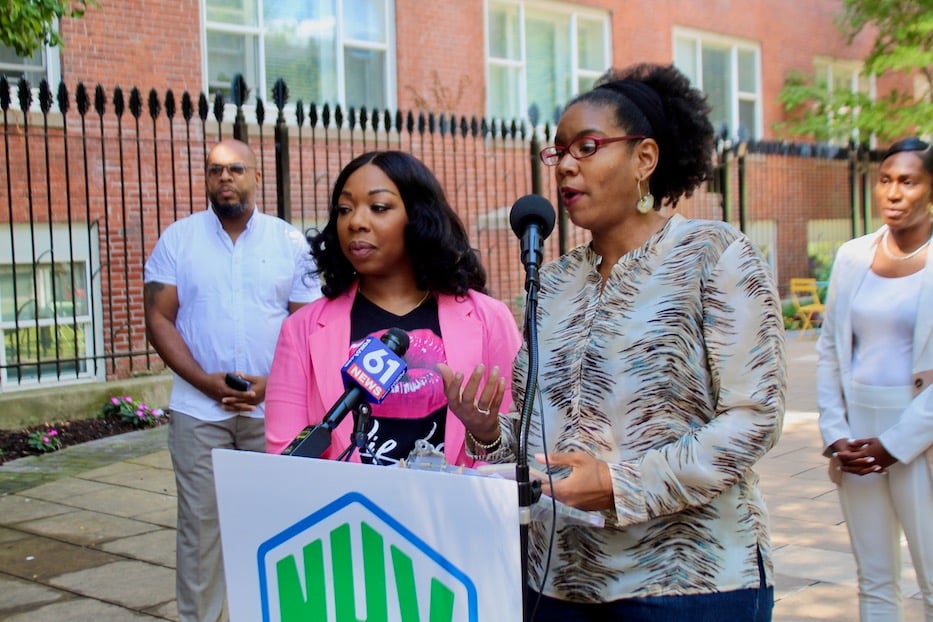 Athena Murphy of Lip Lock LLC and Arden Santana of SĀHGE Academy. Lucy Gellman Photos.
"This is a momentous time," said Arden Santana, who runs the educational hub SĀHGE (Science, Art, History, Government, Economics) Academy, and is hoping to fill her last five spots for enrollment on Saturday. "History is repeating itself in a great way. It has the potential to remind us of Sankofa, which is a Ghanian principle that says, To go back and fetch what was lost, or what's at risk of being lost.'"
As the founder and educational anchor of SĀHGE, she added that she is excited for Saturday for its grassroots approach and focus on Black makers of all types. She lauded both The Breed and city officials for creating a "feet on the ground, money in the hands of marginalized business owners level event," and urged both fellow Black consumers and co-conspirators of all races to show up and buy Black.
She also placed it in a larger context, noting that Black entrepreneurs need greater access to the resources of which they have been historically denied—and this event provides it.
Athena Murphy, who grew up on Edgewood Avenue and later in the Hill, said that she's thrilled to be a part of the festival. As a kid who was into sports, "I wasn't a big make-up person, but I always needed some type of lubrication," she said. Lip gloss was that middle ground she could go to. After studying communications at Albertus Magnus, she went to work for a telecommunications company—but never let go of the idea of becoming a small business owner.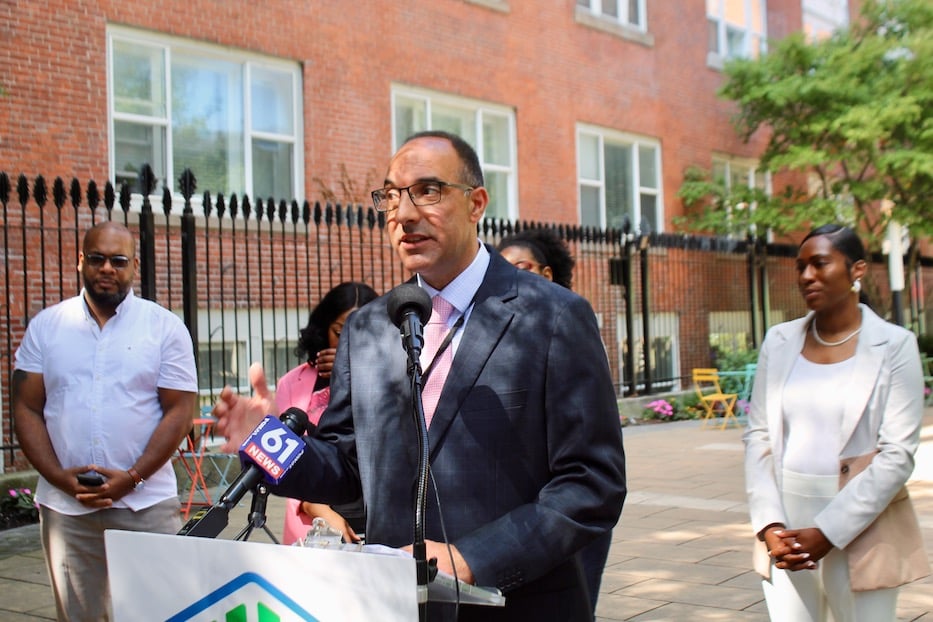 City Economic Development Administrator Mike Piscitelli. Jesse Phillips, coordinator of inclusive growth for the Greater New Haven Chamber of Commerce, is behind him all the way to the left. Lucy Gellman Photo.
Three years ago, she founded Lip Lock LLC, a cruelty-free, vegan, sustainably-sourced lip gloss brand. Since its birth, she said, the business has become a platform to both build generational wealth and inspire her 8-year-old daughter, Neriah Timmone. That has taken on an added weight in the pandemic: Neriah her father in an act of violence two years ago. When her mother is brainstorming new lip gloss colors, Neriah works on bracelets and candles, building her own small brand. Athena sister, Melissa Murphy, has also come onboard as a business partner.
"It's very important to me to give back to my community," she said, standing beside Santana. "It's very important to be a representation of us, as we are women and young Black women growing up in this world today … I'm supporting our entrepreneurs because they're supporting their families as well."
The comments felt particularly pressing downtown, where the scars of urban renewal are everywhere, and the city has started to work to actively mend them. Temple Plaza is not far from where the Oak Street Connector displaced almost 900 working-class households and 350 businesses toward the end of the 1950s. Nor is it more than a few miles from the city's Dixwell neighborhood, where urban renewal gutted a self-sustaining Black business that thrived along Dixwell Avenue.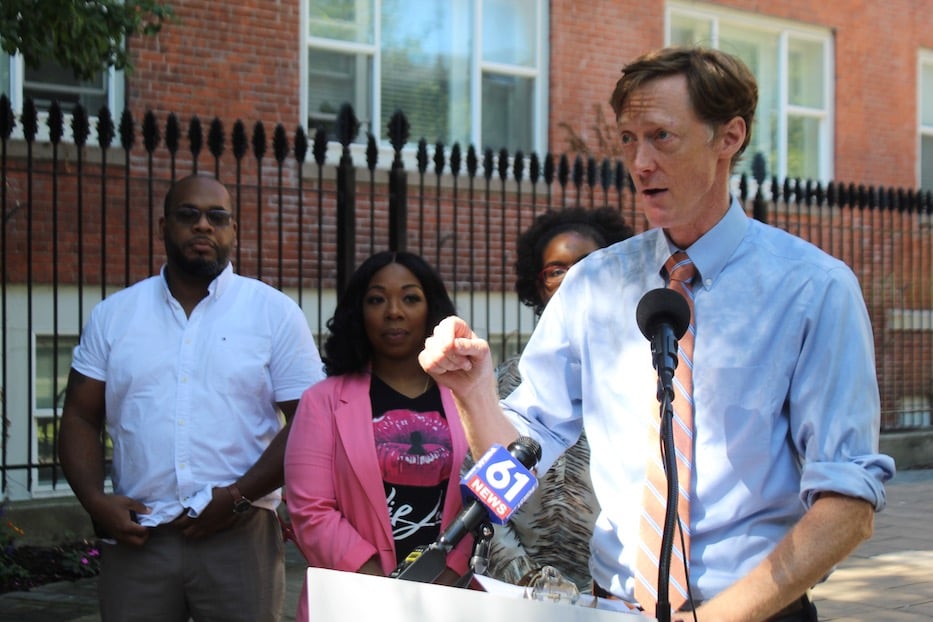 New Haven Mayor Justin Elicker. Lucy Gellman.
Lauding Jefferson, Mayor Justin Elicker pointed to the number of Black-owned and -operated businesses that have opened in New Haven, from the clothing brand Mindless Thoughts in Cedar Hill to More Amour Boutique, Neville Wisdom's Fashion Design Studio and Philly's A Taste Of Philadelphia downtown. He called Saturday's festival part of the city's wider investment in inclusive growth, from the New Haven Board of Alders' support of affordable housing to work to bring new Black-owned small businesses to and keep them in New Haven.
"Historically, we have under-resourced the Black community, and we're working hard as a team, City Hall and our partners, to undo that," he said. "And we're undoing that in so many different ways. We talk about growth in New Haven, but it's gotta be inclusive growth."
Acting as impromptu emcee, Jefferson stressed that the event is also in lockstep with the city's Cultural Equity Plan, released earlier this year in a conference at the Dixwell Community Q House. "We have to be accountable to the action items that are in the plan," she said.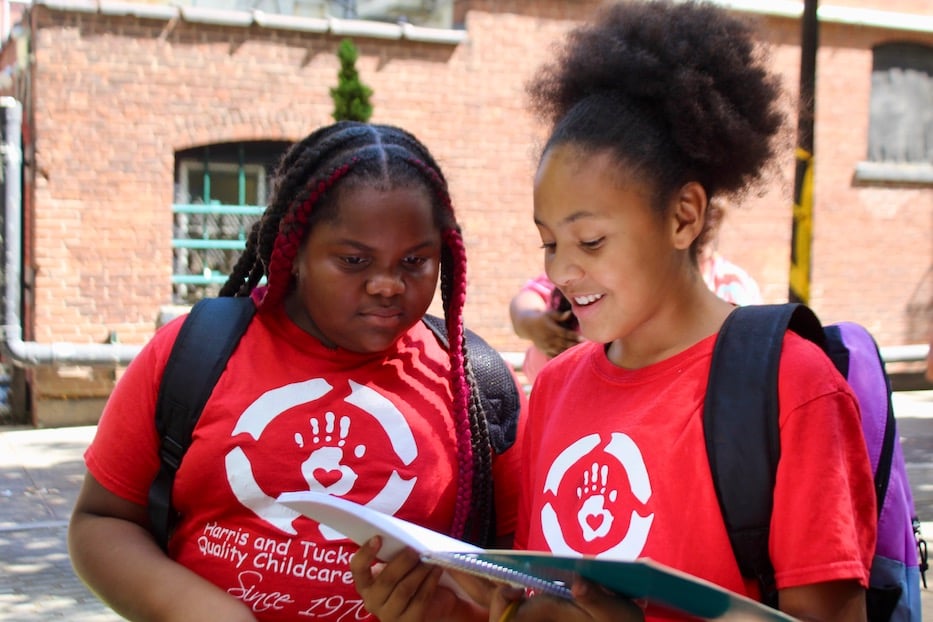 Friends Atorah Walker, 10, and Avery Roberson, 9. Lucy Gellman Photo.
"This is something that's really special, and it's really huge, and we want everybody to come out in celebration with us," Jefferson had said just minutes earlier from the same platform. "If we do our history and we do our research on Black Wall Streets, you will understand why it's so important that we are revitalizing the concept of Black Wall Street right here in the City of New Haven."
The festival will cap off a summer of vibrant Black vendor fairs and arts festivals, from Punq Noire and Seeing Sounds to the Dixwell neighborhood festival and a Juneteenth celebration at the International Festival of Arts & Ideas. Friends Avery Roberson and Atorah Walker, both summer campers at Harris & Tucker, said they see it as a win for the city.
"Some of the history was sad," Avery said.
"And it wasn't fair," chimed in Atorah.
"This, it makes me feel proud," responded Avery.
New Haven's first Black Wall Street Festival is scheduled for noon to 6 p.m. in Temple Plaza, 160 Temple St. in downtown New Haven.