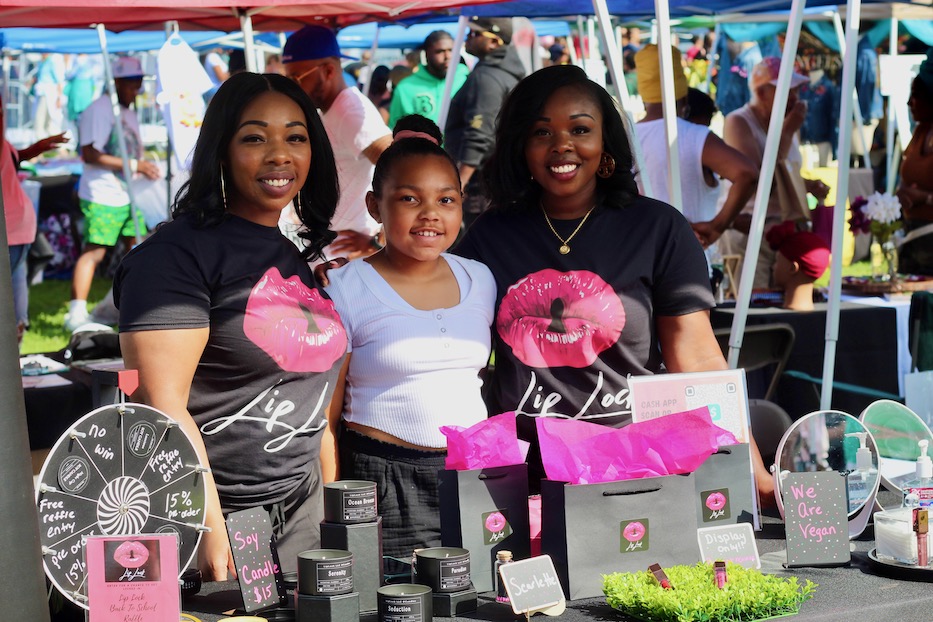 Black-owned businesses | Culture & Community | Downtown | Economic Development | Music | Arts & Culture | New Haven Green | Culinary Arts | Elicker Administration | Arts & Anti-racism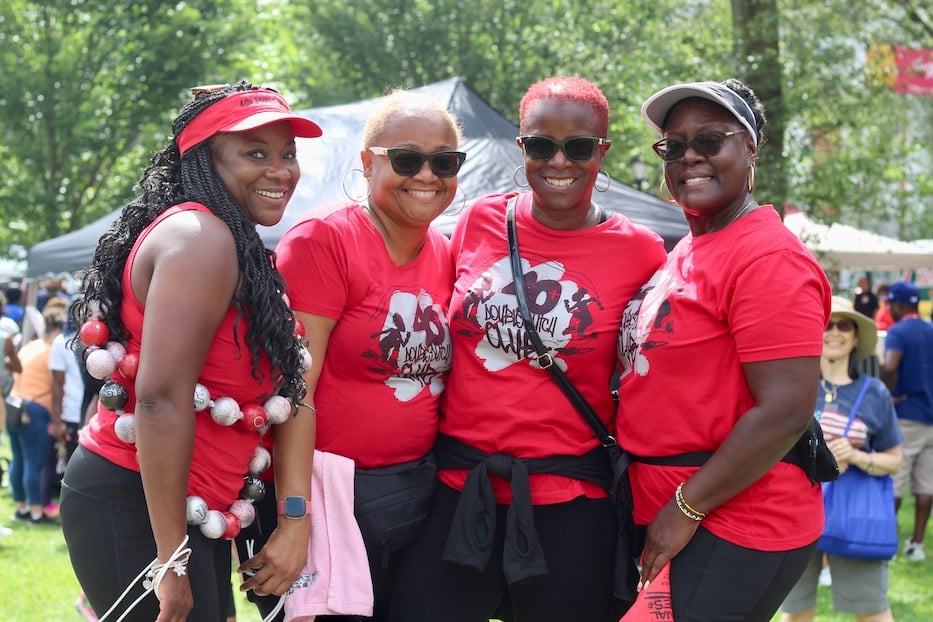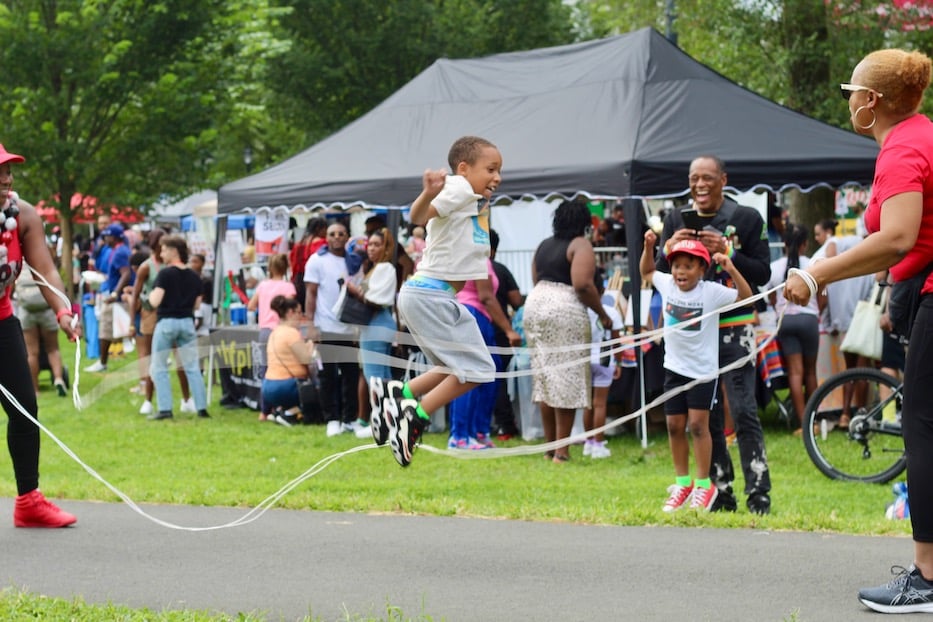 Top: Nicole Pope, Felisha Davis, Lerae Hill and Natasha "Tee Mac" McFarquhar, all of 40+ Double Dutch. Bottom: James (his grandfather declined to give his last name) joins in on the Double Dutch magic. Lucy Gellman Photos.
Lerae Hill took her spot in the center of two jump ropes, ready to channel a favorite childhood pastime. On either side of her, fellow Double Dutch veterans Nicole Pope and Felisha Davis beamed. From the stage, Bell Biv DeVoe's "Poison" pumped over the space, soaking everything in a clean, thrumming bassline. Then the ropes were gliding around her, Hill's feet pounding the pavement. She laughed, and it hit the warm air like music.
Black joy came in spades to the New Haven Green Saturday afternoon, as thousands turned out for the Elm City's second annual Black Wall Street Festival. Organized by the city's Department of Arts, Culture & Tourism with The Breed Entertainment and An Urban Librarian Consulting, the event became a celebration of Black entrepreneurship, generational wealth building, cultural preservation and remembrance. For many of Saturday's attendees, it also doubled as a historic and overdue reclamation of the Green itself.
"I feel like a village mother," said Stetson Branch Manager Diane Brown, who runs An Urban Librarian Consulting and helped recruit over 150 vendors for the day-long festival. "I'm just so proud of Aaron [Rogers] and Rashad [Johnson, both of the Breed], and the young people who worked on this. It's beautiful. We've never had anything organized by Black people for Black people on the New Haven Green. Never. And I'm 65. I'm just over the moon. We are witnessing history."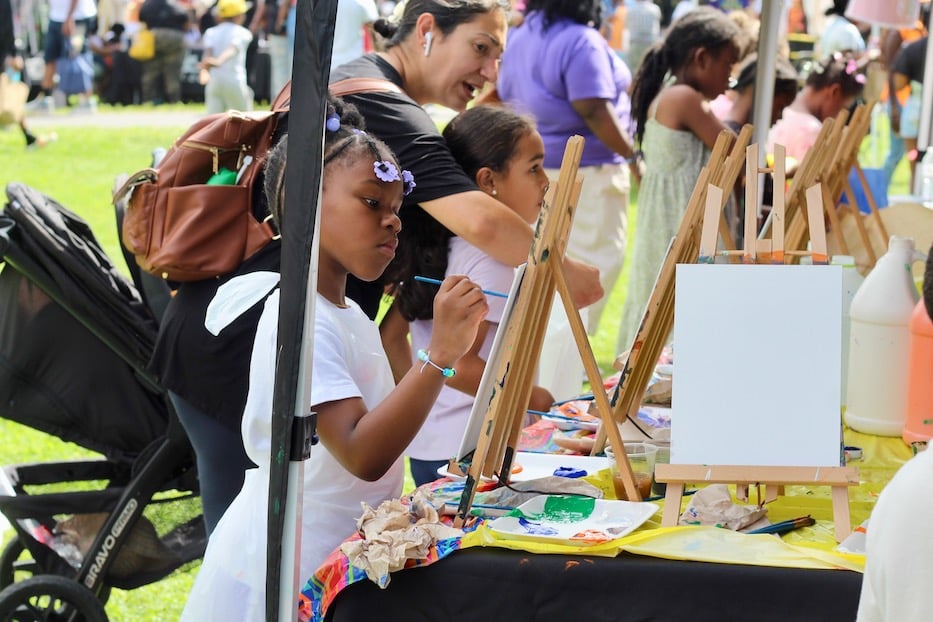 Savannah paints. Her older cousin, Jonaya Mone, did not want to be photographed.
From Elm Street all the way to Chapel, those words came to life over and over again throughout the day, from makeshift aisles of vendor tents to family-friendly painting and craft stations, sun-soaked hours of Double Dutch and hula hooping, and food trucks that turned Temple Street into a block-long culinary odyssey. By noon when the festival opened, it was possible to start a meal with greens and golden french fries, fold in oxtail, and finish with crispy kettle corn and sugar-dusted donuts. By the evening, almost everything had sold out.
As she rolled in with her young cousin Savannah, New Havener Jonaya Mone took in the scene, smiling as she watched people ease into the weekend, catch up with each other, and explore a transformed Green with kids, siblings, nieces and nephews and grandchildren. The day's heat had only started creeping in, whisking away the memory of Friday's downpours. Mone, who grew up in the city, said she was excited to spend the afternoon in her element, particularly after years of lockdown and the isolation that came with it.
"It feels so good to be outside and around other people," she said. Beside her, Savannah watched round after round of Double Dutch unfold, then gravitated toward a blank canvas propped on a doll-sized easel. From inside the tent, artist Sheree Baldwin-Muhammad gave a smile and welcoming wave, inviting her in.
A steady hum of conversation rose from across the table, where kids crafted at a station from the New Haven Free Public Library, and Savannah paid it no mind."I wanted to draw a flower because it's a part of nature and just makes me feel happy," she said matter-of-factly as she carefully dipped her brush in a pool of orange paint, and petals began to take shape on the canvas. As she mused over different colors—a blue-purple stamen, a green stem—her flower burst into bloom.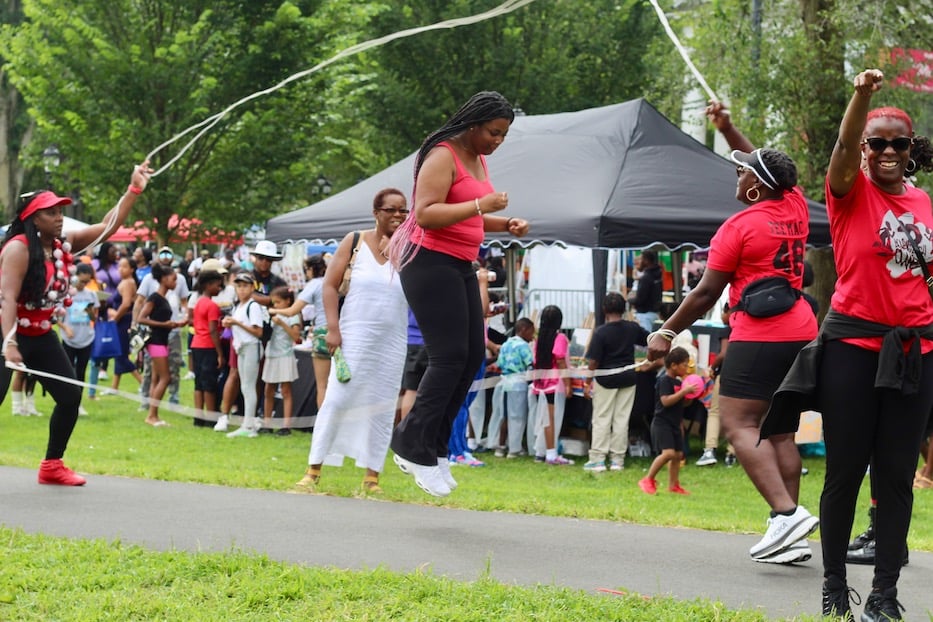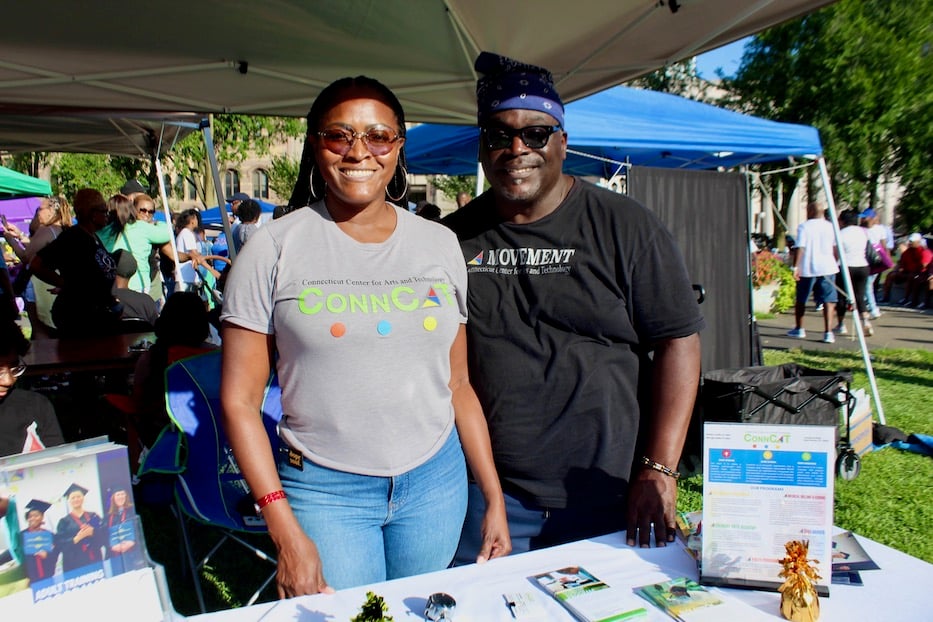 Bottom: Opal Harmon, director of HR and operations and Steve Driffin, director of programs, at the Connecticut Center for Arts & Technology (ConnCAT).
Back on the Green's walkways, it seemed that the women of 40+ Double Dutch were just warming up. Founded by Chicagoian Pamela Robinson in 2016, the now-nationwide movement celebrates the physical and emotional benefits of Double Dutch, which came to the U.S. through Dutch settlers, but has been popularized and preserved by Black women and girls for over a century. The group is for women over the age of 40, whose ages appear on the backs of their red member t-shirts. A few white shirts representing the New Haven chapter popped up across the space.
Members of the group, which has chapters all over the country, had convened in New Haven for a "jump" at the Dixwell Community Q House, then walked over to the Green to share the gift of Double Dutch with Black Wall Street. By 2 p.m., they covered the Green in bobbing blooms of red, welcoming jumpers who ranged from five years old to attendees who hadn't jumped since childhood (even Mayor Justin Elicker, who fits the 40+ categorization, hopped in at one point, his body bouncing like a pogo stick between the ropes).
As she prepared to welcome brothers Joey and Jack one at a time, South Floridian Felisha Davis said that it was her pleasure to introduce newcomers to the style. She also sees the group as a chance to remind fellow Black women that protecting their health—and their peace—can conjure the joy of childhood at the same time. For the two young boys (their grandfather declined to give their last name), it was an instant hit.
"Mom, guess what?!" Joey exclaimed moments later, as his mom FaceTimed in and his grandfather lowered the phone to the young boy's still-ecstatic face. On the walkway, 53-year-old Davis had jumped back in. "I won at jump rope!"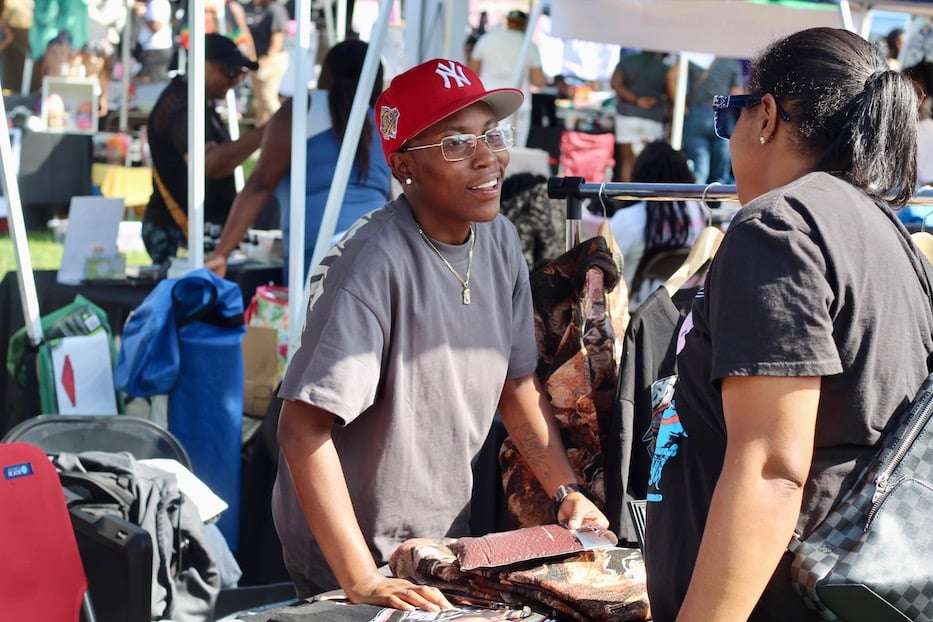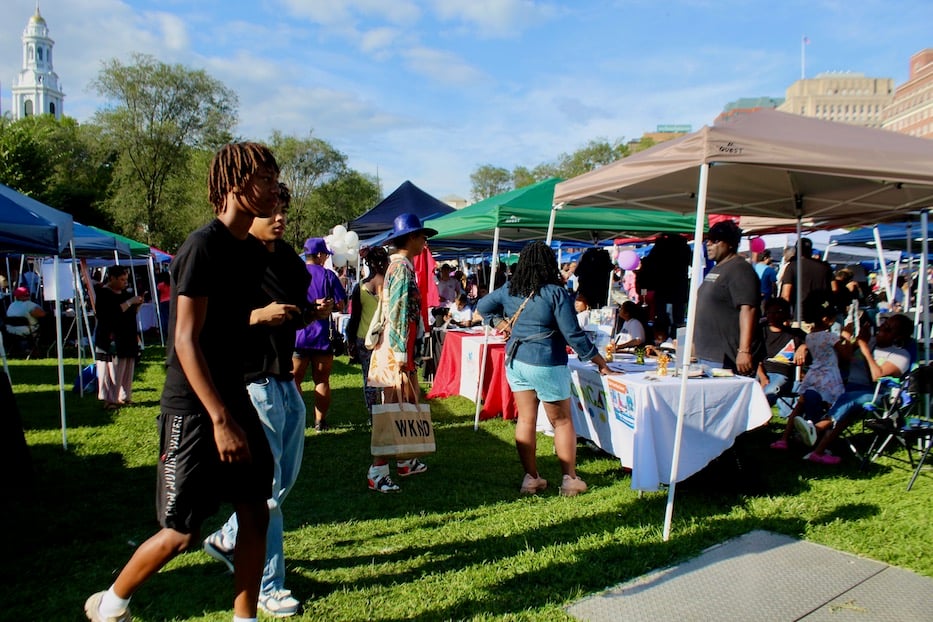 Top: 26-year-old Tae Hudgens. Bottom: Some of over 150 vendors.
Just a few yards away, dozens of vendor tents sprang up across the grass, some sporting freshly-stitched apparel as others introduced candles, cosmetics, handmade jewelry and clothing to the mix. Toward the front of one makeshift aisle, a larger-than life queen peeked out in vibrant, pulsing color, brought to life by the self-taught artist Jasmine Nikole.
Taking in the scent of red and white roses and fresh-cut bouquets from Any Occasion Creation, 26-year-old designer Tae Hudgens showed off items from Buck's World, a fashion line named after her late brother, a "one of a kind" New Havener who died at 26 years old in 2016. At the time, she said, "he was different—the sky was the limit for him." The brand is one way of keeping that legacy alive.
Born and raised in the city's Hill neighborhood, Hudgens has loved fashion for years, inspired by both musicians like Fabolous and Teyana Taylor and "really anything that catches my attention," she said. After catching the entrepreneurship bug at Hill Regional Career High School, she went on to study at Albertus Magnus College, fashion always on her mind.
Currently, she runs the business through a series of pop-ups and sales from the trunk of her car, a black Toyota Camry. To keep the business afloat, she works a full-time job as the athletic director at the Boys and Girls Club of Greater New Haven, where she spent hours as a kid and now gives back. She was excited to be at her first Black Wall Street, she said—and had already used the afternoon to begin networking.
"Nobody believed in us," she said. "They said we couldn't do it when we could."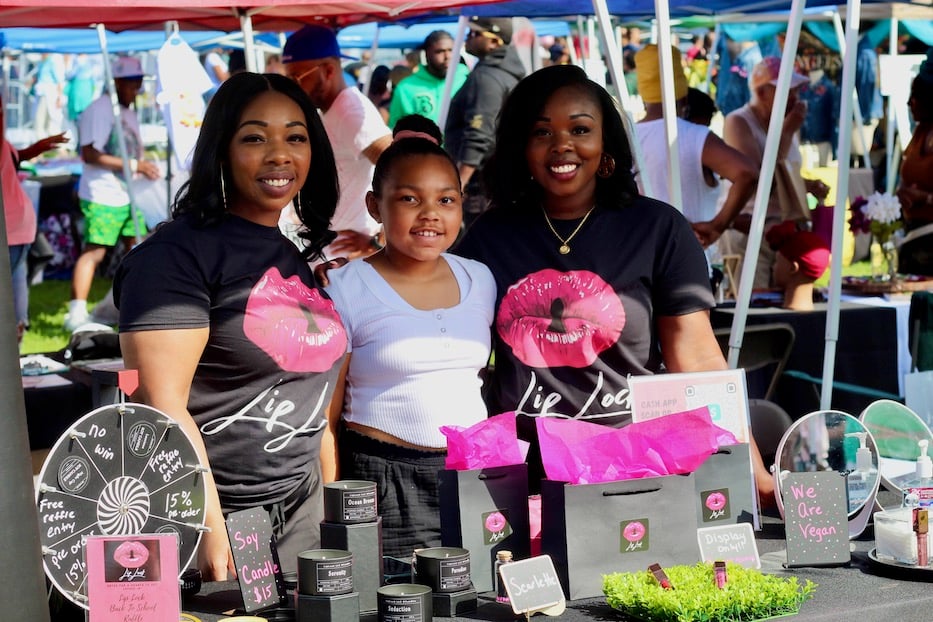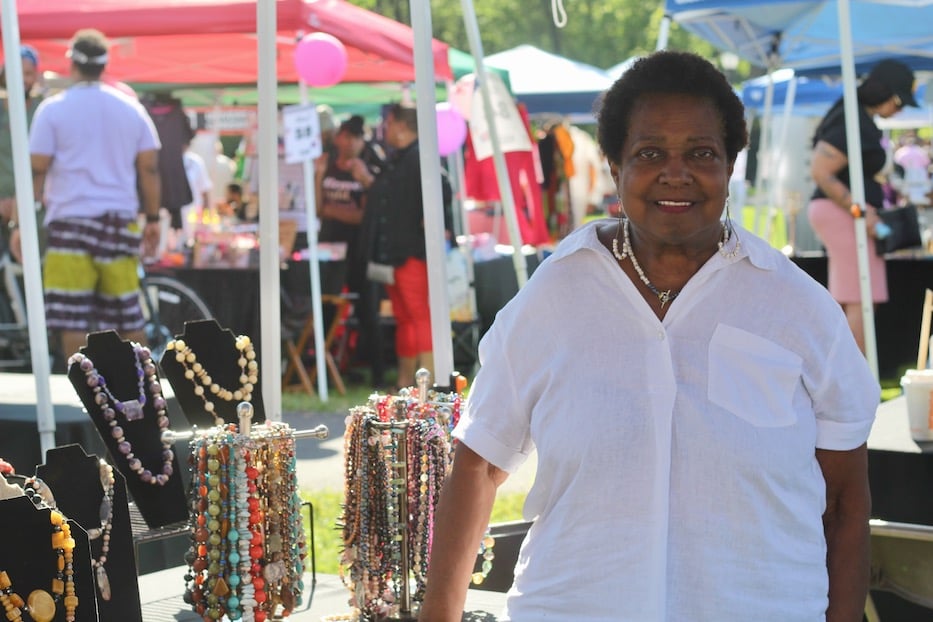 Top: Athena Murphy, Neriah Timmone and Melissa Murphy of LipLock LLC. Bottom: Melba Crowley of Designs by Melba.
Nearby, sisters Melissa and Athena Murphy welcomed a steady stream of customers to try LipLock LLC, a West Haven-based brand that sells soy candles and all-natural, vegan lip gloss in shades of pink, peach, purple and red with a clear glaze. Four years ago, Athena started the brand as an answer for cruelty-free lipstick for sensitive skin—and then built it out with generational wealth in mind.
Last year, vending at Black Wall Street "changed our lives," said Melissa as her sister finalized a sale, and welcomed a new customer all at the same time. "It was mind blowing. It's probably the best decision we ever made." So when they saw a call for vendors in May, it was a no-brainer. This year, Athena's daughter, Neriah, came with her own side business, selling beaded bracelets from the same tent.
She had a seasoned elder to learn from in Melba Crowley, who for 14 years has beaded her way into retirement. Taking a seat during a quiet moment in the afternoon, Crowley fondly remembered her own journey to Designs By Melba, through which she now sells necklaces, earrings, and bracelets. As she chatted, an understated blue-and-white beaded necklace peeked out above her blouse, matching her dangly earrings.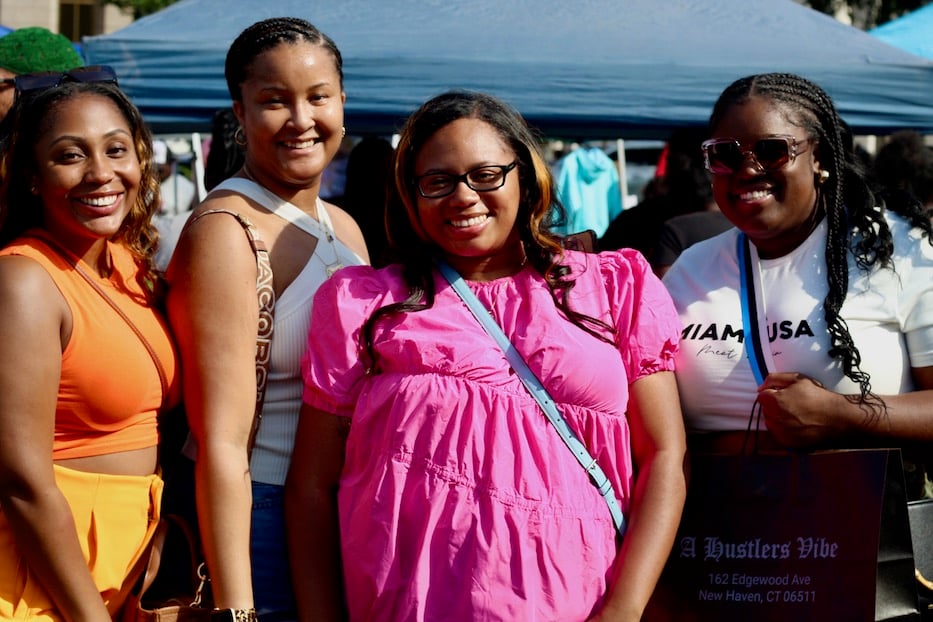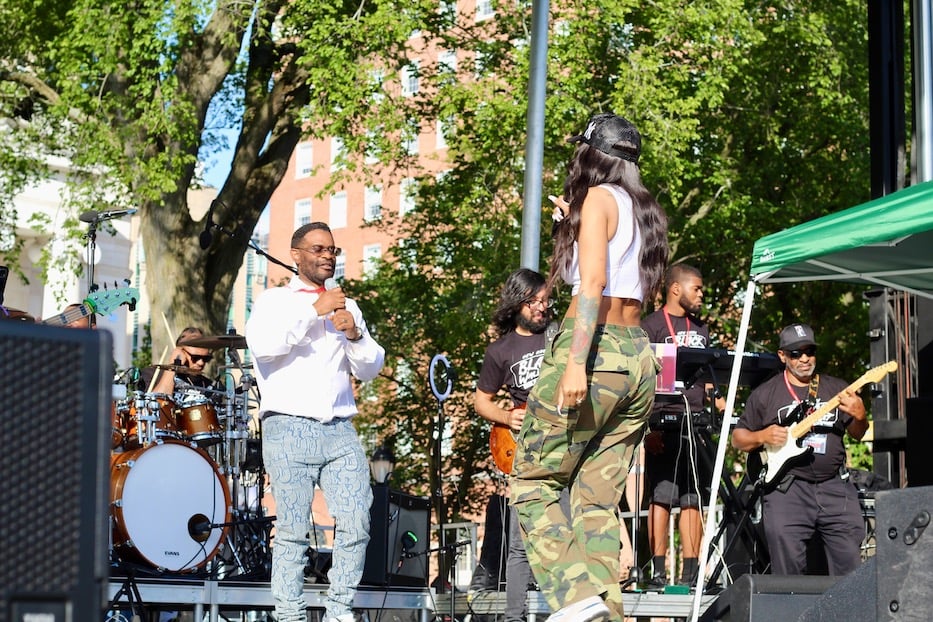 Top: Friends Erika Blake, Rochelle Duncan, Naomi Carroll and Shequerra Hobby. Bottom: The Legacy Band heats up the afternoon from the stage with a tribute to Black music.
Over a decade ago, Crowley got into beading "as an accident," after attending a class at Books & Company and realizing instantly that "I was hooked." A lifelong resident of the city's Newhallville neighborhood, she had just retired from almost four decades of service to the United States Postal Service, and found that beading kept her busy. Now, she has a whole rhythm: she beads every day, sometimes in the company of a good audiobook.
"It was a gift from God," she said, adding that she doesn't make anything by request, but hopes that customers can find something for themselves or their friends among her many-hued creations. "I make what I like, and hopefully you'll like it too. This was a hobby that went wild."
As they shopped for clothes, jewelry, bright headwraps, scarves and handmade soaps, friends Erika Blake, Rochelle Duncan, Naomi Carroll and Shequerra Hobby all praised the festival for supporting Black business owners from and beyond New Haven. Duncan, who grew up in New Haven and now lives in East Haven, said that she doesn't normally see such public celebrations of Black entrepreneurship—and was grateful for it. "It just feels good," she said.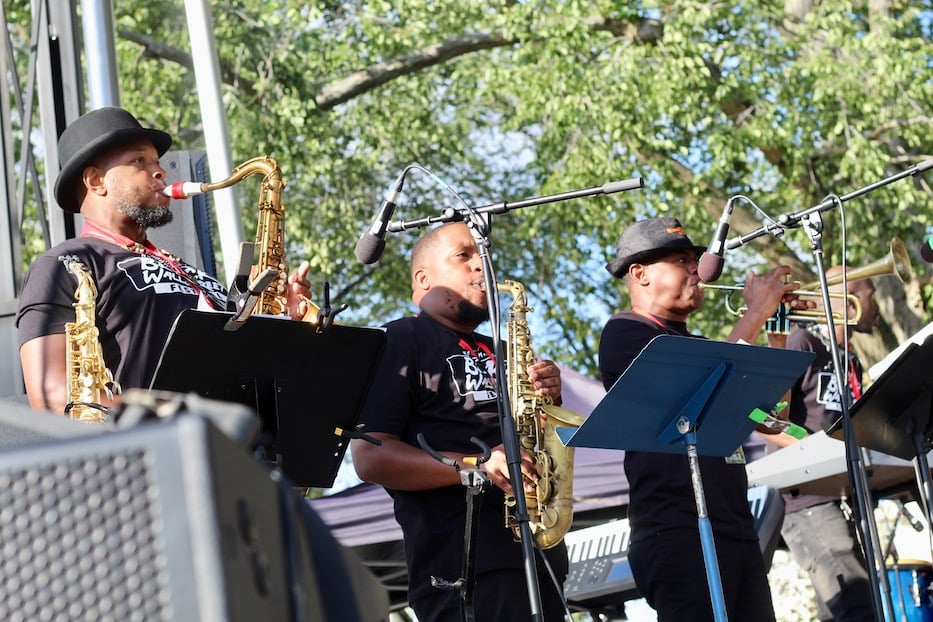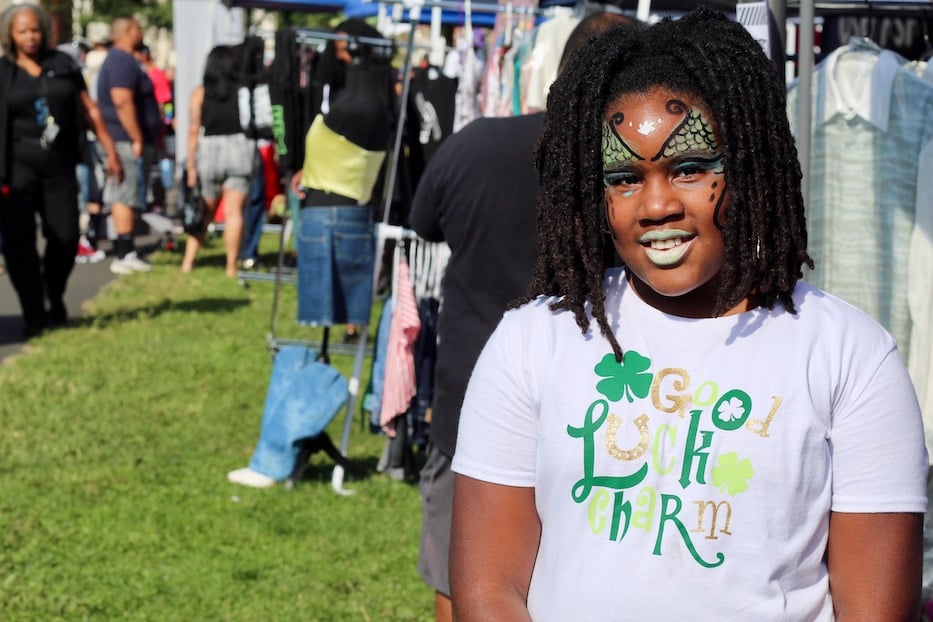 Neváe Brightly: A modern Greenwood.
That was also true for Neváe Brightly, who has been learning about Tulsa's prosperous Greenwood District as a student at Sāhge Academy (her mom, Arden Santana, is one-third of the Elements of Abundance), and took part of the afternoon as a chance to walk around, have her face painted, and soak in the sun. All around her, the hum of Black business mingled with ebullient celebrations of culture, from hours of music that flowed from the stage to a VIP area for members of the National Pan-Hellenic Council (NPHC), the organization that governs the Divine Nine.
"It's fun," Neváe said. "This is kind of like the modern version of it [Greenwood]."
Across a sea of vendor tents, Brenton Shumaker introduced passers-by to his brand, DeadBy5am, a meticulously stitched, planned, and sometimes frankensteined line that he's been cultivating for the better part of 14 years, and runs out of his studio space on Whalley Avenue. While many of his customers refer to his clothing as "streetwear," he said, he prefers "high-end fashion."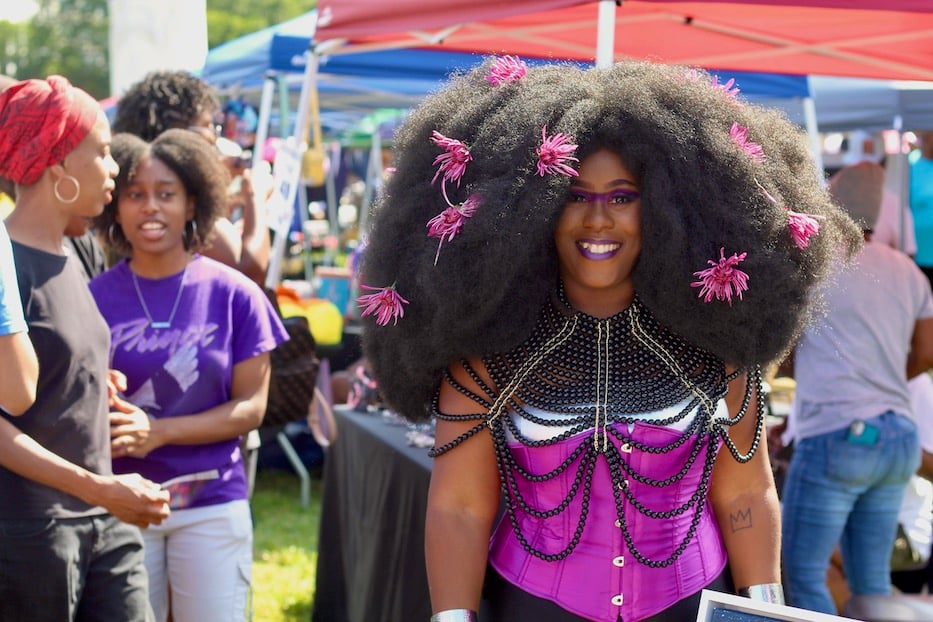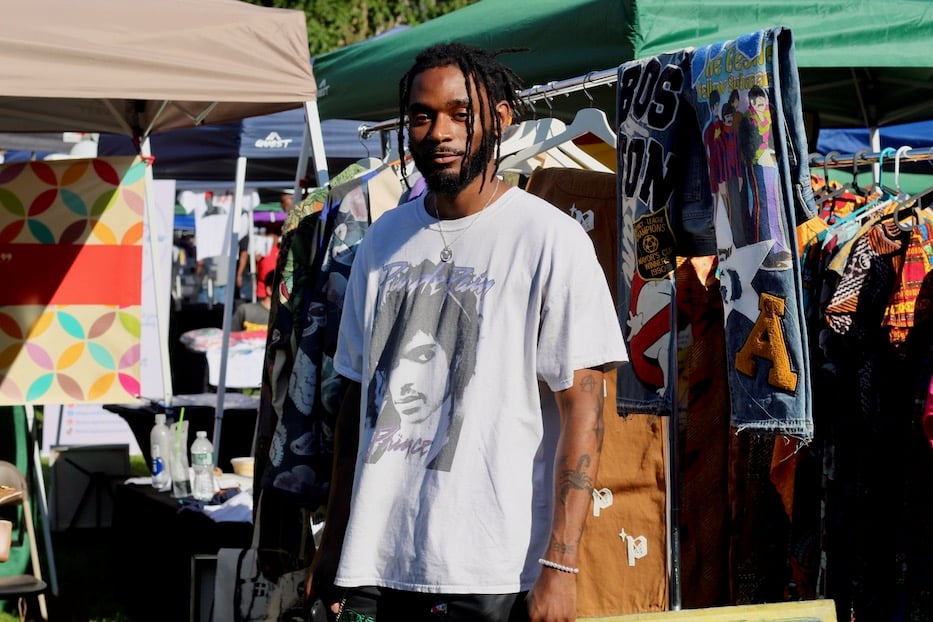 Top: Curator Juanita Sunday, whose show 6th Dimension opens at the LAB at ConnCORP this week. Bottom: DeadBy5am's Brenton Shumaker.
His reasons go back to the time he's put into building the brand, well before DeadBy5am was officially a thing. As a kid, Shumaker fell in love with art after seeing a teacher draw a Pokemon character on the board, and realizing that art was actually something people did for a living. As a child who was also in the foster care system, he also learned to sew at a young age, after threading the needles for a foster grandmother, and then learning to mend and exchange the brims on baseball caps.
By the time he was a student at New Horizons High School, teachers could see that he had talent—including making some of his own clothes. One educator offered him a few unused sewing machines from the school, casualties of a home ec class that had been discontinued. He took three, gave one to a friend, and started his business on the other two. The brand now repurposes used clothes, pairs fabrics, and adds prints and text to create a number of unique pieces.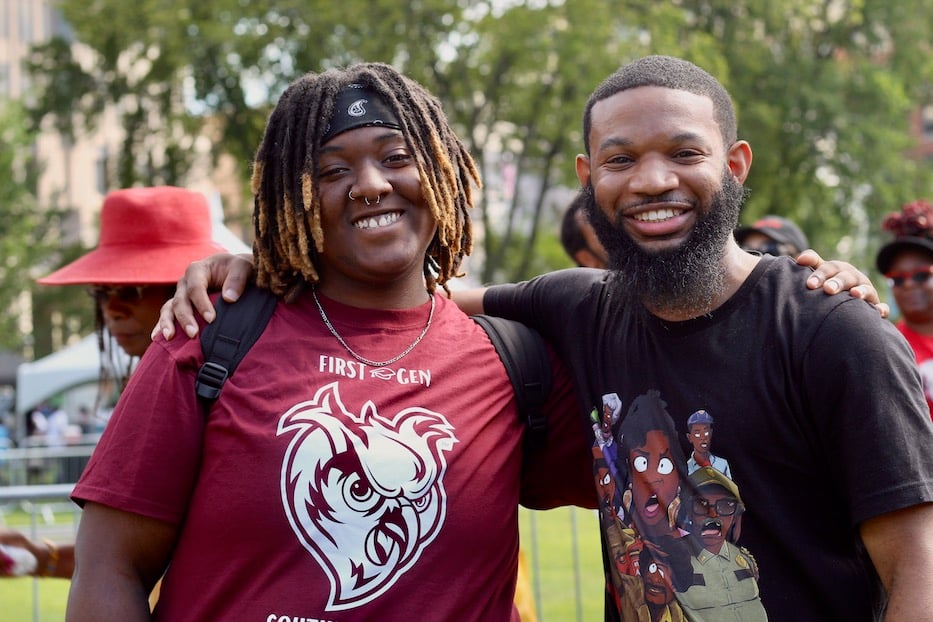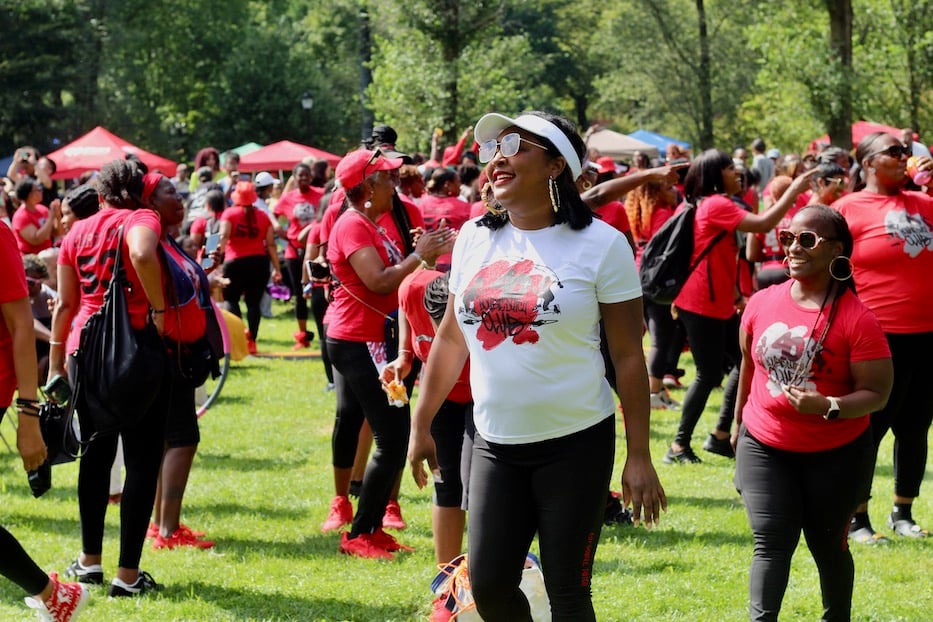 Josh Smith and Janae Lyons.
Closer to the stage, people buzzed in and out of tents offering economic empowerment, first-time homebuyer info, and financial literacy. As they walked, attendees Josh Smith and Janae Lyons marveled at the Green, which in the moment felt like a breathing iteration of Issa Rae's "I'm rooting for everybody Black." Now the band director at James Hillhouse High School, Smith attended Hillhouse with Rogers, becoming close with him in band practices where the two matched each other on the tenor drum.
Last year, he was out of town for the city's first Black Wall Street, which took place on Temple Plaza. When he heard that it was returning—with five times as many vendors—he made a point to mark the date on his calendar. Saturday, he said, he was overjoyed to take it all in, and proud to know several of the organizers behind it.
"It's amazing!" he said. The only thing even remotely close he can think of, he added, is the Elm City Freddy Fixer Parade, which hasn't come downtown for years.
"It means a lot," Lyons chimed in. "A lot of times, we don't get representation like this. I don't remember seeing anything like this as a kid."
The importance of the Green as a civic space resonated with many of the day's organizers, vendors and attendees. For centuries, the New Haven Green—a seventeenth-century colonial burial ground on unceded Quinnipiac and Wappinger land—has been managed by the Proprietors of the New Haven Green, an elusive, self-perpetuating group of white people who only recently welcomed their first member of color.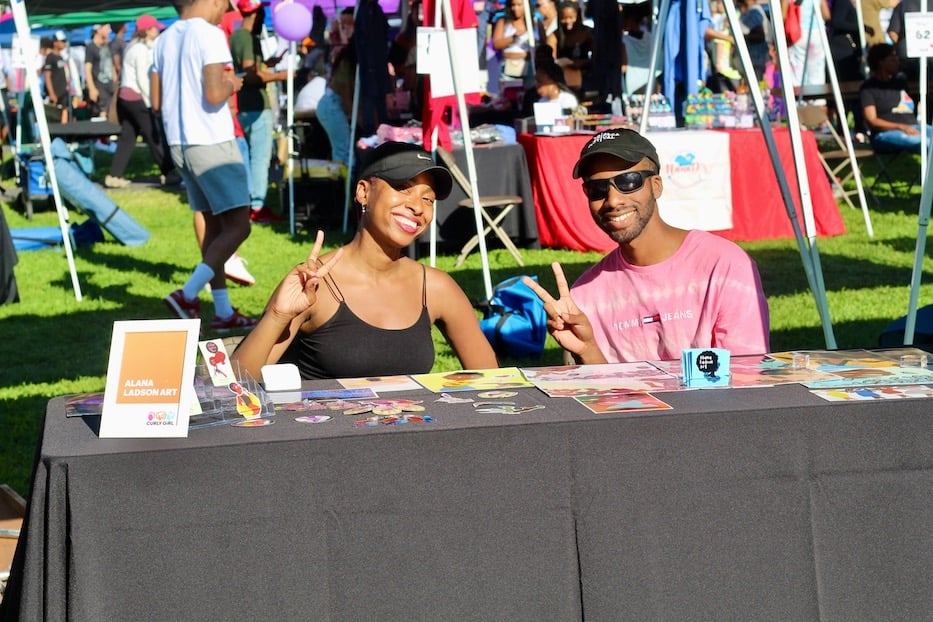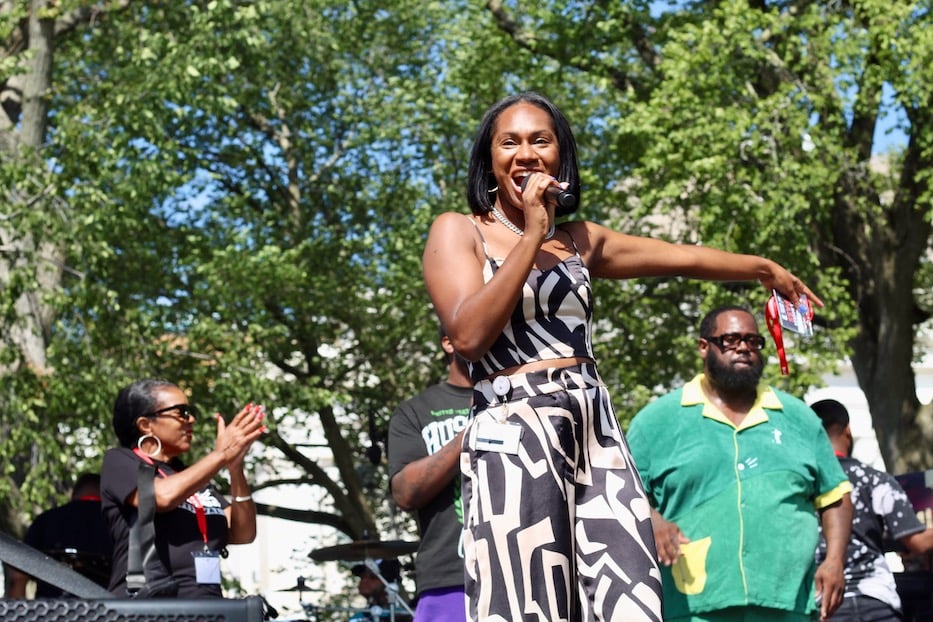 Top: Artist Alana Ladson and her brother, Deven Ladson. She said she was excited to see vendors "have more breathing room" this year, as the festival grew. Bottom: Adriane Jefferson: We did it.
Through 1825, it was also a space where enslaved Black people were sold as property, a history that some of the Green's churches have only recently begun to reckon with. While it has also served as the people's space, from May Day 1970 (at which Brown was present) to annual celebrations of Indigenous People's Day, Saturday marked the first event any of the organizers could remember having a city-supported, large-scale Black-led festival on the Green.
"It's an overwhelming feeling of joy," said Adriane Jefferson, city director of Arts, Culture and Tourism, as Mary J. Blige's "Family Affair" played from the stage. "It is a sea of Black beauty. They didn't think that we could come together and there would be no violence, and there would be no problems. This proves that we can come together in unity, as a community, for the right causes."
"I'm honestly so proud of the team," she added. "To go from an event that was 35 venues to 150 vendors to a crowd of thousands … It's just overwhelming. We pulled it off. We did it."