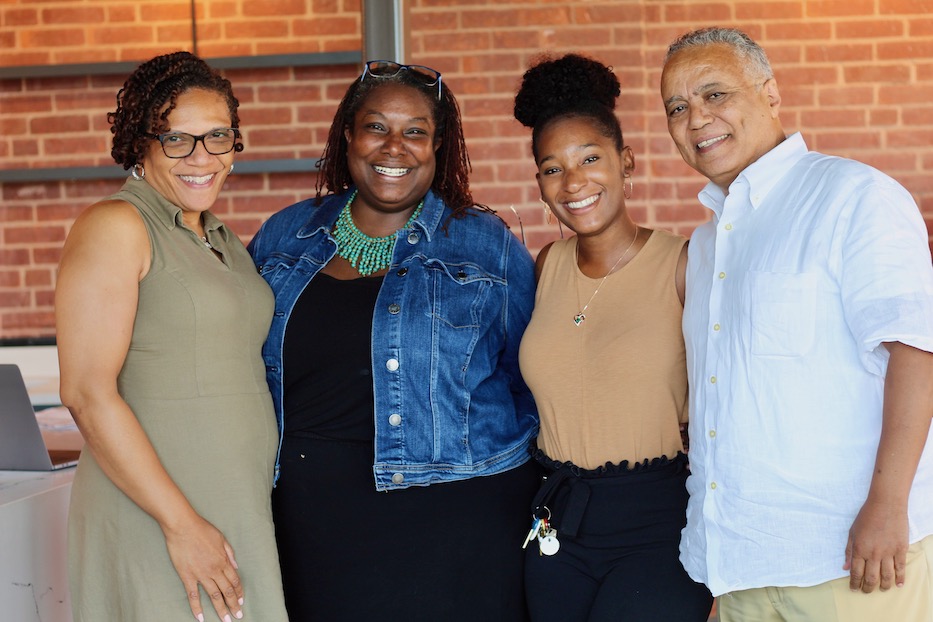 Black-owned businesses | Culture & Community | Economic Development | Hamden | Arts & Culture | ConnCORP | Arts & Anti-racism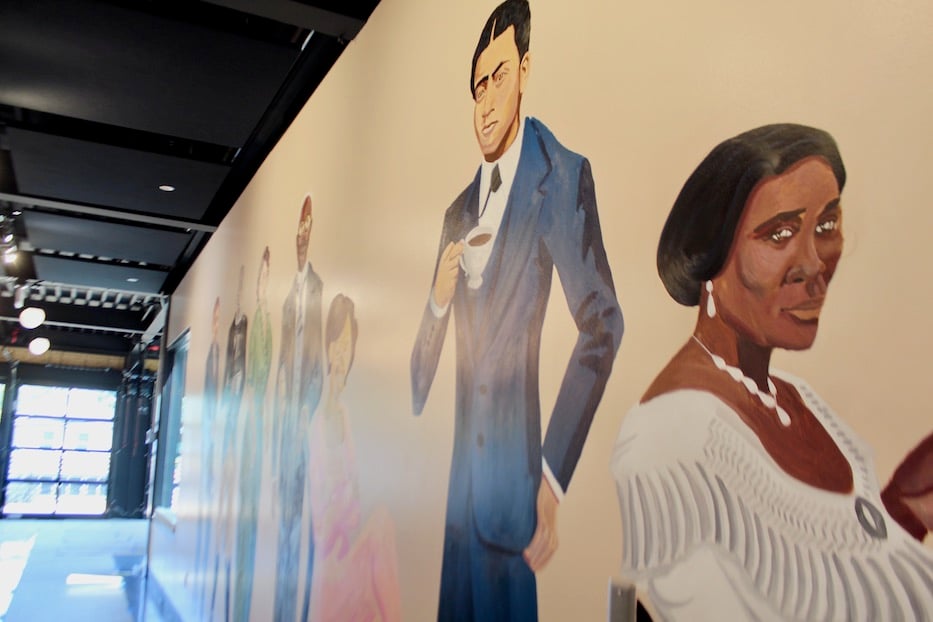 A detail of Adae's mural. Lucy Gellman Photos.
The figures look so alive, it takes a moment to remember that they can't walk straight out of the mural and start a conversation. At one end, Madam C. J. Walker lifts her cup of coffee gingerly over an all-white ensemble, spilling not a drop as her pearls gleam above her neckline. Beside her, Booker T. Washington also looks out, his mind elsewhere. A pen and a thick pad of paper rest in his lap; his coffee cools on the table. To their left, a whole history of Black entrepreneurship and economic resistance awaits.
Welcome to Recess Café, a new cafe and gathering spot at the Lab at ConnCORP (Connecticut Community Outreach Revitalization Program) that opens to the public later this month. Over a year after the 265 Morse St. space began hosting Covid-cautious events in its first-floor gymnasium, the cafe joins office space, several small Black-owned businesses, and artwork from muralist Kwadwo Adae to grow the story of Black entrepreneurship in New Haven and Hamden.
On Thursday July 20, ConnCORP staff and leadership will host a ribbon cutting and mural unveiling to formally celebrate the 1,325 square foot space. RSVP here.
"It feels amazing," said Aya Beckles Swanson, executive director of the Lab at ConnCORP, as she walked through the space Tuesday afternoon. "It's exciting to see something that's been in your head for so long come to fruition."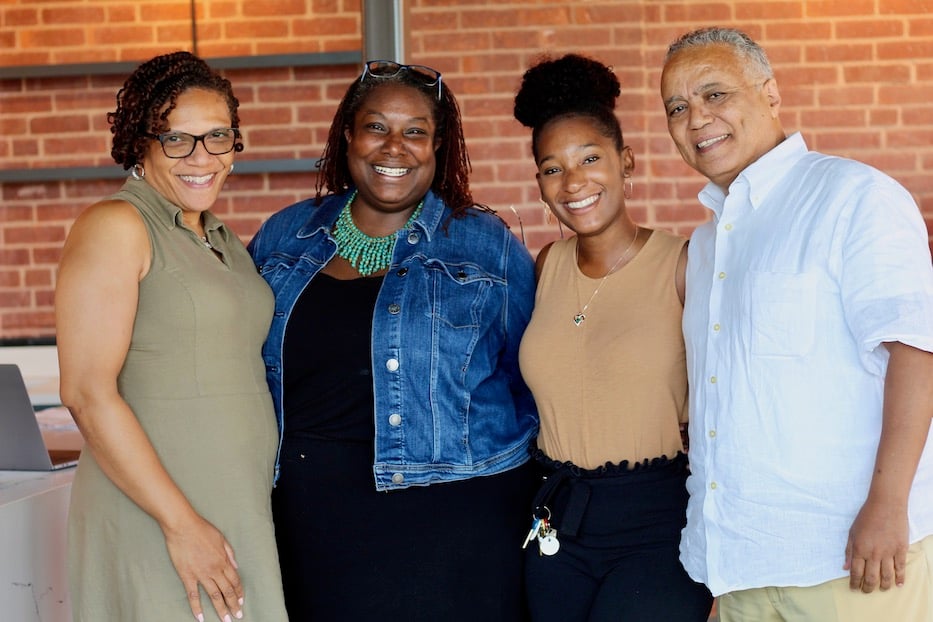 ConnCORP Human Resources Manager Andrea Taylor, Lab Executive Director Aya Beckles Swanson, Lab Director of Programming Jahkeeva Morgan, and Gideon Gebreyesus, vice president of food operations at ConnCORP.
Work on the cafe and branding around the building, part of a multi-step plan to transform an old school into a 21st-century beacon for Black entrepreneurship, has been a labor of love. In May 2021, ConnCORP bought the building from the Hamden Economic Development Corporation (HEDC), which temporarily used it as a small business incubator in 2019 and 2020, and envisioned but never opened a cafe.
When ConnCORP opened, it was with the intention of building Black businesses up in a collaborative environment. By that summer, as Beckles Swanson joined the team, staff members were doing a walkthrough with Atelier Cho Thompson to think about the building's history and future.
The space needed work, Beckles Swanson remembered with a smile. While HEDC had intended to have a cafe when it first opened the building in late 2019, the Covid-19 pandemic put that plan permanently on hold. When ConnCORP purchased the building two years ago, the room had a large rug, several hi-top tables, unfinished counter space and floor-to-ceiling windows that turned it into a sort of see-through cube.
For Ming Thompson, co-founder of Atelier Cho Thompson, it came as a welcome and exciting design challenge. From the first walkthrough, "we wanted to honor the history of the building" and of the neighborhood, she recalled in a phone call Thursday morning. She also wanted to acknowledge ConnCORP's mission and place within that history.
As she and team members designed, that meant exposing as much brick as possible, building out and adding vegan leather panels to the cafe's countertop, and putting in two sleek garage doors that convert the room into a flexible indoor-outdoor space with a deck. Thompson said that in keeping with ConnCORP's wider branding, designers focused on a deep black and aubergine color scheme, which gives way to Adae's vibrant and celebratory design.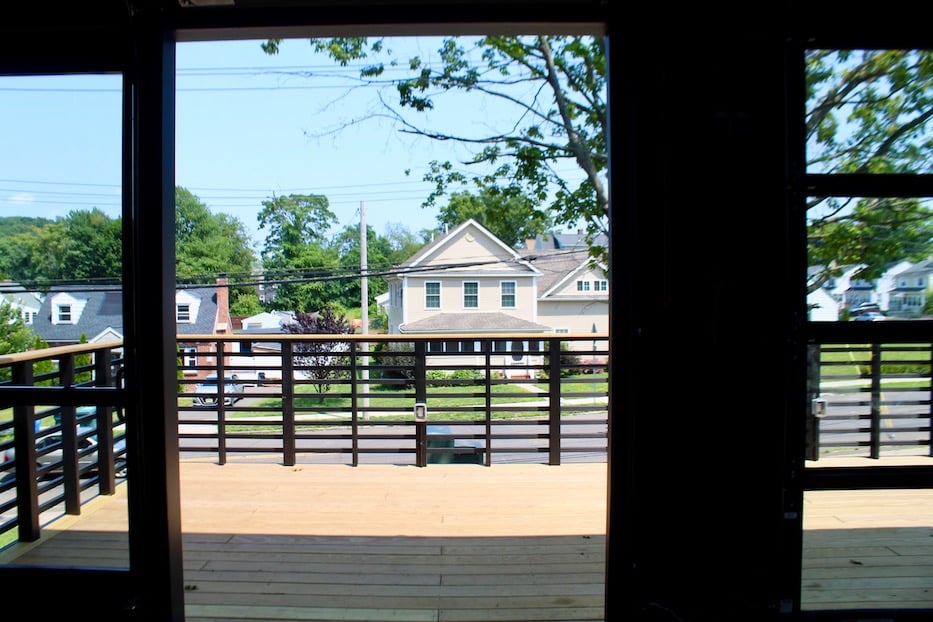 Top: Renderings from Atelier Cho Thompson. Bottom: Detail of the space with one garage door open.
The name—Recess Café—comes from the building's former life as a school. Thompson said she wanted to infuse the space with the idea of play and experiment (and taking a much-deserved break from the task at hand) and the title did all of those things.
In addition to Atelier Cho Thompson, ConnCORP worked closely with the North Haven-based developer Petra, which has also done work on the Connecticut Center for Arts & Technology (ConnCAT) in Science Park. Beckles Swanson said that it has been a joy to work with the group, and integrate some of their construction right into Adae's mural. Light switches and electrical outlets, for instance, have become part of Washington's silver-gray ensemble and the surrounding white ground.
As the Lab opened its doors to playwrights, student performances, small businesses, holiday festivals and celebrations of high fashion in its large, renovated gymnasium last year, the cafe transformed quietly behind the scenes. Atelier Cho Thompson has also done the branding for the building, with plans to hang banners of Adae's mural on the outside, so that glimpses of the art are visible from Morse and Newhall Streets. On the outside of the old school, designer Celia Poirier has also identified two arched windows that can transform into signage.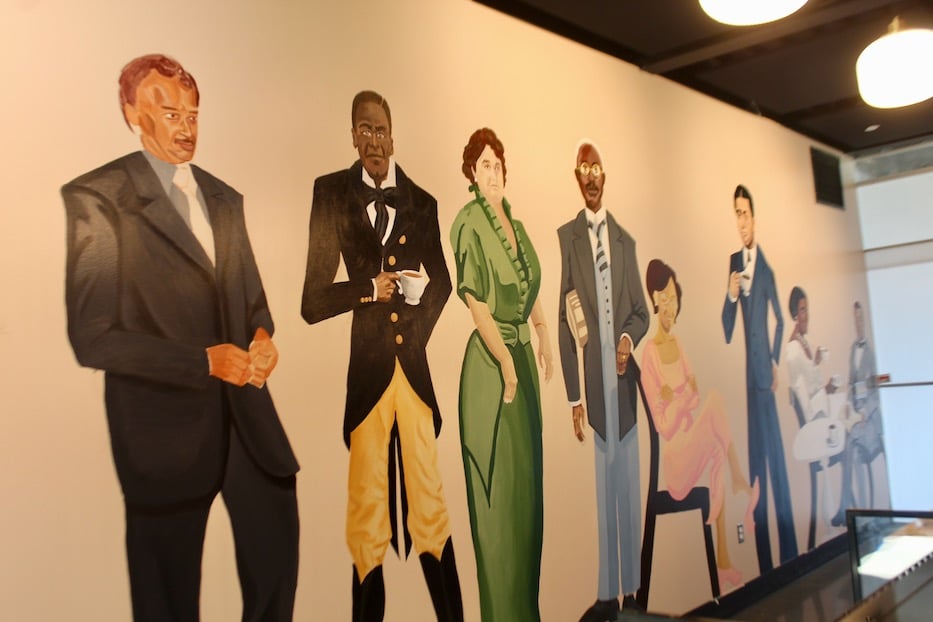 A detail of Adae's mural. Lucy Gellman Photos.
Back inside, part of the cafe's unique flavor comes from Adae's mural, which depicts eight Black entrepreneurs from the nineteenth century to the present. From left to right, they include ConnCORP Board Chair Carlton Highsmith, Black engineer and New Havener William Lanson, St. Luke Penny Savings Bank Founder Maggie Lena Walker, land owner and Tulsa businessman O. W. Gurley, cosmetics queen Annie Turnbo Malone, Harvard University Professor George Franklin Grant, Black beauty product maven Madam C. J. Walker, and Tuskegee University Founder Booker T. Washington.
In an homage to the cafe itself, many of them lift delicate cups of coffee, as if they are toasting ConnCORP on carrying their visions into the present. At the far left of the artwork, Adae has added the names of each figure, as a sort of jumping off point that encourages viewers to learn more.
"This mural was super important to me, because there's just not a lot of information out there," Adae said in a phone conversation Wednesday afternoon. "The knowledge of these captains of industry isn't widely known. And yet, at a time when it was really difficult to be Black in America, they let nothing stop them from trying to better conditions for themselves and their race. They were fighting for justice in this way."
For Adae, who had his first solo exhibition at ConnCAT last summer, the work was both an honor and a learning opportunity. While some names are already well-known—Madam C.J. Walker and Booker T. Washington, for instance—he had never heard of figures like Malone and Gurley, who transformed communities through Black entrepreneurship, and then were largely written out of the history books.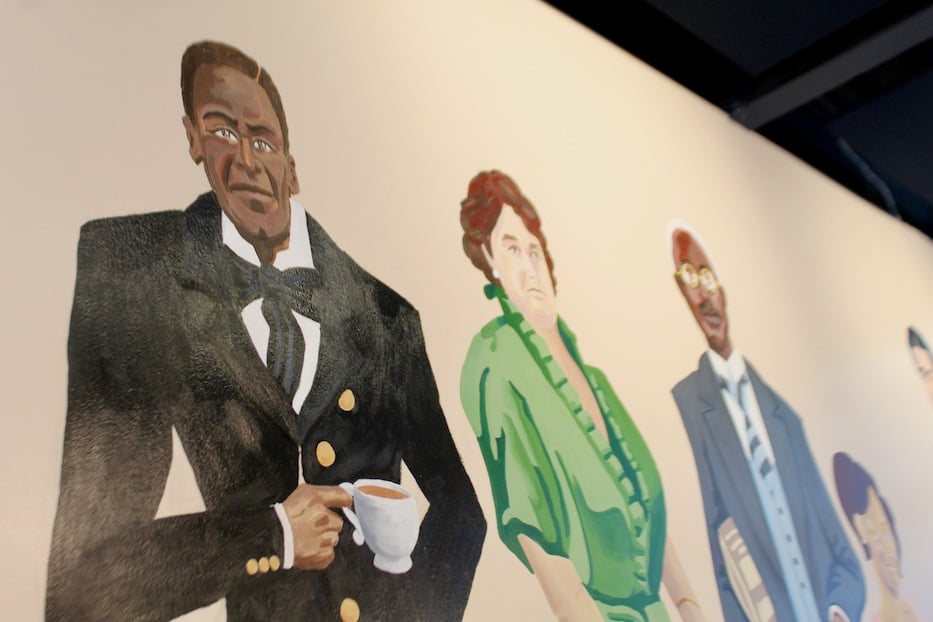 William Lanson, Maggie Lena Walker, and O. W. Gurley.
Take Gurley, for instance, Adae said Wednesday. "If you were Black in 1917, 1918, you just couldn't get a business loan," Adae said. Gurley, sensing the need of an entire community, bought the land beneath what became Tulsa's Greenwood neighborhood, a booming, self-sustaining Black business district that a white mob burned to the ground in 1921. Through his vision, Black business owners were able to thrive economically—and build community in the process.
That Gurley isn't a common name speaks to a violence and erasure that is still pervasive today, Adae said. Just this week, he was crushed reading that the last remaining survivors of the Tulsa Race Massacre would not receive restitutions for the damages that their homes, families and neighborhoods had sustained. As he paints, he spends time thinking about that history, and working to pass it on through his work.
"It's really an honor for me to be able to pay homage to these people through art," he said.
He credited studio assistants Kwasi Adae and Nicole Andreson for helping him complete the work. Kwasi, who is headed to Endicott College to study art therapy, is Adae's son; Andreson has been Adae's student for the past 17 years.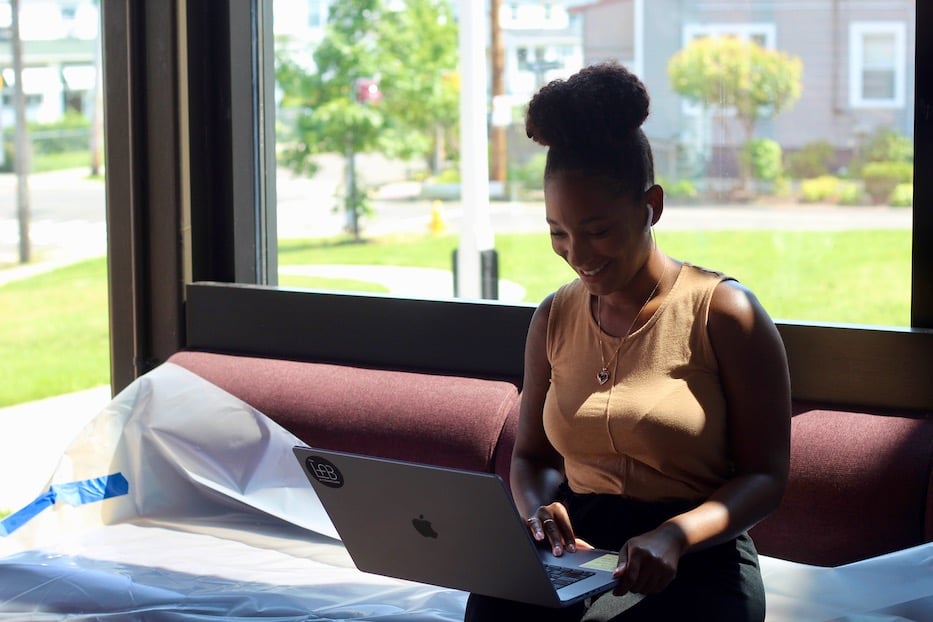 Morgan working in the space Tuesday.
One week out from cutting the ribbon, Beckles Swanson beamed looking around the space, quietly inviting in a trickle of fellow staff members throughout the afternoon. When she opened the garage doors for the first time, their hum audible in the room, a single monarch butterfly flew in, resting for a moment on the cool windows before it fluttered back out onto the deck.
"Seeing all the changes that have happened in a year is incredible," said Jahkeeva Morgan, director of programming at the Lab. After finding a pool of sunlight on one of the couches, she settled in to work on her laptop for part of the afternoon.
It's also a practical addition: there aren't many immediate food options in the area, meaning that staff has to bring a packed lunch, or leave the building to get a meal. Once she's in the building, Beckles Swanson said, she's usually there to stay.
Gideon Gebreyesus, vice president of food operations at ConnCORP, said he's thrilled to be adding the cafe to ConnCORP's growing culinary portfolio. In addition to fresh coffee and tea (he became nearly giddy showing off a new cappuccino machine), Recess Café will serve sandwiches, salads, and baked goods made daily by culinary arts students at ConnCAT. He pointed to the cafe's potential for job creation, including for young people in the neighborhood.
"I feel incredible!" he said Tuesday, nearly bouncing with excitement as he floated behind the counter. "Seeing this from where it was and watching it get transformed is an amazing feeling. I think it's gonna be a hit."
Andrew Aschettino, chief financial officer at the Lab, agreed. After two years working full-time with ConnCORP, he's also ready to be able to get a coffee right down the hall from his office.
"We just think this is gonna take the Lab to the next level," he said. "Just watching this progress is beautiful."
A ribbon cutting for the Lab at ConnCORP is planned for Thursday, July 20 at 5 p.m. RSVP here.