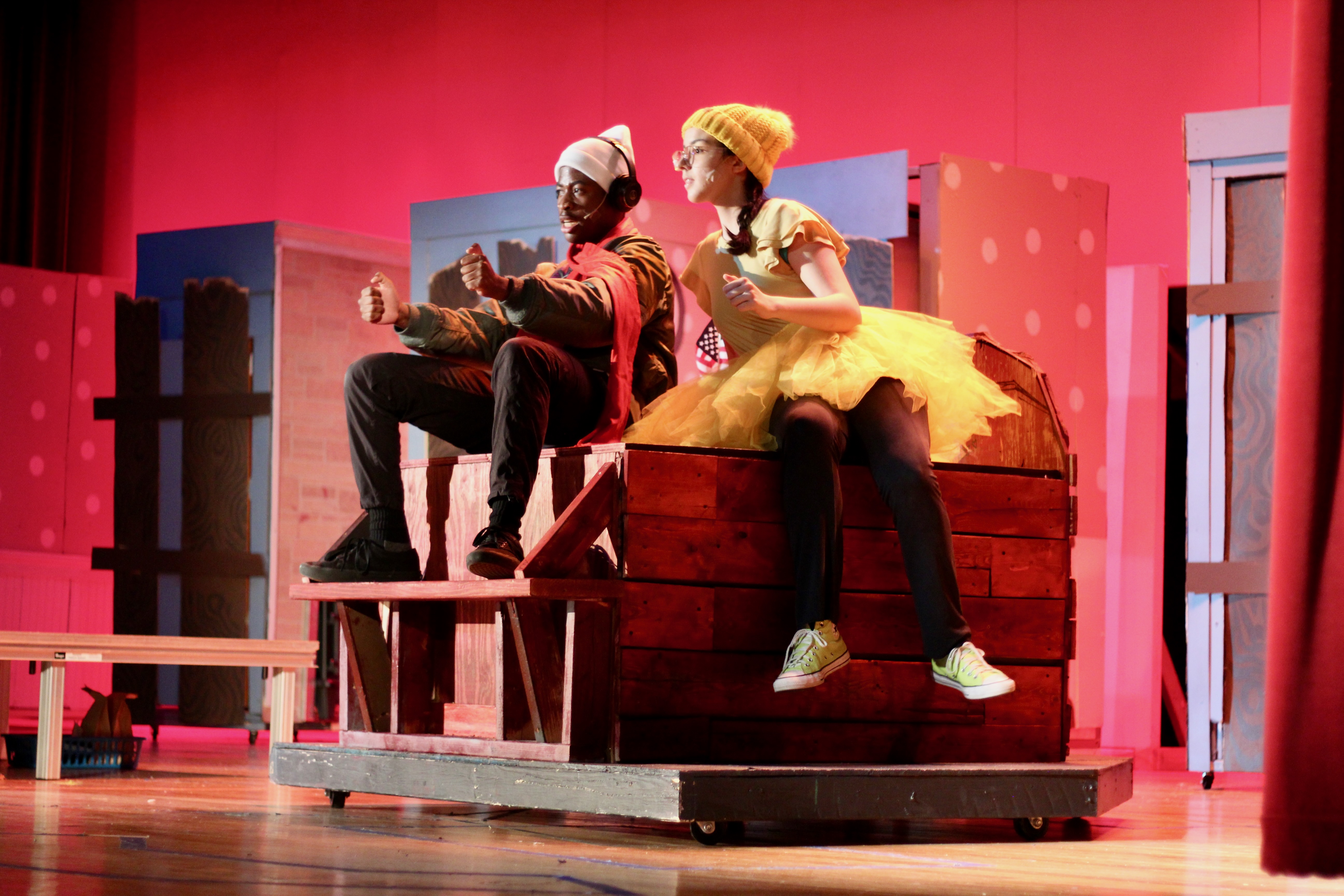 Culture & Community | Education & Youth | Arts & Culture | Musical Theater | New Haven Public Schools | Theater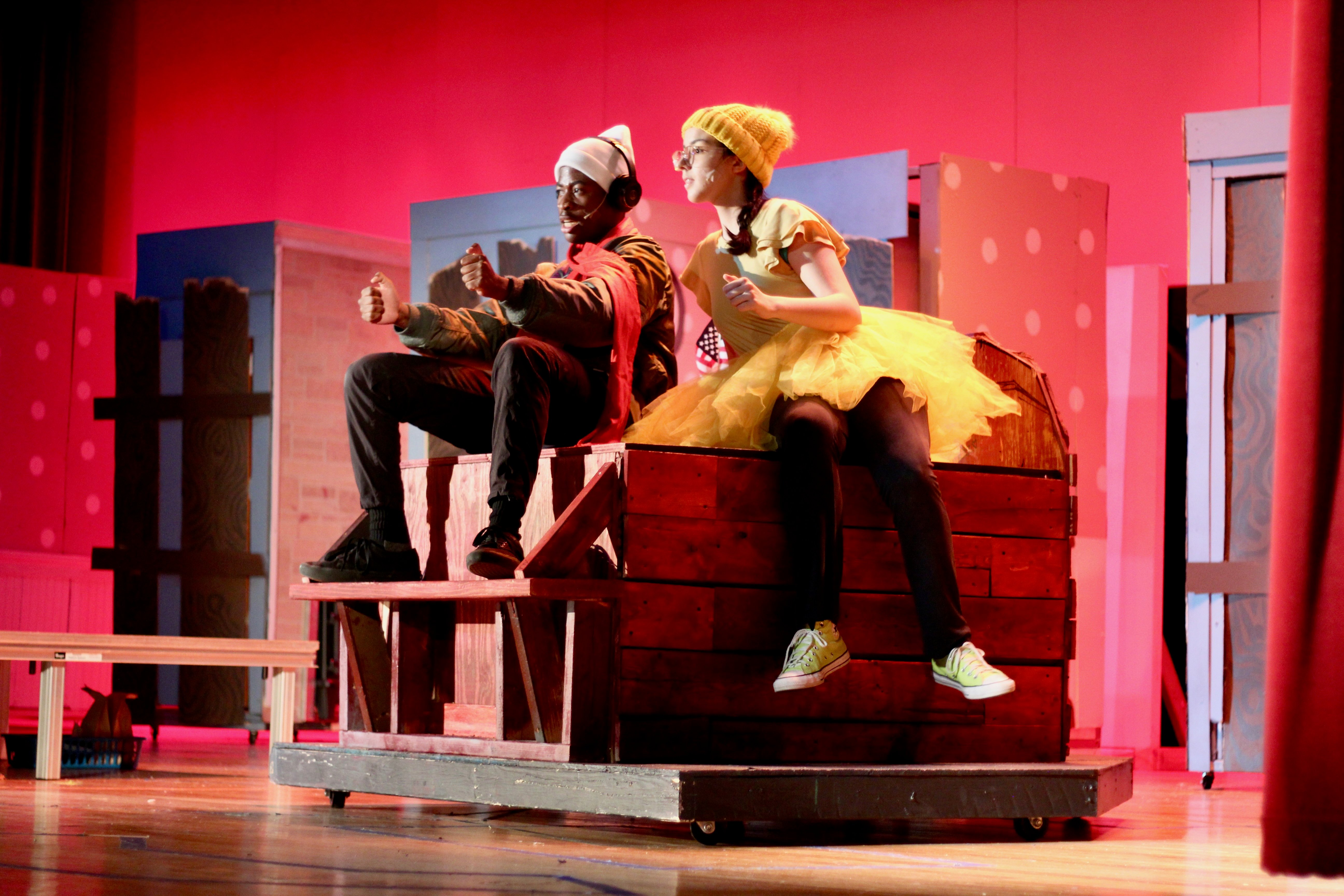 Noah Brown as Snoopy and Maria Hatje Faggion as Woodstock in Wilbur Cross High School's production of You're A Good Man, Charlie Brown. Lucy Gellman File Photo.
Snoopy leans in toward the stage, and suddenly he is an embattled pilot, ready to take on the whole world if it means protecting Charlie Brown. A few houses away, Schroeder daydreams about Beethoven at the piano, so starry-eyed he can't concentrate on baseball practice. A universe away, a ravenous Audrey II has just sampled its tastiest morsels of human flesh yet, but can't get enough to eat.
Those are just a few of the scene-stealing portrayals that scored Sondheim and Halo Awards earlier this summer, as drama students from Wilbur Cross and James Hillhouse High Schools received recognition for their work in You're A Good Man, Charlie Brown and Little Shop of Horrors respectively. As they head into a new school year, all of them are doubling down on growing their theater programs, which operate on shoestring budgets, dedicated drama educators and hours of after-school mentorship that often go untracked and uncompensated.
Halo Award winners include Wilbur Cross grad Noah Brown (Best Comic Male Performance in a Musical), rising Cross sophomore Daniel Cardenas (Best Up & Coming Performer), and Hillhouse students Finn Crumlish, Laila Wooten and Mikaila Matta (Best Specialty Ensemble in a Musical). Carlie Mathews-Ramos, a rising senior at New Haven Academy who played Princess Winifred in Notre Dame High School's Once Upon A Mattress, won Best Leading Actress in a Classical Musical Performance. This year, she also starred in New Haven Academy's Songs for a New World.
Jack Marchand, who played the carnivorous plant Audrey II in Little Shop, won the Sondheim Award for best supporting actor. He begins his freshman year at Wesleyan University, where he is not sure whether he will continue musical theater, this month.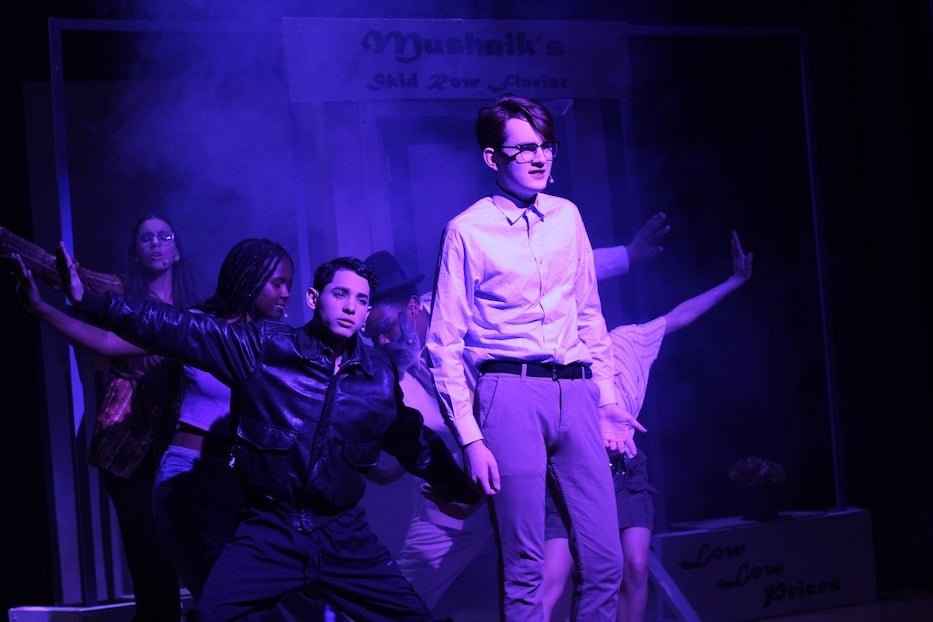 Finn Crumlish as Seymour in James Hillhouse High School's Little Shop of Horrors. Behind him are Jose Saez, Mikaila Matta, Warren Letridge, Laila Wooten, and Amelia Tamborra-Walton. Lucy Gellman File Photo.
"Wilbur Cross doesn't have the biggest budget for theater, and it's nice to see that having a talented cast really makes a performance," said Brown, a rising freshman at Bard College who played an intense, side-splitting and quirky Snoopy in March. "It's not just the budget. I kind of went to the awards just happy I was nominated, but winning it, it felt just like a lot of the work that I had done and put into it was recognized."
In a handful of awards, student winners—and the educators who have helped them get there—tell a story of scrappy but strong drama programs, with diverse, polyphonic casts and shoestring budgets that still manage to make magic.
At Cross, that's embodied in the Lights Up Drama Program, where teacher Salvatore DeLucia and speech pathologist Heather Bazinet are working with students to rebuild after years of unexpected pandemic interruptions. This year, their production of Charlie Brown built on a foundation that students have been working towards since 2021, with A Light in the Dark and Freaky Friday The Musical. At the school, DeLucia has been able to build on his own dream of a more robust theater program with new classes in tech theater, but is the first to say he's taking it one production at a time.
In a phone interview earlier this summer, he said he's incredibly proud of the students in the program, who have turned a fledgling initiative into a place for big vocals, risky and sometimes raucously funny roles, and peer-to-peer mentorship on everything from acting to stage management to set design.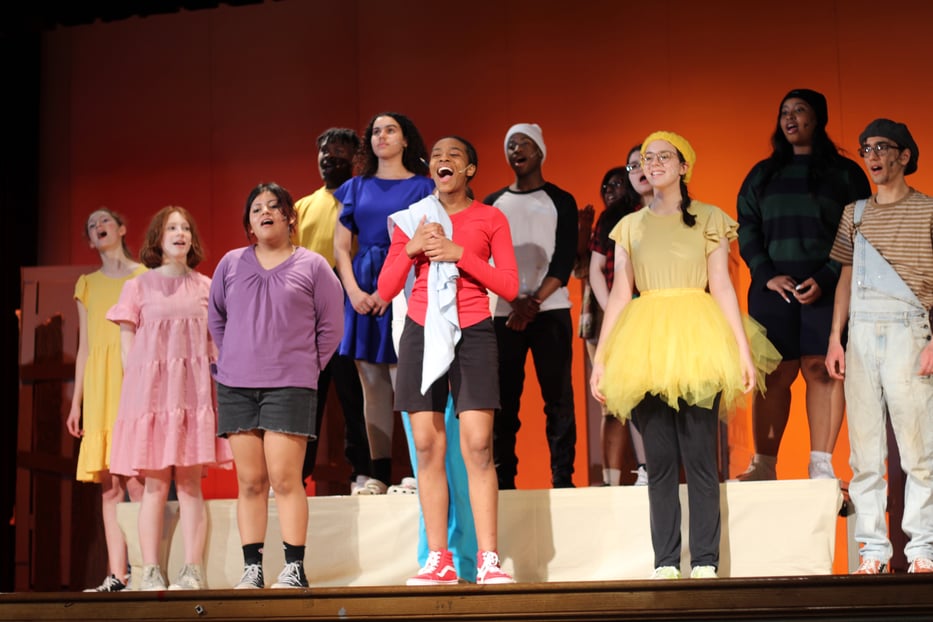 The cast of You're A Good Man, Charlie Brown. Lucy Gellman File Photo.
"It's not even about winning," DeLucia said, pointing to multiple nominations that the school snagged at both the Halo and Sondheim Awards this year, including costume, sound, and set design. "For me, it's about them being in the conversation. Two years ago, I didn't even have a tech theater class ... Now, by being here, that means you are in the conversation. You are one of the names, when people talk about the premiere sound designers, the premiere set designers. You're there."
He's loved watching both collective and individual student wins along the way, he added. He pointed to Cardenas, who almost didn't make it to opening night. After the then-freshman was cast as Schroeder, he had trouble finding time to rehearse and memorize his lines—which put both the role and the play in jeopardy.
After one particularly trying rehearsal two weeks before the show was set to begin, DeLucia and Bazinet brought him into their de facto office (a.k.a. DeLucia's homeroom). They asked him if he thought it was time to relinquish the role.
"I was heartbroken," Cardenas remembered in a phone interview. He doubled down, practicing his numbers for two days straight. When he showed up at the next rehearsal during tech week, he nailed every one of his lines, hitting nearly every note. It was enough to stay in the show. When he won in a new, unexpected "Up & Coming" category at the Halos, both he and DeLucia rejoiced.
"It was like, it was literally like my favorite thing ever," Cardenas said. "I was like, 'Oh my God, I did it.' That was the second best thing ever to happen through this whole process. The first was the musical."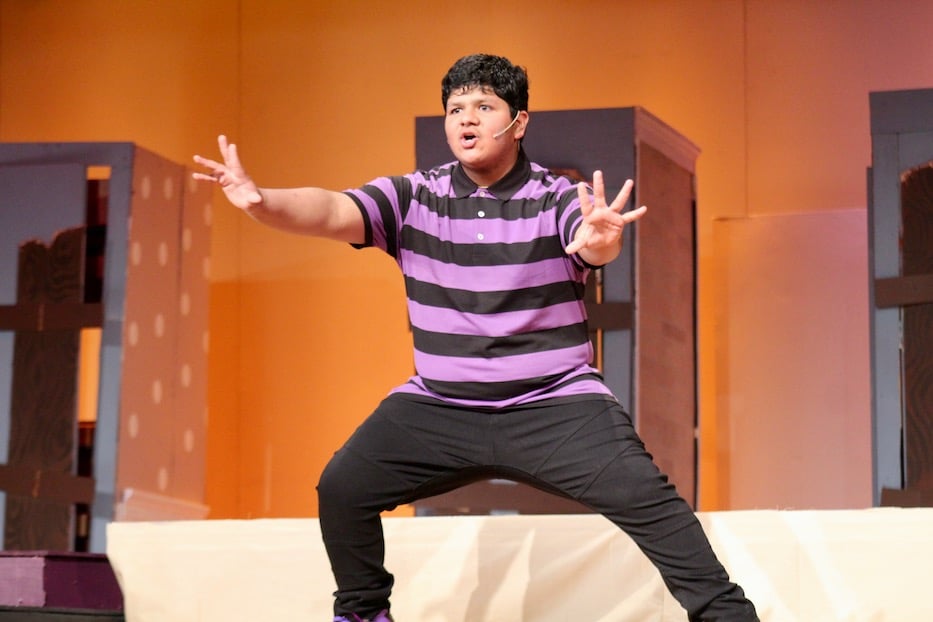 Cardenas as Schroeder in You're A Good Man, Charlie Brown. Lucy Gellman File Photo.
For Brown, who is headed to Bard College to study theater, the musical and Halo Award were a triumphant end to a high school experience upended by the pandemic. After receiving a nomination and not winning last year, he said, he went into the 2023 Halo Awards without high expectations—and was thrilled to win.
"It's kind of surreal," he said. Part of it, he added, was the sheer delight of playing Snoopy.
"He's his own person," he said. "He's actively a human, just in a dog's body. He kind of lives in his own world, where he is the main character in his story. But he's also incredibly caring, and can't really be taken out of the play. It's a lot of just … it's taking risks and letting go. It's fully leading with your instincts."
"It's like a Cinderella story," DeLucia said, reflecting on both the two Halo wins and a handful of Sondheim nominations that the show picked up. "That's what New Haven is. When I think of the New Haven Public Schools and Lights Up and this program, it's a Cinderella story. Like, we'll take whatever we got. Old wood. Old pallets. We will shine that up and make it sparkle like you wouldn't even believe."
For the first time this year, it's also a kind of full-circle moment. Just a few miles over in Beaver Hills (and currently, down the road on Orange Street), Hillhouse drama director Tyheed Scurry is a 2018 graduate of Wilbur Cross, whose love for music and drama pushed him to start student theater companies at both Hillhouse and New Haven Academy in 2019 and 2022 respectively.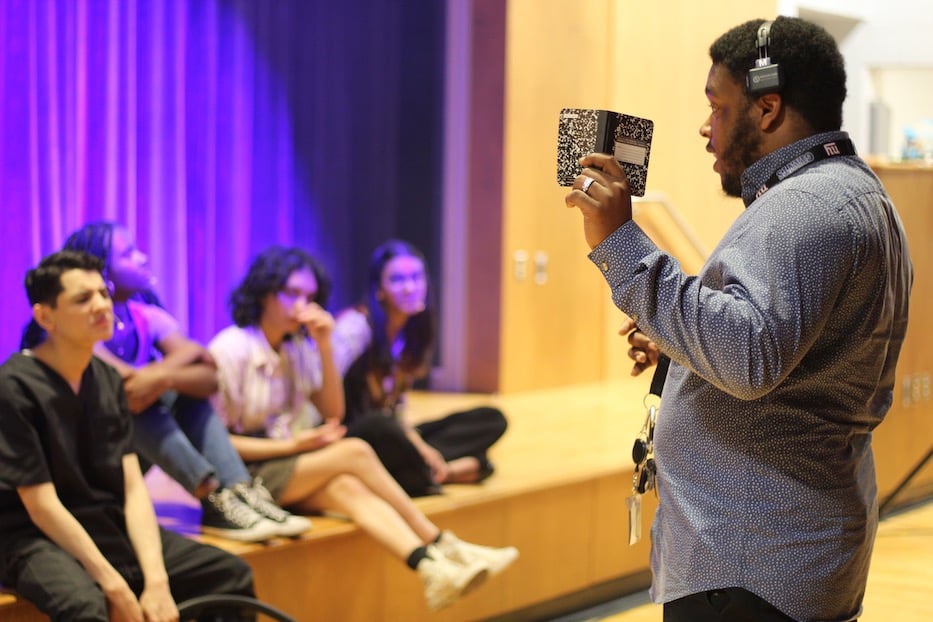 "Drama Poppa" Ty Scurry gives out notes during a tech for Little Shop of Horrors, which Hillhouse's drama club put on at New Haven Academy earlier this year. Lucy Gellman File Photo.
After a production of The Wiz that was an early casualty of Covid-19, Hillhouse's Academic Theater Company came back strong last year with BKLYN. Then this year—after losing its Sherman Parkway auditorium—a small but mighty ensemble kept that momentum going with Little Shop, using old, repainted set pieces, an intimate pit, and the help of a few New Haven artists to bring the show to life.
It's been a labor of love, Scurry said in an interview earlier this year. In the past year, the company moved schools and funded its production entirely through the generosity of friends, families, and fellow educators who chipped in to help because they believed in the arts. In turn, a tiny crew and tight-knit cast of eight students stayed with it through opening night.
"They've been thrown through more hoops than I think anyone should have to be thrown through, and for them to not only stay on top of their game, but to want to do it, is spectacular to me," Scurry said in an interview earlier this year. He added that although he is only a few years older than most of the students he teaches, they refer to him as a "drama poppa," a sobriquet that he wears with distinction.
Marchand, who won the school's only Sondheim Award and played the Cowardly Lion in that ill-fated production of The Wiz, said he feels grateful to have had Scurry's leadership over the past four years, a consistent part of a high school experience that was otherwise turned on its head. Last year, he played a veteran struggling with substance use disorder and PTSD in the spring musical. So when he found out that Audrey II was a role he could try out for, " I was like, "Oooh, I want to do this,'" he remembered. "It's really catchy and it's really fun to sing."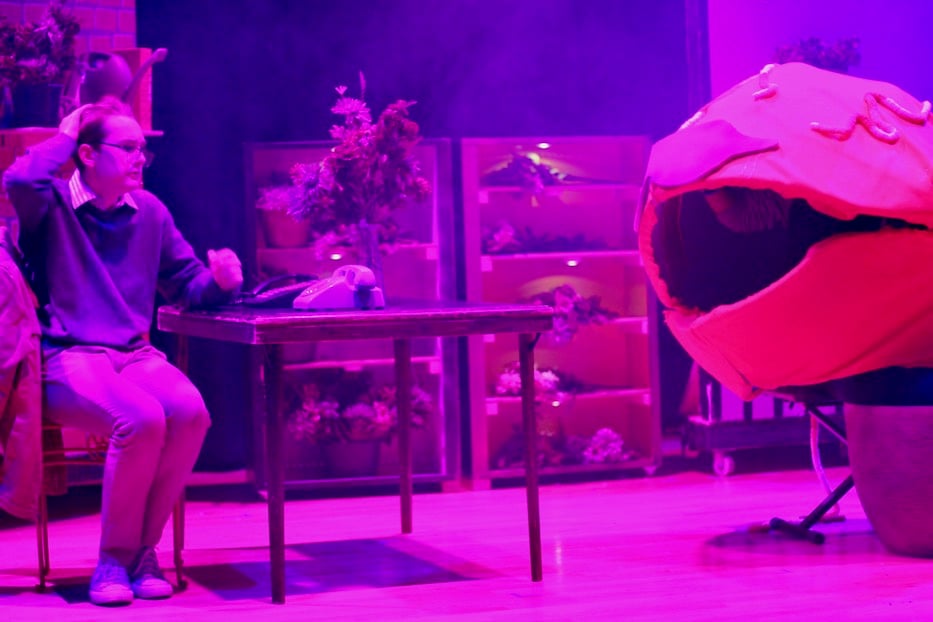 Finn Crumlish as Seymour and Audrey II, voiced by Marchand.
"I think we had the exact right amount of people for this show," he said in a phone call earlier this summer. "We don't have a lot of resources for theater, especially because we're a new program. In past years, at least we had our own auditorium, but it's gotta be fixed before we can use it again. So I think we did pretty well with our budget. Most of our props were reused … it was certainly not a huge, expensive set. I think we were really innovative."
Nowhere was that clearer, both he and Crumlish added, than at awards ceremonies where NHPS students saw peers from whiter, wealthier schools perform large, glitzy ensemble numbers that were bigger than Hillhouse's entire cast and crew (at the Halos, Crumlish said, Scurry was the only director of color on the stage during the entire night). Beyond a story of an underdog theater program, it was and is a testament to the support that a program like Hillhouse's needs to become sustainable.
"It [Little Shop] had this kind of novel feel to it, this scrappy cast, but it was also sad and unfair that we didn't get the access that these other schools have," Crumlish said, recalling large, flashy "super-choreographed" dance numbers that other schools put on during both awards ceremonies. "I guess that made the victory even sweeter."
"I'm kind of hopeful for the future," he added. "And I'm thinking if this can be the start of something more … We need some serious support. People always talk about underfunded public schools, and the first time I really felt it was the high school theater program. I feel like whatever school you go to, you deserve a huge theater program. I'm hoping that with this little humble start, we can move forward."