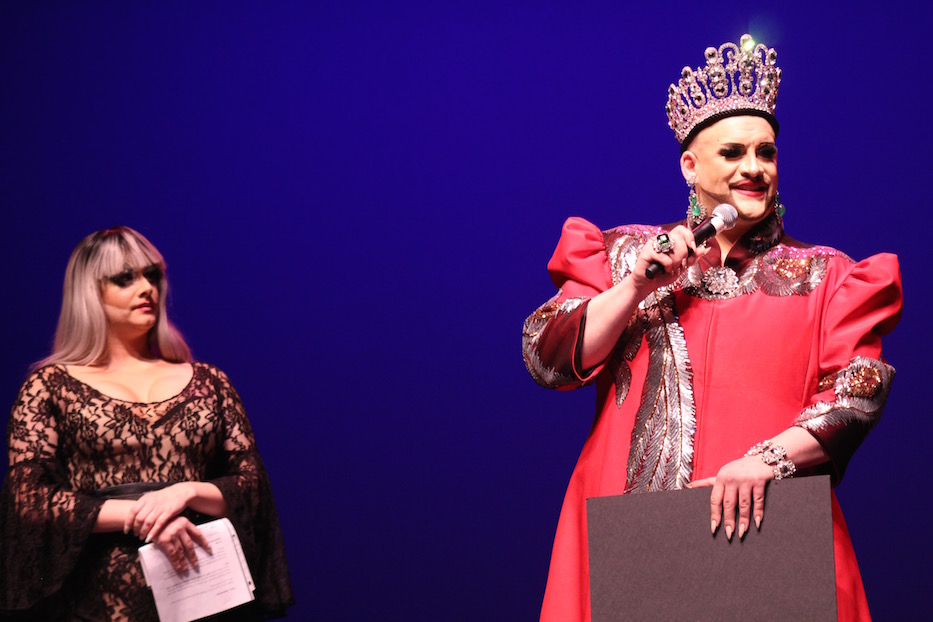 Drag | LGBTQ | Music | Southern Connecticut State University | Arts & Culture | New Haven Pride Center | Public Health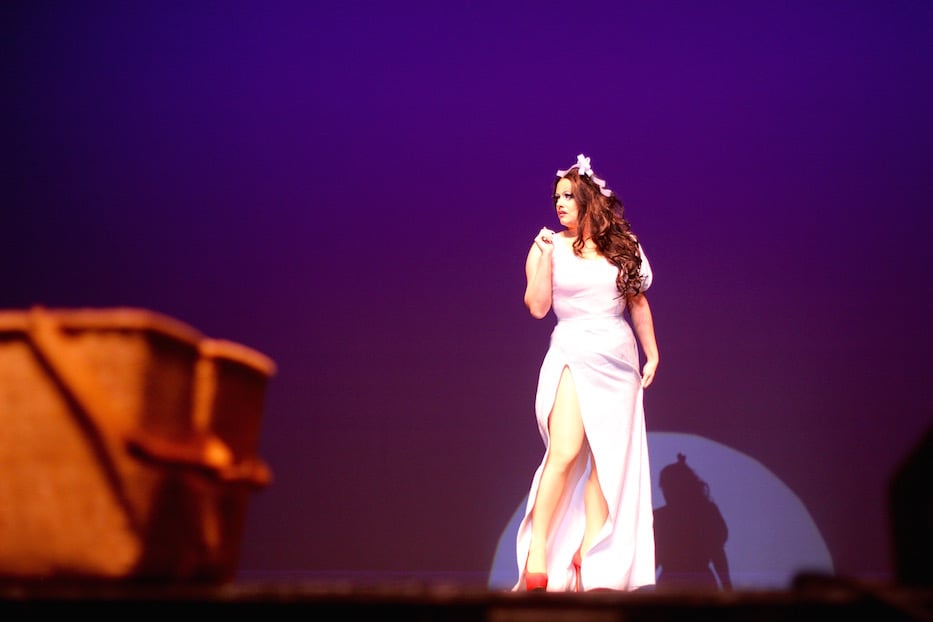 Ms. Kiki Lucia as Dorothy. Lucy Gellman Photos.
Dorothy was just trying to find her way home.
She stepped tentatively across the stage, her ruby slippers glowing in the light. Down the Yellow Brick Road, a scarecrow darted across her path, lifting two straw-stuffed arms to the sky. A Tin Man, chrome arms rigid and shining, did a full backbend to lead the way. Even the Wicked Witch of the West drew applause as she melted away one wave at a time, the audience cheering on a Connecticut drag legend.
"They said we couldn't do The Wizard of Oz, The Wiz, and Wicked in 10 minutes," Ms. Kiki Lucia said with a smile. "They were right. We did it in 12."
Drag royalty, performing artists, LGBTQ+ champions and Connecticut glitterati all banished the cold Saturday night, as the New Haven Pride Center's 19th annual Dorothy Awards swept into the John Lyman Center for the Performing Arts at Southern Connecticut State University on Crescent Street. Over 400 people attended the event, which raised $50,000 for the New Haven Pride Center by the end of the night.
That's good news for the Center, which will be growing its budget to $1 million in the next fiscal year. In the absence of True Colors, Inc., which shuttered abruptly last year, Center producer Jahnice Cajigas also announced that the Pride Center will be launching an annual conference for LGBTQ+ youth in May. It is scheduled for May 20-21 at SCSU.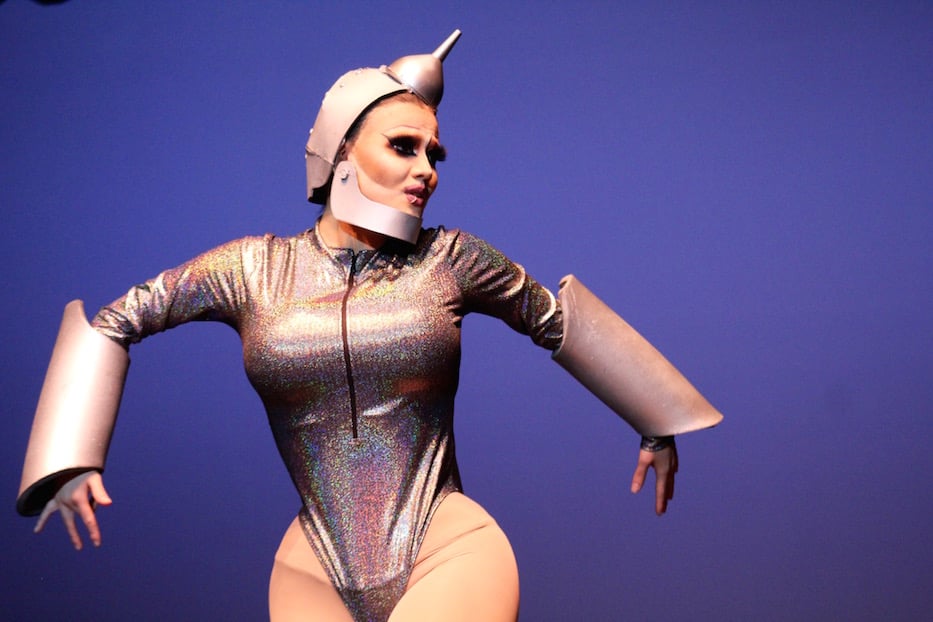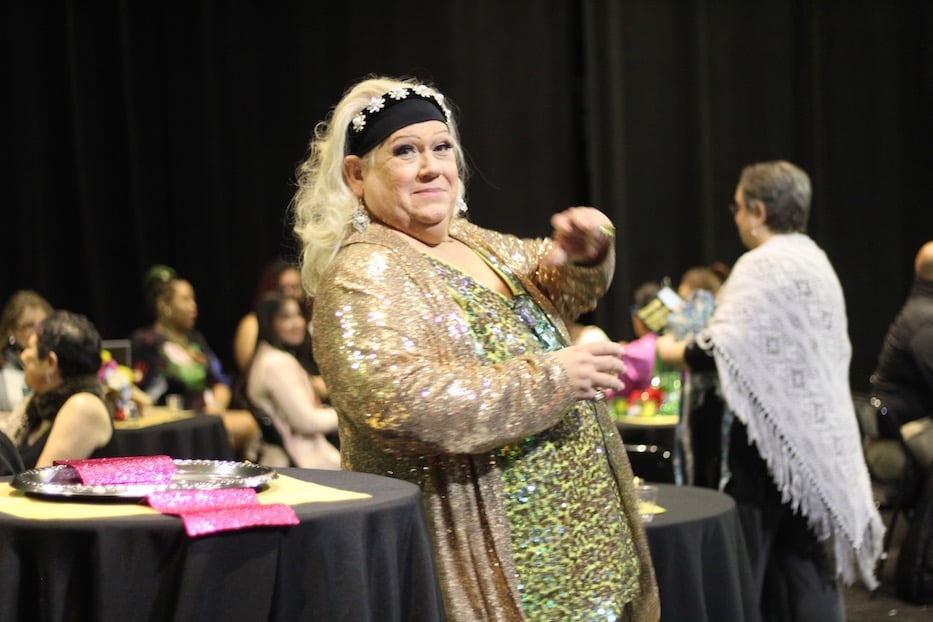 Top: Rory Roux Lay as the Tin Man. Bottom: Dolores Dégagé Hopkins, who became the first trans woman to chair the New Haven Pride Center's Board of Directors last year.
Saturday's honorees included Kamora's Cultural Corner Founder Kamora Le'Ella Herrington, Anchor Health Medical Director Dr. AJ Eckert, Chez Est Owners John and Luis Pepe, New Haven Rising Organizer Jamie Myers-McPhail, and LGBTQ+ youth organizer Dave John Cruz-Bustamante. Cruz-Bustamante, a sophomore at Wilbur Cross High School, is the recipient of the Center's "Rising Star" award.
The Center was able to hold the event indoors for the first time since March 2020 (Fantasia Banquet Hall, home to 16 years of Dorothy Awards, became a casualty of the pandemic in July 2020; last year's ceremony was virtual). Executive Director Patrick Dunn said that the lead-up to this year's event was particularly stressful, because a surge in Covid cases earlier this year left staff wondering whether it would be safe to gather in person.
"In the queer community, I think we've been collectively holding our breath waiting to come together," said Dunn, who spent the evening as his drag alter ego, Kiki Lucia. "The first step was when the gay bars reopened. Then the second step was when the Prides [Pride Month celebrations] came back. The Dorothy Awards feels like the opportunity for us to all show up and have fun. To wear a nice dress, or wear whatever you want to wear, to come as you are and have fun doing it."
Held on the second anniversary of pandemic shutdowns—to the day—the awards balanced an explosive, often hard-to-contain joy with an acknowledgement of how hard the past two years have been. During that time, the Pride Center has continued to grow its staff, pay and support performers, and roll out programming from food distribution to case management services. It has also collectively grieved the loss of community members, scrambled to fill a gap in LGBTQ+ youth and adult services, and watched as states roll out a record number of anti-gay, anti-Black, and anti-trans bills across the country.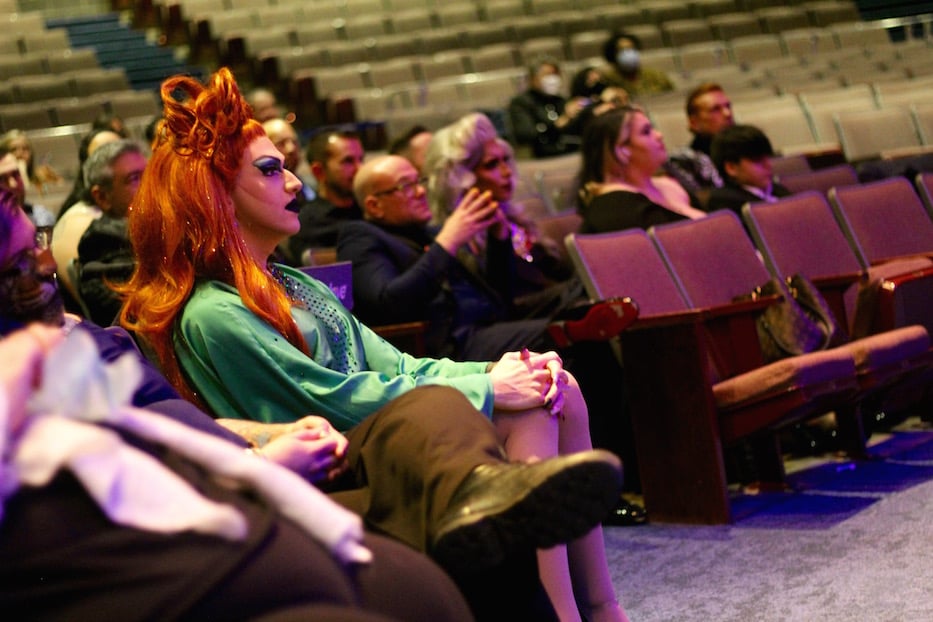 Top: Audience members settle in. Bottom: LuLu Diamant Fiercè, the drag alter ego of Luis Pepe, and John Pepe.
Saturday, both honorees and performers took time to fete those who have, when faced with the trauma of the past two years, scraped the bottom of the barrel to sustain those around them. Moments before Chez Est owners John and Luis Pepe took the stage to accept their award, Lucia thanked them for finding a way to support artists even when money was not coming into the bar.
After shutdowns rattled the state, the Pepes were some of the first to open their doors—and their stage—to virtual performances for drag artists who had lost everything overnight. Even as they figured out the pivot to restaurant service and new capacity rules, they held Chez Queen All Stars, a drag battle that crowned its first-ever drag king in summer 2020. Going into that first pandemic winter, they opened a branch of the Pride Center's art gallery to show LGBTQ+ artists' work. They still offer online tickets to those who do not feel comfortable attending shows in person.
Jack Woodin, president of the Connecticut Gay and Lesbian Chamber of Commerce, called the couple "his favorite subject," pausing theatrically for laughs as he described their personalities as opposing, magnetic, and sometimes pugnacious ("We all know about the hot head, we know about the crabby one," he said, blushing as it drew applause from the audience).
But there are depths to the Pepes' generosity that the audience doesn't see, he continued. Six years ago, the couple took in John's nephews after a family tragedy, and is raising the boys with an "army of aunties and uncles and drag queens that come together to celebrate life occasions with those boys and love them so much." Attendees may not know that both John and Luis work full-time, and then come in to run the bar even when they are running on fumes. Or that during the darkest days of the pandemic, they often donated what little they made to other LGBTQ+ causes in the community.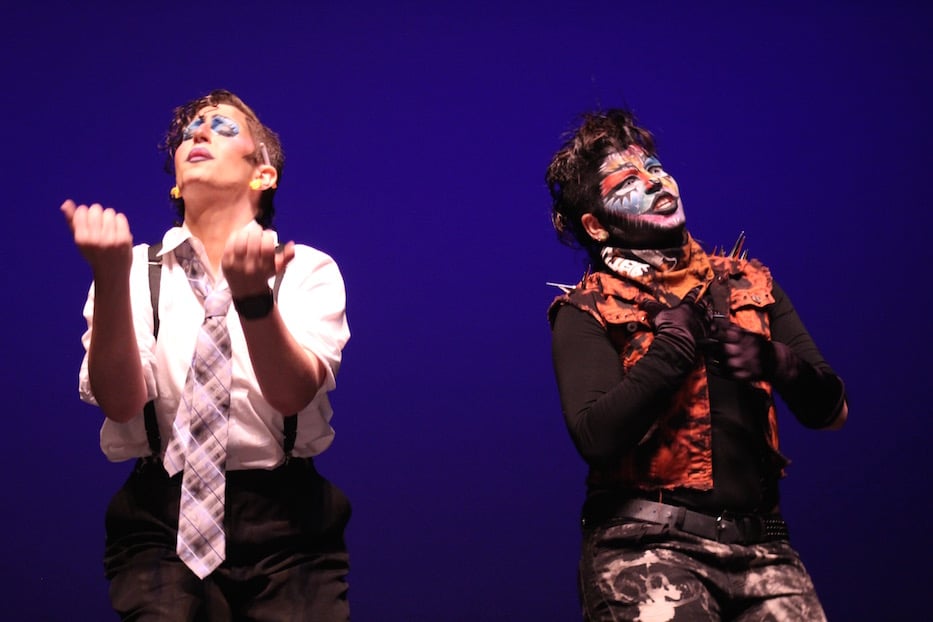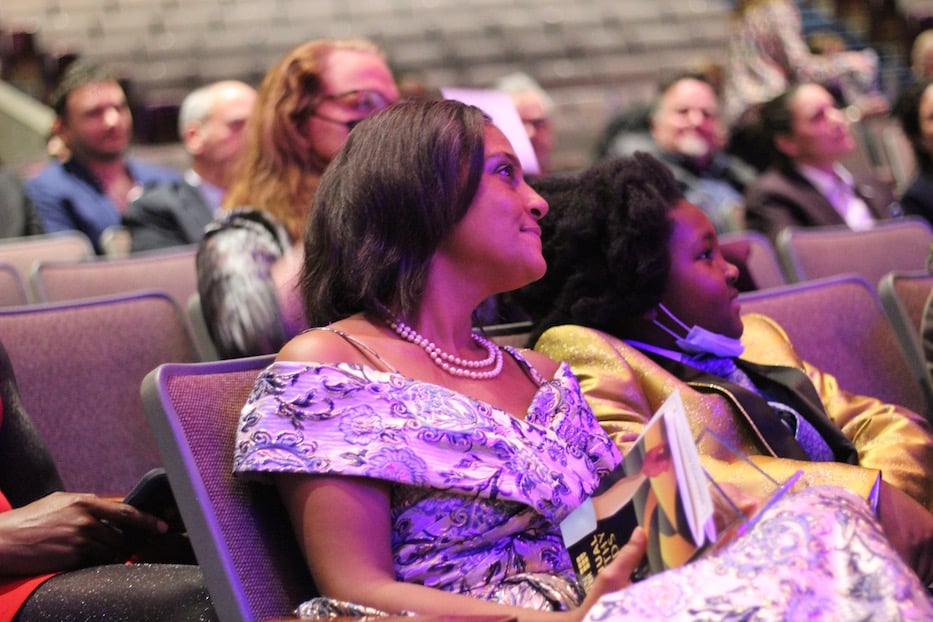 Top: Drag Kings Frankie Cyanide and Paxx Headroom, who performed a West Side Story medley with Perry Winkle. Bottom: Kamora's Cultural Corner Founder Kamora Le'Ella Harrington with her son Isaiah.
When the two took the stage to a standing ovation, John wasted no time in thanking the thousands of people who have made the Chez, of which he is the third owner in almost five decades, a home base for every part of Connecticut's kaleidoscopic LGBTQ+ community. Riffing on the name of the bar, French for both "home" and "in the home of," he pointed to the sheer number of people who use the space, from the Leather and Bear communities to Latinx folks to straight allies who walk through the doors.
When pandemic closures rippled through the state two years ago, "we thought it would be lost forever," he said. "But you, the community, would not allow that to happen. I say this time and time again ... It's the heartbeat of the Chez' family that keeps it alive."
Instead, the Chez rebounded, one drag performance, burger, and flatbread pizza at a time. By the end of 2020, the bar told patrons that it believed it would survive the pandemic. Two years later, Pepe said, he holds onto that resilience as a reminder that the work continues—and evolves—with the community's needs. He looked out onto the audience, where drag queens in stiff green silk, silver sequins and tiaras sat close to high school students decked out in pearls and bright floral jumpsuits. The Chez is a place for all of them and everybody in between, he said.
"We really do have the greatest job in the world," he said. "Drag is not free. All queer art is valid. All drag is valid. Pronouns matter. Identity matters. Black, Asian, and trans lives matter. These are statements that we should keep fresh in our minds. We cannot, as a community, lose sight of that fight for equality."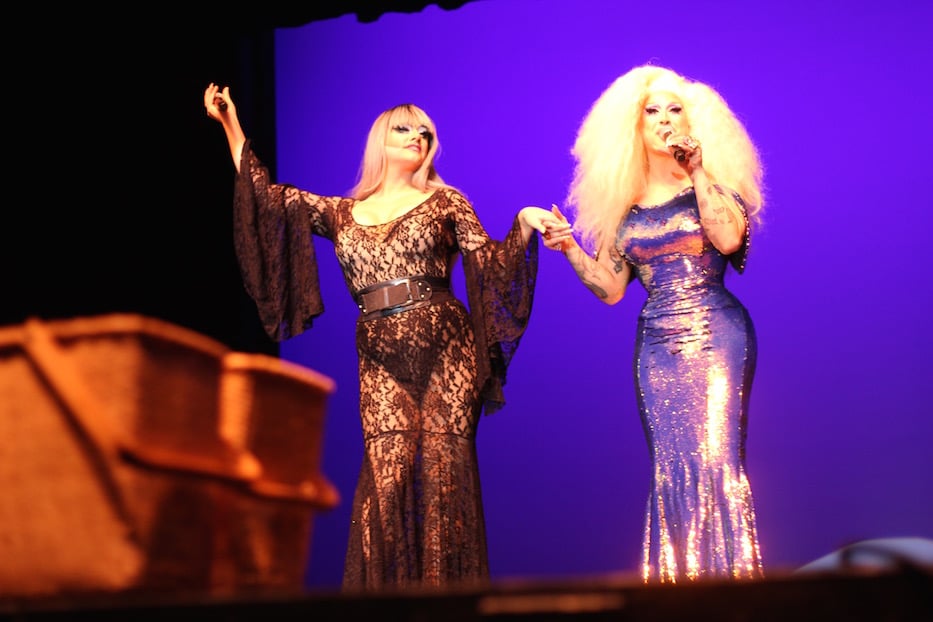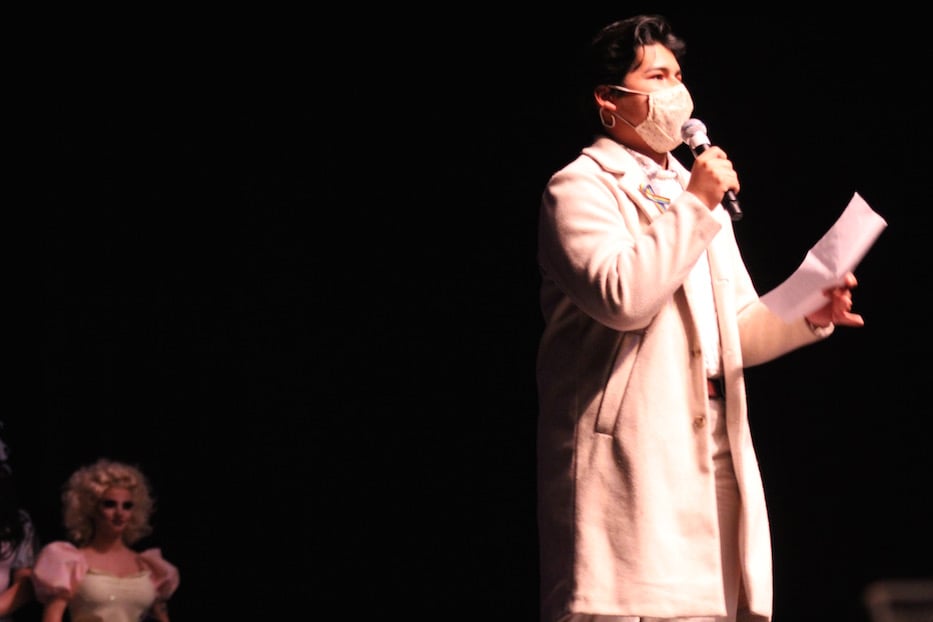 Top: Kiki Lucia and Loosey LaDuca perform "Popular" from Wicked. Rising Star awardee Dave John Cruz-Bustamante, who is a sophomore at Wilbur Cross High School and an organizer with City Wide Youth Coalition. In their introduction, Ta'LannaMonique Miller called Cruz-Bustamante "an amazing young person" for both their fierce sense of conviction and their compassion for others. "When they grow up, Dave is going to fuck some shit up for real," Miller said to laughs.
The night also doubled as a fierce, often tender reminder that—in the words of multiple honorees—"the work is never done," particularly at a moment of violent anti-trans backlash across the country, and will continue only through intersectional coalition building. Sketching out "the absolute joy that is revolutionary tradition" as the first awardee of the evening, Cruz-Bustamante urged attendees to fight for a world in which communities have the resources that they need, where "people can look you straight in the eye and say 'I'm okay' and fully damn mean it!"
The founder of what Karleigh Chardonny Webb called "a queer oasis in the middle of our community," Herrington thanked the Pride Center for the recognition, which has grown out of decades of tireless organizing by, with, and for members of the queer community. "I love each and every last one of you in here," she said.
Her face streaked with tears, she described her own choice years ago to "step out on faith," a phrase that she draws from family members who came from Opelika, Alabama to Connecticut during the Great Migration. Saturday morning, her family buried her Uncle Joe, "the last of the remaining adults who stepped out on faith." Hours later, she was sitting in a gown in the dark auditorium at the Dorothy's, listening as Cajigas announced a new conference for LGBTQ+ youth where True Colors had left a gaping hole. She took it as a sign.
"What I'm saying, what I'm doing here, is a continuation," she said from the stage, taking time to both dazzle and speak truth to power. "This is what I'm supposed to be doing. And I'm supposed to be doing it here with my queer family, I'm supposed to be doing it here with my Black family, and we are here, and we are doing it."
She shouted out members of the True Colors family, who have continued to create spaces for queer youth in the absence of an organization. She applauded Dunn for sharing the stage with all 15 fellow staff members at the Pride Center, an acknowledgement that no single person can run a service organization by themselves. She urged attendees to embrace conflict, pointing to how hard she and others in the state have had to fight for basic LGBTQ+ rights.
"Our movement has grown up," she said. "Tension and conflicts are gifts that allow us to grow together … Imma ask y'all to step into tension. Imma ask you to step into conflict. It's a whole lot of fun to stand up and kiki and laugh, and tonight we need to celebrate. But if we avoid conflict and if we avoid tension, we's fucked up! And we are so much better than this!"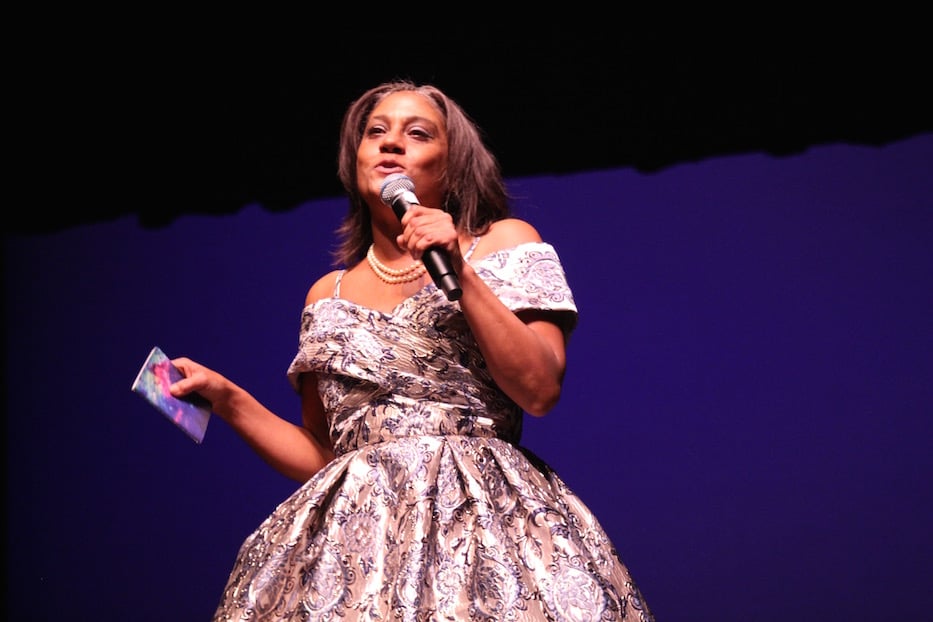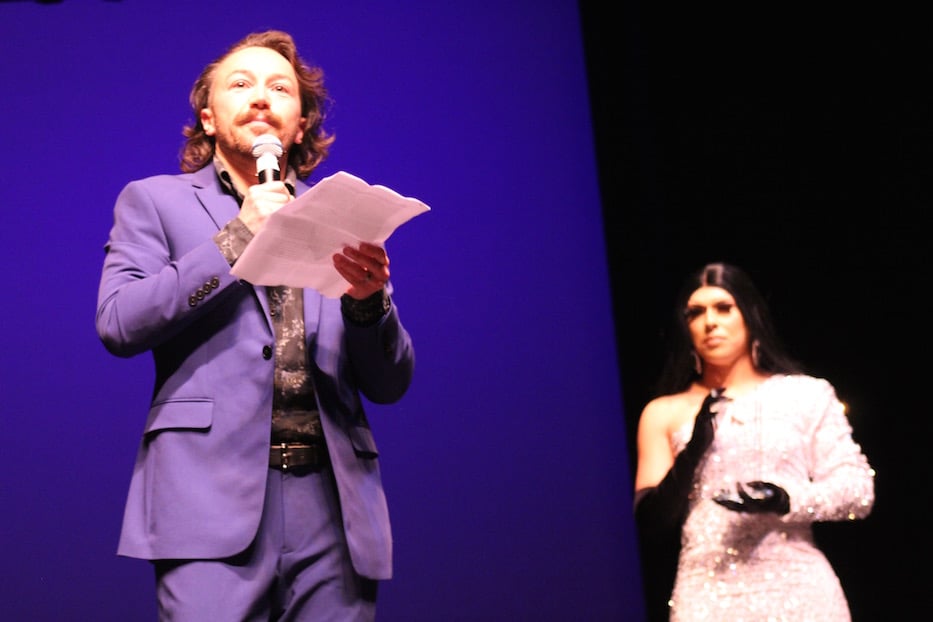 Top: "Tension and conflicts are gifts that allow us to grow together," Herrington said. Bottom: Recipient Jamie Myers-McPhail.
Myers-McPhail, whose work has included labor and unionization campaigns, spoke on their own beginnings in rural New Hampshire, where they grew up poor "in an area with no [LGBTQ+] visibility." As a kid, Myers-McPhail never heard the terms queer or trans; they didn't know that campaigns for access to jobs or healthcare existed. Instead, they watched their mom "struggle month after month" with her own mental health challenges. By their teenage years, "I didn't feel like anything mattered," they said.
For years, "I started down this self-destructive path" because they didn't know another one existed. They abused substances, stole cars, and broke into homes. After making it into young adulthood, they faced anti-trans discrimination and sexual harassment in and outside of the workplace, aware of the precariousness of their own working conditions. Labor organizing was the answer to the gap that they'd been sitting in for so long.
As they watched their own working conditions improve—a path previous union strikers "had risked their marriages and their homes for me to have," Myers-McPhail said, voice trembling—they felt a drive to do the same for those around them. Drawing cheers and applause, they described their current work with New Haven Rising and advocated for a deeply intersectional approach to organizing.
"This solidarity is more than just a call to working people, or some vague communal sentiment," they said. "We cannot fight for freedom until we understand how our struggle for deeply personal freedom is tied to one another's struggle, and for our community's struggle for freedom."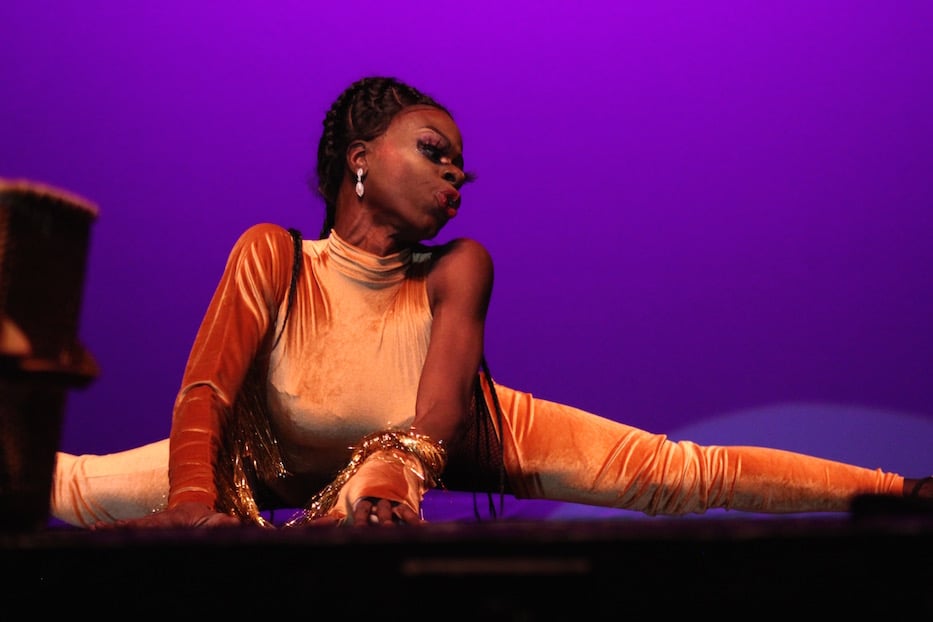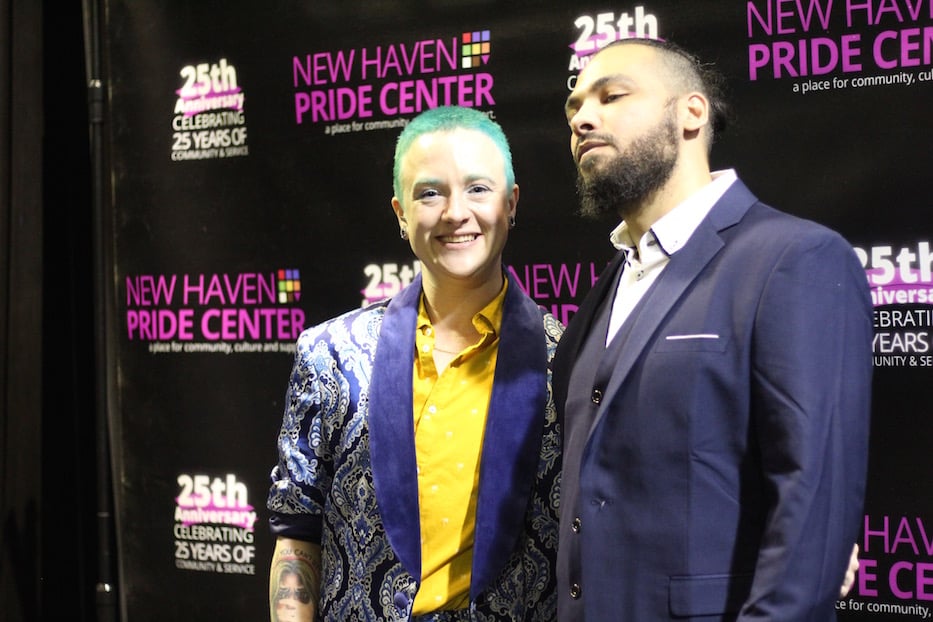 Dr. AJ Eckert, medical director at Anchor Health, and their fiancé Monroe Bryant.
As the last awardee of the night, Eckert first looked to the shoulders they stand on—those of Anchor Health Founder Dr. A.C. Demidont, who began her work in gender-affirming, sex-positive health care out of a tiny corner of the New Haven Heath Department in 2016. Six years later, Eckert and Anchor staff are growing that footprint out of two clinics, where the organization has served over 2,500 patients to date.
They thanked their fiancé, the artist Monroe Bryant, and colleagues at Anchor, who formed a cheering section close to the stage, "without whom I wouldn't be here." Then they issued a plea to the audience: Listen to trans people. Listen to trans health providers. Honor the needs of trans youth. It's that simple.
"I cannot overstate the sense of urgency and level of distress many of my young patients experience when puberty starts," they said. They recalled one young patient who entered their care several years ago, experiencing stress and depression so extreme it was making him physically ill. At the time, he was on the cusp of puberty, and so fearful of getting a period that he was suicidal. With the help of puberty blockers, "this child has become a happy, outgoing teenager," Eckert said. They wish that for every single one of their patients, they added.
"If lawmakers knew how life changing gender affirmation can be, maybe they would work to keep our trans youth safe and consider them equal to their cisgender peers," they said.
In an interview before the ceremony, Eckert added that an award feels premature, because "there is still so much left to do." In the first three months of the year, 2022 has seen 266 proposed pieces of anti-trans and anti-LGBTQ legislation, from the "Don't Say Gay" bill that just passed the Florida State Senate to bills restricting gender-affirming healthcare and curricula in multiple states.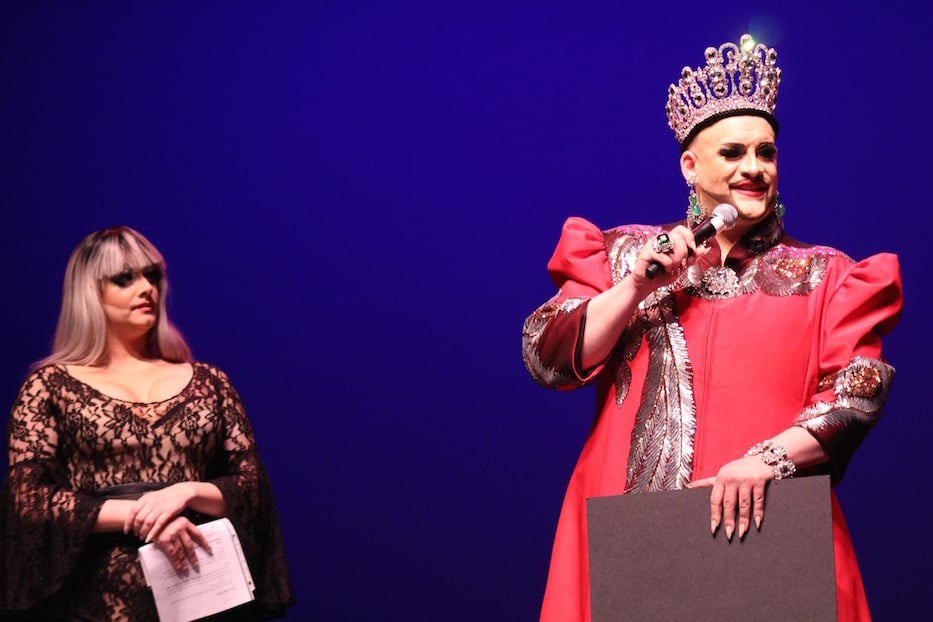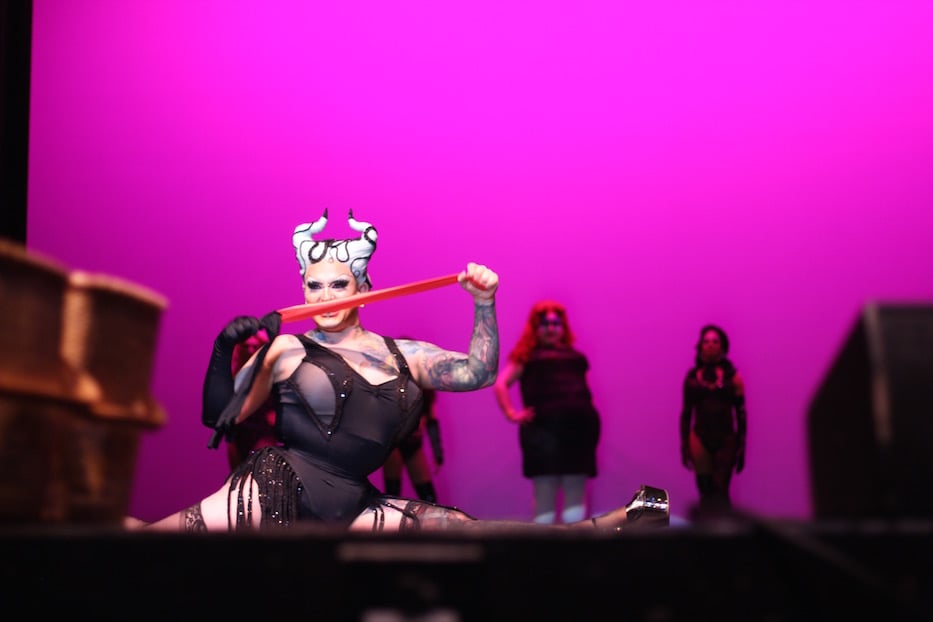 Top: Miss Frank presents the Center with a $15,000 check from the Imperial Sovereign Court of All Connecticut. Bottom: A moving take on the "Cell Block Tango" was just one of the performances that kept the audience entertained during the night.
Throughout the evening, honorees' messages lent new meaning to performances, from a star-studded "Cell Block Tango" to appearances from RuPaul's Drag Race all-star Roxxy Andrews to Wicked's "Defying Gravity." As longtime performer Miss Frank appeared in a sparkling black dress, high-heeled black boots, and a matching pointed black hat (video below), attendees cheered them on as Elphaba, the not-so-wicked Wicked Witch of the West. Several acts and one wardrobe change later, they reappeared to present the Center with a $15,000 check from the Imperial Sovereign Court of All Connecticut.
As the chords to the Wicked standard swelled around them, lights flashed from pink to purple to bright green, sweeping across their face. Miss Frank's voice filled the theater, blooming as it announced "Our future is un-lim-it-ed!" Frank drew out the words, extending one arm as they glided from one edge of the stage to the other. In that moment, they and the audience were, it seemed, right where they needed to be.
"You can't hold me do-ooo-ooo-wwn!" they belted, and people jumped up from their seats, ready to take on the world.
To learn more about the New Haven Pride Center, visit their website.