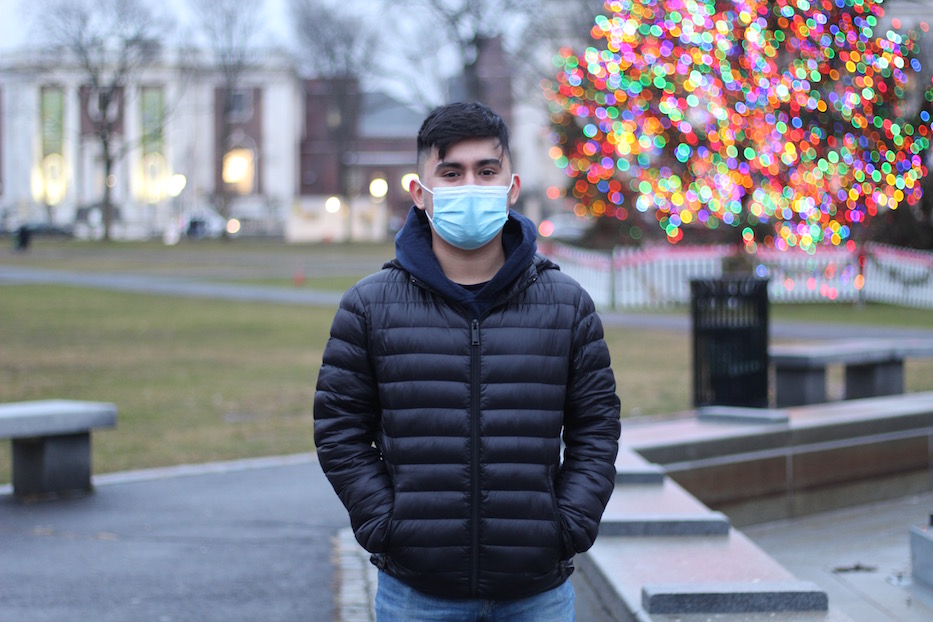 Downtown | Arts & Culture | Yale University | Elicker Administration | COVID-19 | New Haven Board of Alders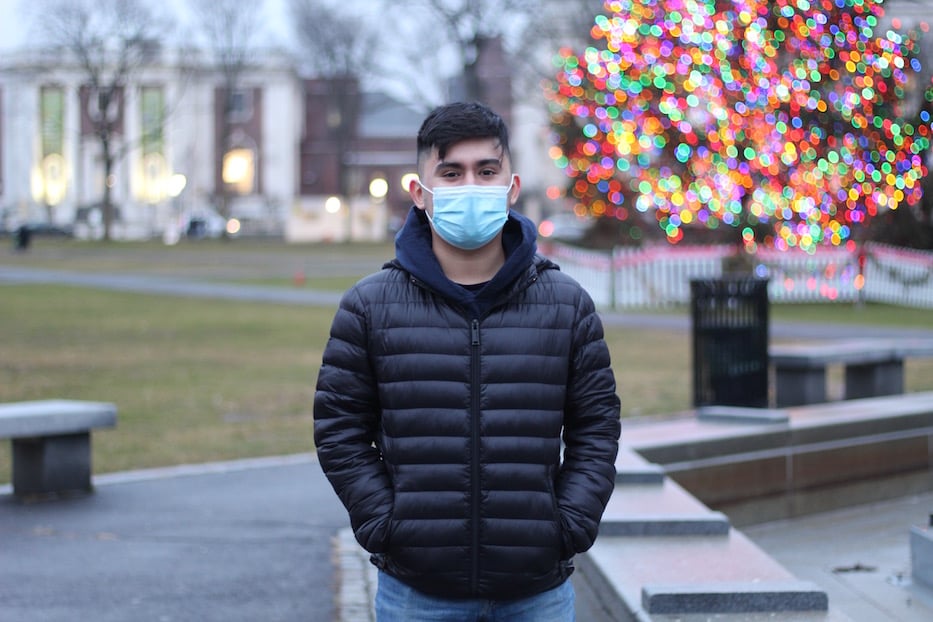 Alex Guzhnay, who now serves as the city's Ward 1 (Yale/Downtown) alder. Lucy Gellman Photos.
Alex Guzhnay spent years wondering why so many cultural events happened downtown, instead of in the majority-Latino neighborhood where he grew up. As a newly-minted public servant, he's now part of a team working to shift city resources to the artists and communities who may need them most—even if they're not in his ward.
Guzhnay, a 19-year-old Yale student who grew up in Fair Haven and now represents downtown's Ward 1 on the New Haven Board of Alders, is the newest appointee to the city's Cultural Affairs Commission. His appointment passed in a unanimous vote Monday night, at the alders' first full meeting of the new year.
In an interview with the Arts Paper during his first week on the job, he outlined a vision for cultural programming that engages youth, lifts up community centers and neighborhood-based initiatives, and supports the city's nascent cultural equity plan. He replaces Fair Haven Alder José Crespo, who followed Dwight Alder Frank Douglass, as the aldermanic representative on the Cultural Affairs Commission.
"In a million years I never thought that I would have these opportunities," Guzhnay said Wednesday, taking a short break from distributing N95 masks and test kits to constituents downtown. "But I'm thankful for them, and trying to do my best."
The appointment is part of a larger shift to a commission that is younger, queerer, and more representative of New Haven than it has ever been. Last year saw the appointments of New Haven Pride Center Executive Director Patrick Dunn, Long Wharf Theatre's Hope Chávez, and longtime community champion Magaly Cajigas. Dunn has since taken over as chair, a position that was previously held by lifelong educator Aleta Staton.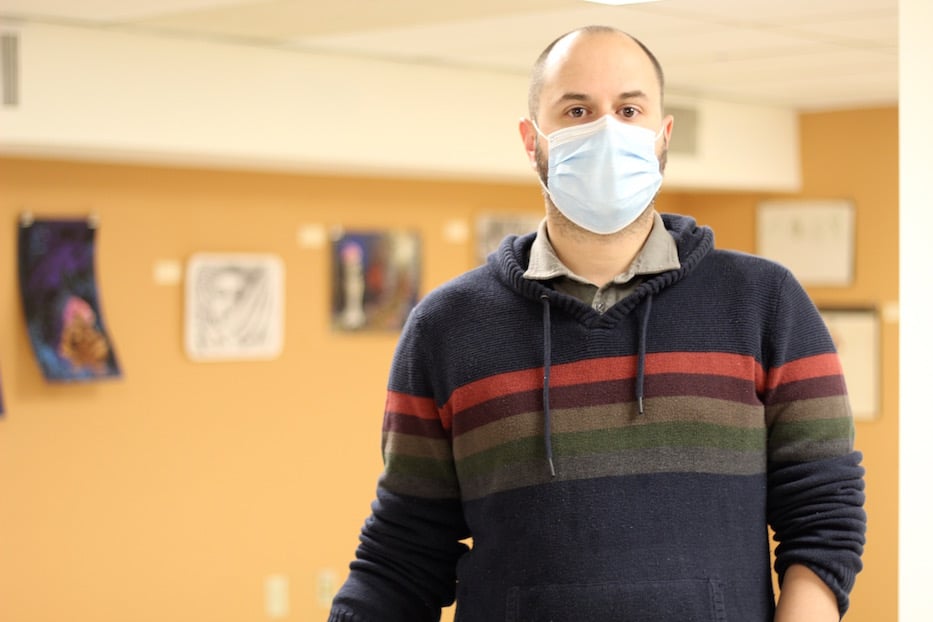 New Haven Pride Center Executive Director Patrick Dunn, who chairs the Cultural Affairs Commission. 2021 File Photo.
"I think that the commission is a really important resource for New Haven's cultural scene," Dunn said in a phone call Friday. "Having a representative in the room, hearing the conversation—it makes them [the Board of Alders] make better choices in the long run. That's value of having one of our elected officials in that space."
Guzhnay's first exposure to arts and culture started almost two decades ago, when his parents brought him to the Fair Haven Branch Library as a young child. Raised in Fair Haven by Ecuadorian immigrants—his father is an electrician's assistant and his mother is a seamstress—he would toddle among the library's stacks, picking up books in Spanish and English. At home, his parents loved listening to boleros and pasillos that reminded them of Ecuador, a tradition that has carried through to his Spotify playlists today.
As a kid, he enrolled in summer camp at Fair Haven's Centro San Jose and after school programs at the Farnam Neighborhood House, both of which are still standing in the neighborhood. Community centers were his second home, and he danced, painted and eventually learned to swim through their classes. At school—he attended Amistad Academy from elementary through high school—he buckled down and excelled in his coursework. Outside of the classroom, he became active in youth groups at St. Rose of Lima, which now sits on Blatchley Avenue in the heart of the neighborhood.
Fair Haven's rich history has played a key role in how he understands New Haven, and how he intends to legislate. He and his family fell in love with Unidad Latina en Acción's annual Día de Muertos parade, attending each year as huge puppets wound through the streets of Fair Haven, often accompanied by live music and honking, decorated cars. In addition to his parents, Guzhnay has an older brother training to become a physician's assistant and older sister who lives with her husband and one-year-old daughter in Florida.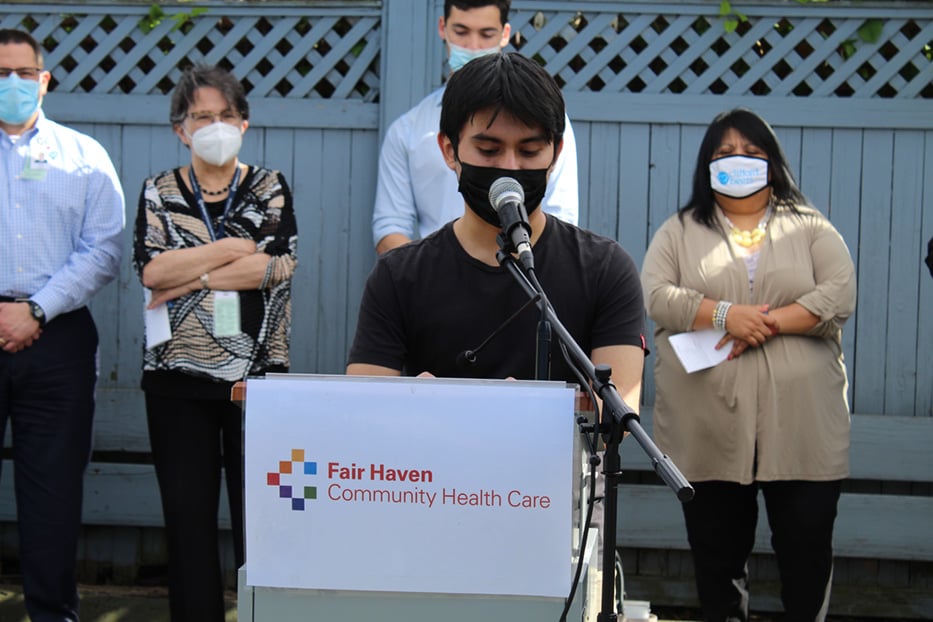 Guzhnay last May, at a press conference celebrating the work of the Vaccinate Fair Haven team. Arturo Pineda File Photo.
Even as a middle and high school student, he said, he was aware of a citywide resource gap that was more of a chasm. On his commute home from school and soccer practice, he watched as the 223 and 212 buses lurched through a manicured downtown, past the New Haven Green and into Fair Haven via Lombard Street and Grand Avenue. He never understood why his neighborhood, where culture thrummed through the streets and filled up community centers, didn't seem to be part of the equation.
"I always wondered: 'Why are a lot of the events on the Green? Why can't we have more in Criscuolo Park, Goffe Street Park?" he said Wednesday. "There's a lot of talent and there's a lot of history here."
Guzhnay knew he wanted to run for office by the time he was 17, and got a summer job with New Haven Farms through the city's Youth@Work program (read more about that here). His interest in the commission bloomed three years later, when he had the chance to meet Cultural Affairs Director Adriane Jefferson during virtual 2020 Democracy School classes. He remembered feeling instantly impressed with the work that Jefferson, who began her tenure in February 2020 and hit the ground running, was doing to turn the department around in the midst of a global pandemic.
He kept tabs on her work as he immersed himself in city life and got involved in pandemic relief efforts. Last year, Guzhnay declared his run when then-Ward 1 Alder Eli Sabin announced that he would be running to represent Ward 7's Downtown/East Rock neighborhood, where Alder Abby Roth stepped down after four noncontiguous terms. When he read a draft of the city's Cultural Equity Plan, set to be released at the Dixwell Community Q House next week, Guzhnay felt like he finally had the language to describe the disparities he'd seen growing up.
"Growing up in Fair Haven, I would notice that, but as a kid, you can't really conceptualize it as much, or put it into words," he said. "You just notice it. When you get older, you start to understand.
"Honestly, for a while now in New Haven, we've begun to recognize that there's systemic differences and systemic inequities that we have to fix. I think New Haven's been on the forefront of trying to fix these things."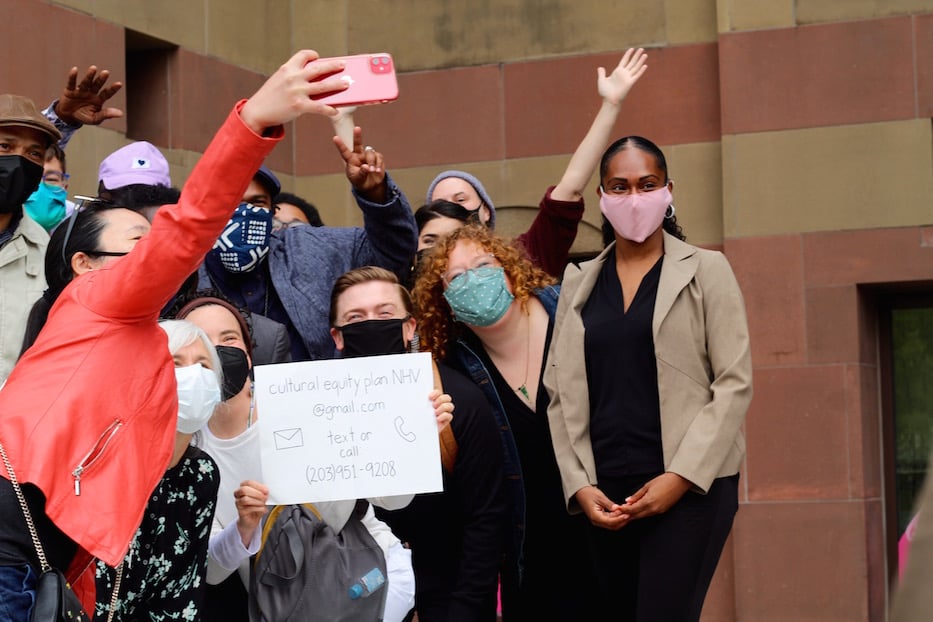 Members of the Cultural Equity Plan's co-creation team pose in front of City Hall after a press conference last year. Jefferson, pictured in the pink mask, called the appointment a "win-win" for the city. Lucy Gellman File Photo.
In his new role as alder, he's excited to work as a liaison between the full Board of Alders and the Cultural Affairs Commission, particularly when it comes to cultural support of community centers, youth programming, and redistribution of arts funding. He is particularly excited to work with Fair Haven Alder Sarah Miller, who he sees as a mentor, and Sabin, with whom he shares downtown. Both he and Sabin have pointed to a vision for a more unified, inclusive accessible downtown.
"We're all one city, and I think we all take advantage of and appreciate the culture that we have here," he said. "It makes our city great. I feel like every neighborhood in New Haven has some sort of cultural history, and so making sure we protect that and open our ears to new things that our youth are asking for."
In a phone call Thursday morning, Jefferson called it a "win-win" for the city and said that she looks forward to working with Guzhnay. For her, having an alder on the commission makes the legislative process run that much more smoothly.
"We have to move things forward, and we can't just do it in silos," she said. "We have to do it together, and we have to do it on the same page. I like that they appoint a member of the Board of Alders to the commission—we can strengthen their agenda and they can strengthen ours."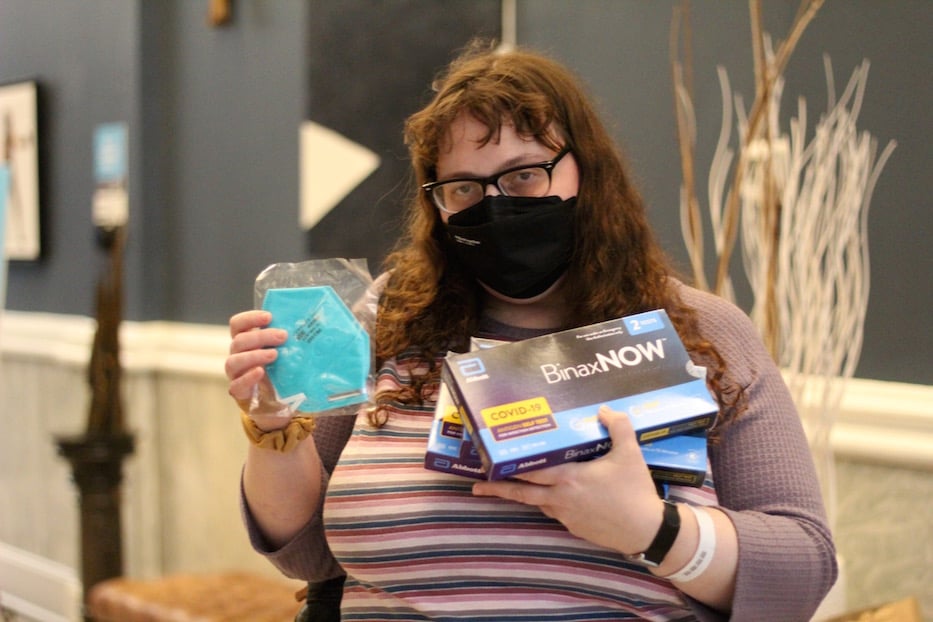 Miriam Grossman.
As he walked around downtown with test kits and sealed N95 masks, Guzhnay also got to know some of his constituents. After receiving limited supplies from the city, he prioritized senior citizens, using a list of older constituents that Sabin passed down to him. In all, he received 60 test kits (each box contains two tests) and five boxes of masks, each with 20 N95s snugly packed inside.
He also put out a general call, dropping off supplies over a few shifts. At the Liberty Building on Temple Street, Miriam Grossman came to the door. She picked up two test kits and a mask, which make her feel more confident about using public transportation. Despite the fact that she's vaccinated and boosted, she said that the recent surge in cases and the highly transmissible Omicron variant have her on edge. She had only kind words for Guzhnay.
"I think it's great!" she said. "His first week on the job, and he's trying to reach everybody."
Follow the Cultural Affairs Commission, including meetings on the first Monday of each month, here.