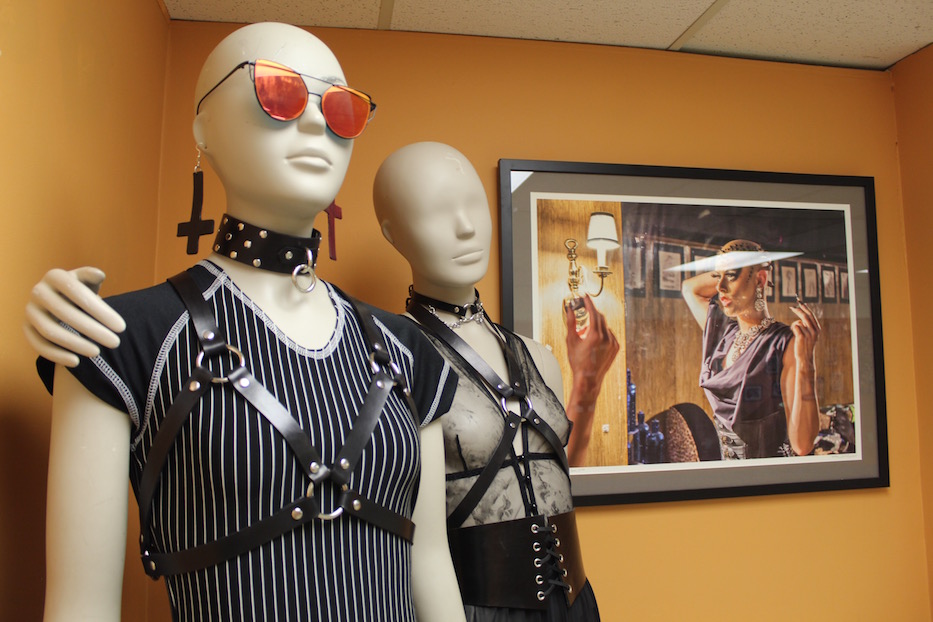 LGBTQ | Photography | Arts & Culture | New Haven Pride Center | Ninth Square | Visual Arts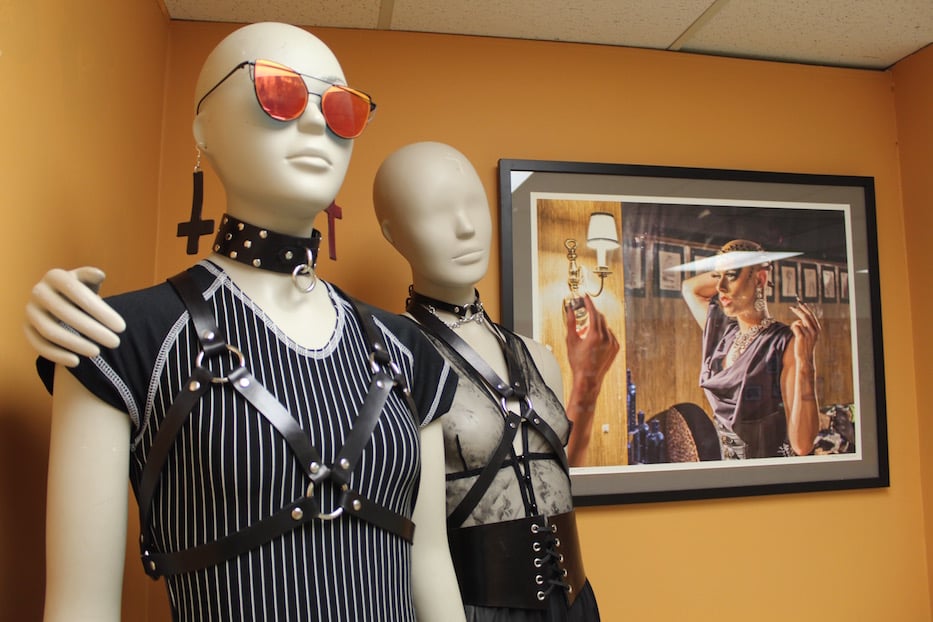 Leatherwork by Suyane Oliveira and photography by Daniel Eugene. Lucy Gellman Photos; all work by NHPC staff.
The mannequin couple leans into the orange wall, cautiously taking stock of their surroundings. On the left, one wears huge orange frames, crucifix earrings and a leather collar, harness and belt atop a striped dress. On the right, their partner sports a sheer mesh top with a harness and thick, lace-up corset belt. Beside them, a pre-pandemic Ms. Kiki Lucia stares at herself in the mirror, a silk cowl falling over her chest. Her tongue rests squarely between her teeth, as if she's about to cluck.
Together, the three of them look like they may unfreeze from time, and walk right out onto the white tile floor, ready for a night on the town.
Rendered by Suyane Oliveira and Daniel Eugene, the three objects are part of a staff show at the New Haven Pride Center (NHPC), running in the center's 84 Orange St. gallery and offices through the end of July. Installed last month, the exhibition not only introduces viewers to members of the center's growing staff, but marks them as an extremely nimble and creative bunch. In so doing, it's a reminder of how the organization has grown in both the past five years and the past two and a half decades.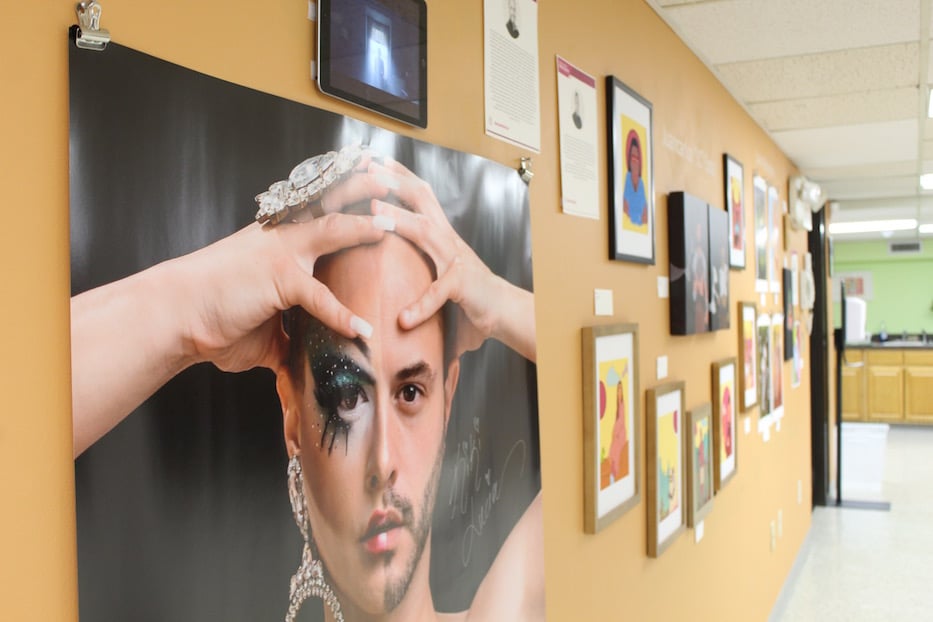 Cate Barry's portrait of Kiki Lucia hangs beside Juancarlos Soto's prints. Lucy Gellman Photos; all work by NHPC staff.
Works in the show range from poetry and prose to painting, photography, leatherwork, sculpture, culinary arts and multimedia installation. In a recent interview at the Orange Street space, Patrick Dunn, executive director of the center, credited NHPC Deputy Director and New Haven-based "artivist" Juancarlos Soto for the idea.
"We wanted something that was going to have a high impact and remind people that there are galleries here," Dunn said, surrounded by artwork on all sides as he spoke. With a new gallery satellite thriving at Hartford's Chez Est and full lineup of online and in-person programs at the center, doing an internally sourced show also made sense, he said.
In the past five years, Dunn has grown the center from a paid staff of one—himself—to a staff of 14 full- and part-time employees. For many of them, this exhibition doubles as an introduction to the community.
The magic of the show—and it does feel like magic, well beyond the references to transformation, spell-casting and queer tarot—is how much each staff member has taken the prompt to heart. New Haveners who have been visiting the center's gallery since its opening in late 2017 will recognize photographs from Daniel Eugene and Cate Barry, digital and canvas prints from Soto, and sculpture and multimedia art from Finn Lockwood.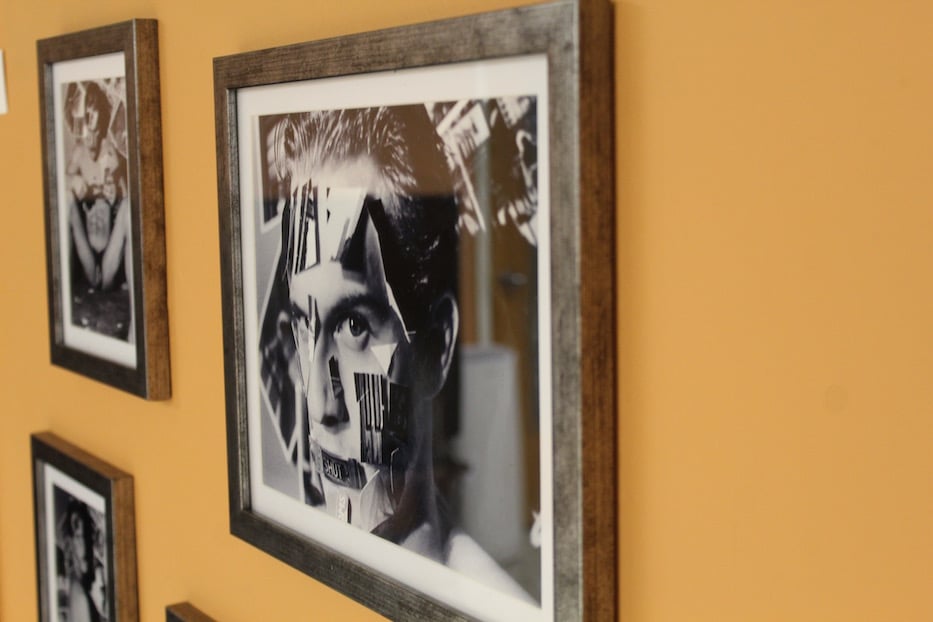 Detail, Joseph DiMaggio's work. Lucy Gellman Photos; all work by NHPC staff.
But just as visually delicious are the surprises that peek out from every clementine-colored wall, waiting to be discovered. Across from the entrance to the Great Room Gallery, a series of black-and-white photographs from Director of Development Joseph DiMaggio pulls a viewer in, asking them to linger. In just moments, they make it clear that DiMaggio's mind is a wild, quirky and creative place that has space for much more than asking people for money.
In one frame, a subject looks directly out, cut up magazines and photographs pasted onto their face. The word SHUT stretches in capital letters across their mouth. In another, they have no sense of the viewer at all, gazing instead at a photograph on one side of the room. In a third, they stare out at the viewer, their face floating in front of a second black-and-white photograph. There's a sense that they've become unfixed in time and space, or maybe it's that the viewer has, and doesn't even know it yet.
Across a total of 10 photos, DiMaggio probes what it means to look and to be looked at, challenging a viewer to question their own curious, even rapacious gaze. The figure is fairly androgynous, denying the viewer the clean, sharp edge of a binary (and reminding them, in the nude frontal shots, that one is so much more than their anatomy). There's something very Hedwig and the Angry Itch meets The Man Who Fell To Earth meets Metropolis meets Robert Mapplethorpe (but like, Mapplethorpe on absinthe) about the series.
Is it fair to behold someone's descent into madness? What if that madness has been carefully choreographed, edited, framed, and put on display?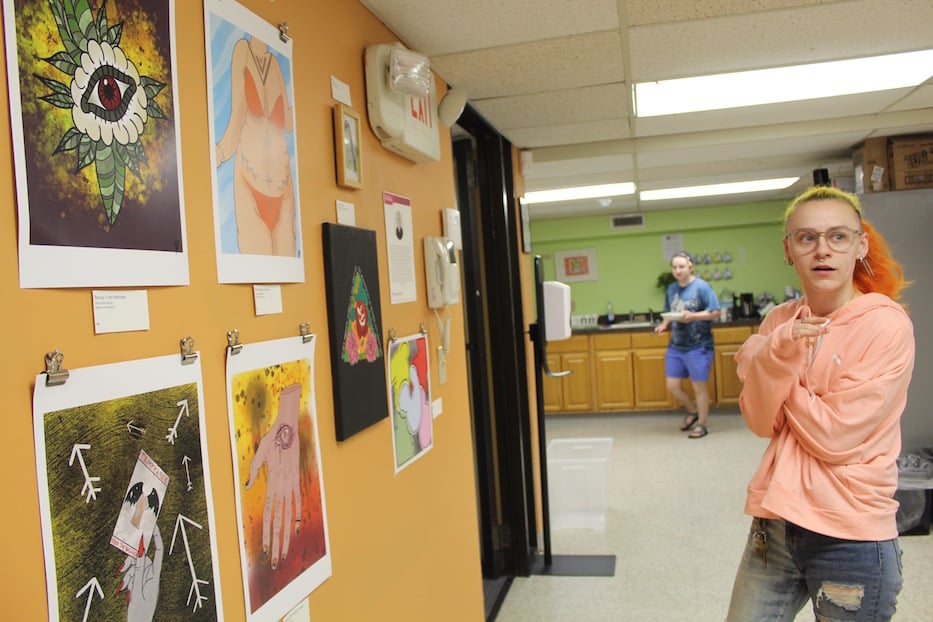 Marketing and Development Manager Laura Boccadoro. Pictured in the background is Manager of Support Services Freddie Swindal, whose poetry is included in the show. Lucy Gellman Photos; all work by NHPC staff.
Across the gallery, artwork from Marketing and Development Manager Laura Boccadoro lands more quietly, still full of intrigue as a visitor studies each print. On a bottom row, she pulls attendees into her own fascination with tarot, an eye staring out from a fleshy, pale inverted palm and wrist that floats in space. Behind the hand, a background fades from red to orange to yellow, black splotches raining down. There's something visceral in the way the eye emerges right from the flesh, ripping through muscle and skin as it does.
But all is well here, she seems to reassure viewers. Above the print of the hand, a second eye in Beauty in the Beholder blinks open, its iris deep red around a black pupil. Beneath it, a ribbed pillow of white stretches out, leaves sprouting from beneath it. From the object's folds, it looks like it could be a brain—or just as quickly, a cloud. A spray of gold erupts beneath it, as if a star has seen the eye, and exploded in its presence. It leaves a viewer wondering what else they don't know about Boccadoro, and about the universe.
Nearby, Boccadoro's Thick Thighs Save Lives feels like a particularly welcome addition just in time for midsummer. In an orange-peach bikini, a torso fills the frame with gorgeous rolls of flesh, the skin sun-warmed and bright. Tattooed vines in black and white wind gently across the panty line. The torso's head is not there—Boccadoro has cut the image off at the cleanly tattooed neck—but there's the sense that it would be staring right at the viewer, eyes wide open.
It's a reminder that every body is a beach body—and that every body is and must remain its own perfect, autonomous universe. That sense echoes down the wall, as Soto presents an LGBTQ-inclusive, Black and Brown version of tarot, and Lucia's drag mix to "A Woman's World" plays from an iPad. Throughout the show, Dunn and center staff have made use of technology, presenting narrative and video pieces on iPads that a viewer can stop and start, rewind, and scroll through.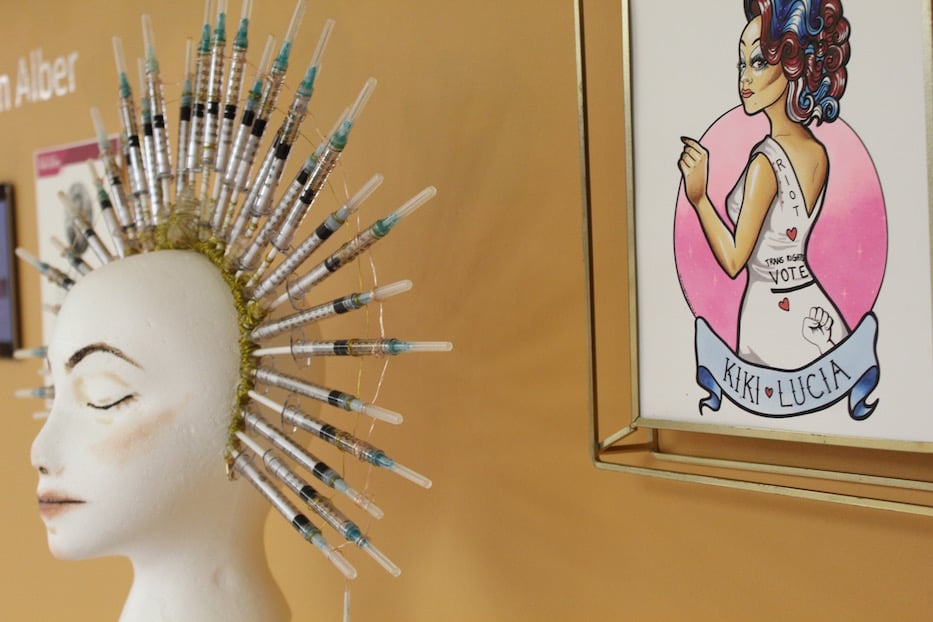 Detail, Finn Lockwood's crown. Lucy Gellman Photos; all work by NHPC staff.
Many of the staff members have also made themselves vulnerable, using narrative storytelling, poetry, and repurposed medical objects to tell a story of who they are (and central to the work that the Pride Center does, who they have always been).
In a corner of the gallery close to the back office, Trans Program Curator Finn Lockwood has placed a dolled-up foam head, on which roughly 30 long, blue, black and clear syringes are wrapped in gold wire and placed upright to form a crown. The head looks out into the gallery, eyes closed as delicate, sketched-on lashes gently sweep its face. To the right, a decorated denim vest reads "Trans Rights" in white paint, as if to drive the message home.
"The idea is not only to represent my personal and my spiritual experience through medical transition, but also to destigmatize the process," they said in a phone call Tuesday. They have succeeded: the syringes reference their original purpose but also feel transcendent and even regal, caught somewhere between canonical, centuries-old beatific imagery and a headpiece for the musical SIX.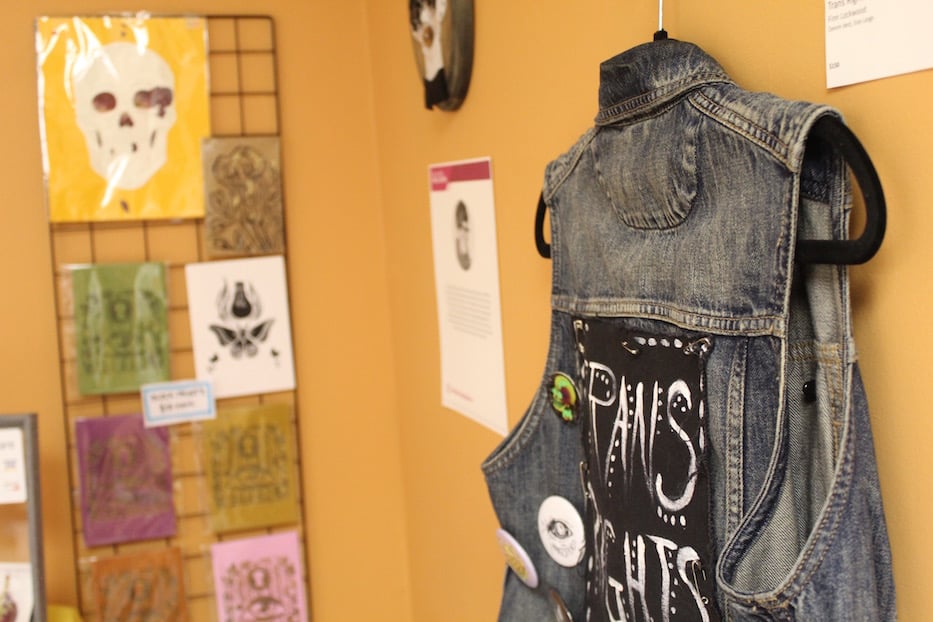 The show also features multimedia work, printmaking and jewelry from Lockwood. Lucy Gellman Photos; all work by NHPC staff.
While Lockwood is no stranger to the center, the piece marks a first for them. Years ago, they imagined the crown, but they weren't yet exploring their trans identity and "I didn't feel like it was my story to tell," they said. Then they came out and began the process of medically transitioning. In 2020, they began to work on the piece during lockdown. For a while, they stopped, concerned that viewers would misinterpret the syringes. The staff art show, paired with an upcoming display at Bridgeport Pride later this month, became a reason to have the work finished.
Beside the crown, an iPad peeks out with clean white print on a tan background, easy to miss if a viewer is going through the exhibition too quickly. On it, Marketing and Development Coordinator Aron Alber brings his readers into a layered memory, circling around the ideas of photography, Easter, renewal, and rebirth. In the memory, Alber finds a photograph of himself from decades before, taken during childhood Easter celebrations. As he stares at it, he notes "the visibility of my own discomfort/and the strange poetic resonance/it has for me now." There are questions of authorship, ownership, and the (un)reliability of a given image as historical proof of something.
The framing around Easter is itself seamless: it gives both Alber and his readers an opening to think about re-creation and that which has been preordained. As he writes, he takes readers through a visual analysis that feels conversational and also propulsive, as if he's right there with them. For those who may not know Alber, who received a doctorate in German literature from Yale in 2020 and appeared briefly at the Dorothy Awards, it's a chance to bring together the scholar, the Pride Center staffer and the person through candid storytelling.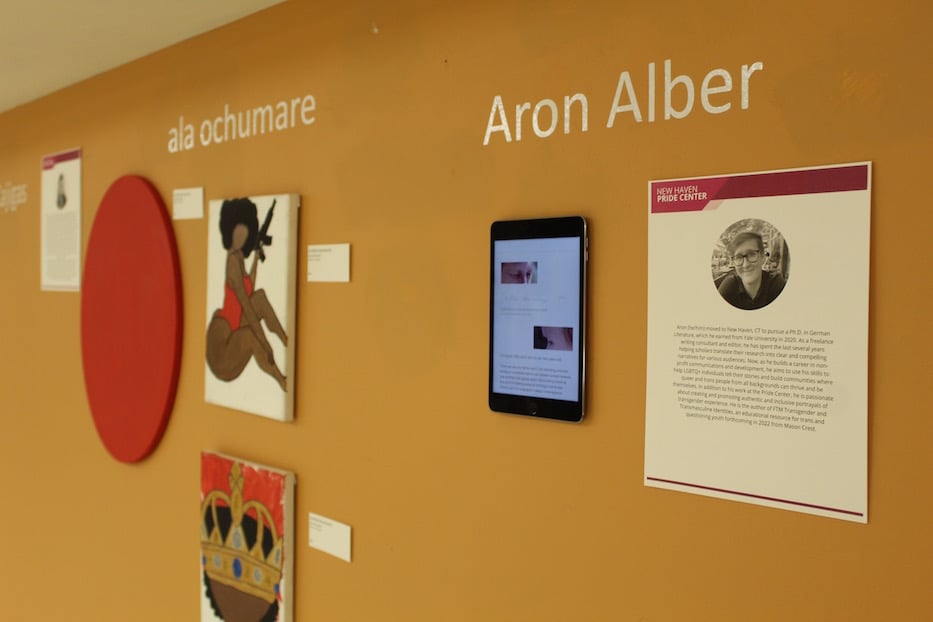 Lucy Gellman Photos; all work by NHPC staff.
Running perpendicular to it, Manager of Support Services Freddie Swindal has shared original poetry and sketches in their writerly debut, poems stacked on a music stand and arranged in frames. In big vinyl letters that stretch across the wall, viewers get an excerpt of their piece "Getting called a woman while wearing a non-binary t-shirt," driving home the reminder that respecting someone's gender, name and pronouns is not hard—unless of course, willful ignorance is the default.
That the display is interrupted by an office window—more of a symptom that the Pride Center is outgrowing its space than anything else—means that a viewer must maneuver around and look through the window. It becomes a momentary glimpse into Swindal's professional world, when their personal one also feels so very close.
In every direction, there is another treat waiting, from Ala Ochumare's red-and-gold clad queens to Oliveira's carefully styled leather outfits to the memory of Jahnice Cajigas' brightly frosted cake, which attendees consumed opening night. It's hard, if not impossible, to leave this show not feeling like one has a better sense of the people working behind the scenes, who often do not receive their moment in the spotlight.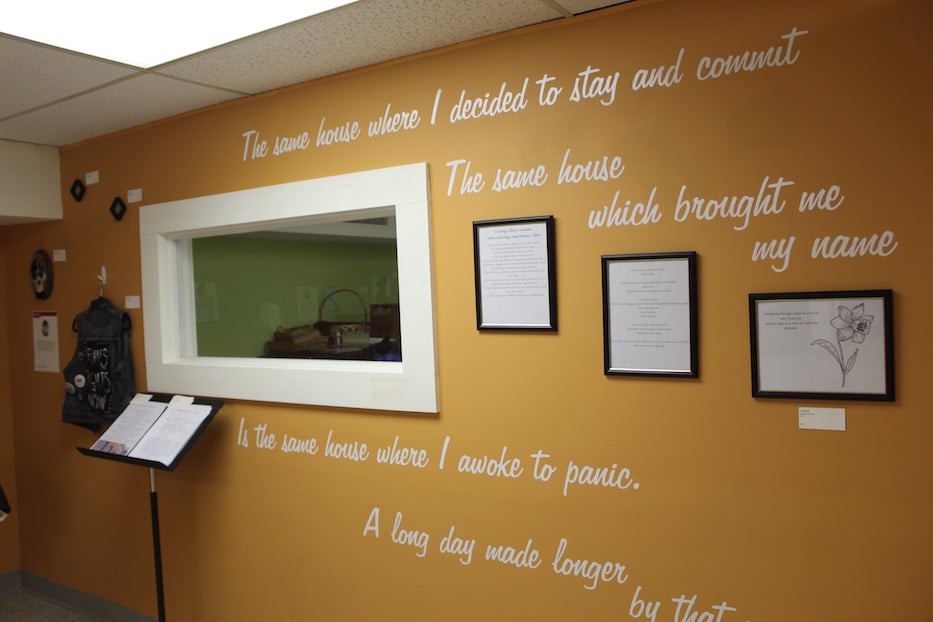 Freddie Swindal's work. Lucy Gellman Photos; all work by NHPC staff.
But the show also reminds a viewer of the art flowing, even if faintly, through their own veins. In a year where the news can sometimes be too much, where a constant stream of social media has created an alternate, highly curated and addictive universe, it is a call to create in the real world. That reminder, paired with work that warrants a second and third visit, may be the most powerful lasting impact of the show.
The current exhibition in the Great Room Gallery runs at the New Haven Pride Center, 84 Orange St. in New Haven, through the end of July 2022. To learn more about the New Haven Pride Center, visit them on Facebook, Twitter, Instagram, YouTube, or at their website.