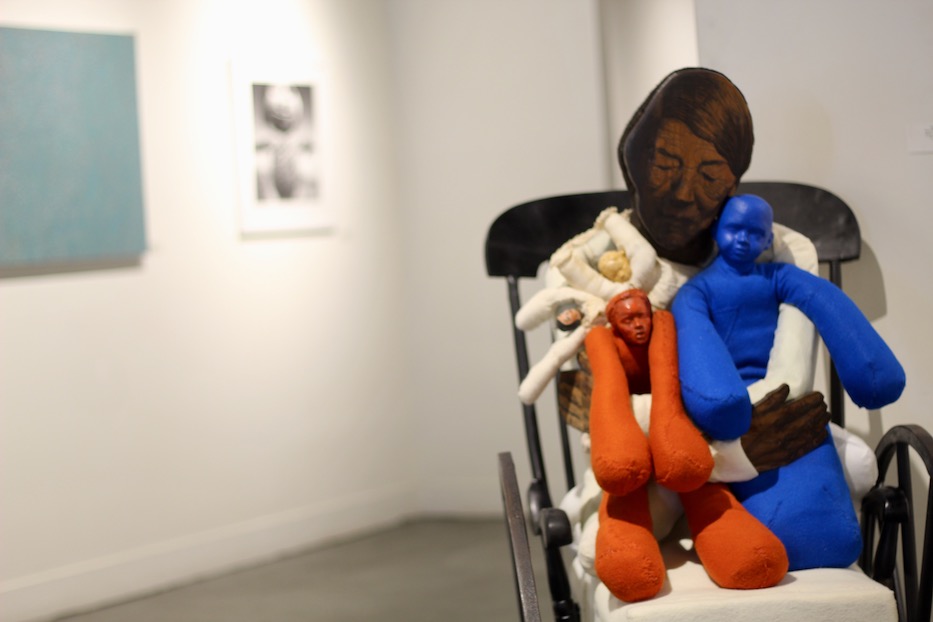 Culture & Community | Kehler Liddell Gallery | Arts & Culture | Visual Arts | Westville | Westville Renaissance Arts (WRVA)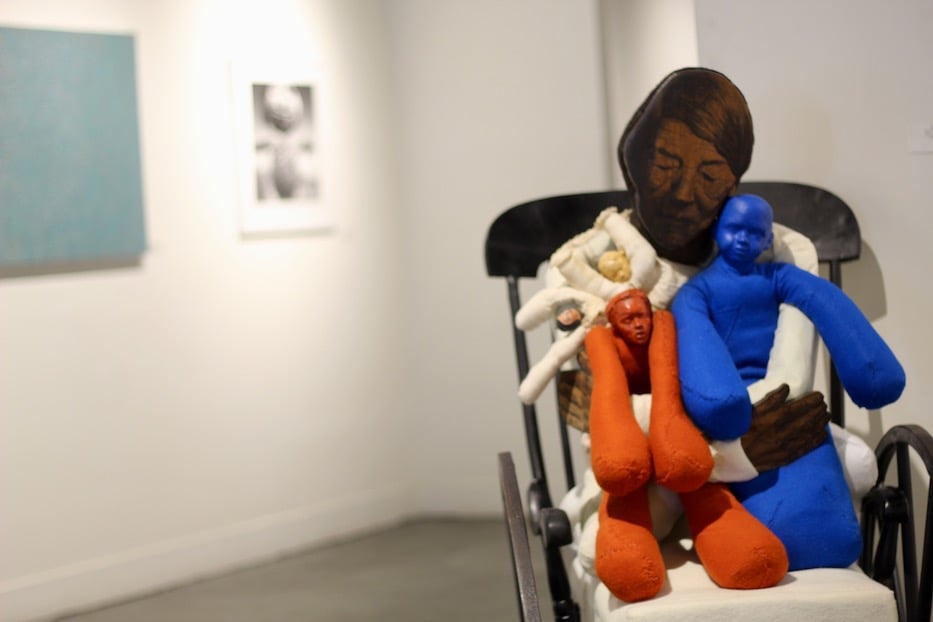 Detail, Susan Clinard, Holding Memory. Lucy Gellman Photo; all work is by artists in the show.
Step into the quiet of Kehler Liddell Gallery, and it seems that the works are talking to each other, exchanging long-belated life updates and pleasantries from where they are installed. On one wall, two clay dogs stare patiently out from their frames, their long snouts fixed on something in front of them. On another, a woman walks down 64th Avenue in the early hours of the Manhattan morning, the street so full of light that her body is shades of clementine and gold.
In the center of it all, an older woman holds court in a rocking chair, two sculpted babies pulled close to her chest. In a single moment, she is past meeting present, holding tight to a future that is still evolving.
That conversation is front and center in Kehler Liddell Gallery's 20th Anniversary Exhibition, which opened earlier this month and closes July 30 with a reception and artists' talk. The show, which features almost four dozen artists across 20 years of membership, gives an intimate snapshot of the lives, careers, and friendships that the Westville gallery has nurtured since opening in 2003.
At times, it doubles as a reminder of member-artists who are no longer living, including Constance LaPalombara, Joe Saccio, Edith Borax-Morrison and Keith Johnson. A closing reception is scheduled for July 30 from 3 to 6 p.m., at the gallery's 873 Whalley Ave. home. More information is available at Kehler Liddell's website.
Amanda Duchan, Clay Menagerie: Sweetheart, Ceramic.
"In 20 years, Westville has seen a lot of change, a lot of growth and a lot of community buy-in," said Assistant Director Muffy Pendergast, who runs day-to-day operations at the space with artist and Gallery Director Kate Henderson. "I think we've benefitted from Westville's Renaissance and that Westville has benefitted from Kehler Liddell as well."
The works on view, which fill the space but never overcrowd it, are a testament to that evolution, during which the neighborhood has bloomed into a thriving small business district several times over. In 2003, Kehler Liddell started as the vision of eight Westville artists, including longtime Westvillians Frank Bruckmann and Gar Waterman. At the time, the then-nascent ArtLoftsWest (ArLoW) had recently purchased 873 Whalley Ave. to save the neighborhood from large, out-of-town and absentee developers and create affordable housing for artists.
The building didn't stay vacant for long. Thea Buxbaum, a founding member of ArLoW and the founder of Arise & Build LLC, remembered tapping "a bunch of Westville artists" to set up a pop-up installation inside, so that the storefront wouldn't be empty as a new tenant moved in next door. They called it the conTEMPORARY Gallery, nestled in the heart of what was a changing neighborhood.
Something about the idea stuck: after roughly six months tending the conTEMPORARY Gallery, eight artists put their heads together, and started to talk about what it would look like as a member-run space. In 2003, Kehler Liddell opened its doors. Other than a few months in 2020, when it moved to remote programming because of Covid-19, it hasn't closed them since.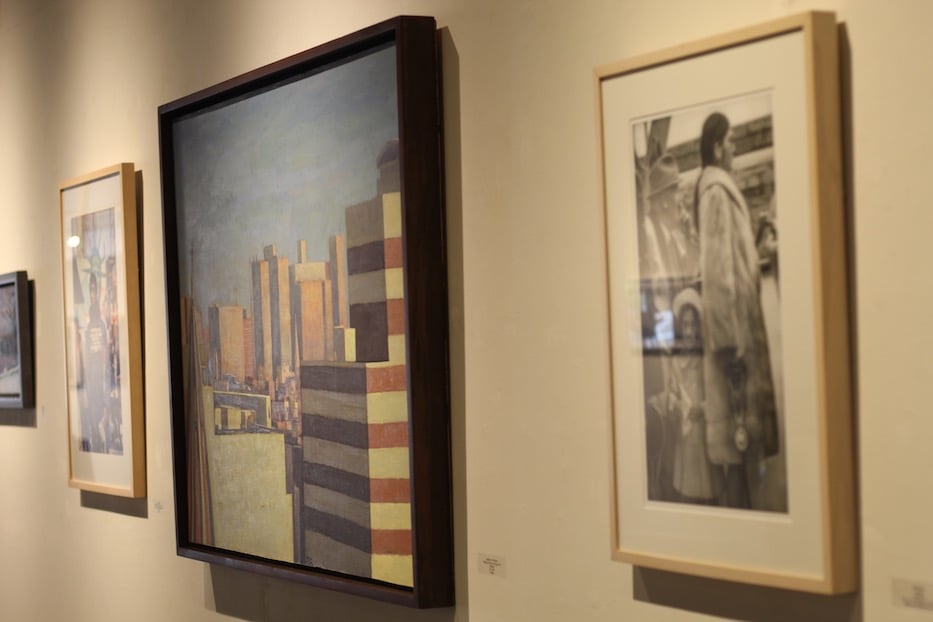 Josephine S. Robinson, Morning, Near Union Square NY, Oil on panel, and Hank Paper, Passage, Inkjet print.
It is now part of a vibrant arts district with mixed-use affordable housing for creatives, independent restaurants and cafes, vintage stores, and shops for everything from old-school vinyl to new limited-run pins and patches. As the neighborhood changed, so did the gallery: at least 50 member-artists have cycled in and out, some staying on for 10 or 15 or all 20 years.
In two decades, it has built partnerships with the Westville Village Renaissance Alliance (WVRA) and ArtEcon Initiative, opened its doors to interactive all-ages workshops, supported teaching artists, and braved the Covid-19 pandemic with initiatives that range from its SalonThrive series to a date night partnership with local restaurants.
All of that history leads back to the present, where the exhibition celebrates the gallery simply by filling it with 44 different ways of looking. No sooner has a viewer come in off Whalley Avenue than they are drawn to the center of the gallery, where Susan Clinard's mixed media Holding Memory beckons from the center of the space. It is the kind of work that demands close looking, inviting a kind of intimacy that feels rare and thrilling to come back to every time.
In the sculpture, for which Clinard has used a rocking chair as a base and framing device, a matriarch holds two infants to her chest, her arms wrapping them protectively. Even rendered in wood, her face holds hundreds of stories, etched and softened by the passage of time. Her eyes close: there is peace here, and also the exhaustion of the whole world. In her arms, the infants are doll-like, rendered in blue and burnt orange casings that Clinard has stuffed like pillows.
The matriarch doesn't seem to mind: one cheek touches a child's face, and in it is the promise that tomorrow is still possible.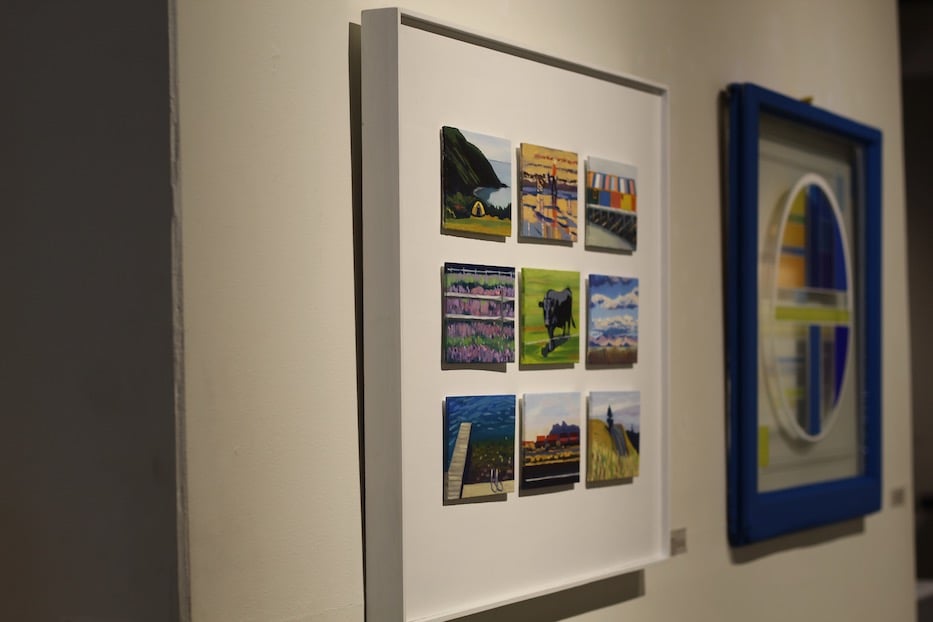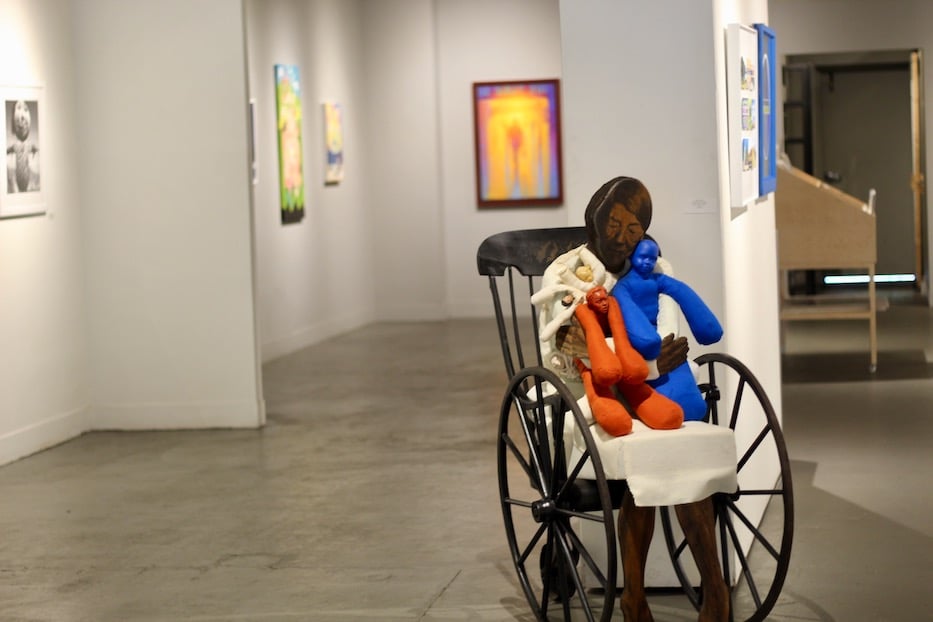 Top: Laura Barr's Here and There Panel #8 Remix and Eddie Hall's Refraction. Bottom: Gallery view.
There are delights like this installed across the gallery, many worth a second and third and fourth glance. Landscapes bloom across the walls, transporting viewers to open fields, snow-capped mountains, campsites, thrumming highways, light-flooded city scenes and apartment interiors. Photographs freeze time, catching the ocean at high tide, a building on the lip of crumbling, a bride and groom clasped in their first dance.
Larger-than-life, mixed media bugs and sculpted sea creatures strike a pose, lifelike enough that it seems they might move at any moment. Indeed, a viewer (this viewer, at the very least) may find themselves extra grateful for the large wooden bench that sits mid-gallery, inviting reflection.
Across the walls, the 44 artists tell a story of where they have been in the 20 years since Kehler Liddell came onto the scene. Some, like Laura Barr's Here and There Panel #8 Remix, ask that a viewer get close to the work, to study the miniature oil on canvas paintings that together build a story of campsites, open pastures, lavender fields and docks jutting out into the clear, sparkling water. Others, like Gerald Saladyga's Climbing Jacob's Ladder, explode in large-scale layers of color, best seen from a few feet away and then studied at a more intimate distance.
Throughout, there's the invitation to linger, and it's often well worth it. A long exposure from Kim Weston's Layers of the Soul series, which grew out of photographing powwows, leaves a viewer stunned into silence, and wondering if they have for years missed the difference between watching and witnessing.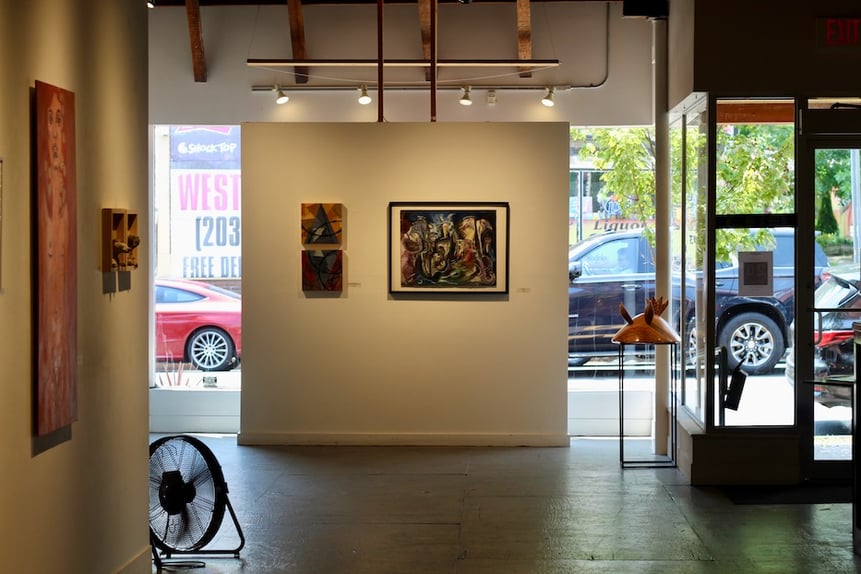 Side-by-side: Path to Freedon by Corina S. Alvarezdelugo and Kate Henderson's Night Journey.
Robert Bienstock's Gloria Gaynor Therapy Session, installed in a nook that's too easy to miss, draws eyes to it immediately, a labyrinth of black and white cut by squiggles that dance as if they are moving to music, pulsing orange at the edges.
On a divider wall by the gallery's street-facing windows, artists Corina S. Alvarezdelugo and Kate Henderson seem to be having an entire conversation in color, with Alvarezdelugo's Path to Freedom diptych and Henderson's Night Journey placed side by side. At first, both appear as a barrage of color, eye-catching from far away with details that emerge up close.
Only when a viewer spends time with Alvarezdelugo's work do they see that her swirls of black, chrome and bright color are in fact depicting barbed wire, and a literal path to freedom that can cost a migrant their life. And indeed, the work comes from her series Remendando Mi Patria (Remember My Country), a series of encaustic works dedicated to her native Venezuela. In statements about the series, she has called the work part of her "path to healing."
Other images may push a viewer out of their comfort zone, as some of the strongest exhibitions at Kehler Liddell have. In Sven Martson's Blind Man, Herald Square, NYC, a man is turned two-thirds towards the camera, as his left arm holds his red-tipped cane and a metal bucket for cash. Around his neck, a sign reads I am blind/Will you please help me/God bless you. Behind him, an image of Lady Liberty rises into the air, her crown nearly doubling as his halo.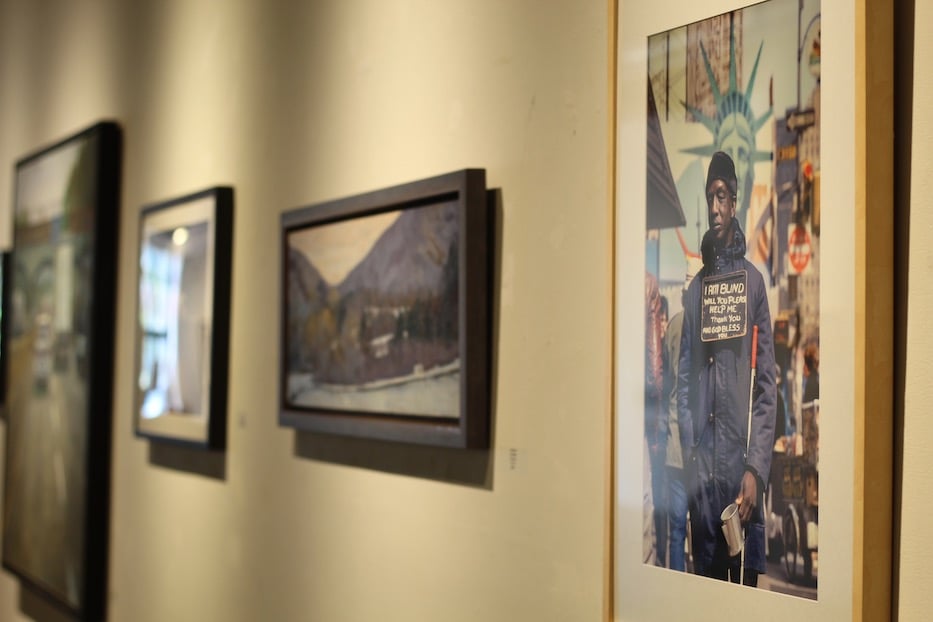 Sven Martson's Blind Man, Herald Square, NYC. To its left is John Harris' oil on panel Snow Fields.
There's a visual irony there: there is nothing particularly liberated or just about the scene, which documents a city with some of the highest income disparity and de facto segregation in the world. The artist has captured, in the quick click of a shutter, a tear in any sort of social safety net that's supposed to exist.
On one hand, it's a photo all about Martson's technique: a clean, tight framing that speaks to the artist's interest in recording the world around him. On the other, it raises very real and timely questions around seeing, being seen, consumption and consent. Is the scene Martson's to document in the first place? If the image turns a profit, does any part of it get back to the fractured root causes that led to the image?
Those questions—Who is this? How did they get here? How and what am I witnessing?—aren't just reserved for photography. Not far from the gallery's entrance, painter Julie Fraenkel's Red Nude looks out onto the space with a face that appears totally exhausted, her hair sprinkled with gold shapes as her skin bears scratches, scabs and deep bruising.
She narrows her eyes, and a viewer can see that even the pupils are red, leaving them to wonder about her before and after. Behind her—pink-red arms, skin the color of fire and that which has been rubbed raw—the background pulses in red.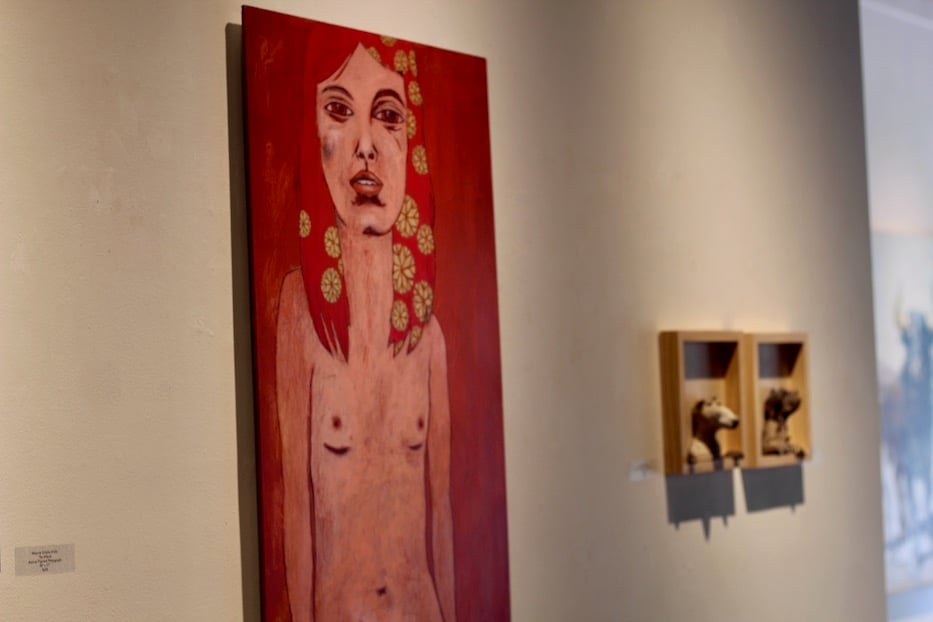 Julie Fraenkel's Red Nude.
In the spaces in between these images, there's a reminder of what the gallery has become for so many artists, Westville residents, neighborhood kids and New Haveners. Beyond its annual schedule of rotating exhibitions, Kehler Liddell has hosted educational and interactive artmaking workshops, date nights, string quartets, wedding receptions, baby showers, and celebrations of life, including one for the late Semi Semi-Dikoko last year.
It's been a place to talk openly about sea level rise and climate change, missing and murdered Indigenous women, and everything from DNA to the idea of America through art. During the first year of Covid-19, former Director Liz Antle-O'Donnell⁠ spearheaded a coloring book project as Pendergast gave birth to SalonThrive, carrying on that spirit of experimenting. In a neighborhood defined by its tight-knit creative community, it is a space of ongoing connection and experimentation.
For some of the neighborhood's biggest and most vocal champions, this anniversary is also a chance to reflect on how Kehler Liddell has helped shape the neighborhood. Lizzy Donius, executive director of WVRA, remembered stumbling into the gallery not long after she'd moved to Westville from Chicago in the early 2000s. Her daughter, Alice, was just two or three years old, and toddled right into a class that Bruckmann was teaching. Instead of brushing the two off or worrying about a pint-sized visitor, he welcomed them into the space. The rest was history.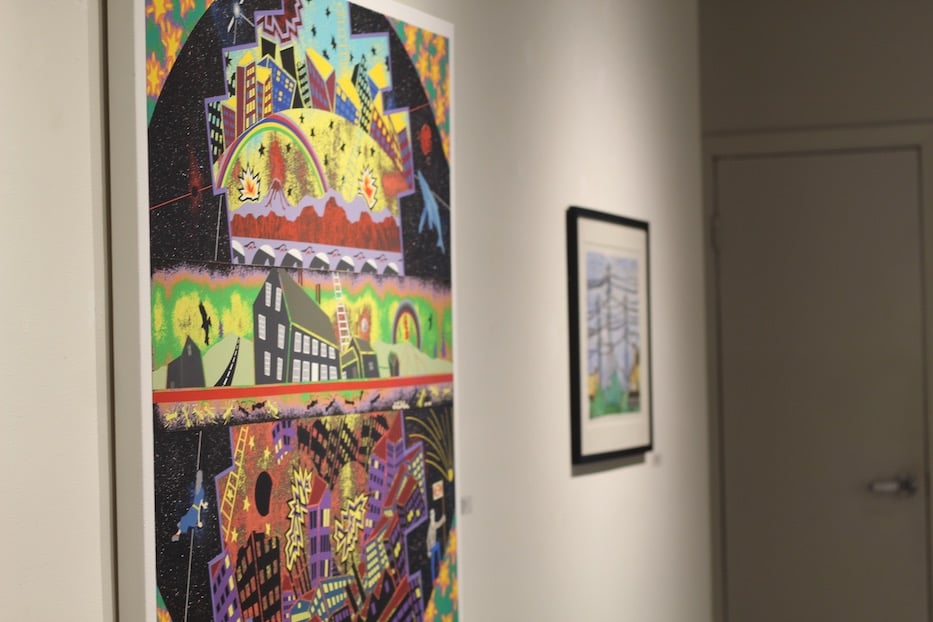 Detail, Gerald Saladyga's Climbing Jacob's Ladder.
"I think it's wonderful!" she said on a recent Thursday, as a muggy afternoon heat hung low over Central and Whalley Avenues, and even a bright street mural appeared to bake in the summer sun. "They've just been holding it down for so long—it's such a bright spot here."
Buxbaum, who has lived in the neighborhood since 1996 and been an architect of its Renaissance, added that she often hears developers and landlords use the neighborhood's artistic vibrancy as a selling point. In that sense, she said, she sees Kehler Liddell as one of the creative anchors of the neighborhood—and hopes that most Westvillians do too.
After all, she said, it was thanks to "an incredibly loyal resident base" that many Westville businesses not only made it through the pandemic, but have been able to thrive as patrons and business owners alike navigate a new normal.
"I think the neighborhood really stepped up during the pandemic and I think it gave potential entrepreneurs the motivation to open new places," she said, pointing to Ma's House and Poké Oli as recent examples. "It's a community that gets the link between committing economically locally" and independent businesses staying open and succeeding.
Back inside the gallery, photographer Marjorie Gilette Wolfe greeted viewers who stepped into the space, her voice carrying over a large, whirring fan that had been set up by the doorway after a snafu with the gallery's air conditioning. A veteran arts educator, Wolfe joined the gallery in 2009, and stayed on because she loved the exhibition space. She added that she values the community she's been able to build within the gallery's walls.
"It's so wonderful," she said. "I really love this place. There's been a lot of transition here over the years, but that's ok! It keeps it fresh."