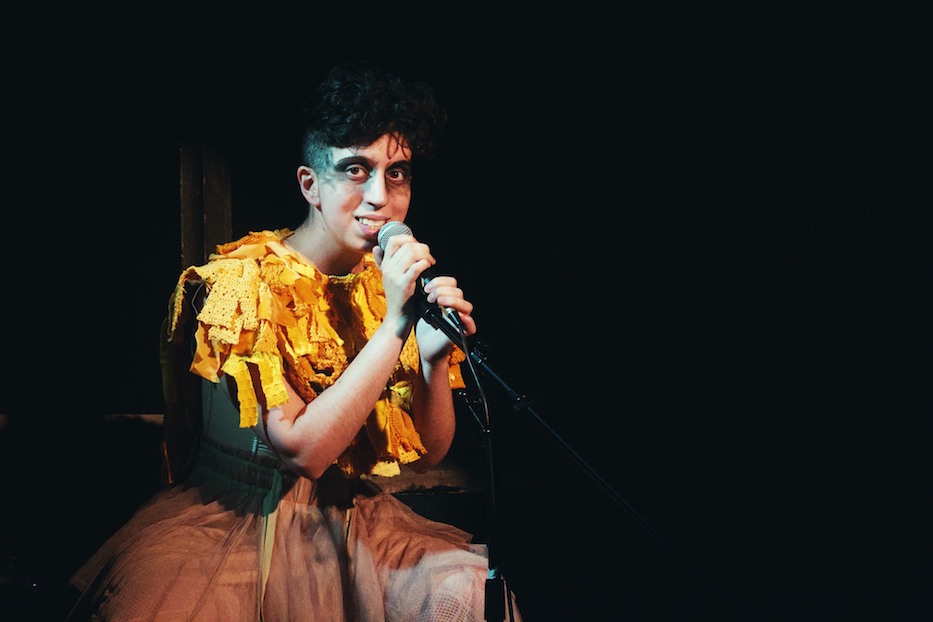 Environment | Music | Theater | Visual Arts | Arts, Culture & Community | Lots Of Fish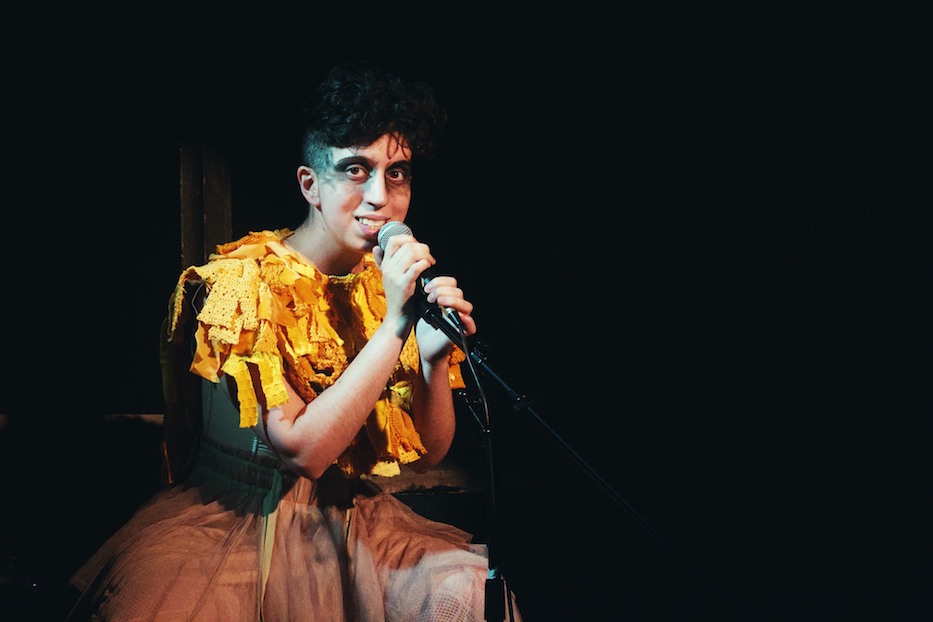 Madeline Charne in a performance of WASTE//LAND at the Yale Cabaret in September 2019. Yale Cabaret Photo.
A man stands in front of a giant skeleton, outlining how climate change has displaced immigrants around the world. A woman grips the mic in full costume, describing the effects of petroleum byproducts on her own body. A magnified, painted plankton hangs in a gallery, dying in the warm water that surrounds it.
In 2019, New Haven saw a number of visual, dramatic, and public artists show up ready to discuss the climate crisis through their work. Often they came quietly, with monologues, music, and exhibitions that popped up in galleries and arts incubators, churches, and occasionally the streets. Now as they enter 2020, many of them are asking what they need to do next.
For many of them, it's part of a national trend that is not particularly new. For decades, the National Science Foundation has offered funding through the Antarctic Artists and Writers Program (AAW), with projects that have been increasingly dedicated to climate change. Artists including Michel Comte and Helen Mayer and Newton Harrison have used photography, installation, and performance to communicate atmospheric carbon and a warming earth since the 1970s.
In the 1980s and 1990s, select artists were some of the first to respond to the Chernobyl nuclear meltdown, to changing systems of food production and scarcity, to unprecedented levels of melting ice in the arctic. The past five years have seen the formation of the New York-based group Climate Change Theatre Action (CCTA), the use of large-scale public art in climate actions, and the decision of French choreographer Jérôme Bel to cease touring to reduce his carbon footprint among hundreds of other examples.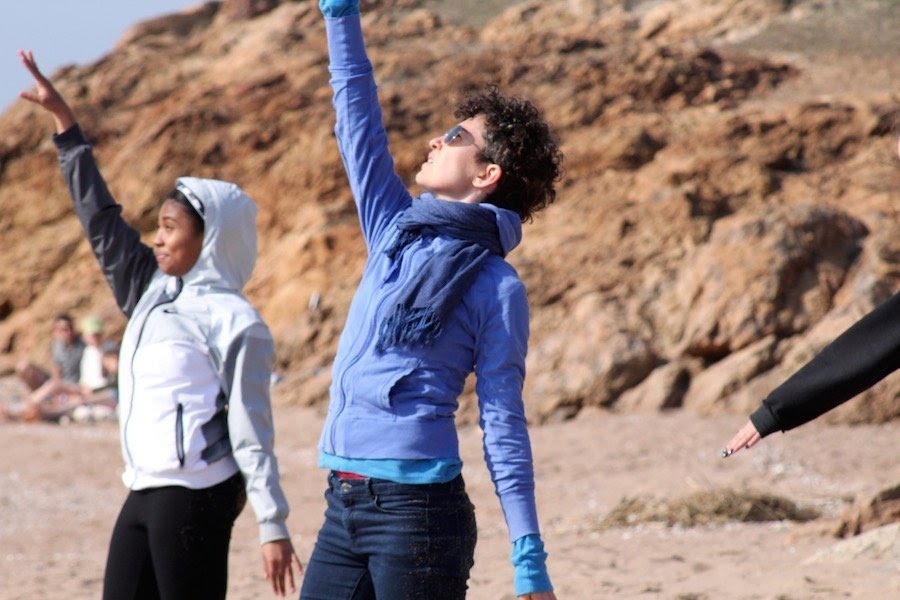 Members of Elm City Dance Collective at the National Water Dance, held at Lighthouse Point Park in April 2018. Lucy Gellman File Photo.
Reached by email, environmentalist and 350.org founder Bill McKibben suggested that artists can play a vital role in communicating the severity of the climate crisis, particularly through collaboration with scientists, environmentalists, and activists. He pointed to a huge, 14-part mural that climate activists painted during the Global Climate Strike in San Francisco, after they had successfully shut down a street.
"Artists are playing an increasing role in raising awareness—but increasingly they're also joining with activists in large-scale campaigns," he wrote. "That really really helps."
In New Haven, artists and arts collectives have increasingly answered that call. In April 2018, the Elm City Dance Collective brought the National Water Dance to the city for the first time, starting a discussion on water sovereignty and watershed protection. That fall, Westville artist Gar Waterman placed it front and center with Canaries in a Blue Coal Mine at Kehler Liddell Gallery, exploring the death of delicate, bottom-dwelling marine life in warming waters. In between, Artspace New Haven centered food systems and land reclamation in a string of summer 2018 exhibitions, then held an environmental summit that fall.
In early 2019, Kehler Liddell Gallery opened its doors to Rod and Penrhyn Cook's Vanishing, tracing the real-time impact of climate change on the migration of 1.5 million wildebeest across Northern Tanzania and into Kenya. Weeks later, artist Scott Schuldt opened The Re-Education of Smedley Butler and Other Stories at City Lights Gallery in Bridgeport, bringing viewers to their knees with a portrait of the earth and its destruction.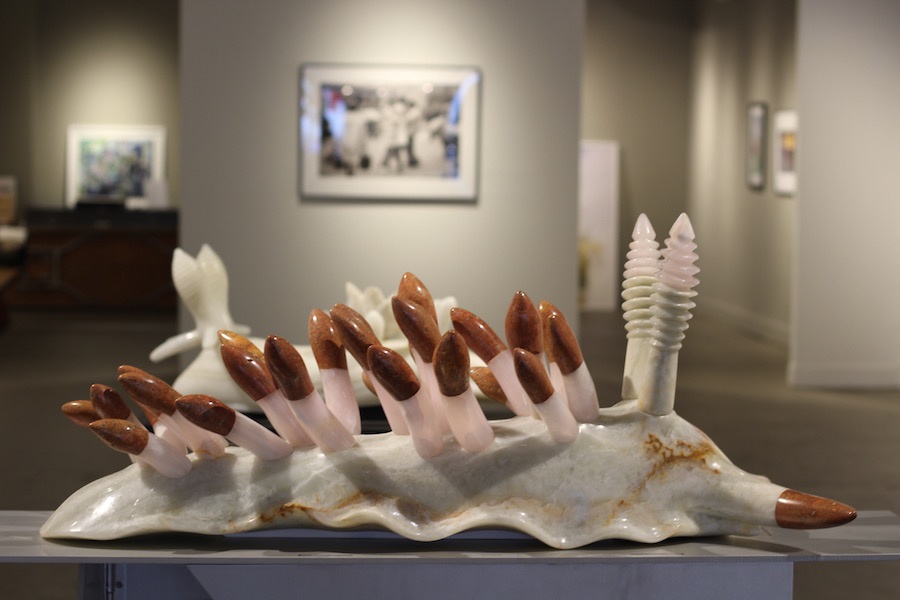 Gar Waterman's Canaries in a Blue Coal Mine brought attention to how rising ocean temperatures, chemical pollution, and ocean acidification are putting Nudibranch ecosystems at risk, as the coral reefs on which they settle and flourish are destroyed. Lucy Gellman File Photo.
With curator Debbie Hesse at its helm, the Ely Center of Contemporary Art took on sea level rise and a rapidly warming world in two different exhibitions last year, urging viewers to action. Throughout the year, organizations including Lots of Fish, Solar Youth, and the Mud Is Gold Earth Building Collective fused artmaking, activism, and youth voices that have been fundamental to the current climate movement.
Sometimes, it seemed, there was a disconnect between the art and the maker or makers. One day after Artspace's environmental summit in 2018, representatives of the organization and attendees from the summit were absent from a rally for the environment on the New Haven Green. Vanishing presented itself as a show about conservation and environmental stewardship, but came with a massive carbon footprint. Exhibitions have often amplified white voices, despite a city where Black and Brown youth have been at the forefront of action.
But in the final half of last year, it seemed to hit its stride. From the summer through the end of the year, Lots of Fish spread its message of eco-conservation with painted rain barrels, storm drain murals, and handheld signs that it completed with community members. In advance of a Global Climate Strike last September, choral director Marika Kuzma worked with Mary Evelyn Tucker, co-founder and co-director of the Yale Forum on Religion and Ecology, on the climate-focused concert Simple Gifts For Mother Earth at the United Church on the Green. Over almost three hours, artists and activists brought the climate crisis sharply into focus as they read Anton Chekov, struck up Aaron Copland, and bound poetry and song to environmental conservation.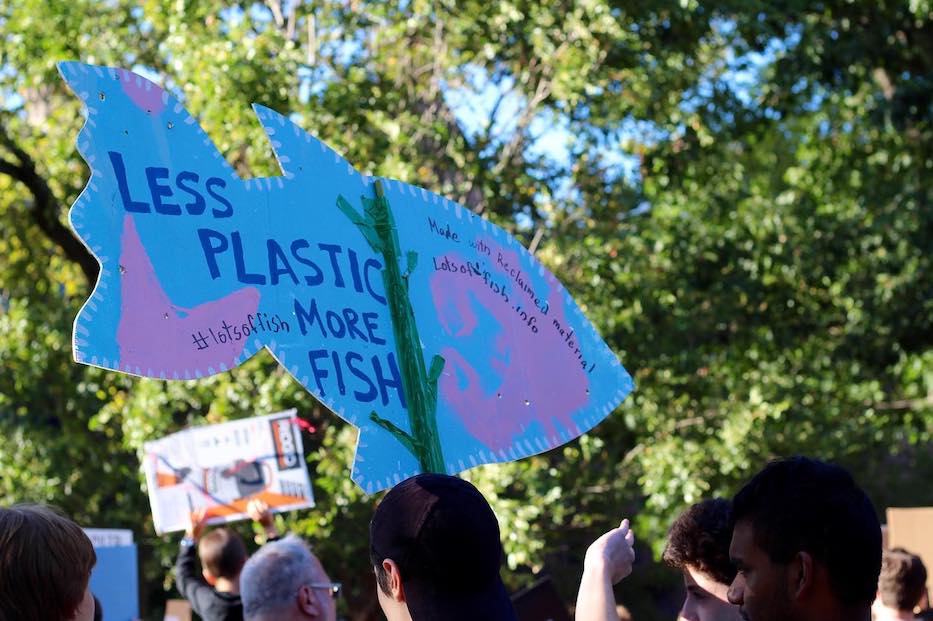 A Lots of Fish sign at New Haven's September climate strike. Lucy Gellman Photo.
Just a week later—on the same day that hundreds marched for the climate on the New Haven Green—the Yale Cabaret and Yale affinity group Beyond Borders hosted back-to-back performances of WASTE//LAND, a show featuring four CCTA plays as well as two adapted works. In one, Yale School of Drama student Madeline Charne (pictured at top) appeared in deep yellow plumage, mascara spread like wet coal around her eyes. She issued a warning that spanned petroleum byproducts in hand lotion to microplastics in clothing.
"Because we were never told that our indoor use of personal care products and household cleaning supplies/Produces half of all outdoor city air pollution/More than cars," she read. "The little canary breaks out of the cage and yells:/Fuck you capitalist coal-junkies!/And flies off into the sky."
In another vignette, actors watched as water rose around them, creeping up well past waist level. They reached for their flashlights and realized they didn't have batteries. The message, delivered in a blackbox that was far too warm for late September, felt prophetic.
"I think theater has the capacity to put the world on stage in the way that we want it to be and open people's imaginations," said Julia Levine, artistic producer with CCTA and its partner organization The Arctic Cycle. "It can unlock empathy. Without a cultural change, I don't think that a political change will happen. This is part of the cultural change."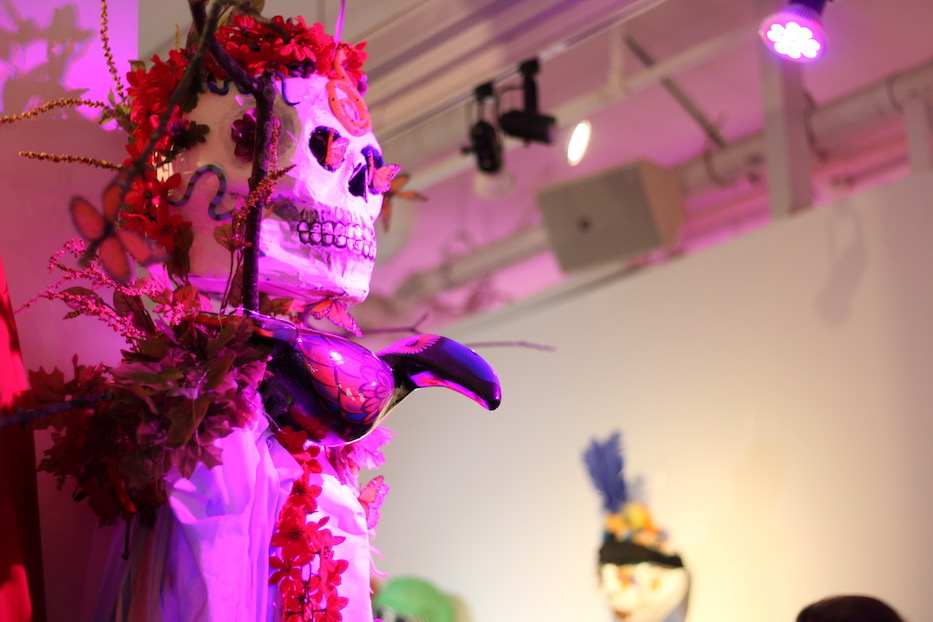 Pedro López and Silvana Deigan's Mother Earth, which was made for the city's Día de Muertos parade and was later on view at Artspace New Haven. Lucy Gellman Photo.
The approach could not come at a more critical point. Cities in the U.S. and across the globe are sinking as sea levels rise, just one of the factors prompting mass shifts in global migration amid governments unready and unwilling to absorb those shifts. Since 2007, the U.S. Department of Defense has listed climate change as a national security issue, citing rising sea levels as a direct and imminent threat to naval bases across the country and the globe.
Last spring, surging rivers upended rural communities in the Midwest, crippling farm and ranching economies in a preview of food and water shortages that have already hit other parts of the globe. Just weeks later, climate scientists reported the hottest June and July on record, with heat levels that were not predicted to arrive until closer to 2050. There have been unprecedented and devastating forest fires in California, in Europe, in the Amazon Rainforest and most recently in Australia.
India, already subject to an unpredictable monsoon season, saw some of its most severe flooding in 100 years last year. In September 2019, Hurricane Dorian ravaged the Bahamas in a pattern of extreme weather than has become increasingly common (in the near future, climate scientists have predicted a worsening pattern, including up to six climate disasters taking place at the same time).
So what will artists do locally in 2020? Will they document their own environmental practices, as New Haven artist Kathryn Frund has done in chronicling the build and decomposition of her own compost piles? Will they compel viewers to see themselves in dying microscopic organisms, as artist Cynthia Beth Rubin has done in her solo Do Plankton Have Feelings, up at Artspace through Feb. 29 of this year? Can they push themselves and those around them to do more?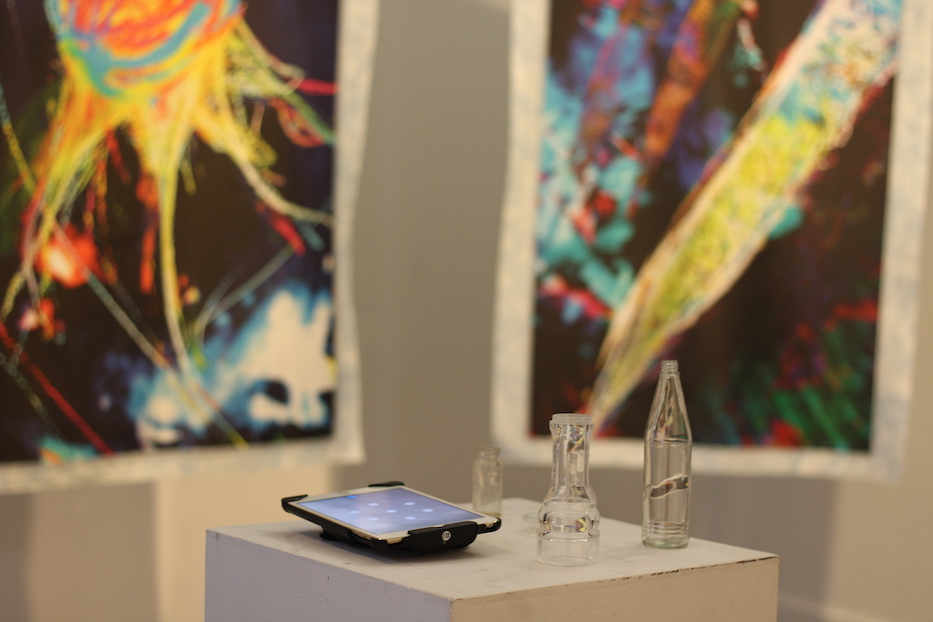 An installation shot from Do Plankton Have Feelings, up at Artspace New Haven through Feb. 29. Lucy Gellman Photo.
For Joann Moran, co-founder of the enviro-arts nonprofit Lots of Fish, the answer is yes. Reached by phone, Moran suggested that it falls to artists to translate impersonal, sometimes daunting scientific data into visual material that viewers can understand and interpret for themselves. She recalled working on a project several years ago that turned carbon sequestration data into speech bubbles that she affixed to trees. Now, she applies that same approach to voter recruitment and watershed conservation with rain barrel and storm drain art, often completed with New Haven Public Schools students and teens in the city's Youth @ Work program.
"I think every individual has to take what moves them, and apply it to the bigger picture," she said. "I try to go to practical problem solving through art. I try to employ projects that have a direct impact through art, so it can be seen as a tool of habitat restoration."
"Even if we got rid of all the fossil fuels, the planet would still be crashing," she continued. "We have to implement easy and sustainable practices. How does caring about the local watershed translate to understanding the greater climate problem? A project like the rain barrel connects people with the fact that they are part of their habitat, instead of using whatever resources are convenient to their lifestyle."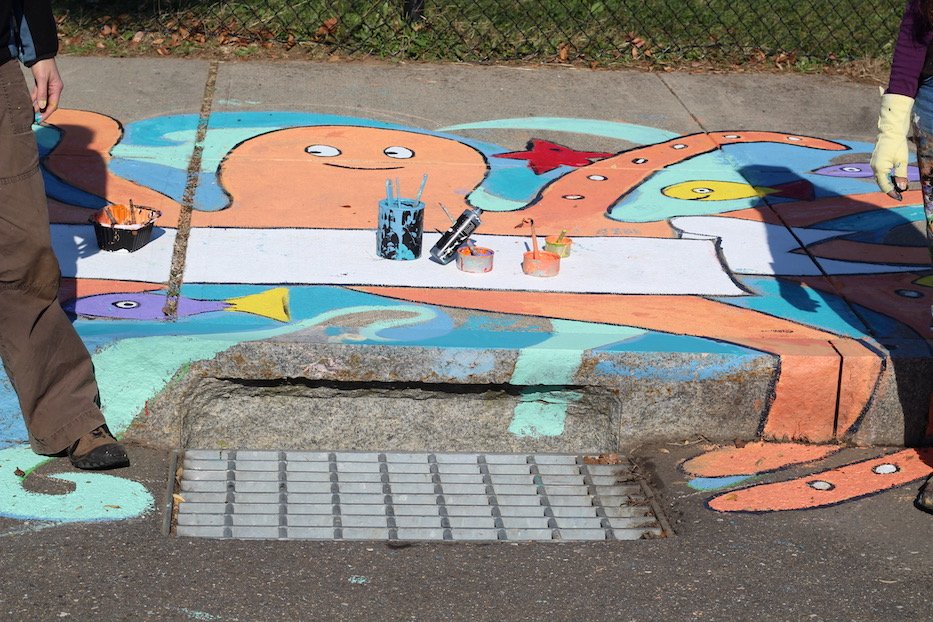 A marine-themed storm drain mural that came out of a collaboration between Lots Of Fish, Connecticut Fund for the Environment/Save the Sound, Cold Spring School, and John Martinez Sea & Sky STEM Magnet. Lucy Gellman Photo.
So too Martha Wilette Lewis, curator at the Institute Library and host of "The Flux Capacitor" at the Bridgeport radio station WPKN. At the beginning of 2019, Lewis made a commitment not to buy new clothing, because the fashion industry is one of the planet's biggest polluters. If she can't mend an existing item, she looks to thrift and vintage stores until she's found it.
She has been vocal about climate change in her work for years, including the cataclysmic and bizarre aftermath of the Mount Tambora eruption over two centuries ago. After that eruption, she explained, there were global crop shortages, unexpected months of darkness, air pollution, drenching rain and freak blizzards in the middle of New York's summer months. But there was also an explosion of creativity, including among other works Mary Shelley's Frankenstein. In getting viewers to look at the installation, she said, she also urged them to think about the weather more than they had before.
"I try and make these measures on an individual basis, but until larger corporations take it on, it's a gesture," she said in an interview last November, noting the consequences warm water had on the 2019 scallop harvest in New York. "Until medical offices, dental offices, airlines, fast food restaurants start taking this whole thing seriously, it's a small drop in the ocean."
But it's a meaningful drop, she added. In her artistic practice, she has moved away from toxic solvents in her work and turned more often to reuse. She praised artists for their ability to imagine new and different worlds, in which hope and humor can live beside gloomy warnings that are often drenched in fear. During a pledge drive and Joni Mitchell birthday celebration at WPKN, she expanded that approach to the radio station, sourcing used t-shirts from a local Goodwill before they were screen printed by a local artist. As a result, no one shirt was identical.
"Art can inform, but artists also perform the really important function of imagining other possibilities, presenting other worlds, realities outcomes, visions," she noted. "That can really be helpful in terms of providing focus and hope, rather than say just parroting narratives of fear and doom or scolding."
"Me as an artist, do I make an impact?" she added. "Yes, I do. We all have a responsibility to be talking about it."