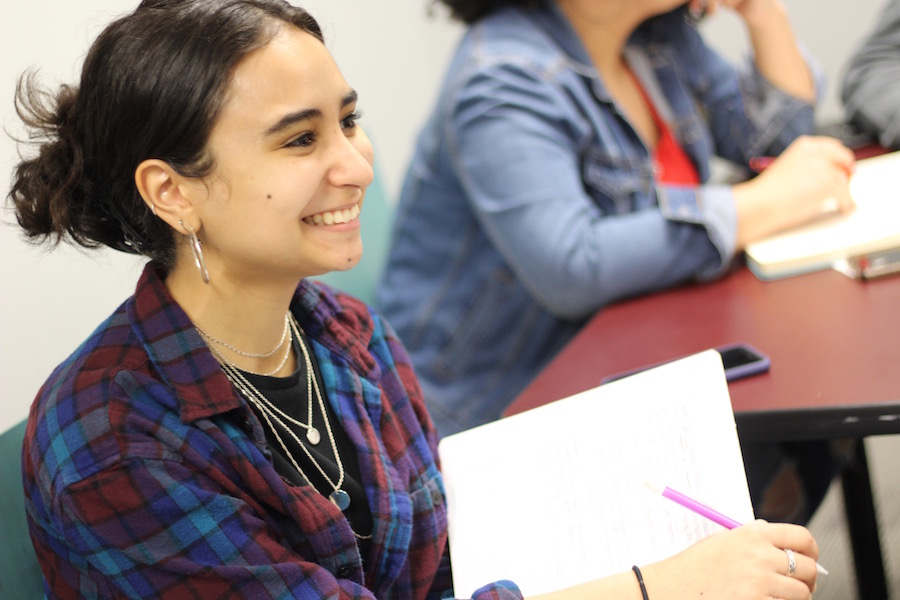 Education & Youth | New Haven Free Public Library | Youth Arts Journalism Initiative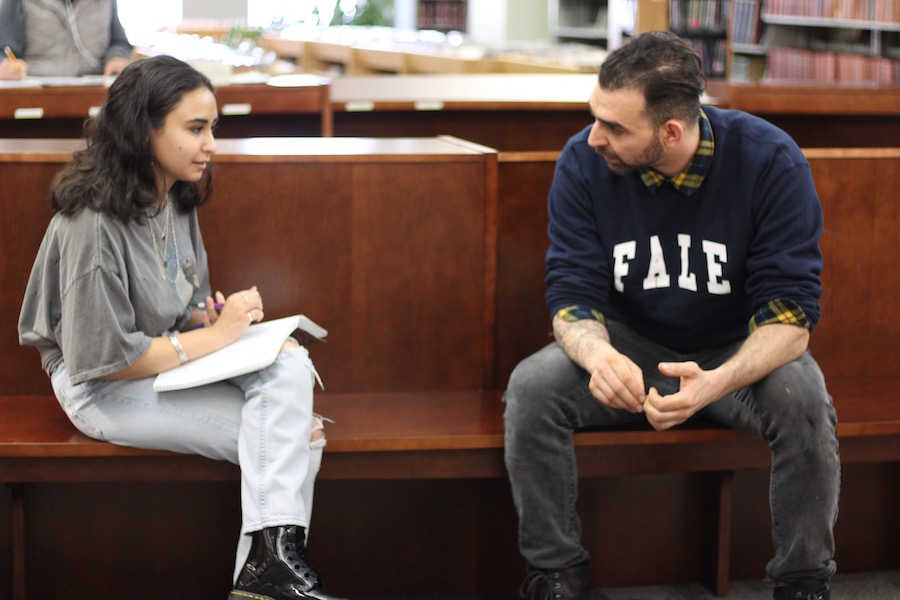 Nelani Mejias with the musician
Sotorios Fedeli. Lucy Gellman Photos.
Brainstorm an article. Tease out the lede, and throw down the nut graph like it's been your business for years. Take it on the chin when your editor asks you to do it a second time, and maybe a third. Crank out those edits. Crank them out again. Finish it all in eight weeks—before going on summer break.
That's what we've asked nine intrepid high school students to do with us this spring, as we kicked off the second annual Youth Arts Journalism Intensive (YAJI) at the New Haven Free Public Library, Hill Museum of Arts and Baobab Tree Studios this week. Designed in fall 2017 and implemented the following April, the eight-week program seeks to give student journalists a chance to explore grassroots reporting, while getting compensated for their work. Their editors are reporters Lucy Gellman and Melanie Espinal.
The Arts Paper rolled out YAJI in spring of last year, partially in response to something we found surprising in our own reporting: creative writing is not listed among National Core Arts Standards, which include dance, media arts, music, theater and visual arts.
Some of the visitors during YAJI's spring break intensive.
When asked, a representative of the National Core Arts Standards replied that creative writing is "typically included in English language arts." In other words, there's not a mechanism by which to work it in when school budgets are getting smaller, and non-core classes need to be cut.
In its beta year, the program was open to 10 students from Cooperative Arts & Humanities High School, with seven finishing the program last June (read some of that work here). This year, the Arts Paper opened YAJI applications to high school students who attend all New Haven Public Schools (NHPS). This week, we welcomed students not just from Co-Op but also New Haven Academy (NHA) and the Sound School.
On April 15—the first day of NHPS spring break—we began a weeklong intensive designed to teach students the basics of journalism, so they can hit the ground running with assignments between April and June. Our partners in YAJI are community journalists, artists, and activists: Markeshia Ricks of the New Haven Independent and Diane Orson of Connecticut Public Radio, Katie Burton of the Harriet Beecher Stowe Center, artists Genese Clark, Juancarlos Soto, Kwadwo Adae, Nadine Nelson, Jenny Nelson and Sotorios Fedeli, podcasting guru Kevin "RevKev" Ewing, artist and architect Krikko Obbott, and Co-Op grads who are now working musicians.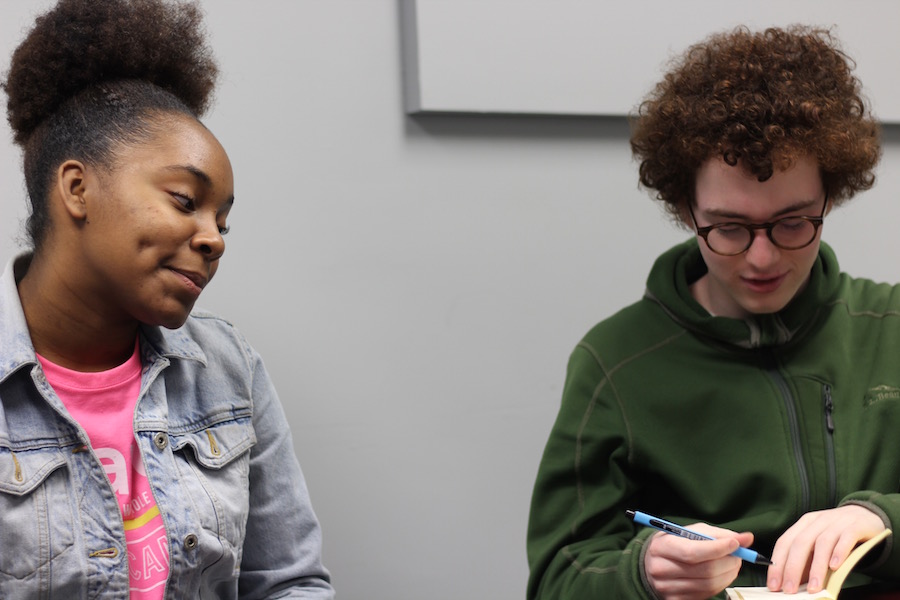 Aaliyah Treasure and Caleb Crumlish.
Just as reporters in operating newsrooms, we respond in real time to the events that unfold in our community. On Wednesday morning, students dove into how to ethically cover a protest, discussing the officer-involved shooting of Stephanie Washington and Paul Witherspoon III that took place Tuesday morning, and has inspired nightly protests each evening since. That afternoon, they explored patterns of food security, immigration, and the meaning of grassroots cultural activism with local artists.
On Friday, students returned to the protest discussion, encouraged by musician Paul Bryant Hudson to connect it with arts activism as he crooned a slow, heart-rending rendition of Nat King Cole's "Smile."
Now, they are headed to their first assignments, in preparation for our first "pitch meeting" next Tuesday. Earlier this week, we asked students for a simple practice assignment: write each others' bio. Here's what they came up with.
Through June, please check back for their bylines, because these students are awesome.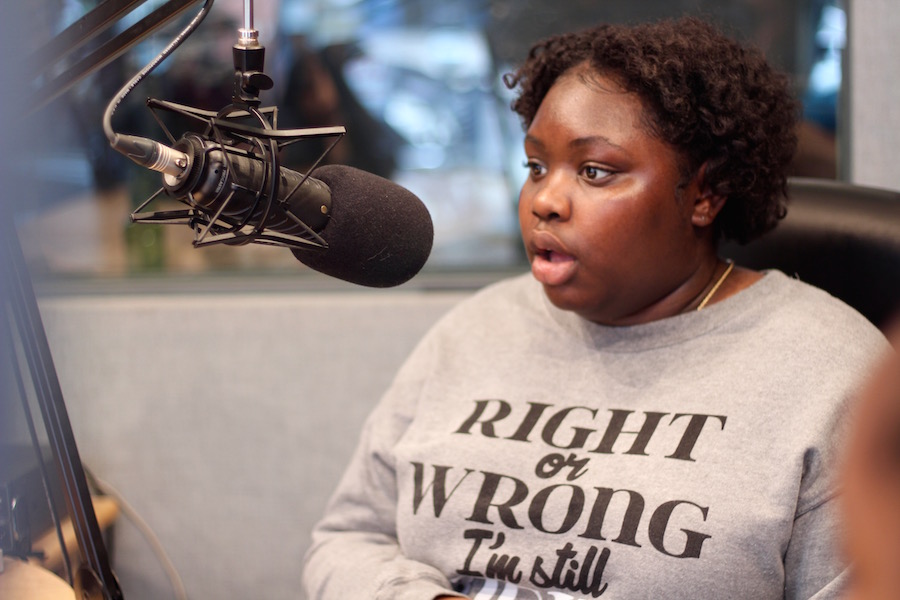 Sixteen-year-old Jamiah Green makes time to balance her studies and volleyball. She is a creative writing student at Cooperative Arts & Humanities High School who is passionate about writing and the spoken word. For her first article, she's going deep inside Co-Op, exploring faculty viewpoints in the creative writing program. She'll always remember, "everyone loses a battle but not everyone participates in the war."
Written by Aaliyah Treasure
Yesira Delgado, 16, is a student at Cooperative Arts & Humanities High School. Delgado has aspirations to be a history teacher. She currently tutors at local elementary schools and covers education-based news in her school newspaper. Delgado said she wants to help minority youth in urban communities by "providing a connected figure in their journey in education."
Written by Chelsea Jara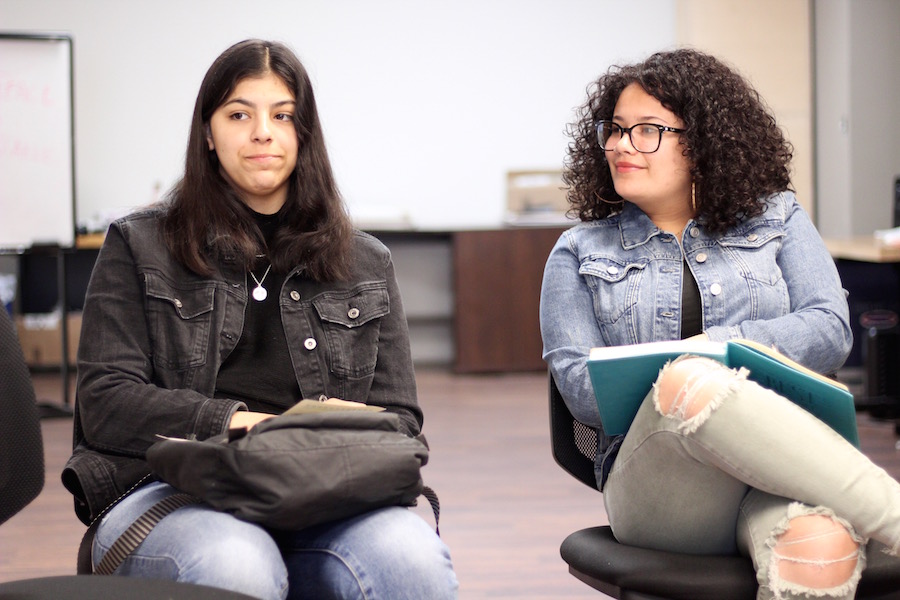 Chelsey Jara and Yesira Delgado.
Chelsey Jara, 17, lives in New Haven and attends Cooperative Arts & Humanities High School where she studies creative writing. Through her passion for psychology and philosophy, Jara values self-improvement and is driven by change and growth.
"I never want to be the same person," she said recently. "Being too grounded is dangerous."
Written by Yesira Delgado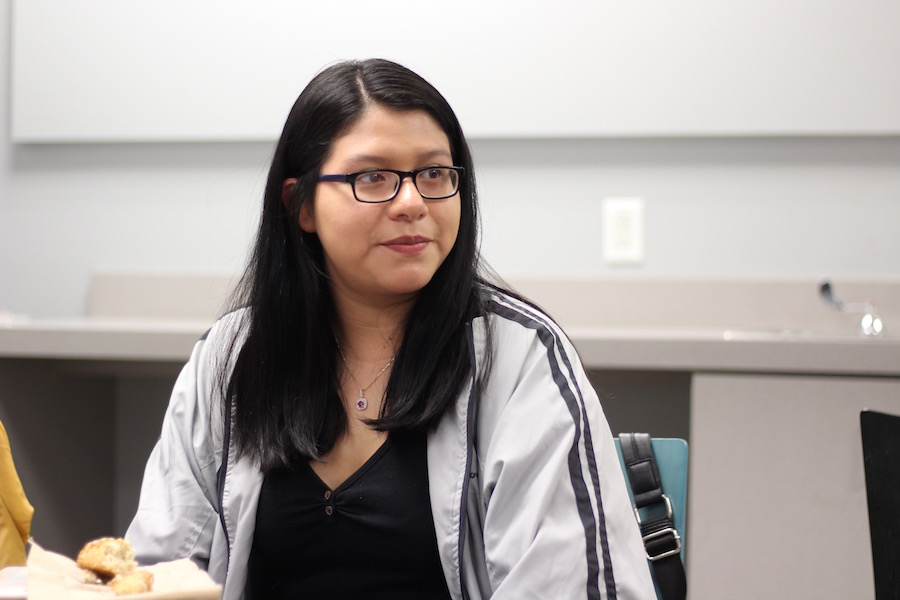 Daniela Alvarez, 17, is a New Haven resident who attends New Haven Academy. She is an introvert, but loves to laugh and express herself around people she is comfortable with. Growing up, Alvarez played the piano and loved soccer. She has a very diverse music taste and loves to attend concerts. Her top three music artists are Playboi Carti, A$AP Rocky and Rico Nasty. She describes herself as a leader who likes to give advice to her friends and loved ones. She hopes to build a successful happy life for herself in New York City. She is also really interested in fashion.
"I love fashion because it is a way to express yourself without any right or wrong," she said. "At the end of the day it's about what you like."
Written By Genesis Maldonado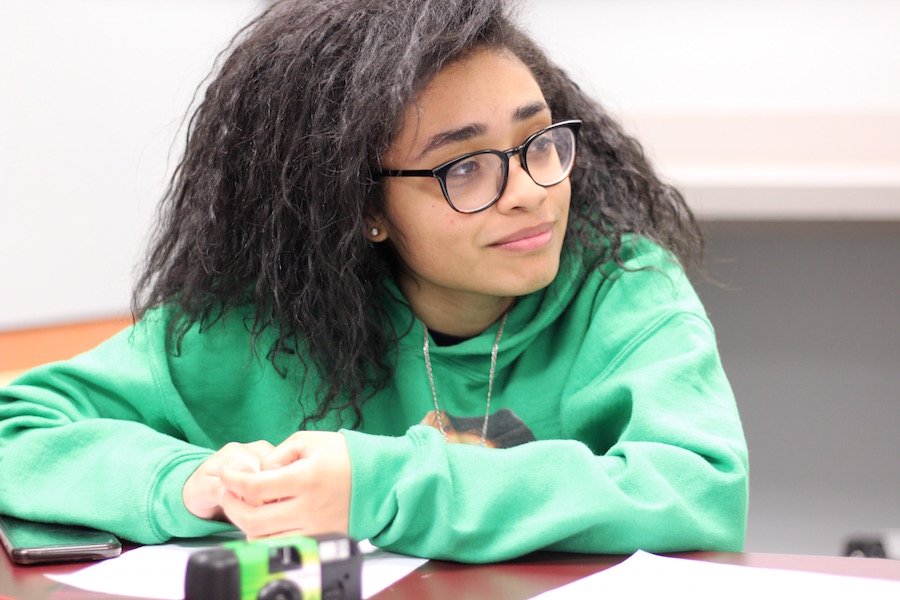 Genesis Maldonado is a young creative living in West Haven. She currently attends New Haven Academy but plans to eventually move to New York City and pursue a career in filmmaking. She lives for the small moments in life and enjoys capturing those moments with her camera.
Her kind and welcoming spirit makes it so people are attracted to her and the energy she gives off. "Show No Regrets" by Daniel Caesar is her favorite song. She said it reminds people to live life without any regrets.
"Every choice you make leads you to your purpose in life," she said.
Written by Daniela Alvarez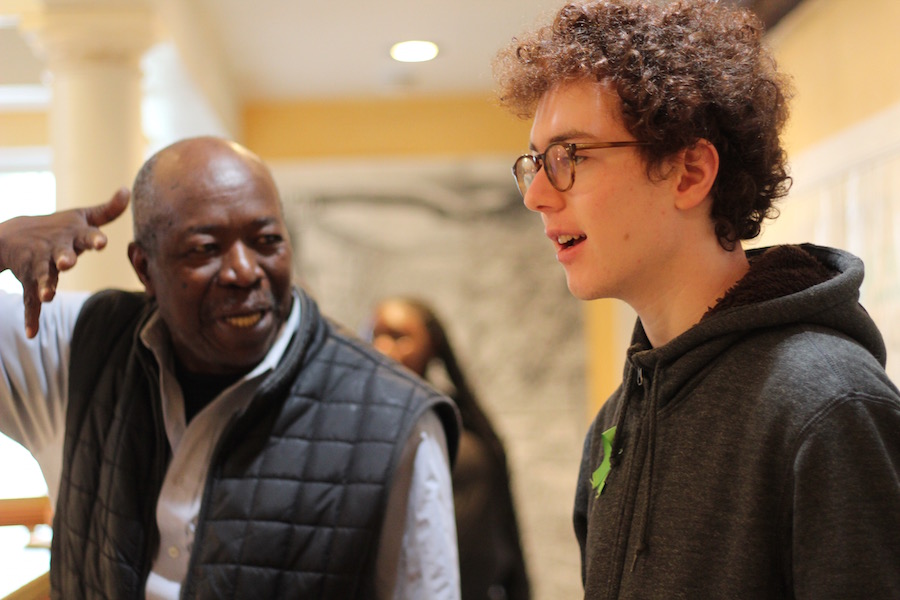 Caleb Crumlish, 16, lives in New Haven and is a student at Sound School. Crumlish, who is a twin, likes to play the violin and lots of video games. When asked what's on his mind, he asked, "Have you ever recycled a frozen food box and then realize you never really read the instructions on the back?"
Written by Jamiah A. Green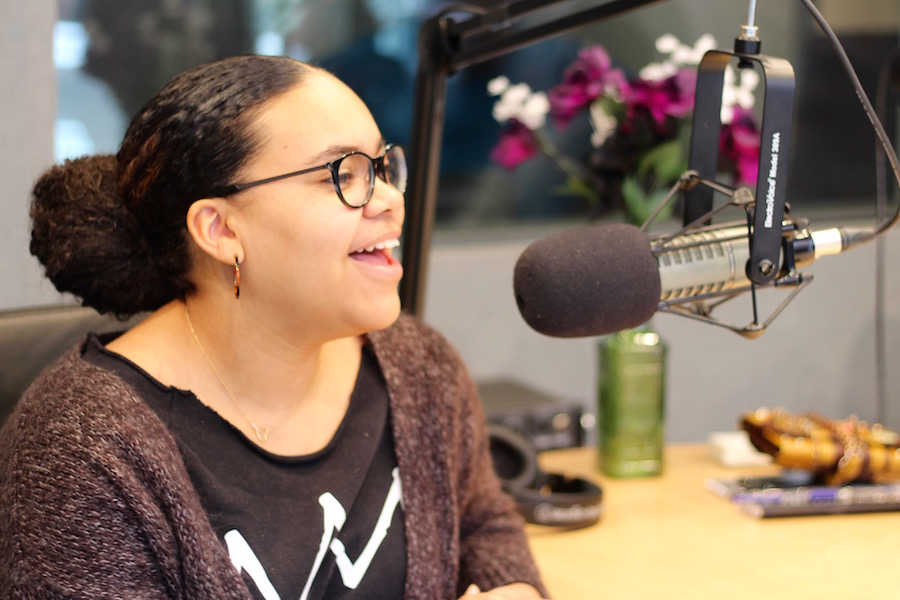 Kaatje Welsh, 15, attends New Haven Academy and is the youngest of three girls. Her family is originally from New York, but currently lives in Branford. She is interested in acting, theater and most recently calligraphy. She enjoys being in plays and dramatic theater productions—she has performed locally with the group A Broken Umbrella Theatre—but wouldn't want to be in a musical.
Through the YAJI program, her goal is to improve her writing skills and gain some insight on journalism. She wants to write about theater and talk about it on a podcast. One fun fact about Welsh is that she lived in Philadelphia for a few months.

Written by Nelani Mejias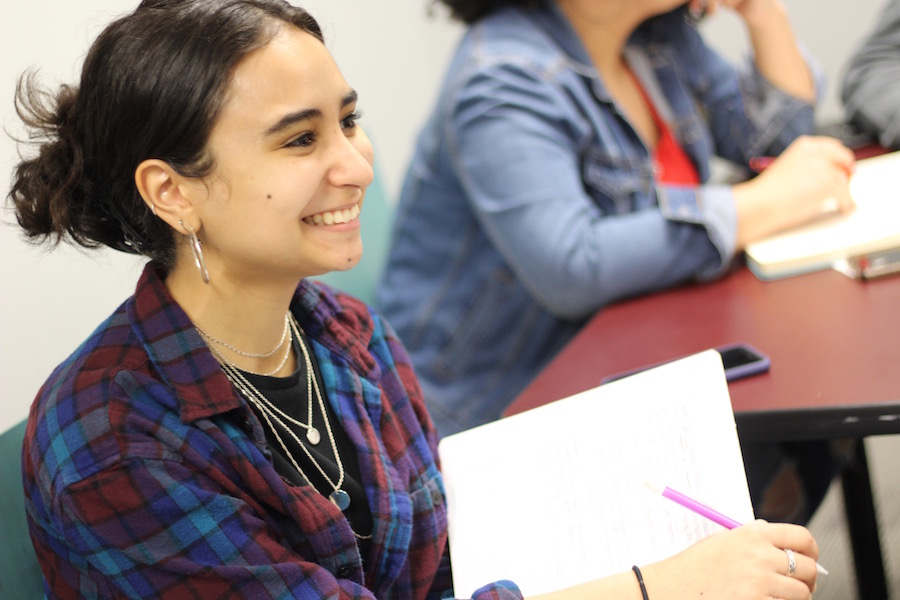 Nelani Mejias, 16, was born and raised in New Haven. She lives in Fair Haven with her sassy dog Cassie and goes to school at Cooperative Arts & Humanities High School, where she is in the creative writing department.
She enjoys writing non-fiction, watching Netflix and listening to punk rock music. Her favorite band is The Ramones and her favorite movie is Empire Records. Through YAJI, Mejias hopes to strengthen her long form writing skills. One interesting and fun fact about Mejias is that she wishes she could go back in time and visit the 90s.
Written by Kaatje Welsh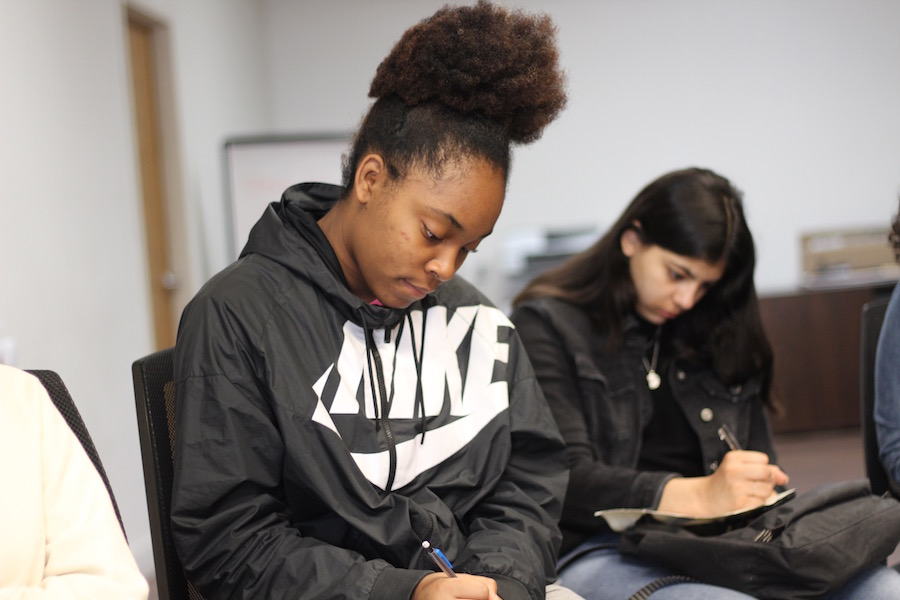 Aaliyah Treasure,15, is a New Haven resident and student at New Haven Academy. She describes herself as a very hardworking person who is happy to help out people who need it. Her hobbies include dancing and sleeping. Treasure, whose last name is somewhat uncommon, said everyone on earth has "a treasure" waiting for them. Her interests in the program include podcasting, and writing on anti-violence arts initiatives in the City of New Haven.
Written by Caleb Crumlish
To watch Paul Bryant Hudson's performance from our final day of the intensive. click on the video below.