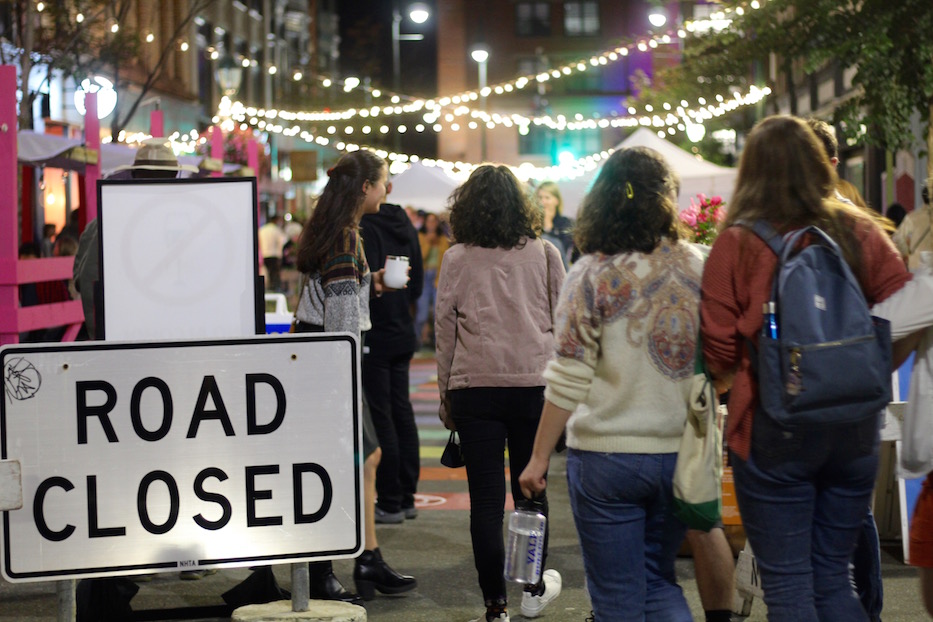 Culture & Community | Downtown | Economic Development | Arts & Culture | Ninth Square | Town Green Special Services District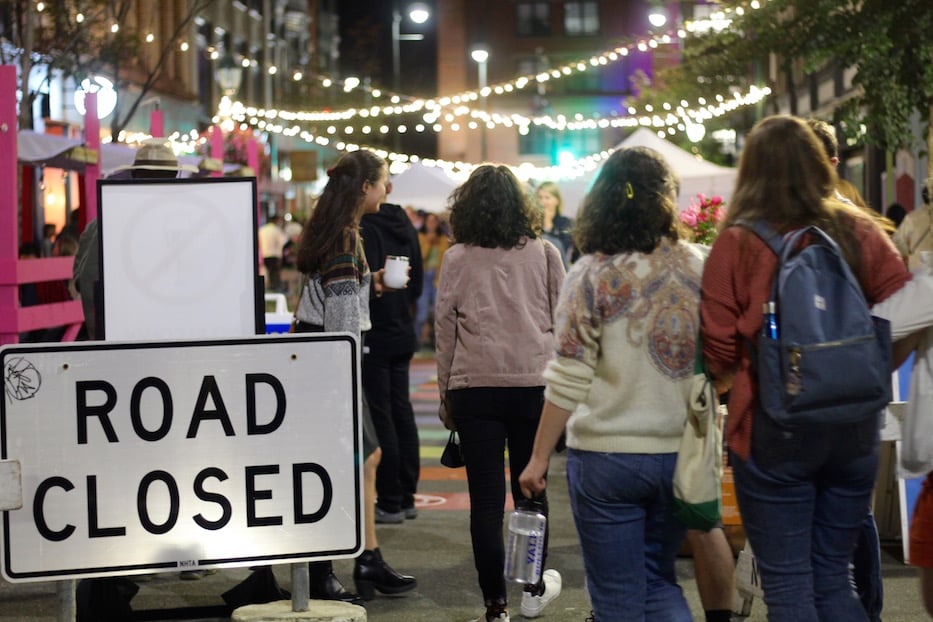 Lucy Gellman Photos.
Orange Street had transformed. At the mouth of the Ninth Square, strings of twinkling lights hung above the sidewalk, marking the way for hundreds of pedestrians. White tents lined the street, giving off a soft, yellow-white glow. From the corner of Orange and Crown, a guitar thrummed in the distance. Knots of people made their way from one booth to another, in no particular hurry to get there.
Local makers built the buzzing, sometimes boisterous backbone of New Haven's fourth annual Night Market last Friday, back after an unwelcome pandemic hiatus last year. Organized by Town Green Special Services District, the market has grown steadily as a way to highlight local businesses since May 2018. From Center Street to George Street, Orange Street sported artists' booths instead of cars, with goods that ranged from body butter and hand towels to paintings, pins, hand-woven scarves and jewelry. Hundreds of New Haveners attended.
"Town Green District was extremely excited to bring Night Market back to downtown New Haven!" Executive Director Win Davis said afterward. "It was wonderful to reconnect with our merchants and get together again with our downtown community. The neighborhood's vibrancy was palpable on Friday night, and we cannot wait for the next market!"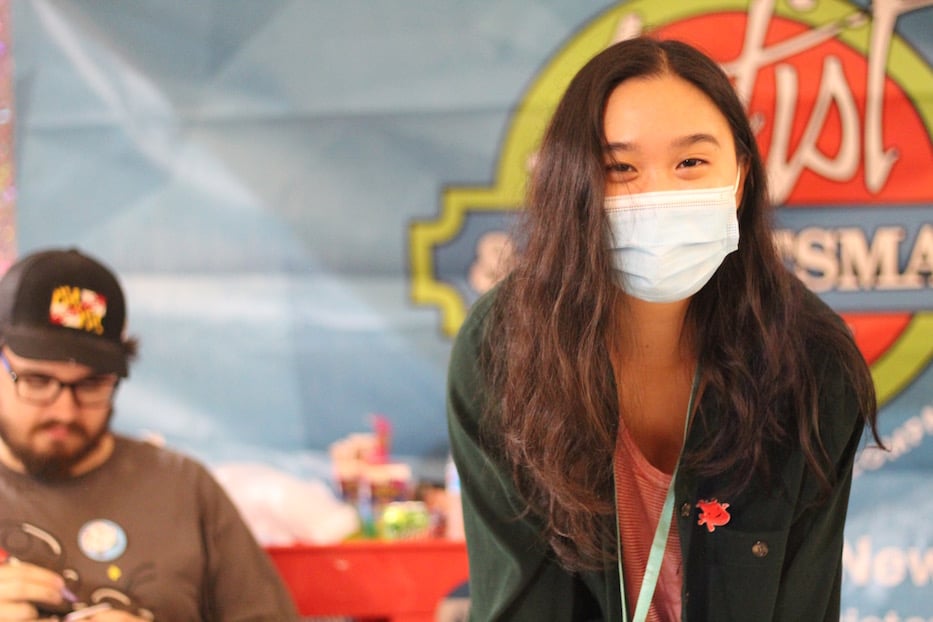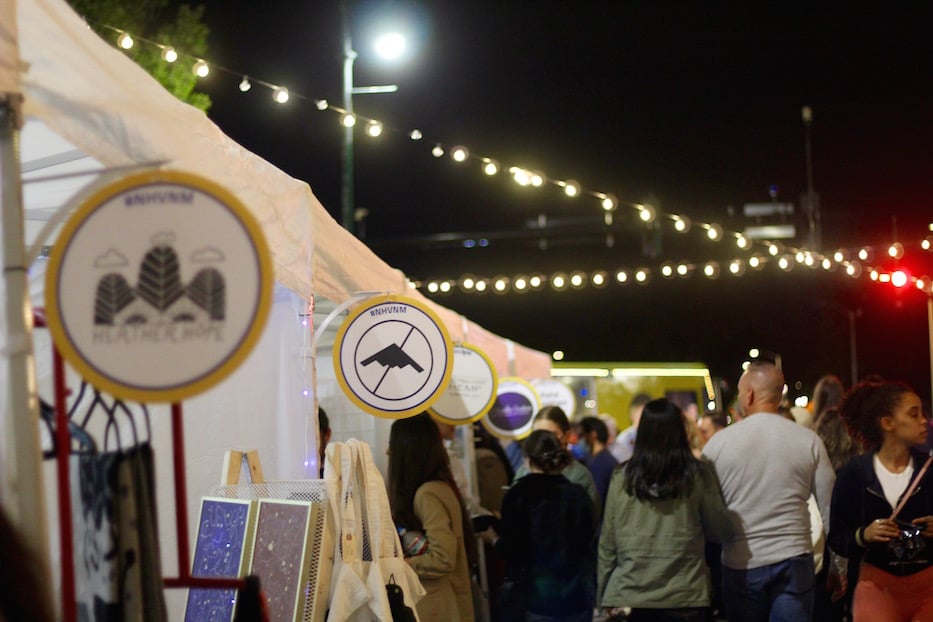 Top: Jisu Sheen, who works at Artist & Craftsman. Bottom: Orange Street between Crown and George.
That excitement rippled from the beginning of the market down to its final vendor, a cheese truck that sent fragrant, salt-flecked gusts of air from its backlit window if people got close enough. Near the Orange Street opening of the market, Lee Lee McKnight buzzed around a booth for Lady Made, a growing brand that supports women-owned businesses from across the state.
Inside a large white tent, stationary sidled up to watercolor paintings of beloved downtown buildings, from the now-closed Miya's Restaurant to Atticus Cafe and the Yale University Art Gallery. Joan Bosson-Heenan, who spends her day as a clinical researcher, showed off whimsical cards that she creates from a home studio in Fair Haven. After teaching herself to paint several years ago, she launched Suit Yourself Ink, a small business that gets traction from events like the Night Market.
"There's so much competition with social media, and she [McKnight] wants to create a community around women in the arts," she said. Around her, work from fellow women—from South African textiles to cards printed with affirmations seemed to nod in agreement.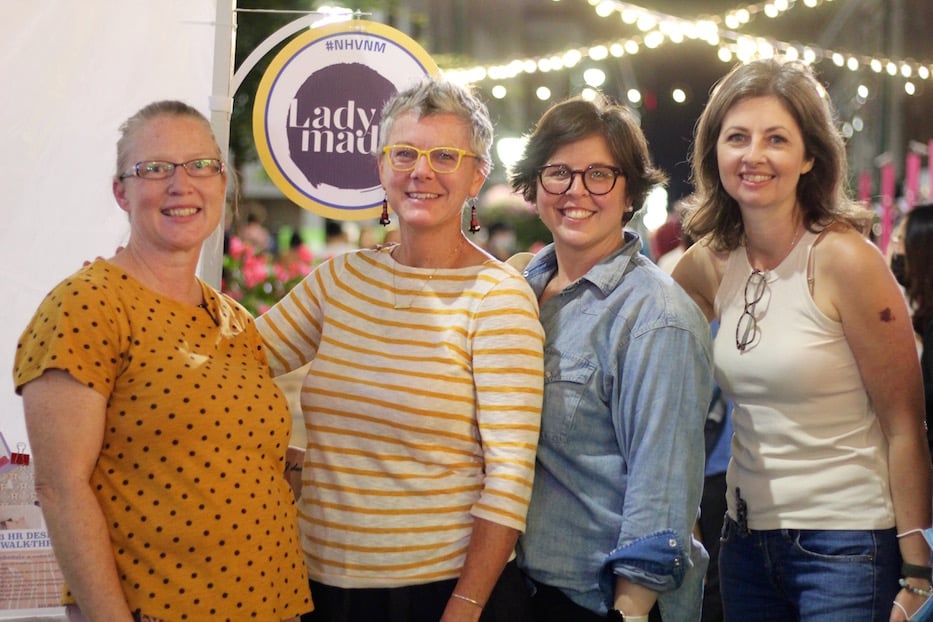 Lady Made's Lee Lee McKnight, Allie Bruch, Joan Bosson-Heenan and Amy McNamara.
Amy McNamara, whose drawing of Sally's Apizza made it into Pizza, A Love Story in 2019, said she was glad to be among the throngs of masked people, many of whom stopped to admire and buy her work. Born and raised in New Haven, McNamara has studied arts for decades, since Audubon Street became "my home" in high school.
Four years ago, "after Trump got elected and social media was a shitstorm," she started a practice of drawing or painting every day, to put "some beauty" out into the world. She is now a graduate student in art therapy at Albertus Magnus College.
McKnight, who grew Lady Made out of her magazine The Perpetual You in late 2019, said that she's grateful for in-person vendor events like the market. When Covid-19 hit last March, she "realized makers were going to have trouble selling stuff" and made a virtual pivot to an online shopping guide. Between pauses to ring people up, she described how different it felt to be back with "a community of creative ladies" in real life, instead of on a screen.
It is not Lady Made's first time back: the business also held a Mother's Day pop-up at the Graduate Hotel earlier this year. McKnight gestured to the passing crowd as she spoke.
"This gives me hope, actually, because it makes me feel like they [people] want to shop in person," she said. "It's all women, all local—it's a totally supportive atmosphere. It's not something you can really replicate digitally."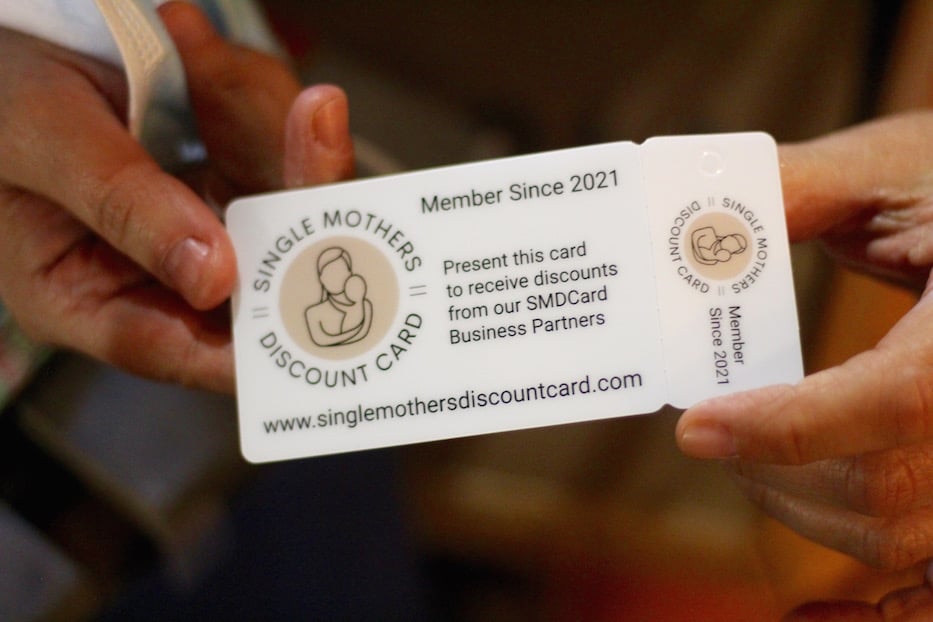 Lily and Mindi Englart. Englart launched the Single Mothers Discount Card during the early stages of the pandemic.
Beside the booth, Single Mothers Discount Card founder Mindi Englart and her daughter Lily talked attendees through enrollment for the card, a free program that pairs single moms with businesses that give them a percentage off products. Every few minutes, another mom stopped by her booth and crouched down to take a look at the materials. Englart, who is a single mom herself, launched into a description of the small business.
Englart said she first thought up the concept, which launched last year, when she saw other groups getting discounts—military personnel, veterans, senior citizens, college students—and wondered why single moms couldn't have something similar. From her own research, she knew that 80 percent of single-parent households were helmed by women (she has an adapted card for single fathers too).
"Really for me, it's a women's equity issue," she said. She pointed to an existing wage gap that is more like a chasm. Currently, white women make 79 percent of what non-Hispanic white men make. Black women are paid 64 percent of that pie. For Latinx women, that number is even lower, hovering at 57 percent.
Currently, 160 moms and roughly 50 businesses have signed up for the card. While several of the businesses are Connecticut- and New England-based, she has moms that come from Connecticut, Puerto Rico, Canada, South Africa and across the country. At least two of her partner businesses are also international.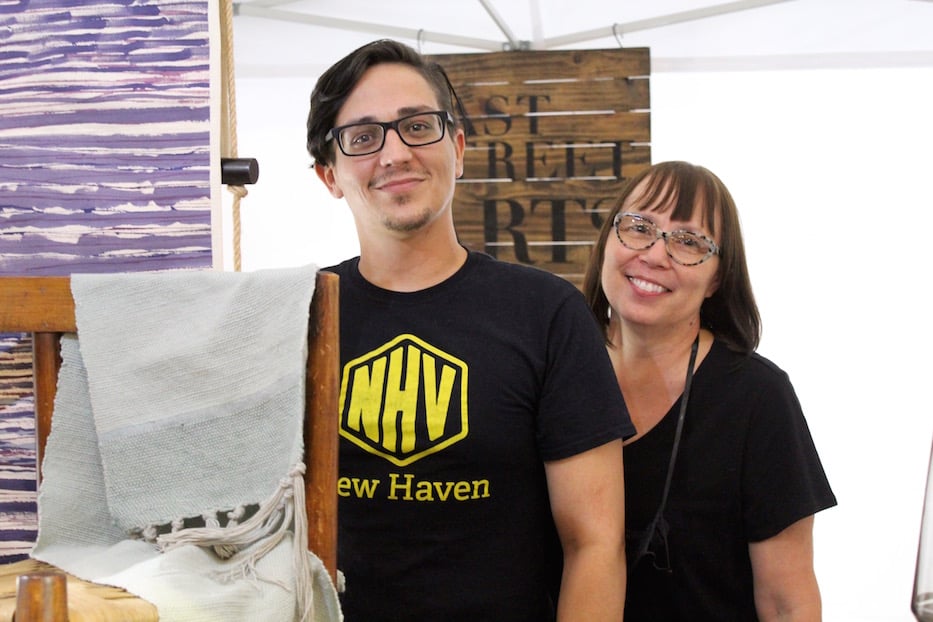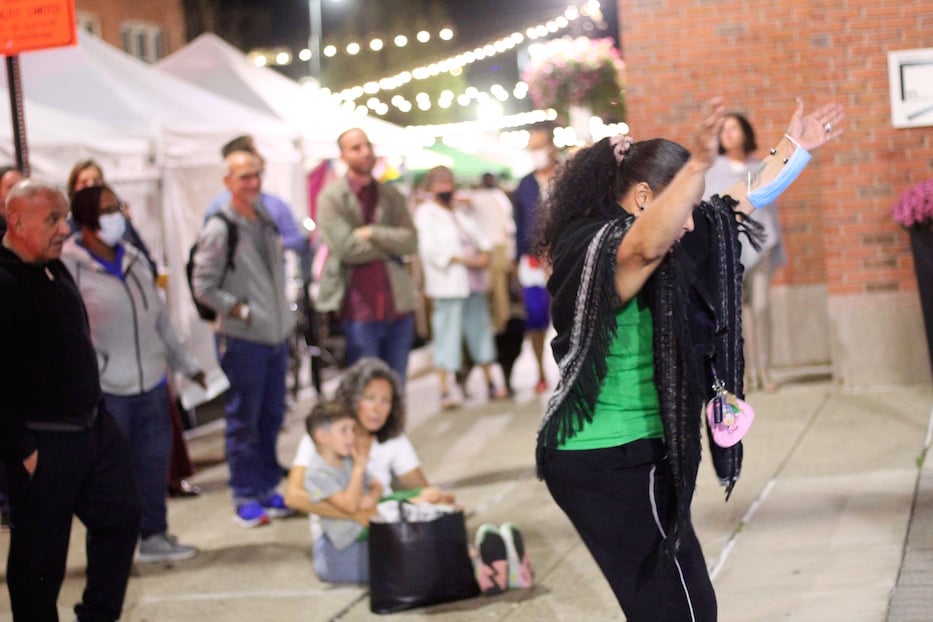 Top: Eric Ginnish and Mary Schiffer of East Street Arts. Bottom: People danced to the Rick Reyes Duo, one of several groups to perform during the night.
Down Orange Street, Eric Ginnish and Mary Schiffer chatted with passers-by at a table for East Street Arts, a program of Marrakech, Inc. that runs out of a first-floor space in the city's East Rock neighborhood. During the pandemic, the arts incubator was forced to move many of its programs, including chair caning and crafting for adults with developmental disabilities, online. Thanks to a grant that allowed for indoor renovation, many makers have since been able to return to the space.
Saturday, the organization returned to in-person vending with a table brimming with sage and grapefruit-scented soaps, printed kitchen towels, soy candles and table runners completed on a loom. A squat wooden chair caned by hand sold by 8 p.m. Ginnish, who lives above the space on East Street, said it felt good to be back. Despite the crowds, he added that he felt like it was a fairly Covid-safe environment because he was outside.
"It's amazing," he said. "I was hoping that it would be super busy, and it feels good to be outside ... I just think this is about giving visibility to local makers."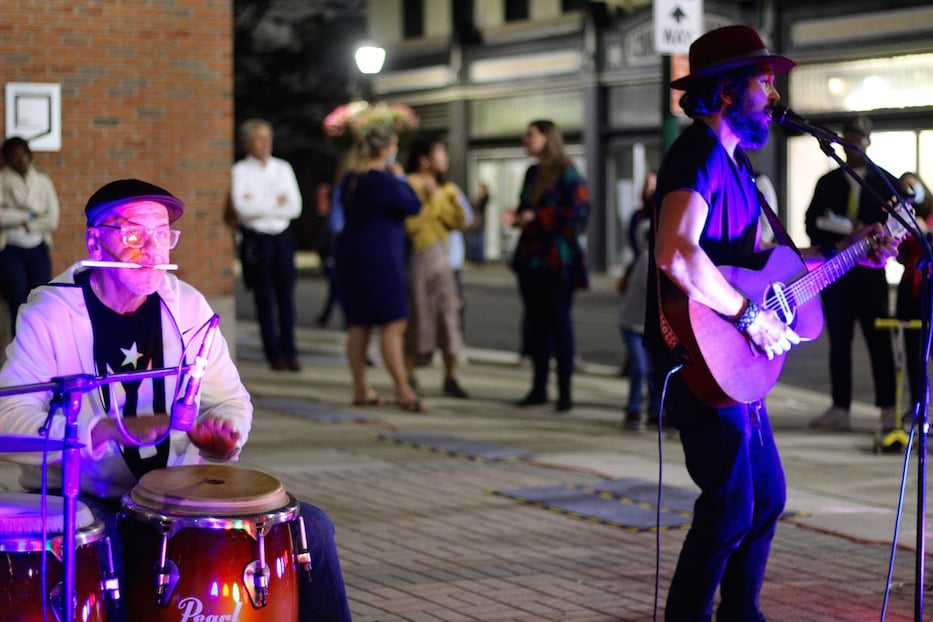 Guitar and drums from the Rick Reyes Duo coasted over the street, drawing people towards it. Outside the Residences at Ninth Square, attendees stopped to dance and listen, basking in a blue and purple light. Close to the musicians, Hood Hula's Diamond Tree worked her magic with a hoop in time with the guitar. A woman approached the musicians and began a tango for one. Parents rocked their kids on hips and bent knees.
Half a block away, the party showed no signs of stopping. Booths from the Shubert Theatre, New Haven Pride Center, Havenly Treats and more doled out information and sweet treats for those getting a second wind. Jewelry and tie-dye at least four different ways peeked out from booths.
In her brightly lit tent, Bridgeport-based candlemaker Annya Brown of NaturalAnnie Essentials could hear the music as she reconnected with customers that she hadn't seen for over a year. Born and raised in Jamaica, Brown started making soy candles five years ago, as a way to go all natural for her eldest daughter, Tiffany. After two years of tinkering, she went into business in 2018.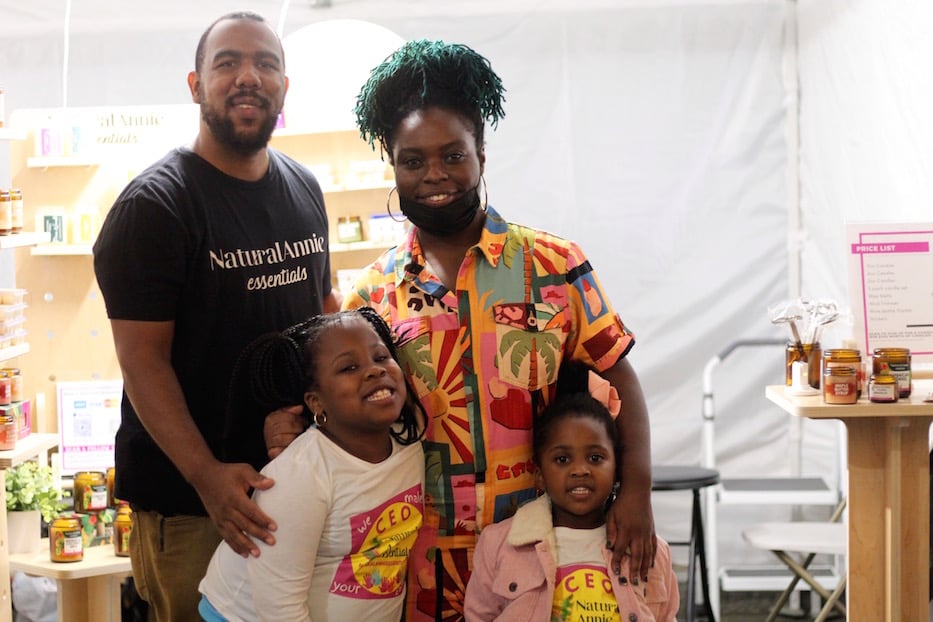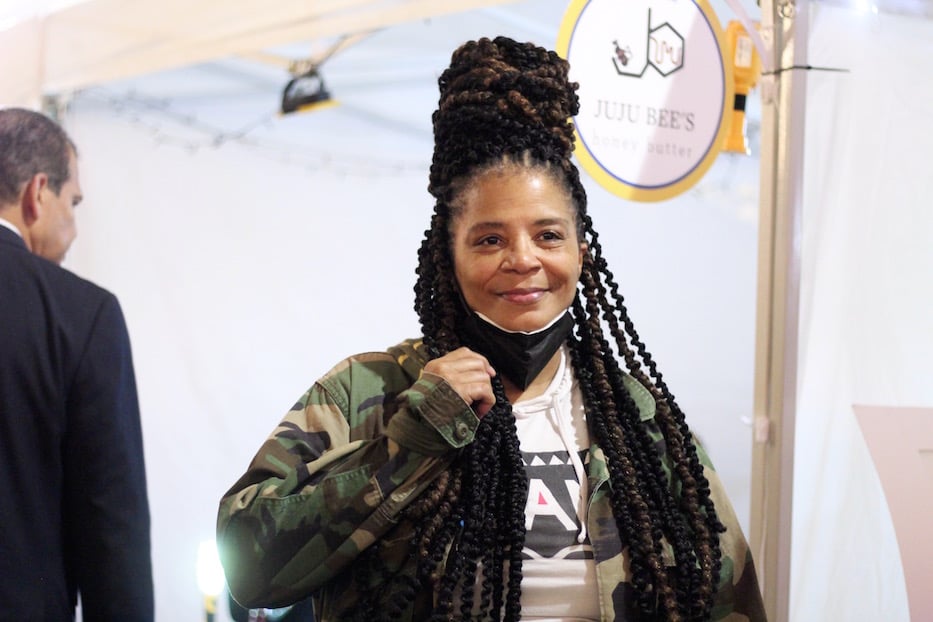 Top: Grevon Brown, Annya Brown, and their daughters Tiffany and Thalia. Bottom: Noir Vintage owner Evelyn Massey. "We need to support each other," she said of Black-owned businesses including JuJu Bee's Honey Butter.
While online sales soared last year, she said she wanted to come back to see her New Haven buyers in person. It marked her first pop-up back in over 18 months. As candles glinted around her, she balanced smalltalk with potential buyers and her two young daughters, Tiffany and Thalia.
"A lot of people don't know that Black-owned candle companies exist," she said. "It's great to put ourselves out here."
Some artists celebrated their inaugural market appearance, part of Town Green's mission to grow local businesses through the market. A few tents down from NaturalAnnie Essentials, Amtrak Conductor Jalisa Blaine introduced market-goers to JuJu Bee's Honey Butter, a new line of sparkling, fragrant body butters with cozy names like "Golden Daze'' and "Sweater Weather."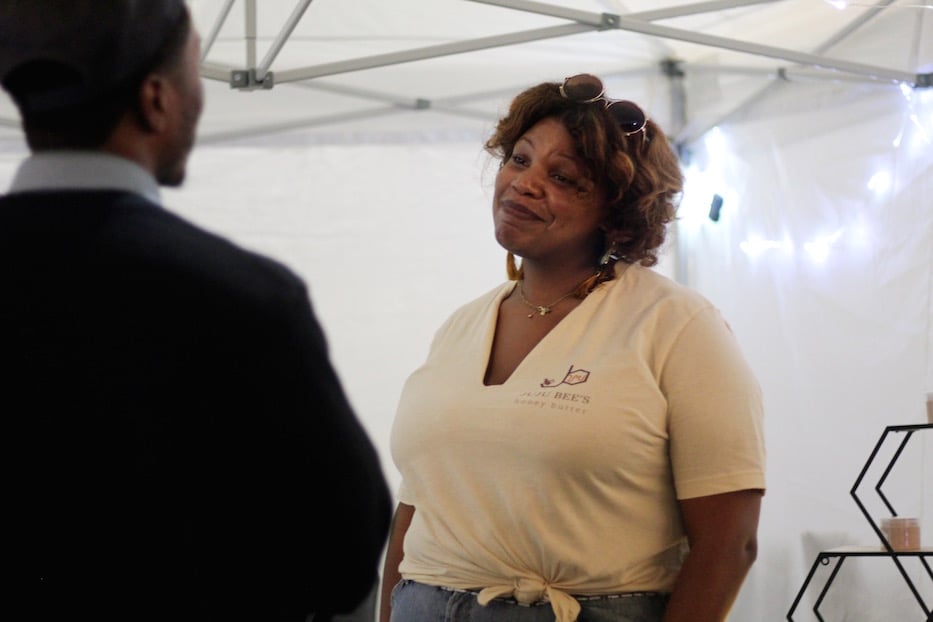 Jalisa Blaine introduced market-goers to JuJu Bee's Honey Butter.
Two years ago, Blaine started making the shimmering, soft body butter for herself, to create an affordable and tailor-made option to body butters and similar products sold in stores. She experimented with scents and oils until she got exactly the right consistency. Then her friends started asking for it. Despite a hectic work schedule, she went into business in January of this year.
"I really wanted to get myself out there," she said as Evelyn Massey, the owner of Noir Vintage tried on her signature "Golden Daze." It is a shea-based, whipped body butter scented with citrus. Massey smiled.
"Where do you put this?" Massey asked.
"Anywhere you want!" Blaine answered.
Back at the opening of the market, attendees were still arriving as the clock struck ten. Feet away from the sidewalk, kids huddled around a button-making station from Artist & Craftsman. Further back, artist Miguel Angel Mendoza Melchor displayed several of his prints, woodwork, drawings and paintings in a tent from Make Haven. Two brilliantly painted lizards, both decorated to look real, eyed patrons as they walked by. The artist said he painted them as an homage to his home country of Mexico.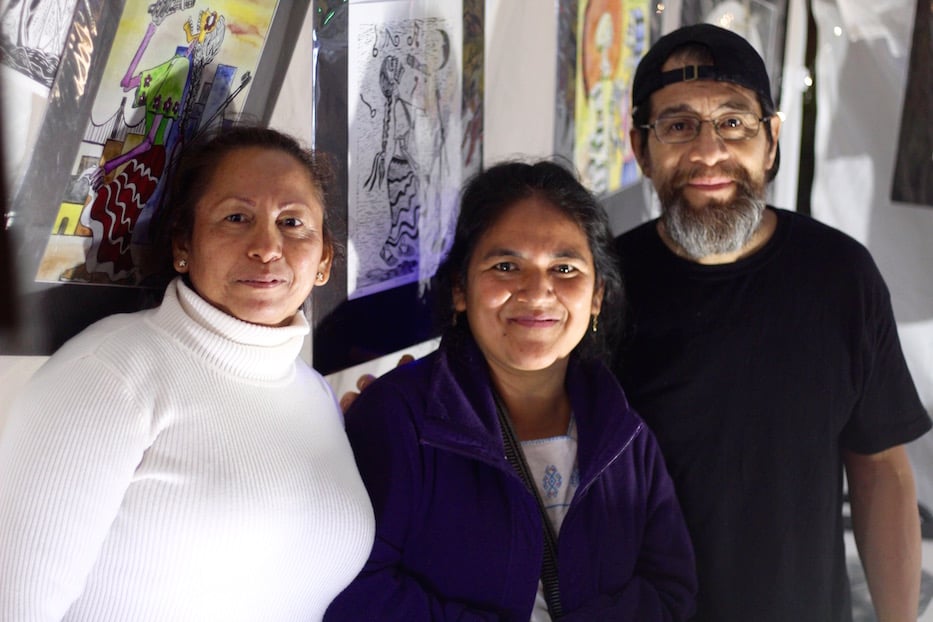 Valentina Lopez, María Luisa and Miguel Angel Mendoza Melchor.
At the front of the tent, his wife ​​María Luisa and friend Valentina Lopez sold finely embroidered huipiles from their native Oaxaca and Puebla, Mexico. Their chatter wove through the space as customers stopped to look over the designs in brilliant oranges, reds and pinks.
Mendoza Melchor, who also showed his work at an October 2019 Night Market, said he was thankful for the chance to exhibit and sell his artwork. This year, he is balancing classes at the Paier College of Art with parenting the family's two boys and holding down multiple part-time jobs. Every work he sells makes his life a little easier.
"It's very exciting," he said. "I know a lot of people from my country, they really don't know where to go and who to talk to [to show work]. This—I feel very nice about it."