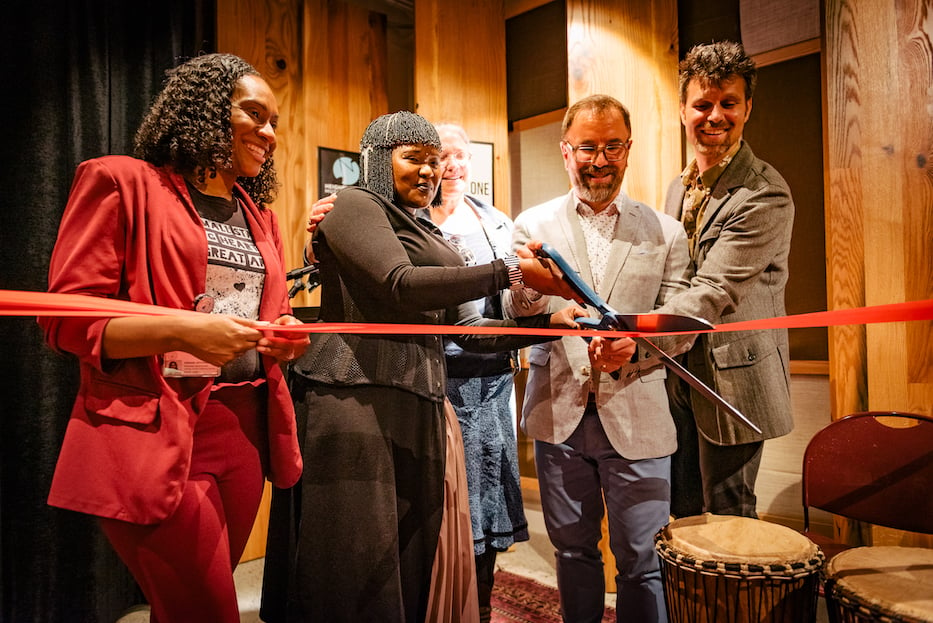 Culture & Community | Music | Arts & Culture | Neighborhood Music School | Arts & Anti-racism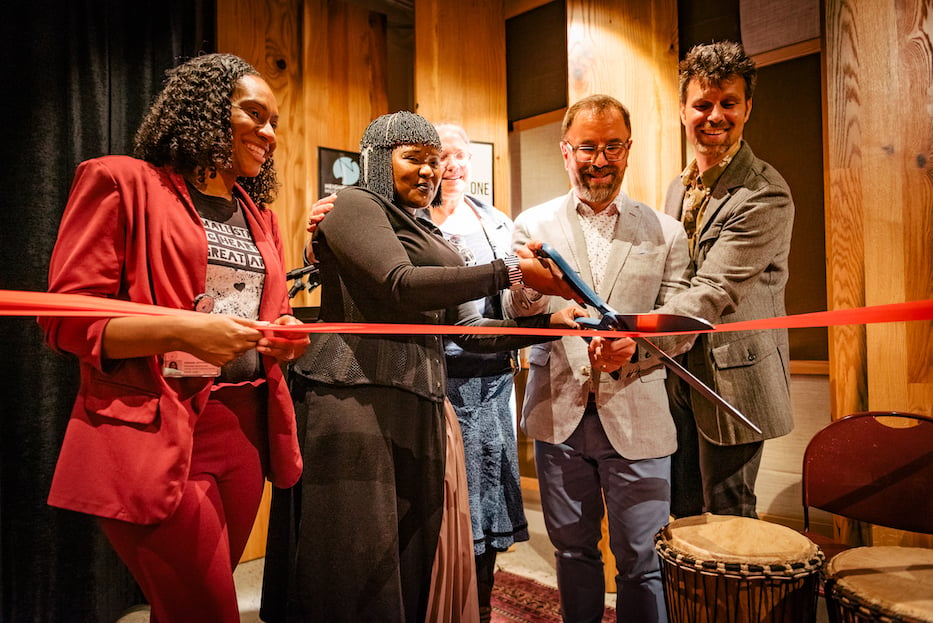 City Cultural Affairs Director Adriane Jefferson, Thabisa, Noah Bloom, and Eben Pariser. Hannah Hurwitz for The Narrative Project.
The sound is a heartbeat, ringing out over the screen before you ever see Seny Tatchol Camara burst into a smile. His palms bounce, fingers extended, and it looks like they are flying. Beneath them, the djembe is a tether, pulling listeners back hundreds of years, and thousands of miles. When he begins to speak, the drum does half the talking.
That moment—and many more like it—marks a new chapter at the Neighborhood Music School (NMS), where a new recording studio and equity-focused record label officially opened this week. Nestled on the second floor of the Audubon Street arts organization, the 200 square foot space fulfills a dual mission, supporting both students and professional performers as it grows its sonic footprint.
The label, called Equitone Records, has signed artists Thabisa Rich and Bruce Harris as its first musicians (more on that below). The studio, meanwhile, is aligned with the school's broader and evolving goal of recognizing, reckoning with, and rectifying its long history of whiteness in its educational model and its programing.
For Executive Director Noah Bloom, who started his tenure in 2019, it's a 21st-century way to get back to the school's early 20th-century roots. In 1911, NMS grew out of a settlement house in Wooster Square, where Yale School of Music instructors worked closely with Italian immigrants who were new to the U.S.
"I wanted a place where you could learn and teach, a place where you could perform, a place where you could build community and sit next to people that you might not otherwise sit next to, a place where you could grow," he said in an interview with the Arts Paper last week. "Ultimately, there was this piece missing, which was documenting your work."
In many ways, the biggest catalyst for the recording studio was Covid-19. In March 2020, the then-nascent pandemic closed NMS' physical doors, sending classes, one-on-one lessons and its arts-focused middle school online. For months, teachers and students worked through dozens of virtual kinks, from long-distance instrument tuning to dance moves done in bedrooms and kitchens.
Even as Bloom scrambled to keep the organization afloat, the pandemic gave him space to think about what needs NMS could be addressing differently. One was technology, of which pre-Covid NMS had comparatively few resources. The other, which Bloom could see as an educator and parent himself, was that Covid was causing real trauma among young people, from the isolation of remote classes to processing the sheer scale of human loss.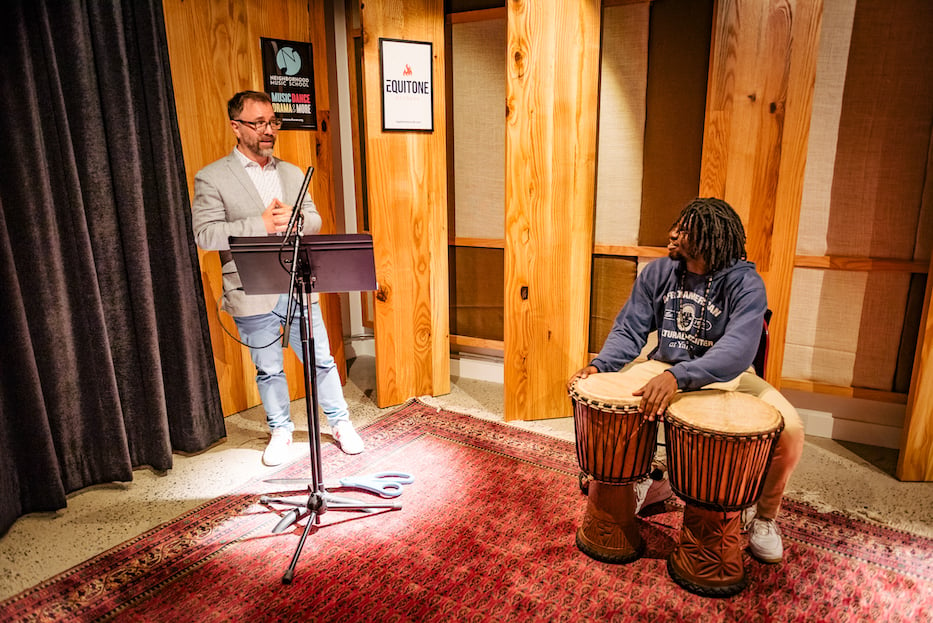 Noah Bloom and Seny Camara. Hannah Hurwitz for The Narrative Project.
Something about solving for the two together clicked. As NMS gradually reopened its doors, Bloom started building out the idea, which is funded by a mix of grants, municipal and federal funding, and individual donations.
"What do you need to do through traumatic experiences?" he asked aloud. "We need to tell our stories and have people hear what we're going through, and use those stories through art to create social change."
He was quick to add that he hasn't done any of it alone. Years before taking the helm at NMS, Bloom found an ally in musician and producer Eben Pariser, one half of the duo Goodnight Moonshine, when he was performing at the school's "Twilight Tuesdays" concert series. After talking for just minutes, Bloom knew that he had met someone he wanted to continue working with for years.
Since then, he estimated that the two "have spent countless hours talking about music and life." So when NMS started getting serious about the studio in 2021, he knew exactly who to turn to. Pariser, who had lost gigs during the pandemic, was excited to help.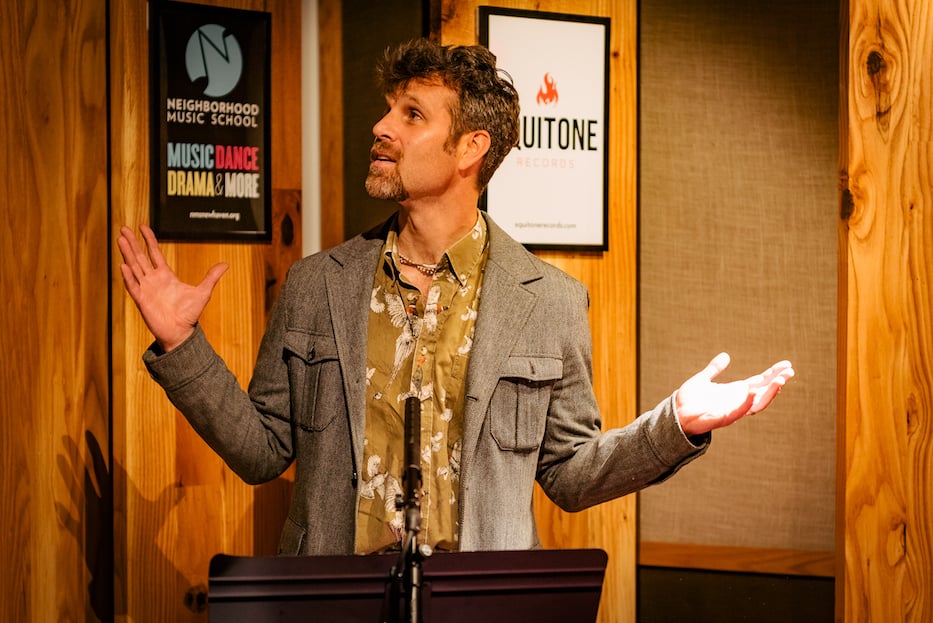 Eben Pariser. Hannah Hurwitz for The Narrative Project.
As he worked on the idea, Pariser designed the space with the needs of both students and professional recording artists in mind. NMS officially broke ground in February 2022, remodeling an old corner and balcony on the second floor of the building that was unused for years. In addition to Pariser, Public Ally and NMS Production Fellow Ibn Orator is helping run operations in the space.
Now, a neon-red sign with the words Recording in Progress greets visitors outside of a heavy, thick white door. Inside, a red rug sprawls across the floor like a welcome mat. At one end of the studio, a booth with recording and mixing equipment sits at the ready, just waiting for a willing set of hands and ears to run it. Around it, paneling covers each wall, keeping the sound in. There are mics ready to go, a drum set in the corner and video and audio equipment that can appear in moments.
The studio's first role is educational, with what Bloom described as a sharp lens on equity. Before this year, students didn't have a dedicated space where they could record music for personal use, specific projects, or orchestral and college auditions. The last is an equity issue, Bloom said—private recording and mixing sessions can cost up to $5,000, which most kids and families can't afford. A student's iPhone or Garage Band recording doesn't get the same sound.
The space is also meant to open a resource up to musicians in the school's orbit. In its initial stages, the space has welcomed young composers at NMS and the nearby Educational Center for the Arts, interns from New Haven Academy, and students in NMS' new, tuition-free DELTA (Developing and Empowering Leadership through the Arts) program. In addition, NMS has used it for marketing, with a multi-part series called "Who's Your Artist?"
In the next few months, Bloom said he would like to add hands-on mentorship in microphone technique, recording, and podcasting.
Equitone Enters The Fray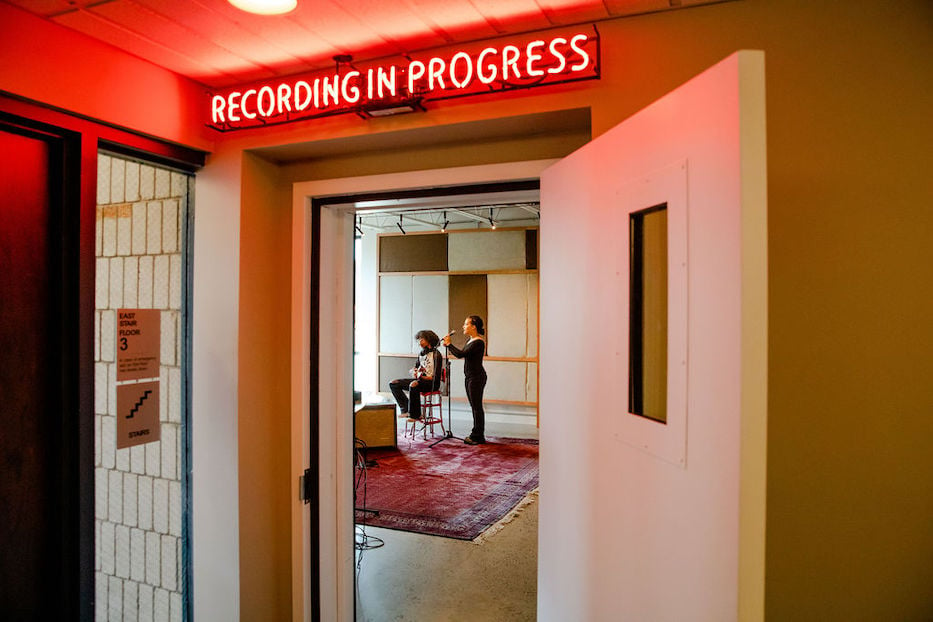 Dave Robbins for NMS.
The studio's educational use, meanwhile, is only half of the mission and vision. When Bloom and Pariser were first talking about a studio, the two also found themselves talking about the history of the record industry in America. It's one that includes centuries anti-Black racism, misogyny (and very often, misogynoir), appropriation, and corporate profits over the needs and livelihoods of individual artists.
For Pariser, who has long understood that there is no American musical tradition without the music of the Black diaspora, the idea of a record label that could flip that on its head was thrilling.
"There would be no Eben Pariser without African American music," Pariser said on a recent Tuesday, running over decades of history in a single breath. "We realized that this school wasn't serving the community as well as it could. I appreciate the gravity of that problem."
Part of that was looking at the industry's practices, and figuring out how to undo them on a small, grassroots level. Since the moment there has been recording equipment, Pariser said, there has also been the mass exploitation of artists—what he called "basically a venture capital model."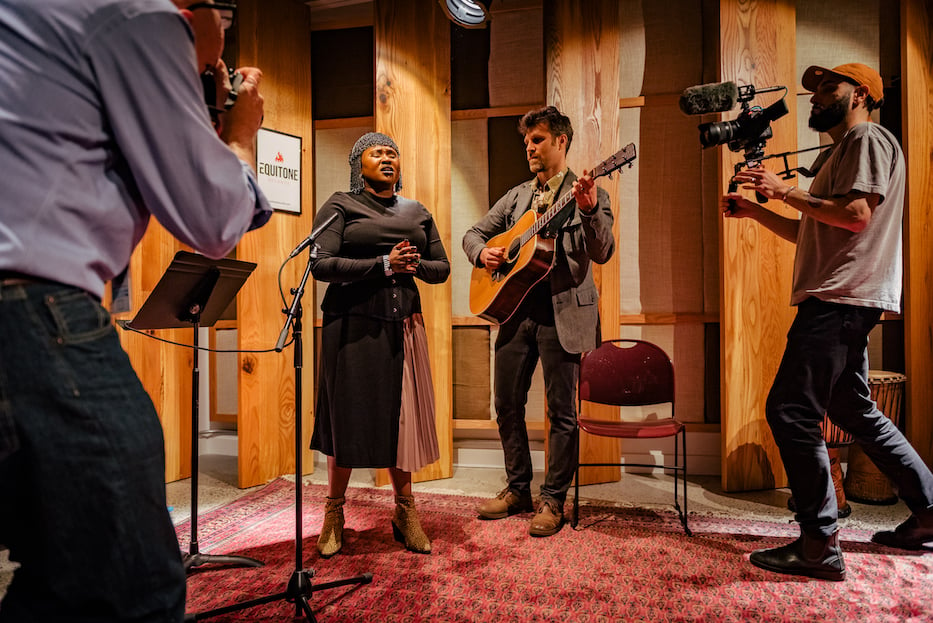 Hannah Hurwitz for The Narrative Project.
A label might take on 12 artists, knowing that 10 or 11 of them would fail. When they did, artists ate the cost of their commercial failure, and labels profited from that one musician who had ostensibly succeeded. That's especially true for Black artists, who have been "the torch bearers" and often not gotten their proper due or compensation.
The people who profited (and still do) were often white artists and executives, appropriating Black musical stylings and traditions without credit. There are countless examples of that theft, from the fates of Black Swan Records to Big Mama Thornton to Fats Domino to Nina Simone. In August Wilson's 1982 Ma Rainey's Black Bottom, set in 1920's Chicago, the audience watches it happen in real time.
"The recording business as a whole owes a debt to African American musicians," Pariser said. "I wanted to find a different model that didn't depend on sales to generate return on investment. We [he and Bloom] wanted to flip it. We wanted to say, if something happens, the label will be the one holding the bag."
Several months and a finished studio later, that's exactly what Equitone is. Before signing any artists, Equitone raised the funds to cover recording, publicity, promotion, distribution, and design for each artist, costs that together can amount to $20,000 for a single project. If artists do make money on the label, 50 percent of the profits go to them. The other 50 percent right back into supporting musicians who may not otherwise have the resources to attend NMS.
On a recent Tuesday, Pariser stood in the center of the space, excited for it to come to life in the days, weeks, and months ahead. So far, Equitone has signed on artists Thabisa, whose "Alive Tour" launched earlier this year, and jazz educator and musician Bruce Harris, who is based in New York. On Wednesday, NMS staff, artists, and city officials cut the ribbon on the studio, making it official.
In a phone call Thursday, Thabisa said that she is incredibly grateful and excited to be an early part of the label's story. As a working artist, she has independently released two albums and a single that she recorded in her attic in the first year of the Covid-19 pandemic. As she started thinking about a third album, she was overwhelmed by the sheer cost of such an undertaking.
Had she done it on her own, she said, it would have required recording a single, an EP, and then an album separately. Equitone took that pressure away, so she could focus on her tour and her music. She added that it's a full-circle moment: NMS is one of the first places she performed for students when she arrived in New Haven.
"As a musician, I'm constantly taking risks with my music," she said. "For me, to sign on with them, it feels like an opportunity more than a risk, and it will get me closer to my dream of having an album. So far, we've been working intensively well with each other. You feel like a partner. You feel like a signed-on artist."
"I'm really excited for the opportunity and really proud of the steps I'm able to take," she added. "I'm putting my best foot forward to becoming that global artist."
Adriane Jefferson, director of Cultural Affairs for the City of New Haven, said that she is thrilled to support the project. Earlier this year, Equitone was a recipient of one of the city's Neighborhood Cultural Vitality Grants. Thursday, she described it as completely in lockstep with the city's evolving Cultural Equity Plan and commitment to artists of color across New Haven.
"This is, in a sense, a form of reparations," she said, adding that she also sees a strong element of cultural preservation. "It's an example of how it can look. For me it was a really proud moment."
Neighborhood Music School is located at 100 Audubon St. in New Haven. Learn more at their website.