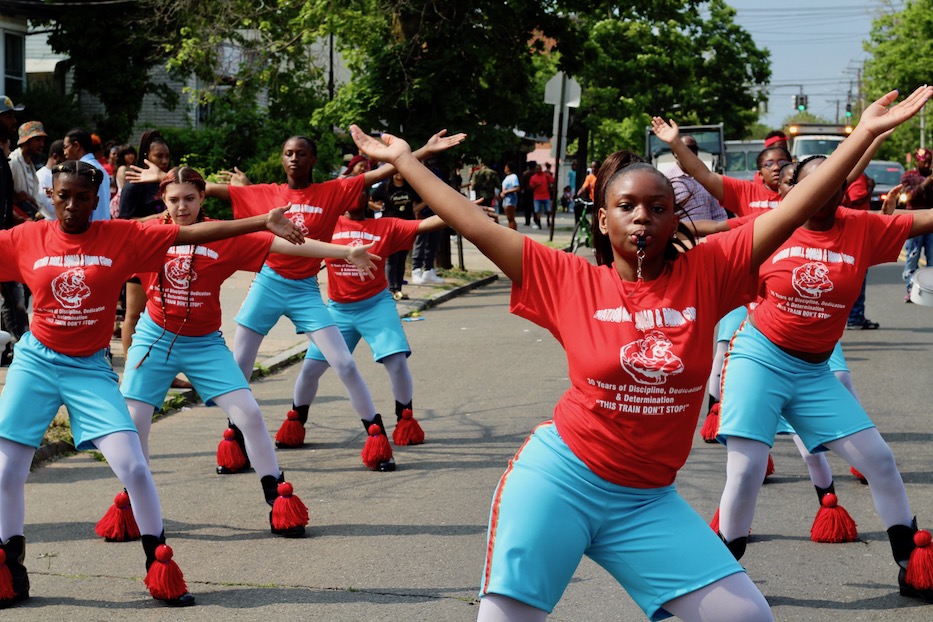 Culture & Community | Arts & Culture | Elicker Administration | Arts & Anti-racism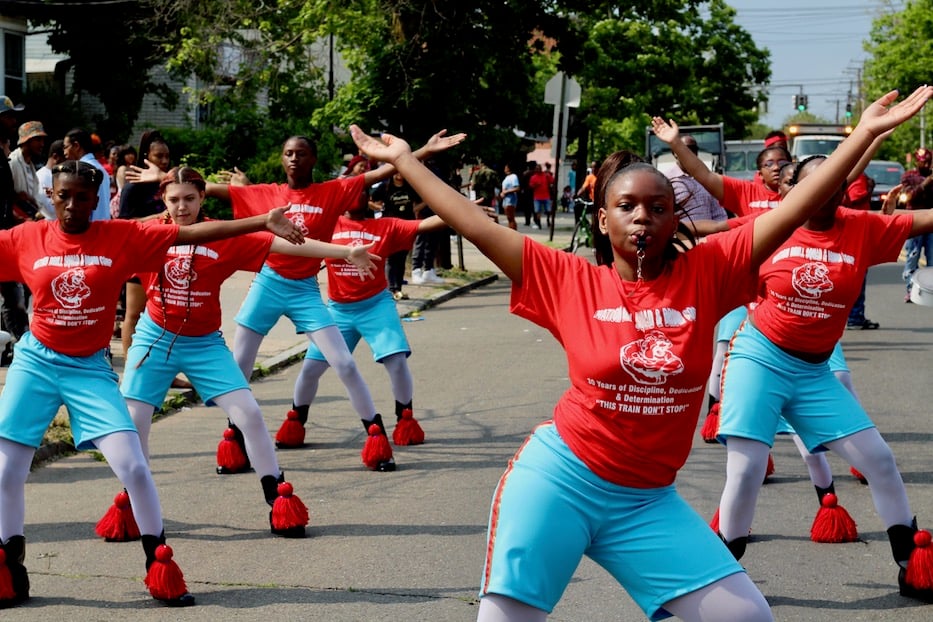 Dancers at the Elm City Freddy Fixer Parade on Dixwell Avenue in June 2019. After taking 2020 through 2022 to rebuild after the Covid-19 pandemic, the parade is returning this year. Lucy Gellman File Photo.
A photography fellowship that puts youth of color at the center of everything it does. A summer music festival that celebrates skate culture and grassroots artists, one note and nollie at a time. A public art project hundreds of years in the making, with roots on both sides of the Atlantic Ocean. A cultural incubator space in the heart of Fair Haven.
Those are just a few recipients of the 2022-2023 Neighborhood Cultural Vitality Grant Program, distributed to 42 artists and arts organizations by the City of New Haven. From the historic Elm City Freddy Fixer Parade and Pequeñas Ligas Hispanas De New Haven to the nascent Seeing Sounds Music Festival and Proyecto Cimarrón, the city has awarded a total of $187,200 to just under four dozen individuals and organizations.
Amounts range from $2,450 to $7,000. Fifteen of the awardees, or 36 percent of the overall funded pool, are first-time grantees. Tuesday, Mayor Justin Elicker praised city Cultural Affairs Director Adriane Jefferson and Outreach Coordinator Kim Futrell for having a vision rooted in cultural equity throughout the process.
"Kim and I are a department of two, with one more coming, and we do a lot of work," Jefferson said. "But it is important to know that we don't do it alone. We do it in partnership with the community, we do it with the support of the people that I just named [Mayor Justin Elicker and city economic development officials]. And it really does take a village to do this type of work. Empowering work through arts and culture."
This year's awardee list represents an increase in funding from years past and a completely revised framework for the grant program, which has existed in multiple forms since 2000. From 2000 to 2015, it was recognized as the Mayor's Community Arts Grant. Then in January 2016 it became the Neighborhood Cultural Vitality Grant Program. Funding has steadily grown, from $25,000 under Mayor John DeStefano in the mid-2000s to $100,000 last year to over $187,000 this year.
This year, Futrell stressed, it was important to her that early-career artists, collectives, and individuals—rather than just entrenched arts organizations— knew they could apply. Through the department, she offered a 12-week grant writing workshop and one-on-one support before the grant was due. With a panel of reviewers, she and Jefferson built a seven-category framework that included guidelines such as "creating space," "evolution," "growth" and "start-up."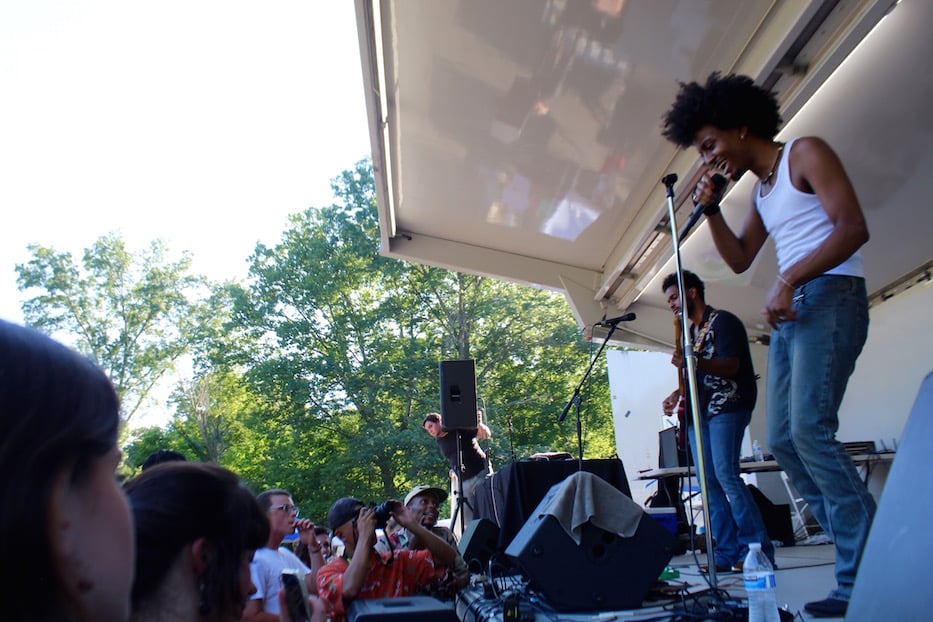 ammar mid-set at the 2022 Seeing Sounds Music Festival in Westville. Lucy Gellman File Photo.
"The guidelines that we used said, 'If you don't necessarily see yourself as an artist, you can still qualify as an artist for this funding,'" Futrell said. Her efforts to expand the program worked: the city received over 60 applicants for a single funding cycle. Like Jefferson, she noted the program's tie to the city's Cultural Equity Plan, which was announced outside Stetson a year ago this month.
"It's all because of the Cultural Equity Plan—taking that and putting it into actual practice," Jefferson said. "So you want to know what it looks like? This is what it looks like. Diverse funding, really supporting our community, which is a melting pot of different types of people, making sure we are putting the money where our mouths are in a real way."
Together, the 42 grantees paint a picture of New Haven that is diverse and polyphonic as the city itself, with summer festivals, arts-themed block parties, and sprawling public art projects and concerts that pay homage to the city. Some, like Elm City LIT Fest and the Elm City Freddy Fixer Parade, are known names; others, like Juanita Austin's "Into The Afroverse Summit," Tyler Jenkins' "The Uplift Project" and Marisol Foumakoye's "Pitch My Song" represent new and growing initiatives in a city just recognized for its tinkerers.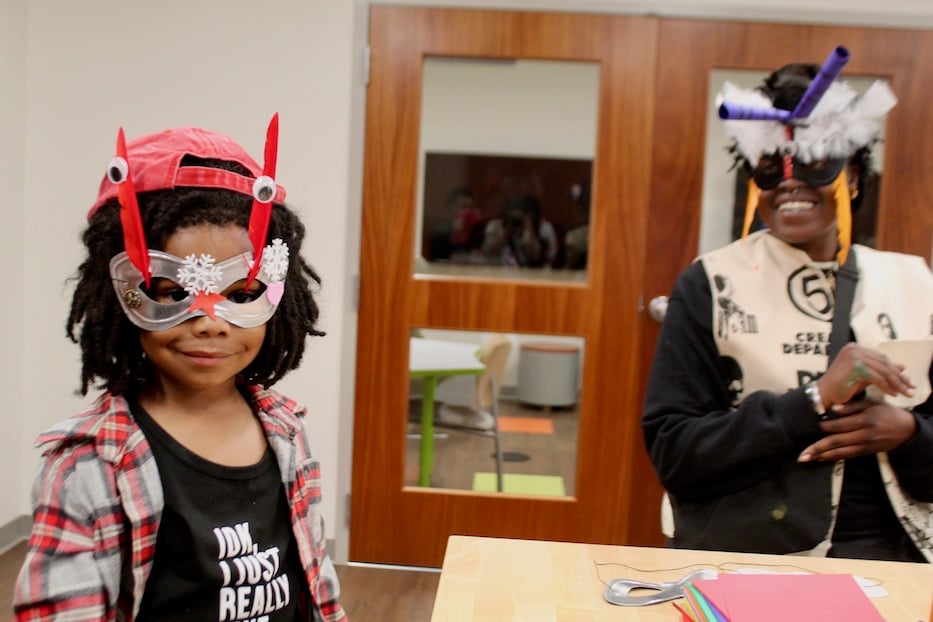 Z'mir Wright and the artist Marsh, who joked that she was an alien, at Elm City Lit Fest in October 2022. Lucy Gellman File Photo.
Many awardees are dedicated to the city's youth, filling a gap left by a lack of free, neighborhood-based and after-school programming. Recognized for her restorative practice, counselor Shenira L. Billups will be able to grow her Arts Together Healing Program. At Metropolitan Business Academy, teaching artists from Elm Shakespeare Company plan to team up with students and use Shakespeare "as the vehicle for experiential learning," according to the city's grantee list.
As Wàbi Gallery heads into its second full year—and waits for the completion of its Court Street home—Founder Kim Weston plans to put the funding toward the now-annual FOCUS Fellowship, designed for high school students who may not otherwise have a path to photography. Across town at the Dixwell Community Q House, photographer Judy Sirota Rosenthal plans to launch the inaugural "Art of Event Photography" course for photographers who identify as people of color and LGBTQ+ individuals.
Some of the grants also tell a story of a city's artists bouncing back from the Covid-19 pandemic and paying homage to its layered history. In June, dance educator Hanan Hameen and members of the Official Juneteenth Coalition of New Haven will return in full force to the New Haven Green for the tenth annual Juneteenth celebration, held in concert with the sixth annual New Haven hip-hop conference. Artist Kwadwo Adae, who spends the winter months painting flowers, plans to grace the city with a mural of the Amistad Captives.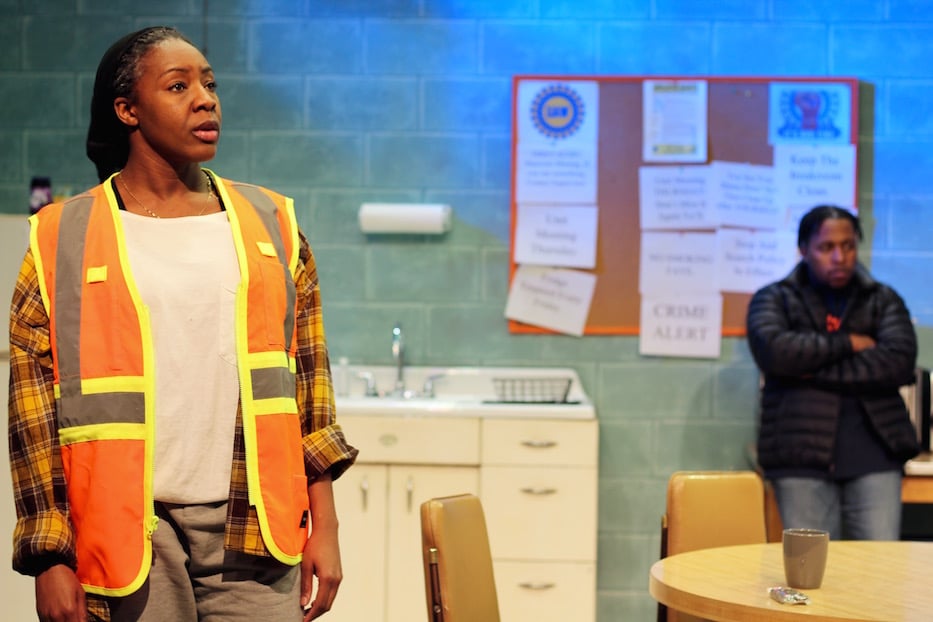 Tamika Pettway as Faye in Dominique Morisseau's Skeleton Crew at Collective Consciousness Theatre. The production was shut down in March 2020, as Covid-19 cases caused arts nonprofits and businesses to close their doors. Lucy Gellman File Photo.
Chef Nadine Nelson will be bringing back her Master Cooks Corps, for which she gained national recognition almost a decade ago. At Collective Consciousness Theatre, which has remained dark since a March 2020 production of Skeleton Crew, $6,000 will go toward a spring production of Robert O'Hara's Barbecue. When it opens on March 23 of this year, it will mark just over three years since the lights went down on the Erector Square space.
Other artists and organizations are using the funds to commit to greater equity within their own organizations. CitySeed, which received $5,000, will be using the funding to compensate artists who perform at its weekly farmers markets. Tuesday, CitySeed Executive Director Cortney Renton said she felt lucky to be back at Stetson, just a floor away from the courtyard where CitySeed piloted a midweek farmers market at the Dixwell Community Q House last summer.
"One of our goals in our DEI [diversity, equity, and inclusion] action plan is to make sure that we are really paying creatives for their work," Renton said. "Whether that's as chefs, as teachers, or as artists."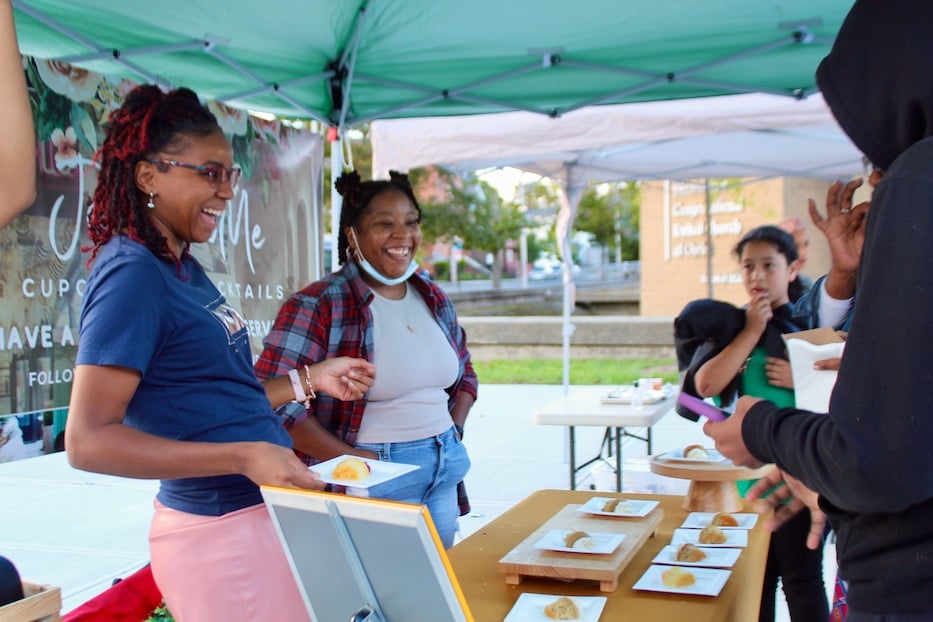 Maxine Harris and Laurren Robinson of Je T'aime Cupcakes & Cocktails at CitySeed's Q House Farmers Market. Lucy Gellman File Photo.
That message had been there moments before, as Stetson Branch Manager Diane Brown took the podium. Brown said she has watched the Cultural Equity Plan in action, and looks forward to seeing the grants at work this year. She said that she has often heard colleagues sing Futrell's praises, or note that they would not have gotten as far in the city without her assistance. She thanked Futrell, who has seen New Haven's arts landscape through two decades and three mayoral administrations, for remaining a champion of the arts.
In addition to her work as branch manager, through which she has brought teaching artists, musicians, composers, and dancers into the library, Brown is a board member and longtime champion of the Elm City Freddy Fixer Parade and partner on the Dixwell Neighborhood Festival. The International Festival of Arts & Ideas, which has been growing the neighborhood festivals, is also a grantee.
"You give New Haven more life with art," she said while addressing Jefferson, who burst immediately into a smile. "Local artists in the greater New Haven community are very lucky and fortunate to have you."
Rebekah Moore contributed reporting.