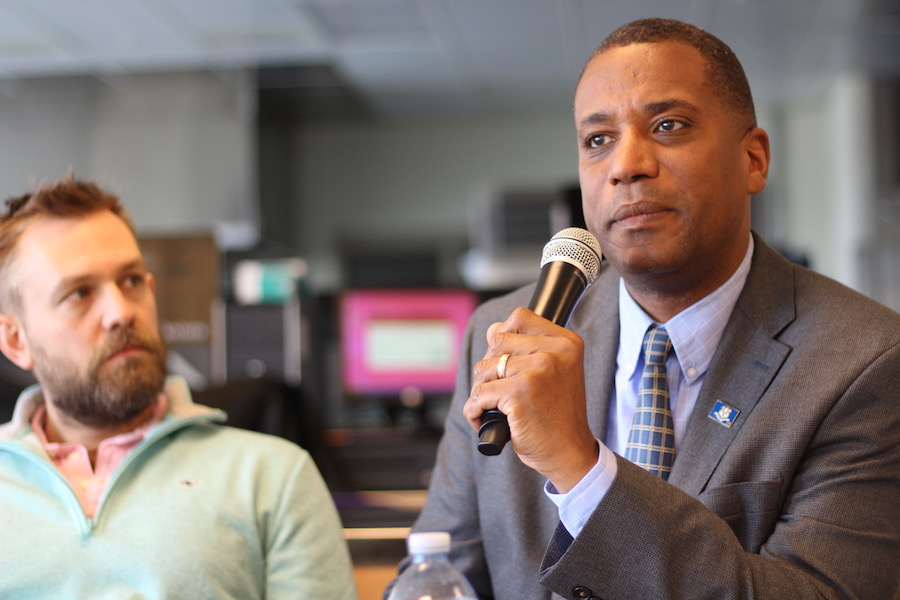 Legislative Agenda | Music | Politics | Arts & Culture | New Haven Symphony Orchestra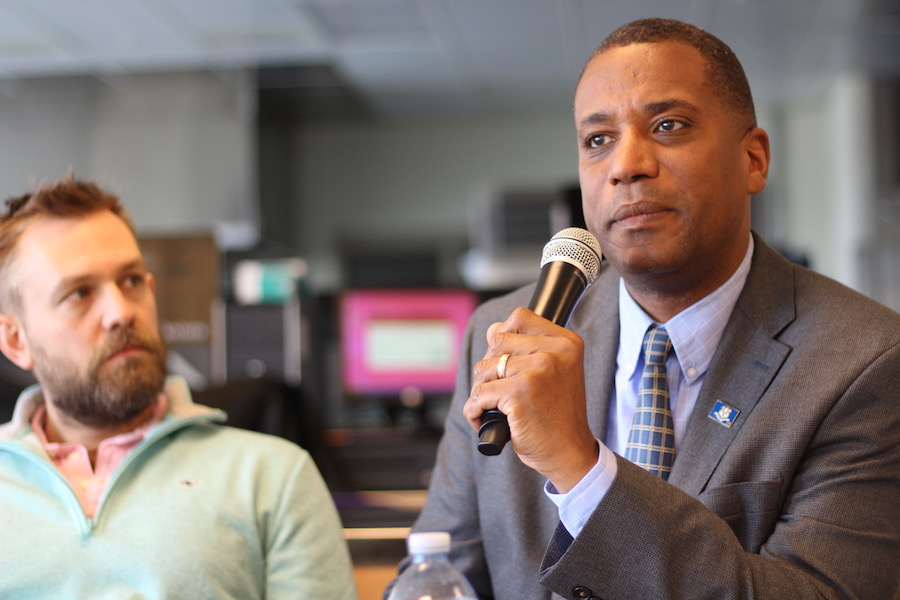 State Sen. George Logan: from Jimi Hendrix to legislation. Lucy Gellman Photos.
State Sen. George Logan didn't think that the arts were for him growing up—until he saw a poster of Jimi Hendrix, and started learning the chords that would let him play electrifying covers of "Purple Haze" in his own band.
Saturday afternoon, Logan was one of seven state legislators to bring his story to a bipartisan "Arts & Culture Legislative Luncheon" at Davis Academy for Arts and Design Innovation Magnet School in the city's upper Westville/Amity neighborhood. A collaboration between the Arts Council of Greater New Haven and New Haven Symphony Orchestra (NHSO), the event punctuated two NHSO family concerts based on Dr. Seuss' Green Eggs and Ham, also held at the school. Close to 20 attended, with families packing the school's gym for a concert afterward.
"We found that we reach a larger and more diverse audience in the arts when we come to the community," said NHSO Executive Director Elaine Carroll of the event.
Present at the legislative roundtable were Republican State Sen. George Logan, who represents Ansonia, Beacon Falls, Bethany, Derby, Hamden, Naugatuck and Woodbridge, and Democrats including New Haven State Reps. Pat Dillon, Juan Candelaria, and Toni Walker, Branford State Rep. Robin Comey, Hamden State Rep. Josh Elliott, and State Sen. President Pro Tempore Martin Looney.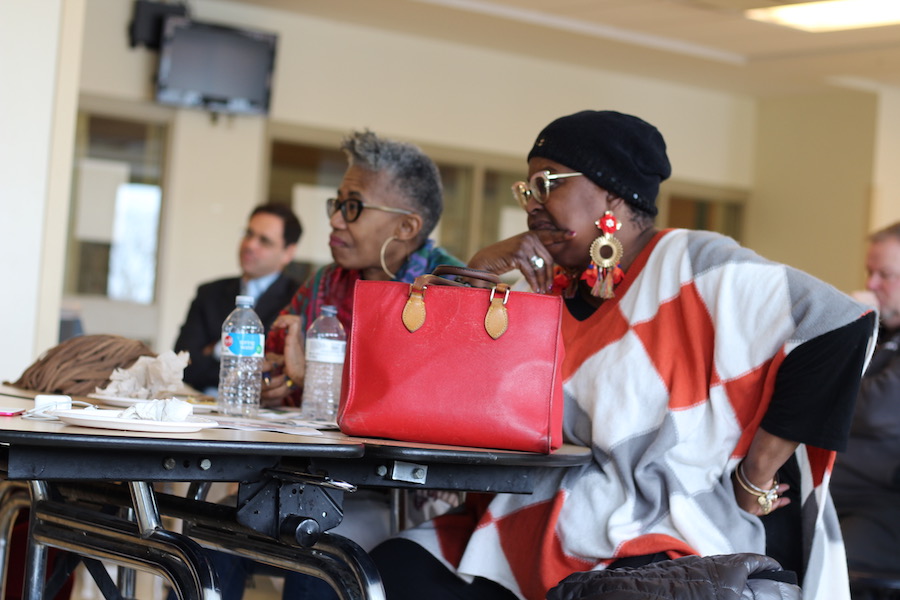 Attendees and New Haven arts and media mavens Ife Michelle Gardin and Babz Rawls-Ivy.
While the intention of the luncheon was to facilitate dialogue between legislators and members of the arts community—the event came on the heels of Gov. Ned Lamont's proposed budget and several bills that could affect arts, culture and tourism funding—legislators spent most of Saturday zeroing in on their own experiences in the arts, some of which now influence their policy decisions in Hartford.
Some went decades back, reaching into memories from their childhood and teenage years. In response to a question from Inner-City News Editor and WNHH Community Radio host Babz Rawls-Ivy, Logan recalled growing up in New Haven's Hill neighborhood, where his mother still lives in a house on Spring Street. The child of two Guatemalan immigrants who moved to New Haven in the 1960s, Logan said he didn't experience many of the arts at home.
"Music was never a big part of my parents' [experience]," he said, recalling years spent at Kimberly Avenue Elementary School and the now-defunct St. Peter's School. "For them it was working, getting a job, paying the bills—that sort of thing."
But the arts snuck up on him at school, "part of opening my eyes to different things." He liked coloring and drawing, but struggled when stick figures appeared on the page. In fourth grade, his teachers coaxed him into playing the giant in Jack and the Beanstalk, for which he grudgingly sported a pair of tights. Outside of school, he quietly nursed a love for music, listening to New Haven's rock station WPLR.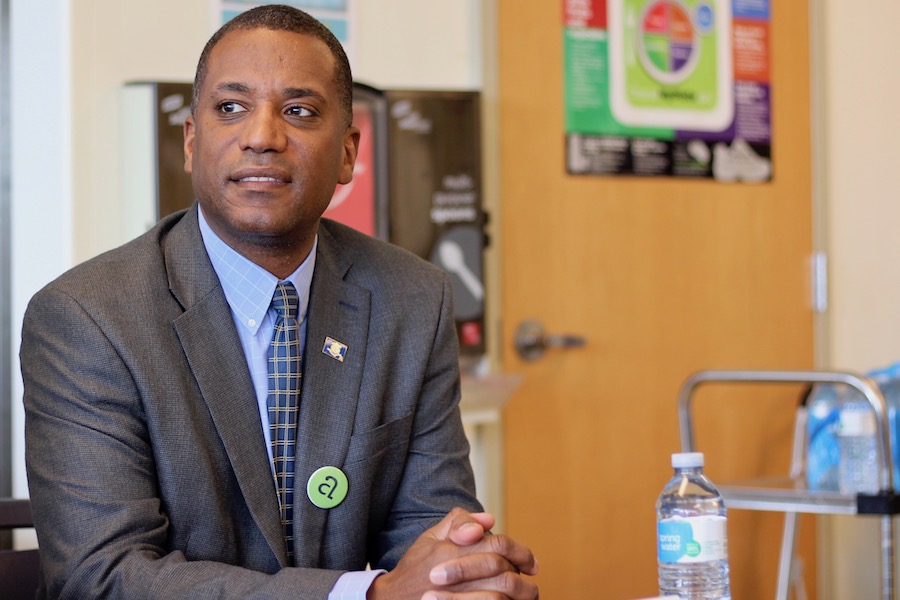 That quiet admiration changed one day when he was still in grade school, visiting a cousin who lived in Guilford. Among records by Parliament Funkadelic and James Brown, Logan spotted an image of a black musician he had never seen before. Around his neck, fixed on a thick black strap, was a guitar. And the musician was absolutely shredding.
"I didn't know who this fellow was, I didn't know what he was doing, but by the look on his face, I had the feeling he was pretty darn good at it," he recalled to a few chuckles around the room.
He soon learned, while listening to "Purple Haze" for the first time on WPLR, that the man in question was Jimi Hendrix. It was the late 1970s, the decade that Hendrix died short of his 30th birthday. The image and sound of the musician floored him, because "I had never, ever, seen an African-American play the guitar before."
In elementary and middle school, Logan began studying the blues. In high school, he started to take guitar lessons, sticking with the instrument as a form of meditation as he got older. Even as he was elected to office and became known for a different refrain in Hartford—a reverb-drenched loop that promised to stop raising taxes—he continued playing in a Jimi Hendrix tribute band with his brother, Hector. Now, the two are also working on an album in Logan's in-home recording studio.
That background hasn't specifically made him more likely to support proposed legislation that may help the arts this year, like a hike in the state's occupancy tax from 15 to 17 percent that would put more money into the tourism fund. But it has made him an advocate of regulation in the arts, including a measure to streamline the licensure of art therapists that has received bipartisan support in both chambers of the General Assembly and progressed as a different bill in the Committee on Public Health.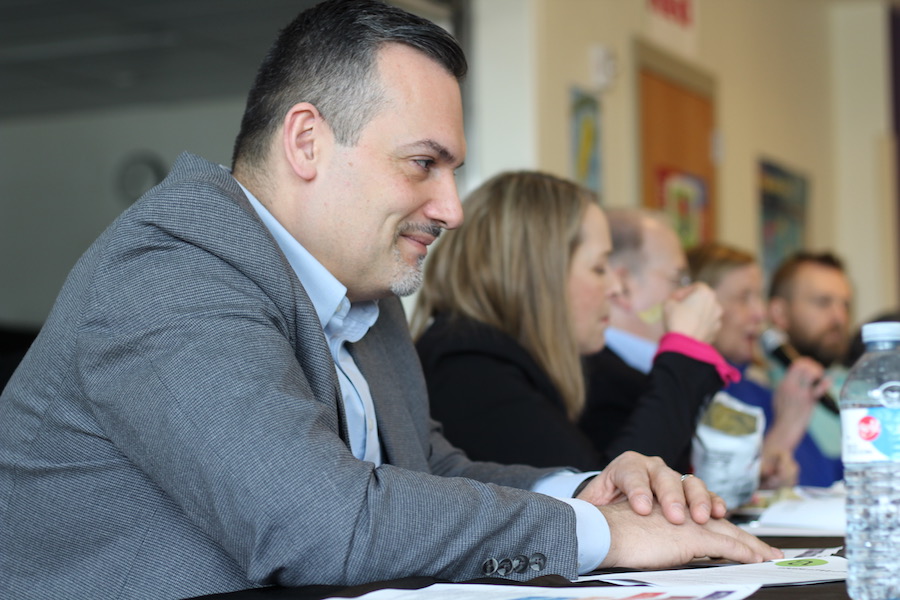 Candelaria: We've got to identify other sources of revenue toward that vision.
That sense of past—sometimes recent, and sometimes not-so-recent—informing present was true for several elected officials Saturday. At the far end of the table, Candelaria recalled looking out of a corrugated metal window in his home town of Hatillo, Puerto Rico armed with pencils and crayons. From where he sat, he began to draw sprawling fields and cows that he could see in the distance. Even as stick figures, they stirred up something in him that he hadn't felt before.
"It was that piece right there, that moment that connected me to nature," he said.
As he got older, Candelaria added caroling and amateur guitar to his repertoire, strumming during an annual Parranda Navideña with his family (he still participates in the Parranda tradition in New Haven today). He said that his own love for music has informed how he thinks about funding the arts in education, particularly for young people in Connecticut's cities.
"It offers a way for a lot of our urban youth to really express themselves in the day-to-day issues that we face in our communities," he said. "So making that connection of delivering themselves to the music, I think, is another opportunity … of transporting that individual."
That's a reason, he added, "to identify other sources of revenue toward that vision."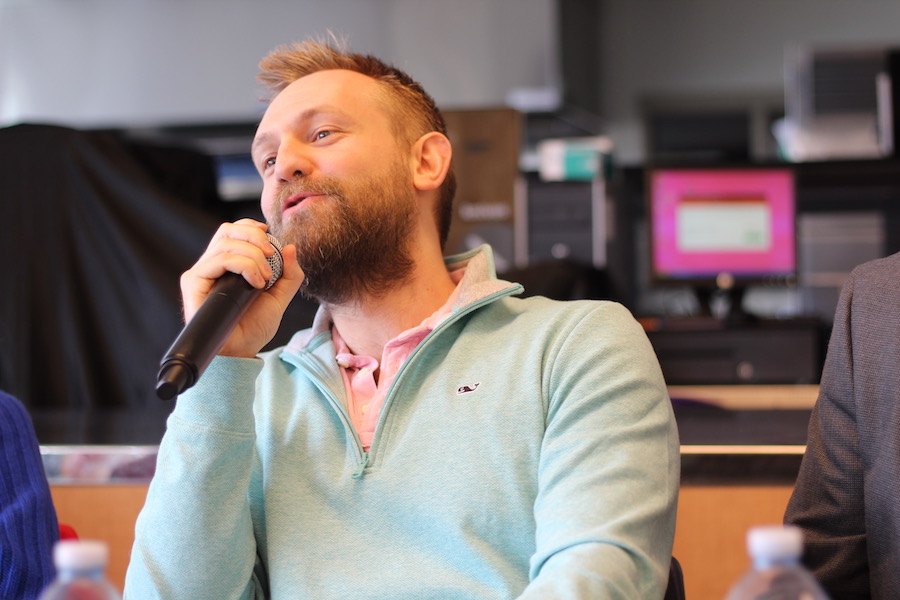 Josh (not Billy) Elliott: Community theater as a way to grassroots campaigning? Yes, actually.
Taking the mic from Logan later in the discussion, Elliott recalled growing up on a steady diet of musical theater at the Shubert Theatre downtown, so inspired by what he saw onstage that he began acting in high school and college. While he chose not to pursue drama academically, he still tries to audition for a local production every few years. He's also added music and comedy to his wheelhouse, and praised video games as an art form onto themselves.
"Are you sure you're not Billy Elliot?" cut in Lindy Lee Gold, senior development specialist at the Department of Economic and Community Development.
Elliott laughed, and added that the experience has shaped how he operates as a candidate and elected official. The first time he ran for office, his campaign manager Sarah Ganong had a background in not just political organizing, but stage management. That sensibility, he said, helped him reach an unlikely victory in 2016 and again last November.
"We found a nice balance where, you know, I was in the front and she was running the whole background," he said. "And I knew that really, my whole role was just to let her run the show. It worked out really well."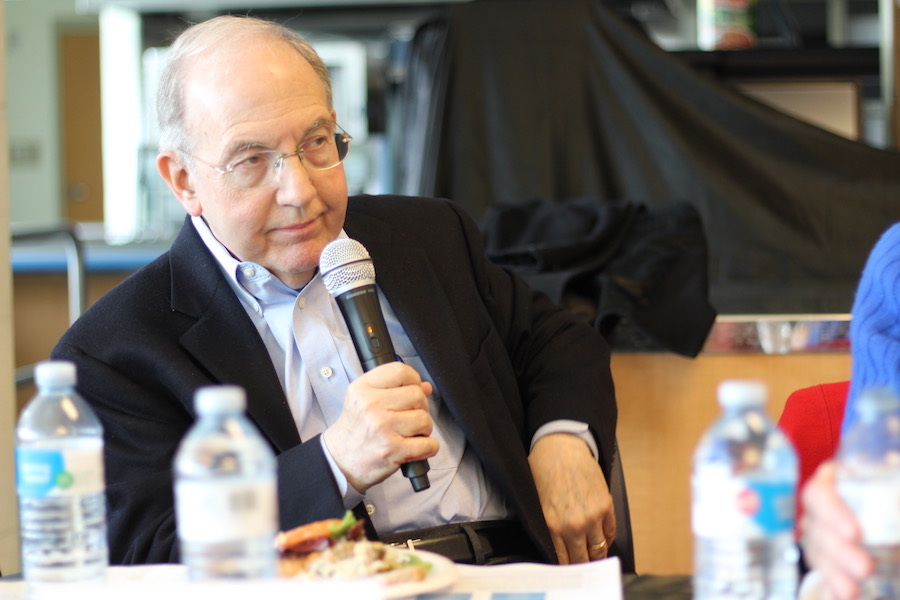 State Sen. Martin Looney: "I think the real argument for the arts is that they are worth it in and of themselves."
Or State Sen. Martin Looney, who represents New Haven as well as Hamden and North Haven. Raised in a Catholic elementary school, Looney had his first brush with the arts in the fourth grade, as he rehearsed for a song-and-dance variety show with the rest of his classmates.
No matter how many times he practiced the routine, he recalled, he couldn't get the steps right. The school's sisters, watching his plight and noticing that he "sure could talk" despite his lack of coordination, made him the emcee instead.
Fueled by a love for poetry and prose, Looney went on to study at the University of Connecticut, flying from a master's degree to doctoral coursework on the political novels of Anthony Trollope, a Brit who created whole worlds around the fictitious Chronicles of Barsetshire and politician Plantagenet Palliser. He had completed everything but his dissertation when he left school to pursue politics in the real world, becoming an assistant to New Haven Mayor Frank Logue.
He never went back to finish that doctorate—law school suddenly seemed more appealing—but said that it still feeds his love for music, visual arts and theater in Connecticut, and particularly in New Haven and Hartford. He praised the Shubert and Long Wharf Theatres, both recent recipients of state bond funding, as well as the Bushnell Performing Arts Center in Hartford.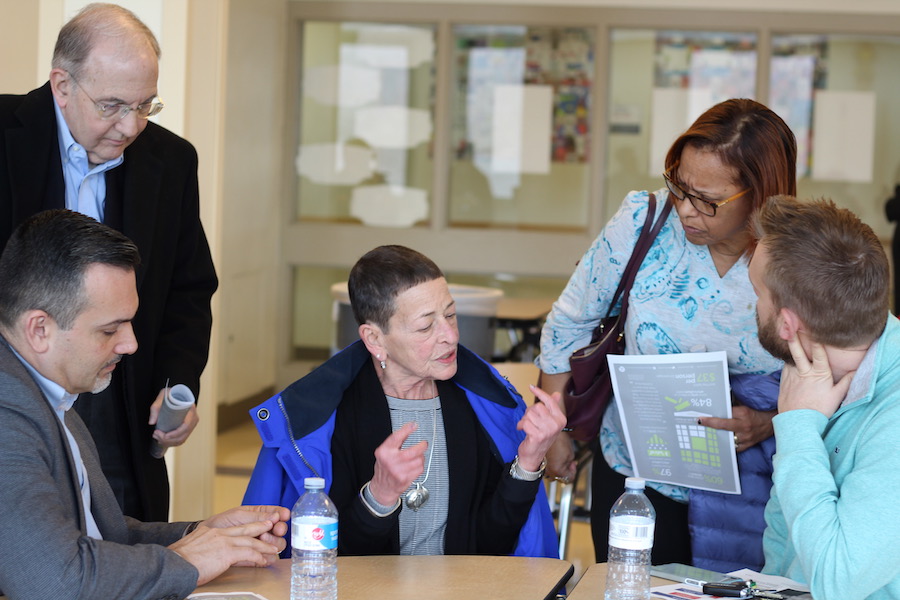 In response to a question from Joshua Borenstein, managing director at Long Wharf Theatre, he encouraged attendees to both advocate for additional arts funding and support additional revenue sources, including proposed increases in taxes. He stressed the importance of keeping tabs on the Connecticut General Assembly's schedule of public hearings, noting that he often hears organizations asking for more money, but does not see them showing up.
But—and despite a high return on arts investment on which advocates have focused—he also cautioned those in the room not to support the arts simply as a matter of economic stimulus, but also a factor in social and emotional wellbeing.
"It is downplaying their value to talk about them in financial terms," he said. "I think the real argument for the arts is that they are worth it in and of themselves, and that they are an important part of our life and culture that enrich our lives."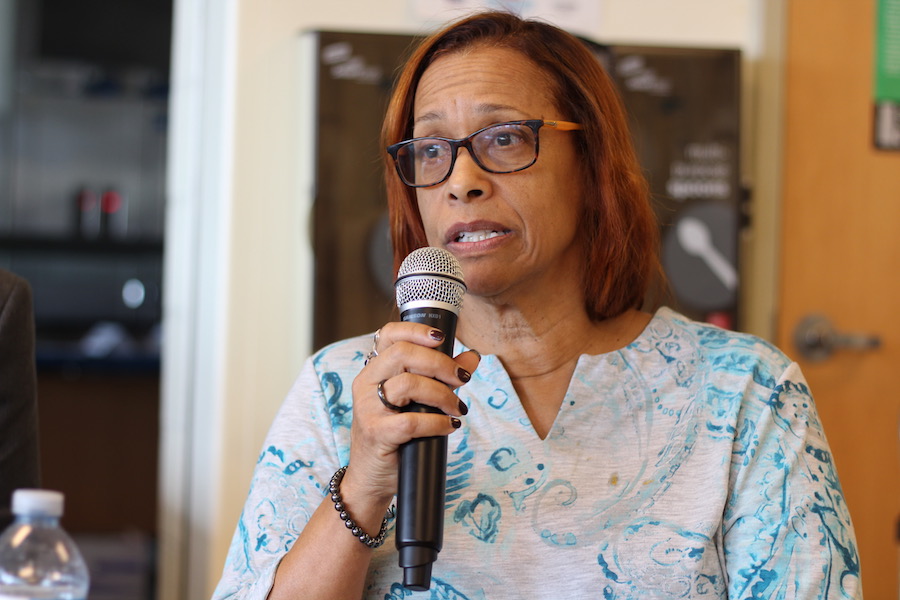 State Rep. Toni Walker, who brought her grandkids to the performance: "I know the struggles."
That was only part of the story for Rep. Toni Walker, who represents a section Beaver Hills, West Rock, Dwight, and the Hill and chairs the Appropriations Committee. Growing up in New Haven, Walker lived in a house where music was a constant—her father was a minister and her mother was a singer. As an adult in the city, she served as director of the Dixwell Children's Creative Arts Center, a tiny arts nonprofit dedicated to Dixwell's youngest residents.
"So I know the struggles," she said. "It's so difficult to make people understand how important arts are in our community. In our children's lives and in our families' lives."
When she began her political career in Hartford 17 years ago, she kept an eye on the arts. She helped institute new grantmaking initiatives for presenting and performing arts, then fought for line item funding of arts organizations in the budget. She learned to advocate for arts organizations in her district, a trend she continued Saturday by bringing her grandchildren to the symphony's post-luncheon concert.
Almost two decades in, she said sees the value of the arts as twofold. On a grassroots level, they are responsible for "teaching our children what compassion, soul, and excitement is." But they're also an economic book to the state, and immediate incentive to come to—and stay in—Connecticut.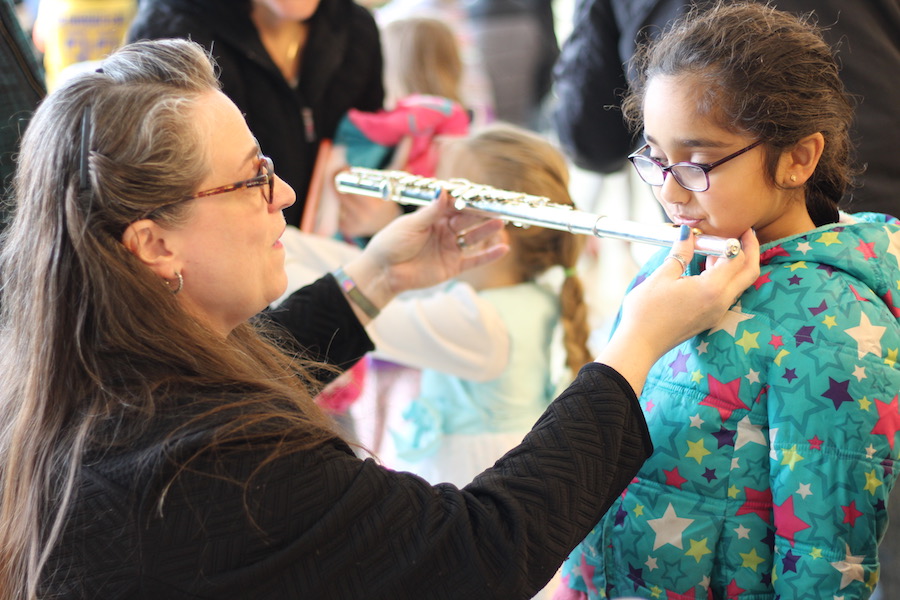 NHSO Executive Director Elaine Carroll during an "instrument petting zoo" that followed the luncheon.
"If I'm gonna talk about bringing companies to Connecticut, I want to know—what are the things that are available to my family? What are the things that are going to keep my family excited on the weekends?" she said. "These are the types of things to me that make us a great society and community."
She urged attendees to get out of rooms of "the converted," where most of the people who show up already agree on the relative value of the arts, and talk to legislators from all over the state. She explained that Connecticut's budget comprises two components, fixed and non-fixed costs. The arts live in the latter category, which means their funding is constantly in jeopardy. After major cuts over the past decade, it has held steady this year. She said that may not always be the case.
"That is making an assumption that we can live without arts," she said. "We have to change that a little bit, and become a fixed cost. We have to make the argument as to why it's more important to maintain the arts for our society … it is the soul of what we are all about."
"How we change that conversation is gonna be up to us," she added.
To see more from Saturday's luncheon, click on the full Facebook live video above. To get involved with advocacy, here are some of the bills that the Arts Paper is tracking this session, and here are some that the Connecticut Arts Alliance is keeping an eye on. Both Walker and Looney also recommended keeping an eye on the Connecticut General Assembly's schedule of public hearings, accessible at the CGA's website, as well as showing up for Arts, Culture & Tourism Advocacy Day at the Capitol on April 8.