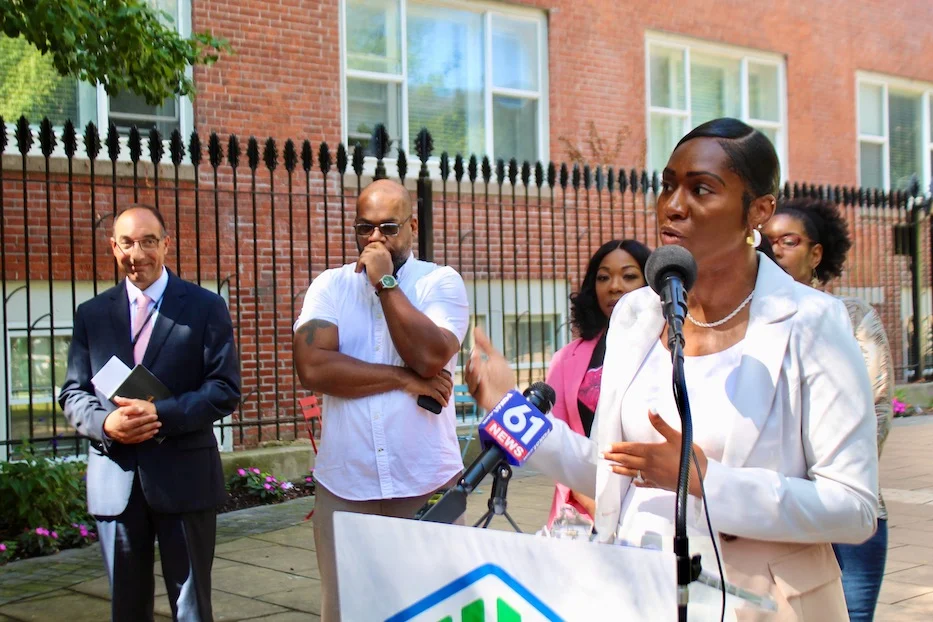 Arts & Culture | Elicker Administration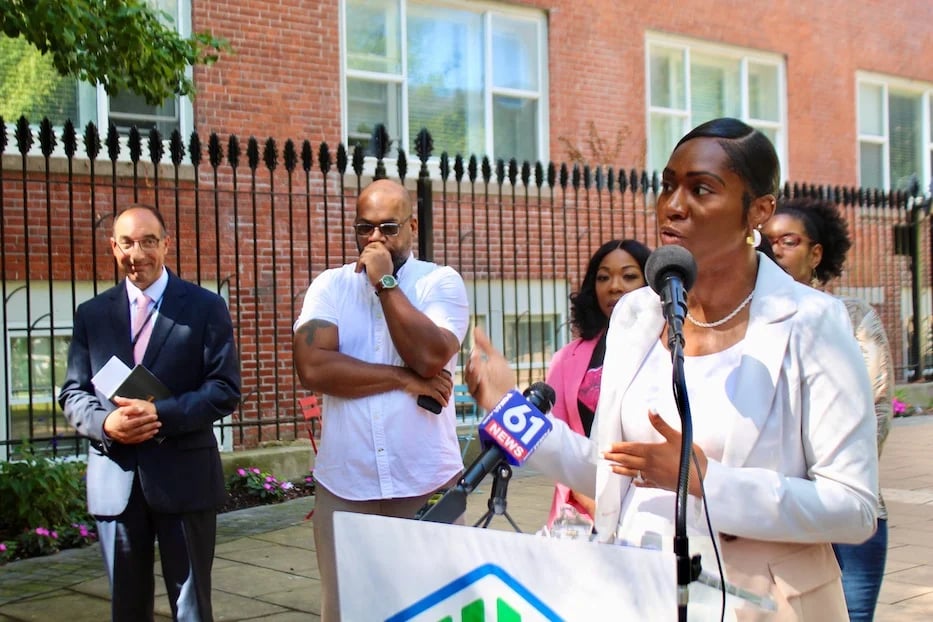 Adriane Jefferson last summer at a press conference for the city's inaugural Black Wall Street. The event , supported by The Breed Entertainment and the Department of Arts, Culture & Tourism, will be returning on August 19 of this year. Lucy Gellman File Photo.
A music festival by and for artists of color, filling Edgewood Park with joyful noise for hours. Two different kinds of Puerto Rican bomba workshops, teaching resistance through dance. A second annual celebration of Black entrepreneurship in New Haven, with a vendor fair that honors New Haven's past, and charts a path to the city's future.
Those are just a few of the activities that the Department of Arts, Culture & Tourism will fund this summer, as it moves into a new budget year with plans to stretch resources and explore new public-private partnerships on a bare-bones allocation from the city. Monday night, a final vote on the city budget provided a snapshot on a department that does a lot with a little.
Of Mayor Justin Elicker's now-approved $662.7 million general fund budget, the department receives a total of $350,647, or roughly .053 percent. Within that number, $190,000 goes to the department's not-for-profit arm New Haven Festivals, $155,647 goes to salaries, and $5,000 goes to contractual services. That number does not include American Rescue Plan Act (ARPA) funding; more on that below.
"I feel like I've been doing that [stretching funds out] my whole life," said City Cultural Affairs Director Adriane Jefferson as she waited for the aldermanic chambers to open at City Hall Monday before local legislators took their final vote on a new budget that will take effect on July 1. "When you work for small organizations, you have very few resources, so you're used to stretching and thinking of creative ways to stretch that and to partner. That has been really effective in my state work and the city."
Part of that—and what New Haveners can expect to see in the coming year, she said—is looking for new sources of funding beyond the city budget. In the past three years, Jefferson has harnessed relationships with nonprofit organizations, grant-making entities and entertainment companies to support city-wide arts programming and arts workforce development.
Jefferson pointed to recent programs like last summer's Creative Workforce Initiative, funded with dollars that the National Endowment for the Arts granted to the Arts Council of Greater New Haven. Through the program, the department was able to place over a dozen early-, mid- and late-career New Haven creatives in internships across the city.
She said that she would love to replicate it in the coming year if she can find a sustainable source of funding. In the interest of transparency the Arts Paper is an arm of the Arts Council of Greater New Haven but editorially independent from it.
There are also pandemic relief dollars that the department has not yet used up. With $1.2 million in ARPA funding that the department received last year, Jefferson was able to hire singer/songwriter Thabisa Rich as the department's community liaison and ARPA administrator, a three-year contract position that runs through 2026. Earlier this month, the department released a series of grants geared toward professional advancement and citywide cultural events.
There are more on the way, she said: the department plans to open an ARPA-funded grant for arts organizations in the coming months. That funding includes general operating support.
She called New Haven Festivals, the department's not-for-profit arm, particularly helpful from a fundraising perspective. In addition to the $190,000 that it gets in the city budget, it is able to raise money through grant-making programs and public-private partnerships because of its 501(c)(3) status. For her, she said, that's part of how to execute a vision for cultural equity with more money than the city has for the department.
She added that searching for arts funding doesn't feel new. Years ago, Jefferson had to do the same thing while working for the Writer's Block Ink, a youth poetry workshop in New London. Then she found herself looking beyond state funds at the Connecticut Office of the Arts, where she birthed the state's READI (Relevance, Equity, Access, Diversity, Inclusion) grantmaking framework and Arts Workforce Initiative (AWI) program.
This year, finding those sources is just another chapter in building programs "through the lens of cultural equity," she said. Since starting her tenure at the city in February 2020, she has helped steer the department and the city's Economic Development Administration through the pandemic, piloted new anti-racism initiatives that are now in their second or third year, and pushed the city to reconsider how and to whom grants are allocated.
Her most signature program to date may be the city's still-nascent Cultural Equity Plan, the first of its kind in the state. Monday, she stressed that she sees it as a piece of policy that will need further funding to be implemented.
"You know, arts and culture in general—and I'm talking about across the board, no matter what city, state you're in—I feel like it's always underfunded," she said. "The one advantage that I think that we have is our nonprofit arm, because we are able to leverage private dollars in a way a lot of the agencies inside can't."
"Would I like to see a bigger allocation? Yes. I think so, because we could do so much more to support the sustainability of programs that we've begun, and the Cultural Equity Plan."
Asked after the budget vote if she would like to see an increase in funding for Arts & Culture, Fair Haven Alder Sarah Miller—who has pushed for public art projects in her ward and across the city—said that the answer is both yes and, in her eyes, slightly more complicated.
"There's a lot of competing priorities and it's very difficult to get it right," she said. "We have ti think creatively about how to braid public and private dollars. We have so many immediate needs that are right in front of us."