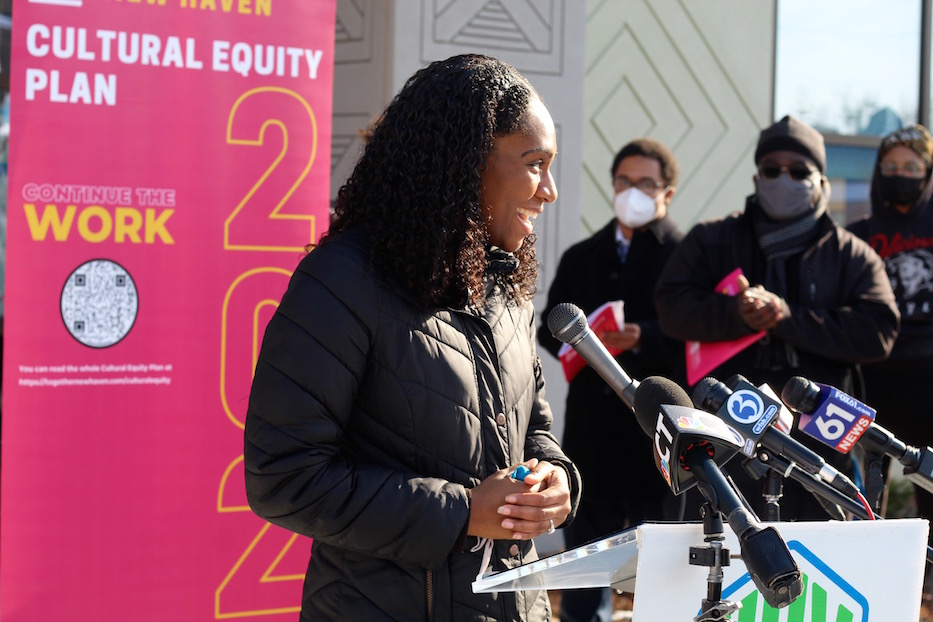 Arts & Culture | Elicker Administration | Arts & Anti-racism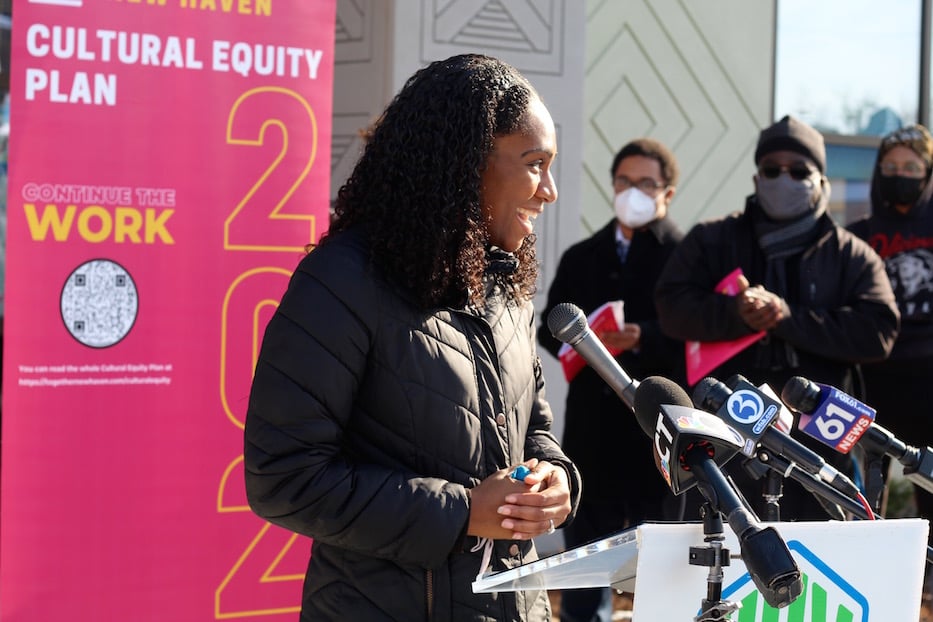 Adriane Jefferson in January 2022, announcing the city's Cultural Equity Plan. Lucy Gellman File Photo.
New Haven's champion of cultural equity, advocacy, and anti-racism in the arts is getting national recognition for her work—and using that momentum to keep the city moving forward. Now, she's hopeful that other American cities can learn from New Haven.
That champion is Adriane Jefferson, director of cultural affairs for the City of New Haven and the New Haven liaison for the Government Alliance of Race and Equity. Thursday morning, she received the American Express Emerging Leader Award from Americans for the Arts, the D.C.-based nonprofit focused on national arts advocacy. The award came during the group's national conference, held in-person this year in Washington, D.C.
"I feel honored for sure, and kind of surprised," she said in a phone call Wednesday afternoon, as she stepped off an Amtrak into D.C. traffic. "We don't do this work for recognition. We do this work because we love it. I just think that, at the end of the day, the work that we've done over the last couple of years is a national model. We still have so much work to get done."
Jefferson began her tenure in New Haven in February 2020, just a month into Mayor Justin Elicker's first term. Prior to her time in the city, she served as a program officer for the Connecticut Office of the Arts, where she spearheaded its READI (Relevance, Equity, Access, Diversity and Inclusion) framework and now-robust Arts Workforce Initiative. In New Haven, she hit the ground running, sketching out her vision for cultural equity at what would turn out to be the last in-person meeting of the city's Cultural Affairs Commission to date (the meetings have continued online).
When Covid-19 hit New Haven, Jefferson pivoted in a number of days. By late March, she had helped the city launch #TogetherNewHaven, a virtual campaign that urged New Haveners to support each other in a time of isolation. She poured city resources into the New Haven Creative Sector Relief Fund, working with the Arts Council of Greater New Haven to get artists financial support as work disappeared overnight. As new data emerged around how to contain the virus, she partnered with artists and local influencers on the city's "Mask Up" campaign. It later became a template for two 2021 citywide campaigns, both aimed at vaccination.
At the same time, she reminded New Haveners that arts were—and continue to be—a catalyst for social change. Following the state-sanctioned murder of George Floyd, the department rolled out an Arts For Anti-Racism pledge and toolkit that city leaders, arts organizations, and institutions could sign on to. It collaborated with Town Green Special Services District and artist Isaac Bloodworth to get an image of Black Kid Joy on City Hall, where it still wraps brightly around Ed Hamilton's Amistad Memorial two years later. In the fall, the department worked with Black Lives Matter New Haven to install two new, large-scale murals in Newhallville and Downtown.
She championed federal funding for arts organizations, from theaters to restaurants. She built new programs intended to throw artists a pandemic life preserver. She showed up at community paint days and press conferences and unveilings. It seemed that she was constantly in motion.
In February of last year, she launched Unapologetically Radical, a one-day virtual conference "created to address, amplify and activate anti-racism in arts and culture." She oversaw cultural programming that grew out of federal relief, including a $1 million slice of last year's $6.3 million "Summer Reset." With the city's Economic Development Administration, she attended Civic Space sessions last year, making sure the arts were at the table as New Haveners talked about the allocation of American Rescue Plan Act dollars.
Meanwhile, Jefferson continued to build towards a cultural equity plan, working with the New York-based firm Hester Street, New Haven's Civic Impact Lab, and a co-creation team of artists to make it a reality. On a sun-soaked day in January of this year, she unveiled it at the Dixwell Community Q House, making New Haven the first city in the state with a plan. On Monday of this week, she kicked off the first leg of a "Cultural Equity Tour," speaking virtually with local arts leaders. That tour continues with a town hall style meeting next month.
"At the end of the day, I'm really proud of using the arts at the intersection of important social issues," she said. She added that she is especially proud of the completed Cultural Equity Plan, Anti-Racism Pledge, and Mask Up campaign.
She has not done any of it in a silo. In nearly every interview she has given to the Arts Paper, Jefferson has been quick to praise Community Outreach Coordinator Kim Futrell, the only other full-time employee in the Department of Arts, Culture & Tourism. She has shouted out the interns, fellows and partners that help the department run, as well as the Economic Development Administration under which the department is housed.
In a phone call and follow up email Wednesday evening, Economic Development Administrator Mike Piscitelli praised Jefferson's work for the city, and called the award an honor for Jefferson, for City Hall, and for New Haven.
"Adriane's work on cultural and racial equity is both inspiring and transcendent, moving us all toward a more just and inclusive society," he said. "Congratulations Adriane and thank you to the Americans for the Arts for recognizing true leadership at this important moment in time."
As she receives the award this week, Jefferson said she is using it as fuel to move forward on several projects she's excited for. With $100,000 from the National Endowment for the Arts that came to the Arts Council of Greater New Haven earlier this year, the department is piloting New Haven's inaugural Creative Workforce Initiative, a partnership through which adults are placed at paying internship sites as a path to professional development. She is also waiting to see how much the department has received in the next tranche of American Rescue Plan Act (ARPA) funding, which will come through a $10 million allocated toward "Wealth Creation and Economy." The New Haven Board of Alders has yet to vote on that tranche, a total of $53 million.
Nolen J. Bivens, president of Americans for the Arts, also congratulated Jefferson on the award. In addition to the American Express Emerging Leader Award, Jefferson shared yesterday's celebrations with Julie Garreau, winner of the Selina Roberts Ottum Award for Arts Leadership, and Crystal Young, winner of the Alene Valkanas State Arts Advocacy Award.
"Americans for the Arts has been a strong proponent for the advancement of new arts leadership, and Adriane Jefferson exemplifies that next generation," Bivens wrote. "She is a thought leader and her expertise and passion for the arts, diversity, access, inclusion, and social change makes her a true asset in community arts leadership.
"Adriane has dedicated her career to fostering a more equitable, vibrant, and sustainable arts landscape. I congratulate her for this recognition—she is a leader who highlights the transformative impact that the arts can have."