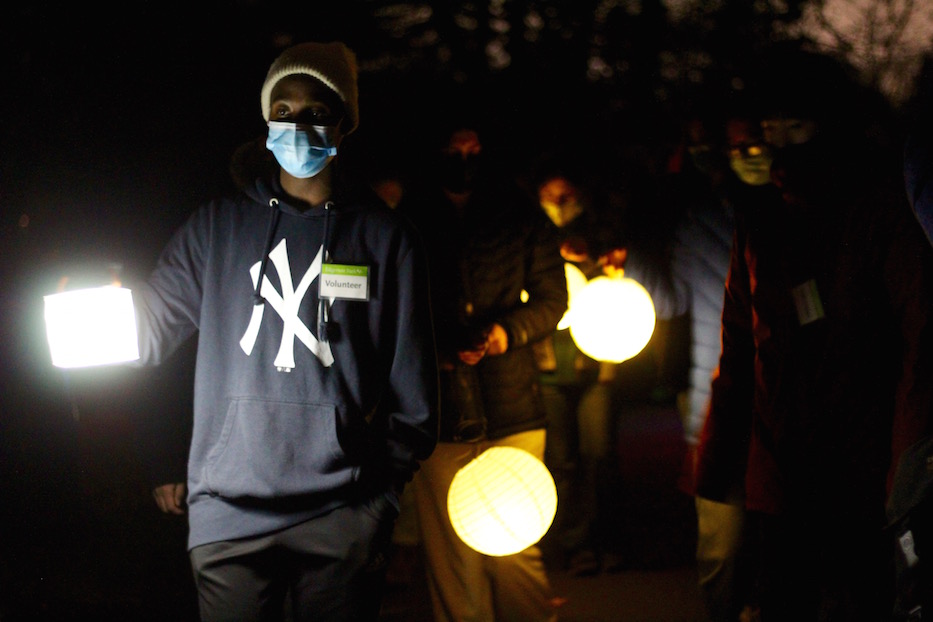 East Rock | Edgerton Park | Public art | Arts & Culture | Atelier Cue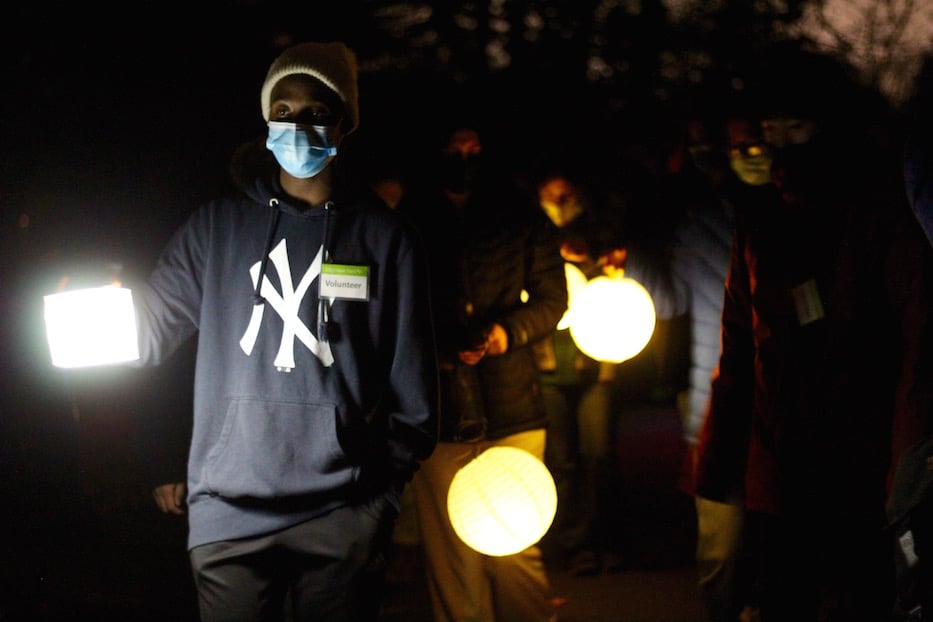 Noah Brown, a junior at Wilbur Cross High School, leads a musical light parade during the last hour of the luminary walk. "I thought it was really cool that people joined in," he said of the parade, which drew very little kids to older adults. "I felt like it was a real moment of—it was a very pure thing." Lucy Gellman Photos.
A drum sounded in the darkness, and a flash of green and blue light appeared in Edgerton Park. From the center of a circle, Ariana Harris banged out a steady rhythm. Brothers Laine and Drew Harris responded, horns rising against the damp air. Beyond them, puddles of light danced on the ground. The butter-colored glow of lanterns flickered in the distance, marking the mouth of a path. They began to walk toward it, instruments lifted in song.
A contemplative, celebratory and sometimes subdued luminary walk ushered in the new year at Edgerton Park Friday, as hundreds gathered belatedly for the fourth annual solstice tradition. The brainchild of the Edgerton Park Conservancy and Atelier Cue, the walk made room for both the light of a coming year and the heaviness of 20 months beset by grief, loss, and intense longing for some sense of normalcy as the pandemic nears the two-year mark.
It came two weeks after an initial date was rained out in mid-December, itself a sign of a rapidly warming New England. And yet to many of its organizers and attendees, it felt like a completely appropriate end to a year where light in the darkness was sometimes hard to find.
"There are so many light parks, and this is not it," said Ioana Barac, who co-founded Atelier Cue with Marissa Dionne Mead in 2018. "This is about the planets and the universe and the connection on that scale. It's trying to find that balance between something that is luminous but not glarey, but not glitzy … to me, that's the magic of this kind of event. It's contemplative."
Around her, dozens of friends and families strolled through the park in masks, hats, and mittens, some shedding their winter coats in the warm, wet last dregs of December. At each entrance of the park, hundreds of paper lanterns lit the way, a reminder that the darkest day of the year had already come and gone. Set along the park's winding pathways, they created a criss-crossing pattern of light, as if a constellation had come down to grafted itself onto the ground.
In every direction, honey-hued and white luminaria peeked out from trees, bloomed from patches of damp earth, sprouted brightly from the long-dry Brewster Fountain. Close to the park's greenhouse, artist Ileana Dumitriu's jellyfish-like light installation hung inside a circle of lanterns, its tentacles dripping and iridescent. If a viewer got close, they could see dozens of long, overlapping ovals, all translucent paper that shone a bluish white.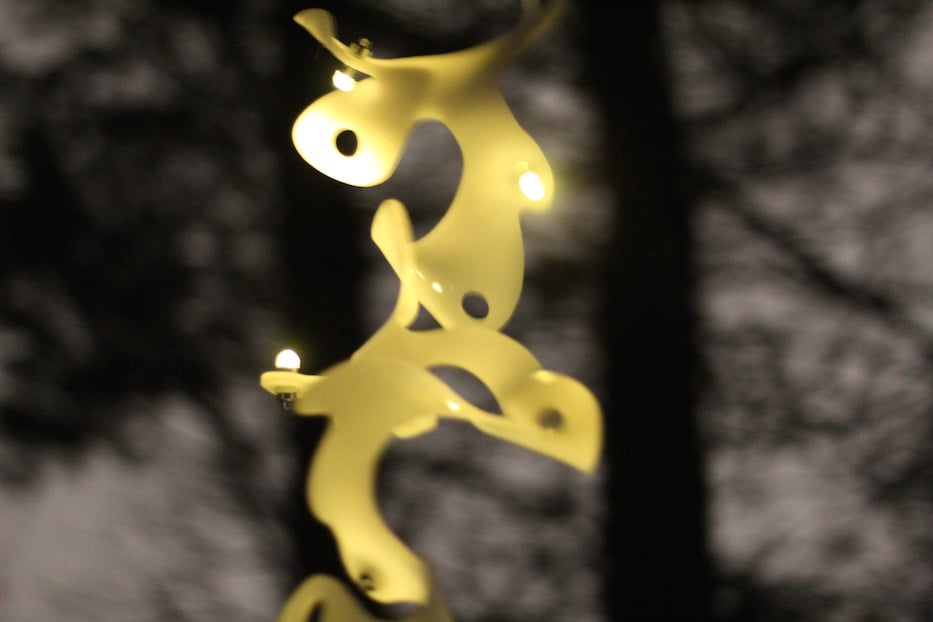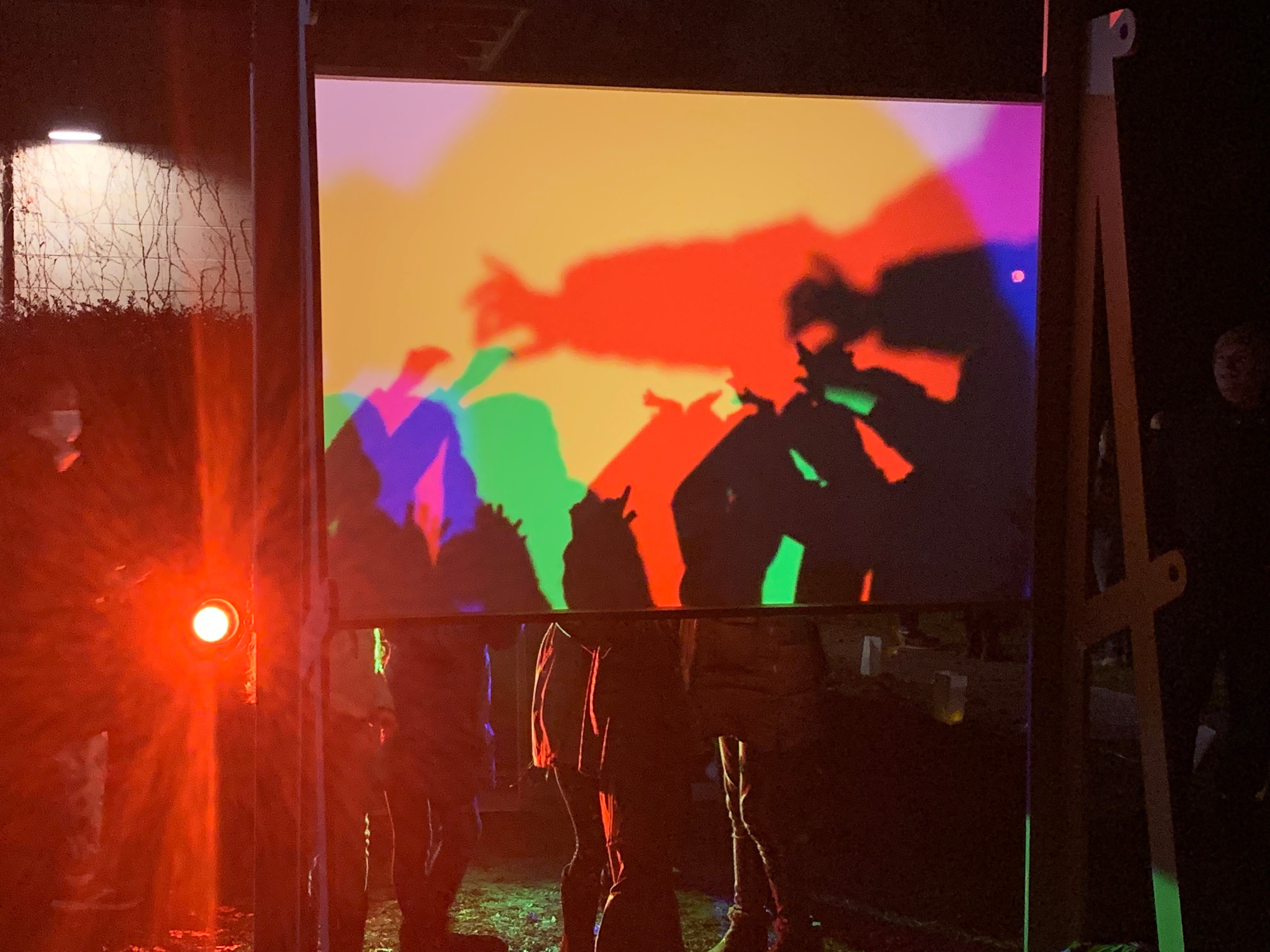 Top: A detail of Erich Davis' work. Bottom: The Eli Whitney Museum and Workshop's blended light board in action.
When Barac reached out to her about the project in December, Dumitriu repurposed leftover cutouts from an installation hanging in the second-floor windows of 817 Chapel St. downtown. The shapes—silhouettes of people dancing—seemed right for the solstice, she said. After walking through the luminaries last year, she called it "really, really special" to participate.
Down another path, sculptures from Davis' Liberations series dangled from bare branches, their sides smooth and creamy white as they spun slowly above visitors' heads. Neat, earring-sized bulbs gleamed from their surface, the light bouncing as the sculptures twirled in the dark. Not far from them, a huge lotus from Bloomer Studio exploded from the quiet, smooth top of the Brewster Fountain, where students in Elm Shakespeare's teen troupe welcomed a pandemic halloween over a year ago.
Covered in luminaria—including paper lanterns that attendees carried through the park—Edgerton Park itself transformed. Inside the greenhouse, windows fogged with steam took on their own sort of majesty. Softly lit walkways snaked through the park, still engulfed enough in darkness to make walkers slow down and savor the scene. Lanterns revealed themselves slowly, some so delicate they appeared weightless.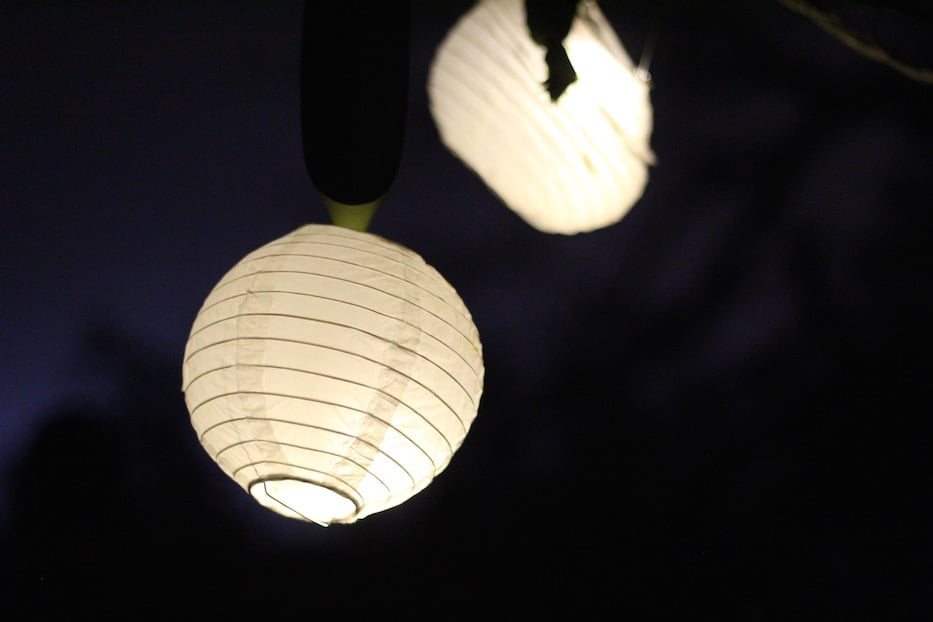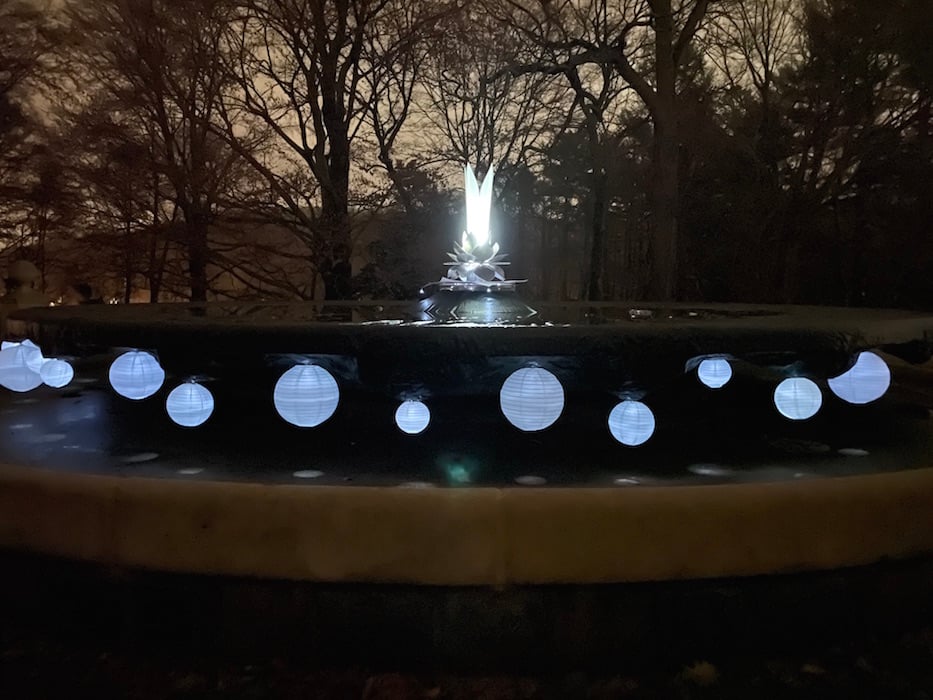 The lotus was especially meaningful, Barac said: she and Mead met at Bloomer Studio years ago, and ultimately realized that they were a good professional fit for each other. In the years since, the two have turned their craft into a public art practice with community input and site specificity at its core. Friday, handfuls of people gathered around it, taking in its slender petals.
Outside the park's carriage house, Paper + Bone co-founders Karissa Vasil and Amanda Ward served up warm, cinnamon-and-rum-flecked pear cider, gem-toned mulled wine and a "Yule Mule" designed with the new year in mind. Born and raised in Hamden, both spent years coming to the park to play frisbee every weekend when they were students at Hamden High School. Edgerton Park became a second home away from home, a place that was always there waiting for them to return.
Friday, they did. After graduating, both worked jobs in the service and event planning industry, including at the old Delaney's Taproom in Westville. They kept tabs on each other as Vasil left Connecticut, working jobs in San Francisco, Florida, and Seattle. When she returned this year, the two reconnected and decided to go into business together. While they've both been in event management for decades, Ward said that Paper + Bone is still a "brand spanking new" venture—Friday marked their first in-person event. The business' name comes from two- and three-dimensional jewelry that both make.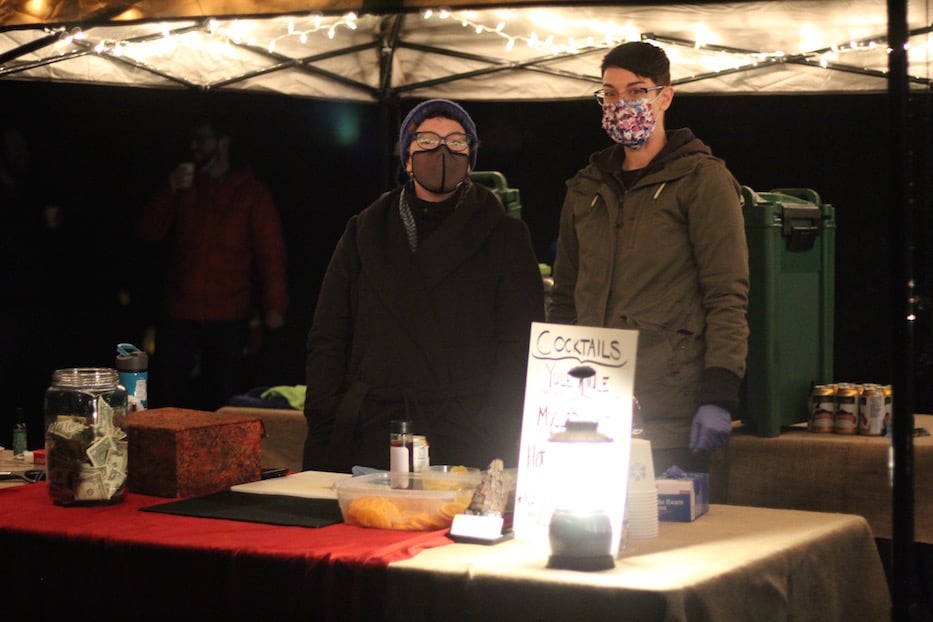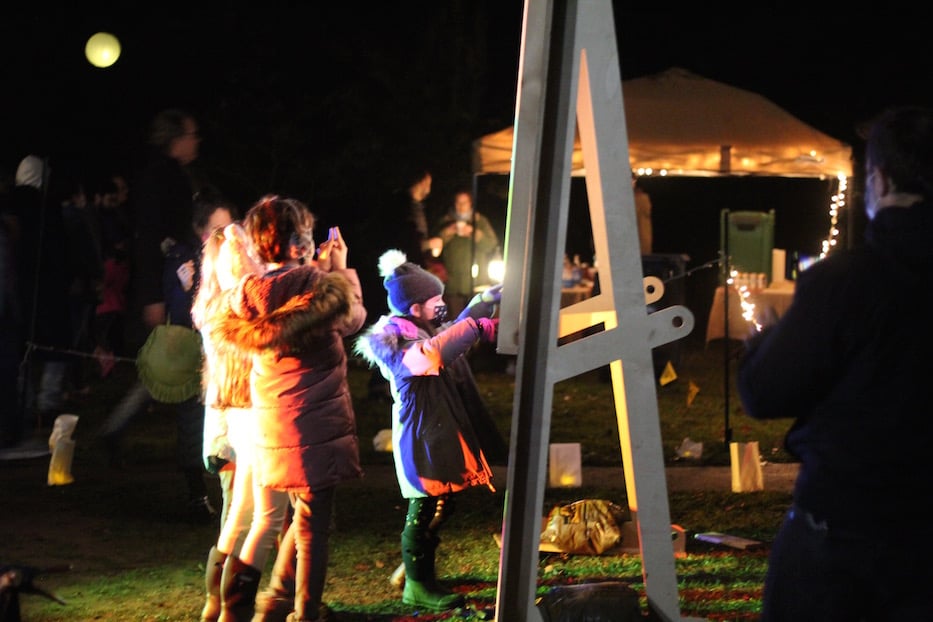 Top: Paper + Bone co-founders Amanda Ward and Karissa Vasil. Bottom: The Eli Whitney Museum and Workshop's blended light board in action.
A few yards away, attendees waited for their turn behind a huge board with red, green and blue blended lights, watching as their shadows split into colorful fractals and danced across its expanse. Orange, pink, and yellow shapes popped up magically, drawing squeals. A dad with a young kid on his soldiers knelt down, the kid's little hands flying through the air. A gaggle of friends pressed their fingers and thumbs into beaks, and made birds appear from their knot of limbs.
At a table nearby, Eli Whitney Museum and Workshop apprentices Nina Chang and Linnea Sirch demoed the process to curious onlookers with tiny take-home replicas. Chang explained that the lights, all additive primary colors, blend to create more colors as a figure moves in front of them. When a pint-sized visitor toddled up to the table, she lifted a small cutout of a tiger, making it prance in front of a small, lighted board. Its shadow morphed and contacted, suddenly a mosaic of yellows and pinks.
Just minutes past 8 p.m., something stirred and then squeaked to life outside the carriage house as members of the Harris Brothers Balkan Band began to play. In front of them, volunteers from the New Haven Climate Movement (NHCM) gathered in a masked group, each holding a lantern. NHCM organizer Young In Kim, a junior at Wilbur Cross who also sits on the Edgerton Park Conservancy's board, called it a way to reach more people as the group works to combat climate change in its home city.
"Everyone's been so closed off because of Covid," chimed in Jacob Kalish, a fellow junior at Cross. "It's nice to be out here."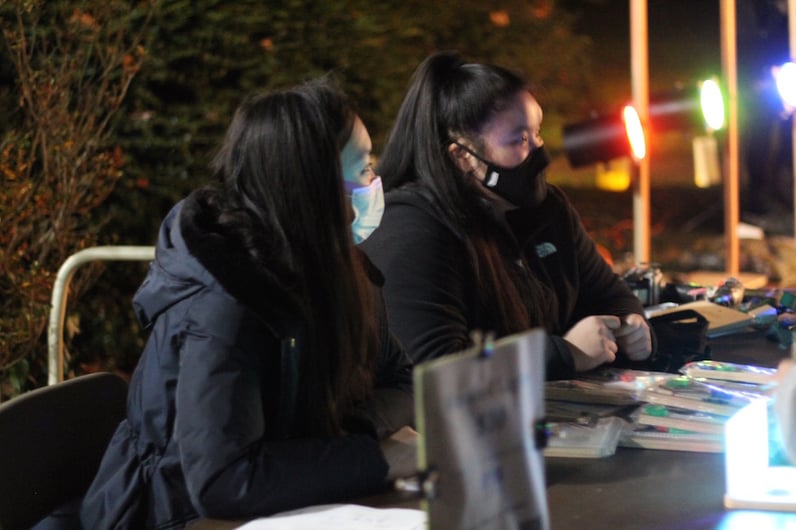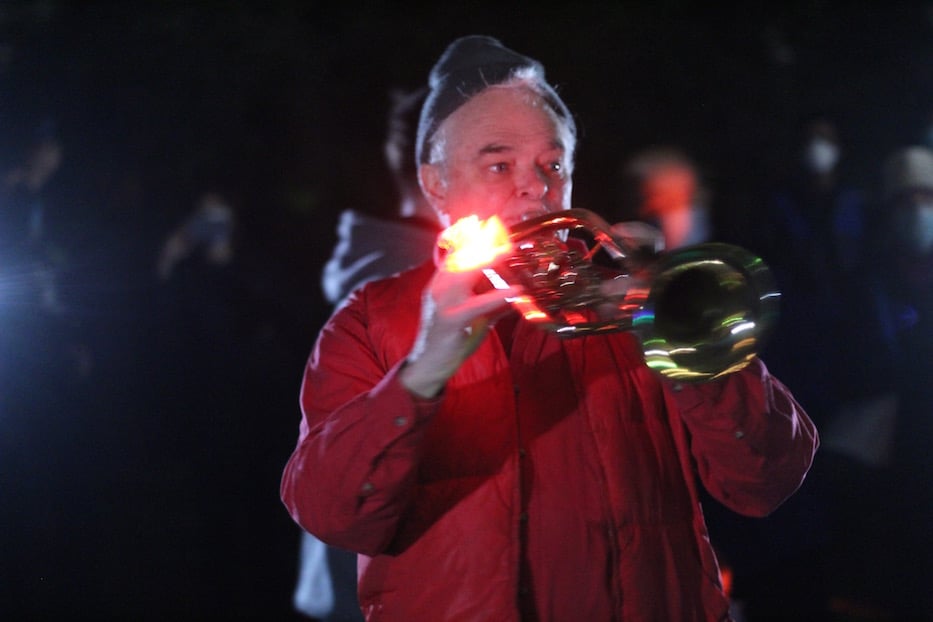 Top: Nina Chang and Linnea Sirch. Bottom: Laine Harris.
As a warbling trumpet filled the air, Laine Harris appeared with a horn strung with red holiday lights, his brother Drew on saxophone beside him. Dozens of attendees fell to a hush. To the trumpet, Ariana Harris thumped back with a decisive drumbeat that felt more Bhangra than Balkan. Horns came back in as the three lurched forward, a disk of green light visible from the saxophone. Somewhere in front of them, Wilbur Cross junior Noah Brown lifted a square lantern and found his footing.
The three musicians headed towards the walkways, paper lanterns swinging as they led the way. Behind the light board, two friends windmilled their arms, lifting them into a lax second position like errant ballerinas. Attendees, who had formed a wide circle around the musicians, filed onto the walkways and followed the sound. They stepped slowly, carefully, as if they were both dancing in the new year and hoping 2021 would find its way out a different door than the one it had come in.
Bobbing among the lanterns, sax and trumpet flirted with each other, ultimately falling into a bouncing lockstep. Beneath them, drums hammered out the same persistent beat, stopping only for an intermittent, brassy horn or woodwind solo. As they rounded a corner, musicians wound into a slow processional, weaving through the lights as instruments crawled toward 2022. Saxophone pierced the air, its voice shrill. Drums rumbled a retort. At the front of the group, members of the Climate Movement slowed with their lanterns until it almost felt like a funeral march.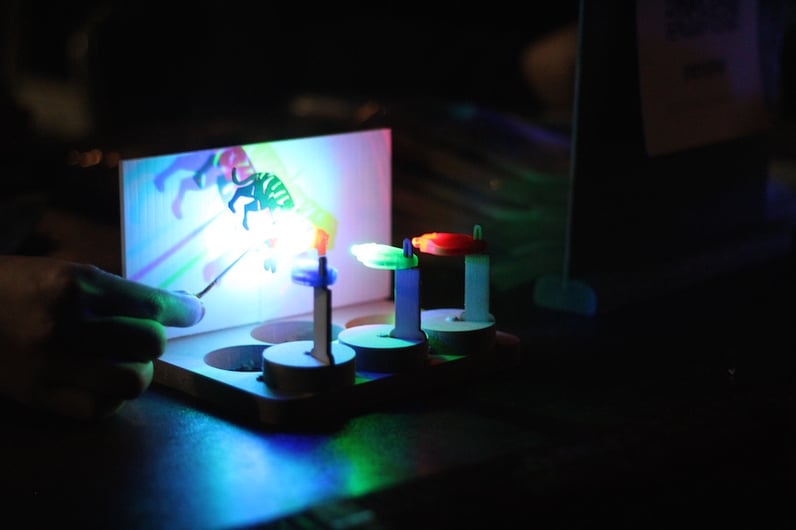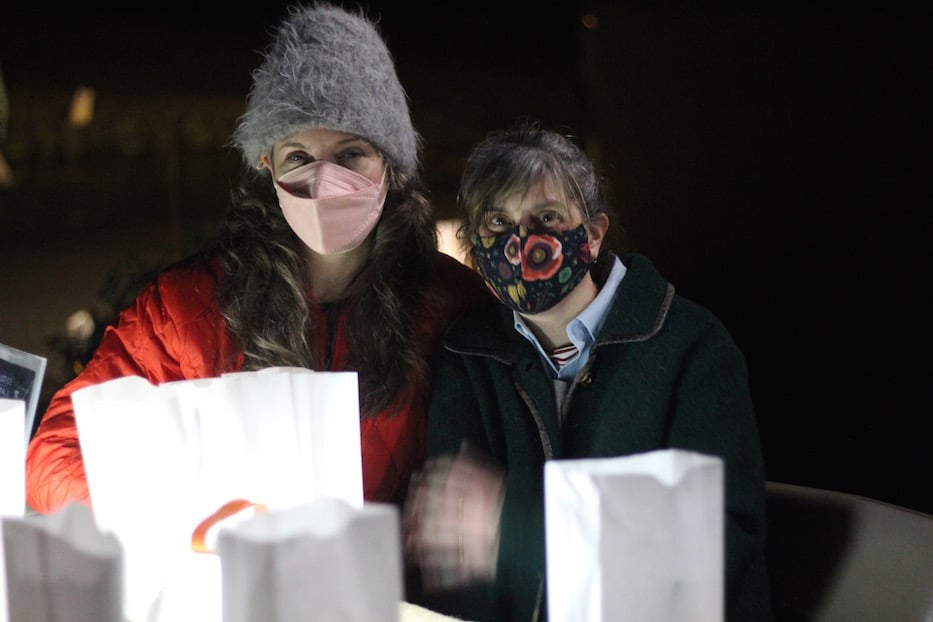 Top: A mini blended light board. Bottom: Edgerton Park Conservancy board members Eliza Shaw Valk and Nancy Macgregor.
It was hard to think that the audience would be dancing again before the end of the night. But within minutes they were, feet flying on the pathways as they formed a chain and busted out some fancy footwork. When Drew Harris introduced the band with a jubilant cry of "we're so pleased to play for live human beings!" whoops and applause exploded from the crowd. His brother, Laine Harris, cheered and pumped his arms along with them.
The founder of the Whitneyville Cultural Commons, Laine praised the outdoor, Covid-cautious design of the event, which allowed people to gather despite growing risk of the highly transmissible Omicron variant. The last time he played with a full band, it was February 2020. Cafe Nine, which the band considered its informal home before the pandemic, is still off the table for them as cases continue to rise. Until he was fully vaccinated months ago, he didn't even play with his brother, because the two had different pods. He'll take any chance to perform safely that he can get, he said.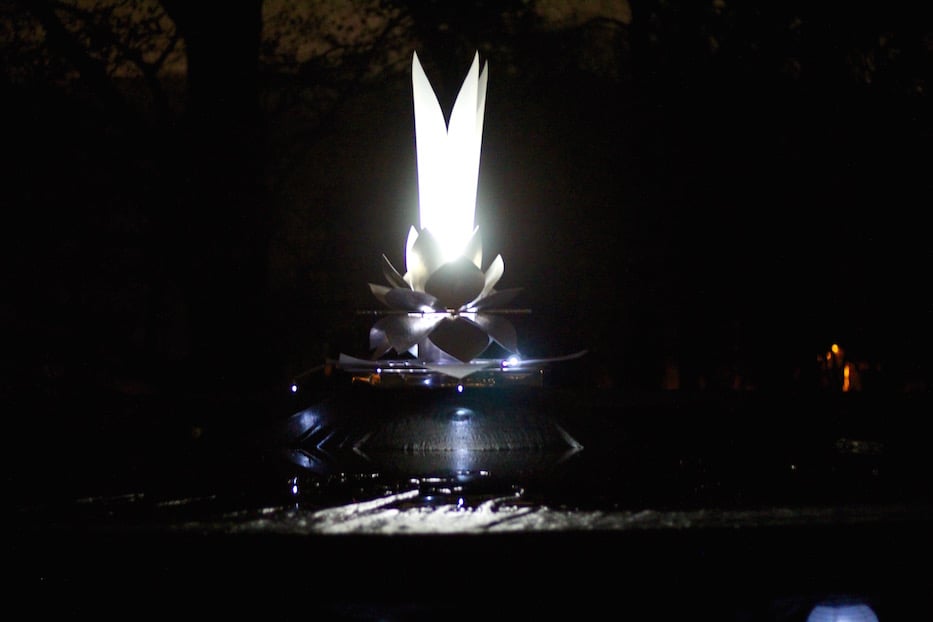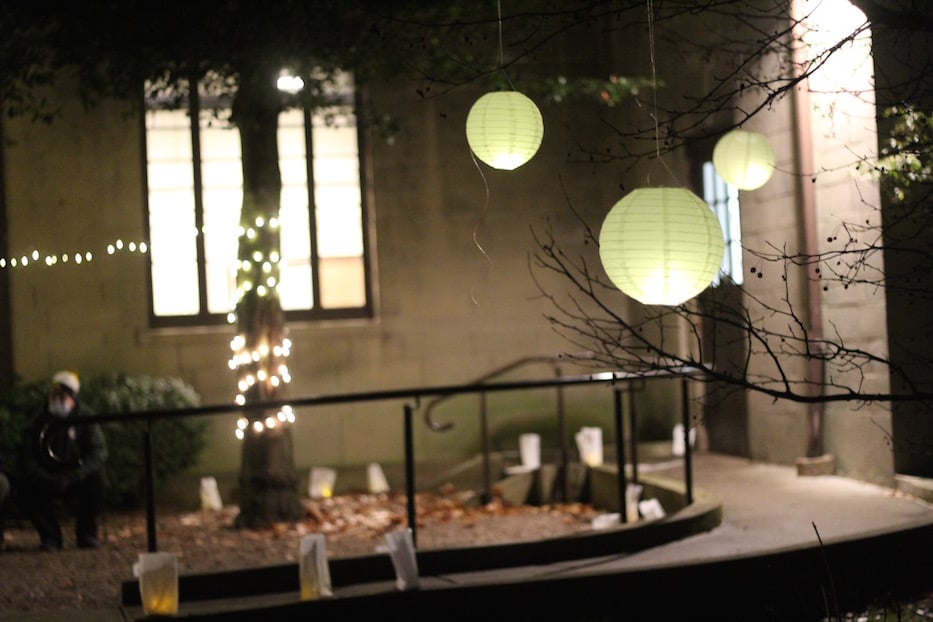 "It was fun to play for people! It was fabulous to play for people!" he said as he packed up for the night. "I pretty much construct my life around helping create community. I'm also a strong believer in trying to live in harmony as you can. And this—" he gestured to the surrounding park—"is part of the harmony of being a human being."
As the lanterns grew dimmer hour by hour—no flames are allowed in the park, so luminaries were powered by LED lights—the walk also became a quiet reminder of the vast, sometimes crushing scale of loss that New Haven has experienced in the past year. In 2021, the city's homicide rate was higher than it has been since 2013. Covid-19, depression, disease, and self-harm took writers, poets, artist-advocates, and cultural luminaries away long before it was their time. Parents and students alike braved the remote pivot, then hybrid learning, then uncertainty around whether or when or how to quarantine as they rolled through two of the strangest school years on record. Parents buried their children and grandchildren. The world kept going. In 20 months, no one got dedicated time to grieve.
And a year after the first truckload of Pfizer vaccines arrived in New Haven, an eerie sense of pandemic deja vu descended on the city in late December. When 2021 began, Connecticut's test positivity rate was 9.14 percent. A year later, it sits at just over 20 percent, with a sharp increase in Covid-19 hospitalizations among unvaccinated people at Yale New Haven Hospital. After walking through the park with their lanterns, multiple students from the New Haven Climate Movement said they worry about heading to school on Monday because of potential Covid-19 exposure.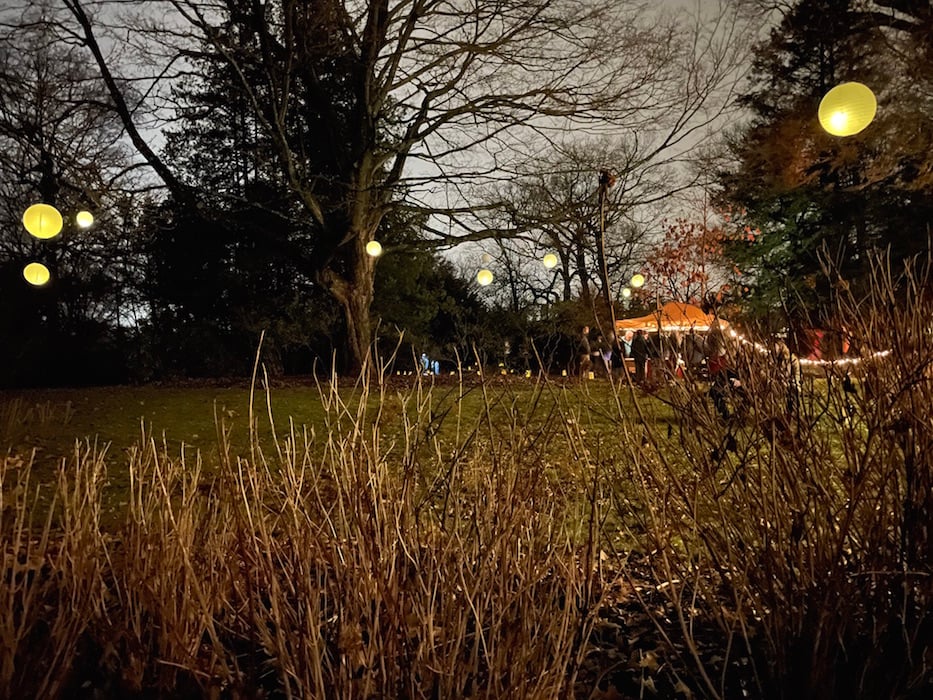 That bittersweet weight also undergirded the event for Barac, she said. In December 2019, her young son Victor stopped by the luminary walk on his way to a party. Walking among the lanterns, he and Barac spoke about making it into a larger-scale event, on which they could spend time working together. "He promised he would do it with me," she said in a phone interview Saturday. Then in August 2020—between solstices, and in the midst of a global pandemic—he was killed in a car accident.
Last winter and again this year, "I had to do it for him," Barac said. She and Mead dedicated the 2020 luminary walk to his memory. This year, she thought of him as she worked with collaborators to expand the event.
Nancy Macgregor, a member of the conservancy's board of directors who has helped coordinate the luminary walk since 2018, said that this year's walk also dovetailed with a larger, ongoing effort to make Edgerton Park feel like the public greenspace that it is. Because of its high stone walls and location, she said, the park can sometimes feel isolated and unwelcoming. She was excited to see dozens of new people Friday, many of whom told her that it was their first time in the park.
"We're always looking to reach out to our community more, and especially the community beyond the neighborhood," she said. "It's really hard to bridge that knowledge gap. We're really making a concerted effort to let people know that this is their park."
Learn more about the Edgerton Park Conservancy at its website.