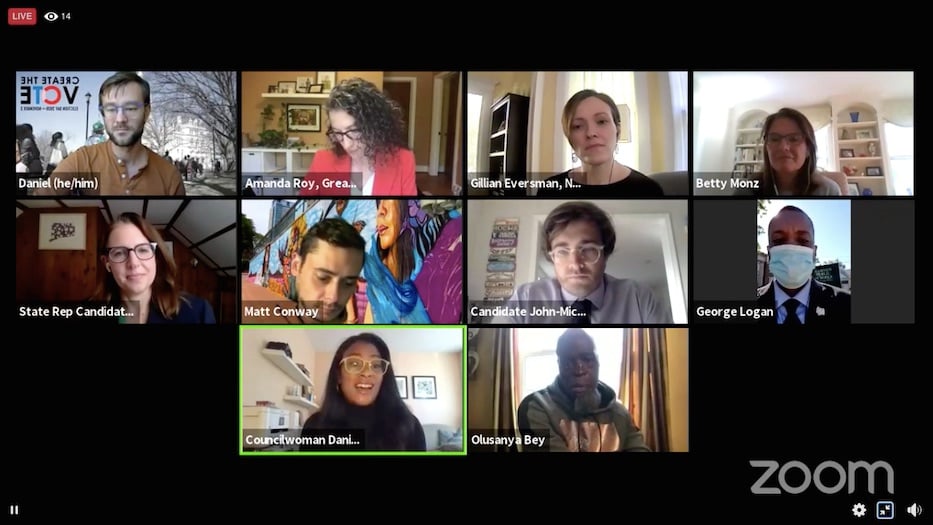 Politics | Arts & Culture | State Legislature | COVID-19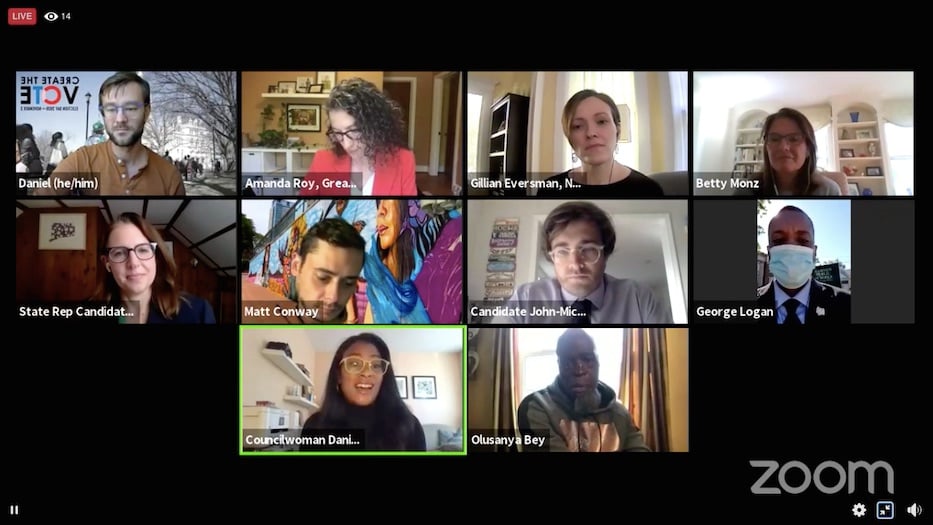 Are the arts a unifying, largely nonpartisan force for finding common ground? Or are they a direct political tool for transformative justice?
Thursday afternoon, that question sat at the heart of a 90-minute candidate forum supported by Create The Vote CT, a nonpartisan initiative of the Connecticut Arts Alliance and several partner organizations. In a sprawling discussion on economic recovery, federal relief funding, and the role of arts in public education, candidates laid out multiple versions for the role arts can play in the state's political and legislative process.
Thursday's forum featured State Sen. George Logan and State Representative candidates John-Michael Parker, Danielle Wong, and Kate Farrar. Parker, who is the director of Arts for Learning Connecticut, is running in Madison and Durham; Wong is running in Bloomfield, where she is a member of the Town Council; Farrar formerly served as the executive director of the Connecticut Women's Education and Legal Fund (CWEALF) and is running in West Hartford.
Now in its third year, Create The Vote CT is designed to encourage voter literacy and get candidates talking about the arts. In addition to holding regional candidate forums, the organization has asked artists and arts administrators to pledge to #CreateTheVote on Nov. 3 and has posted candidate responses to a questionnaire on arts and economic recovery.
State Sen. George Logan. "I think during this pandemic we have a responsibility as legislators to make sure we think about the arts, whether it's music or painting or sculpture or poetry, and make sure that we have an outlet," he said towards the beginning of the forum.
Thursday, all four were vocal on their support for arts education, greater federal relief to performing arts venues where Paycheck Protection Program (PPP) funding has dried up and stimulus talks are gridlocked, and an economic recovery plan that includes arts and culture.
Then came a question from Olusanya Bey, a poet, mindfulness instructor, and visual artist in Hartford.
"The pandemic has deepened existing divides in Connecticut, particularly along the lines of race and class," he said. "The arts create shared experiences that can unite people and bridge divides to acknowledge the strength in our differences ... How do you think the arts can help build racial and social justice in Connecticut?"
For a moment, the Zoom line was silent, Bey's head cocked to one side. Clad in a mint-green surgical mask, Logan hopped in. He praised the ability that the performing arts—particularly music, which he experiences as the frontman in a Jimi Hendrix cover band—have to connect people through shared cultural experiences. He nodded to the deep, often overlapping histories of salsa, bachata, rock and rhythm and blues.
"For me as an artist, to be able to try to play and understand the music ... you have to dig into and understand the culture," he said.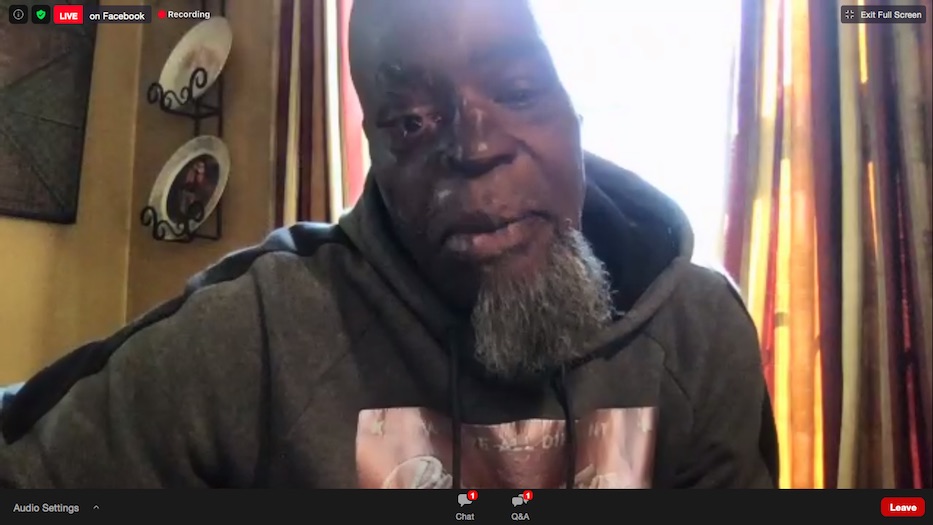 Olusanya Bey, who joined panelists from Neighborhood Music School and Long Wharf Theatre in asking the candidates a series of questions.
He pointed to the fact that in music, several of the styles heralded today have roots in West Africa—just as the Afro-Caribbean diaspora gave birth to la Bomba y la Plena and the Afro-Brazilian form of capoeira. Across the globe, those forms of music and propulsive dance almost always came out of a heartbeat of resistance and rebellion.
"A lot of people don't realize that or understand that," he said, battling gusts of wind that blew into the speaker of his phone. "But once you explain that to them, it gives them an additional understanding of the music and an appreciation of the contributions of people from the African diaspora. And the same could hold true of music from around the world."
"In terms of social and racial justice, we all know that music is huge as a form of expression for folks that are oppressed or folks that want to get what they're thinking out or what they're feeling out," he continued. "We know that music has been used throughout history by the oppressed to signal to others in terms of communicating. That held true in history, and it holds true today and now."
Logan declined to add how he envisioned using the arts to fight for racial justice on a political stage. As he spoke, he maintained a nonpartisan lens, vowing to fight for arts funding—particularly in education—regardless of what side of the aisle it came from. His record is less bipartisan: since 2016 Logan has repeatedly spoken out against raising the minimum wage, and this year attempted to sink a bill to increase police accountability in the state.
Farrar, who won her primary earlier this year and would replace Democrat Joe Verrengia, looked more directly to the power that the arts have in driving legislation. She pointed to last year's passage of a law that requires all Connecticut public high schools to be prepared to offer a course in Black and Latinx history by July 1, 2021.
While a few teachers are already paving the way in their classrooms and educational collectives, many do not have the resources to know where to begin that work. The law was spearheaded and supported by State Rep. Bobby Gibson, a Democrat representing Bloomfield against whom Wong is now running.
While a statewide legislative committee is already working towards that implementation, Farrar suggested that artists and arts educators should be involved "at every level of that implementation." She added that she sees artists as necessary in all areas of legislative action, including housing, criminal justice, and innovations in public education and healthcare.
"Part of my role is not just to listen to the residents of the 20th District, but to really address the longstanding racial inequities that are happening in all of our communities and across our state," she said. "To really address those inequalities, we have to build trust. And one of the things I feel like I've seen so clearly … is the community building that comes with the artistic process is one that can really build that trust."
Wong also suggested that the arts can lead to transformative justice—and state legislation that supports it. In early June, a Bloomfield man was accused of yelling violent, racially-charged epithets at a mother and her young son in a local shop. Just days later, a 47-year-old white man pulled a gun on a Black teen in one of the town's neighborhoods.
Amidst protests and calls for racial justice—both events came not two weeks after the murder of George Floyd—town officials agreed to plans for a 90-foot Black Lives Matter Mural that now wraps around the Bloomfield Town Hall. Wong praised the work as creating accountability and dialogue among residents and municipal legislators.
"I think when you have powerful messages, specifically art, it warrants really good conversations, and it warrants a certain level of accountability where there's a certain level of meaningful follow-up that needs to be implemented with policy or legislation," she said. "Or with local elected officials acting upon such messages because they know that the community is behind these types of messages. "
"Art and social justice go hand in hand," she added. "Demonstration without legislation isn't possible."