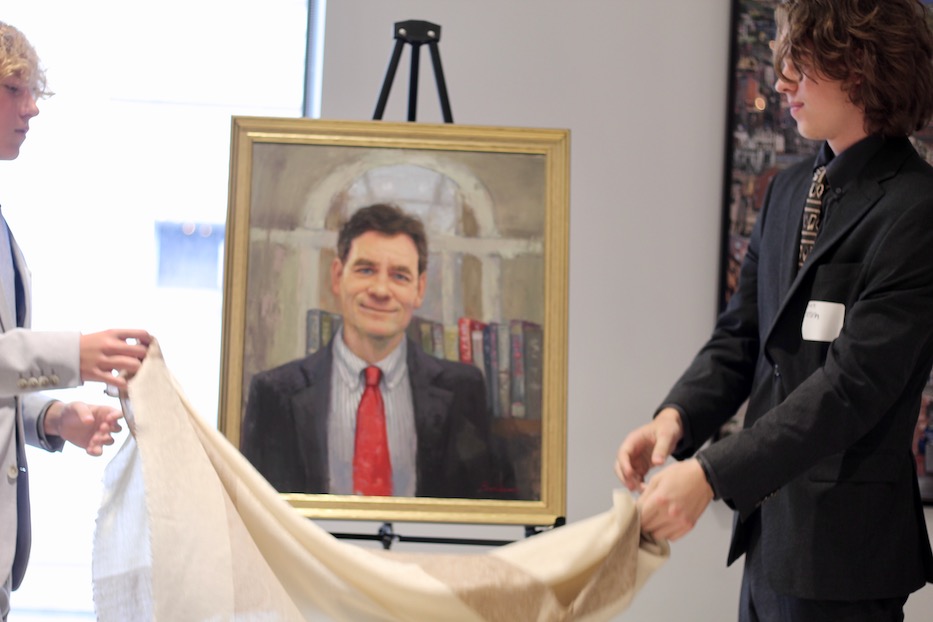 Culture & Community | Arts & Culture | New Haven Free Public Library | Community Heroes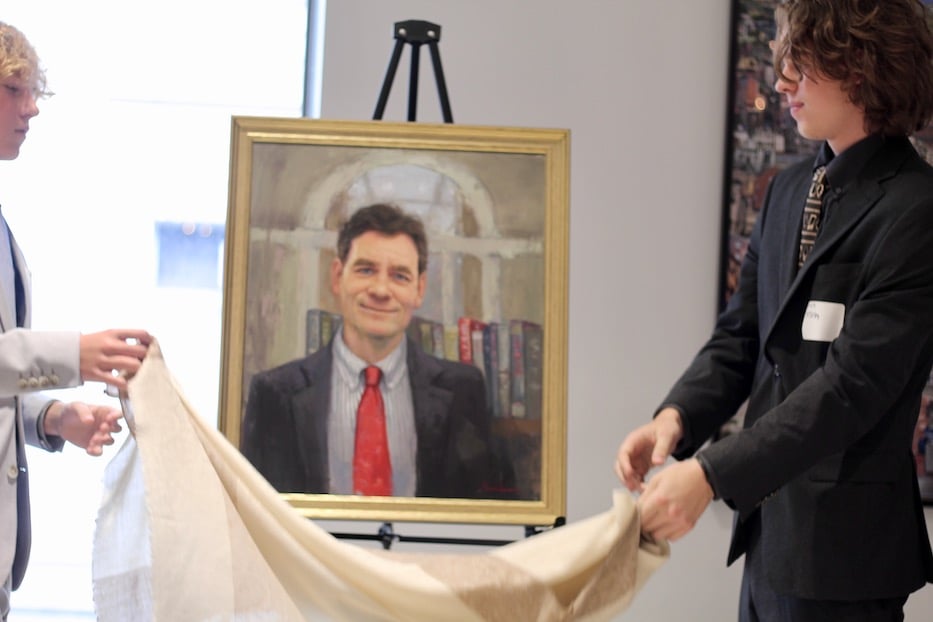 Jessen's sons, William and Jack, unveiling the portrait of their dad, the late City Librarian John Jessen. Lucy Gellman Photos.
From the eyes, you can tell that John Jessen has just told a joke—or maybe it's a story of his kids, or a memory from small-town Iowa—and the whole of his orbit is on the cusp of laughter. His cheeks rise in anticipation, laugh lines deep and unapologetic. His head tilts just slightly to one side, as if he's heard a whisper among the stacks. It is impossible to see his face and not smile.
The image, a portrait set in the atrium of the Ives Main Library, tells the story of an extraordinary man, with an extraordinary record of service. Now, it will live in the library for decades to come, so generations of New Haveners can learn his story.
Friday night, dozens gathered to honor and remember Jessen, who served as New Haven's eighth city librarian from 2019 to 2022, with a portrait unveiling and laughter-studded celebration of his life at the Main Ives Branch of the New Haven Free Public Library. At the time of his death last May, Jessen had dedicated nearly two decades to the NHFPL, working his way up the ranks from a part-time programming manager to the library's highest position.
When he was appointed city librarian in December 2019, he made history as the library's first internal candidate since 1929. Monday, that history came full-circle as former Public Services Administrator Maria Bernhey began her tenure as city librarian.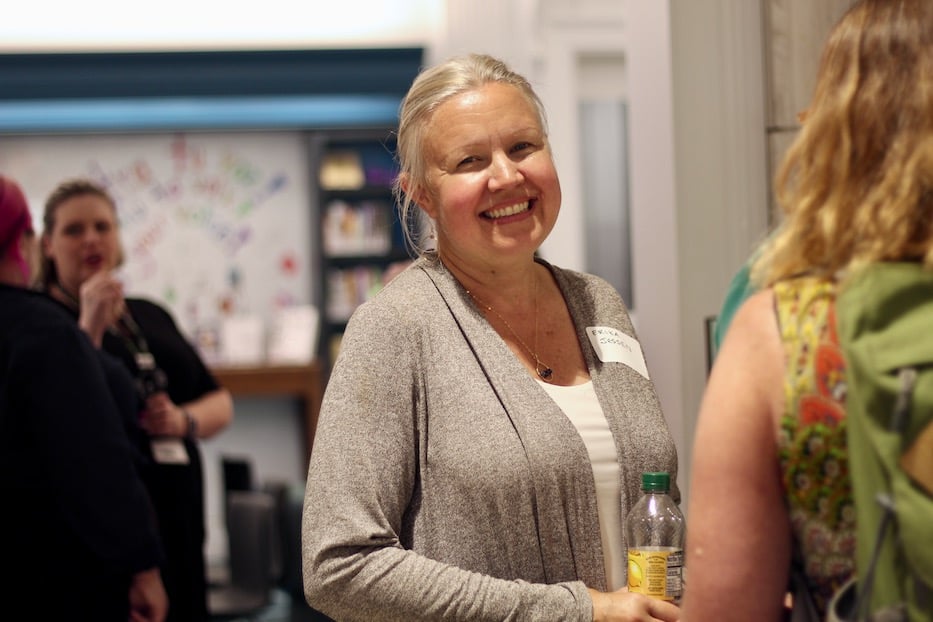 Erika Jessen on Friday evening.
"As many of you know, grief has some pretty sharp edges, and a community can really soften those edges, and you have all done that for us," said his wife, Erika Jessen, as she took in a room filled with over 100 of Jessen's friends, mentees, and peers. "It's such a comfort to know how much John was appreciated and loved by this community."
"It's not easy to get out there and meet people from different groups, from different backgrounds, cultures," she added. "In the public library, we could just do that. We could bring our kids to play, and we would meet this whole, wonderful diverse group of people. We could all be each other's teachers and friends and learn and grow together."
Friday, former colleagues, friends, neighborhood organizers and library board members all took time to remember a legacy defined by service, grace, and constant humor, even as Jessen steered the library through a global pandemic, took on budget woes, silently endured his own cancer treatments, and fought the proposed closure of a beloved Westville branch in 2021.
As they spoke, the portrait of Jessen—brought to life by Westville-based artist Frank Bruckmann—beamed from the canvas beside them, his smile visible even from beneath a white muslin cover.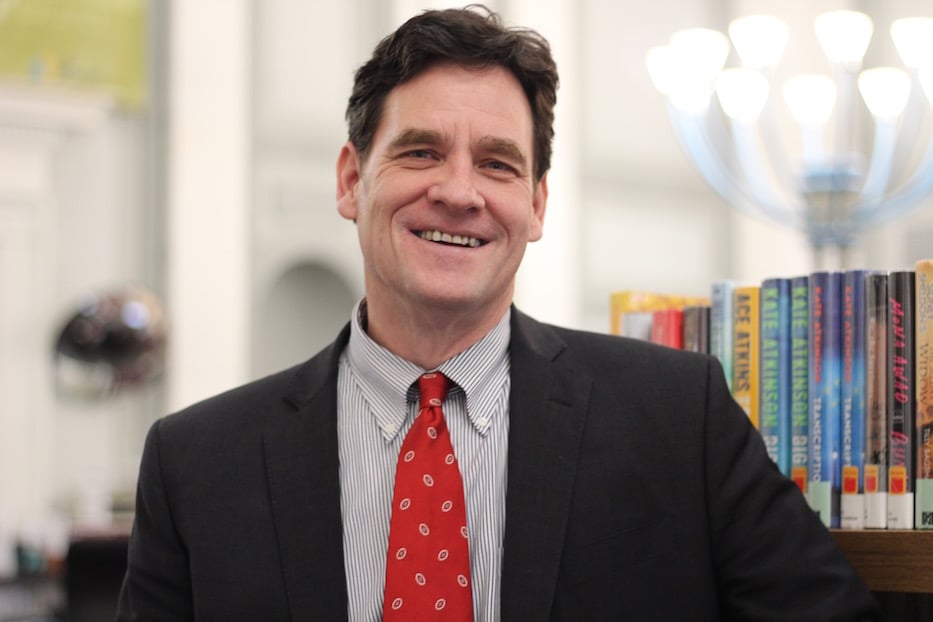 Jessen in December 2019. Lucy Gellman File Photo.
Stetson Branch Manager Diane Brown, for whom Jessen temporarily worked as a children's librarian when the Stetson Branch was still in a midcentury shopping plaza, remembered how his love for his own family extended seamlessly to the community, and especially its youngest members.
When he became branch manager at the Wilson Branch Library, he called Brown frequently to get her input, or tell stories about the needs of patrons who came through the space. What so spoke to her was his approach, she said: Jessen didn't care about rules and regulations, but about people.
"We connected as librarians but we connected as humanitarians," she said. "John was a real humanitarian. He really cared about people."
When he became city librarian in 2019, she announced it proudly to a room full of kids and parents at Stetson's annual Christmas concert with Chris "Big Dog" Davis. Less than three full months later, he was helping her close down the branch for Covid-19.
From home, and then from a Stetson in transition, she watched Jessen steer the organization through the pandemic, from remote assistance to a multi-stage reopening. Last year, the two were in constant contact as she opened the doors to the new Stetson Branch Library. He spent his first visit there playing with students from Harris and Tucker Preschool.
"I miss him," she said. "I'm happy to be here to celebrate him, especially with his family. It's time for it [the portrait] to be here and I'm glad that it's here."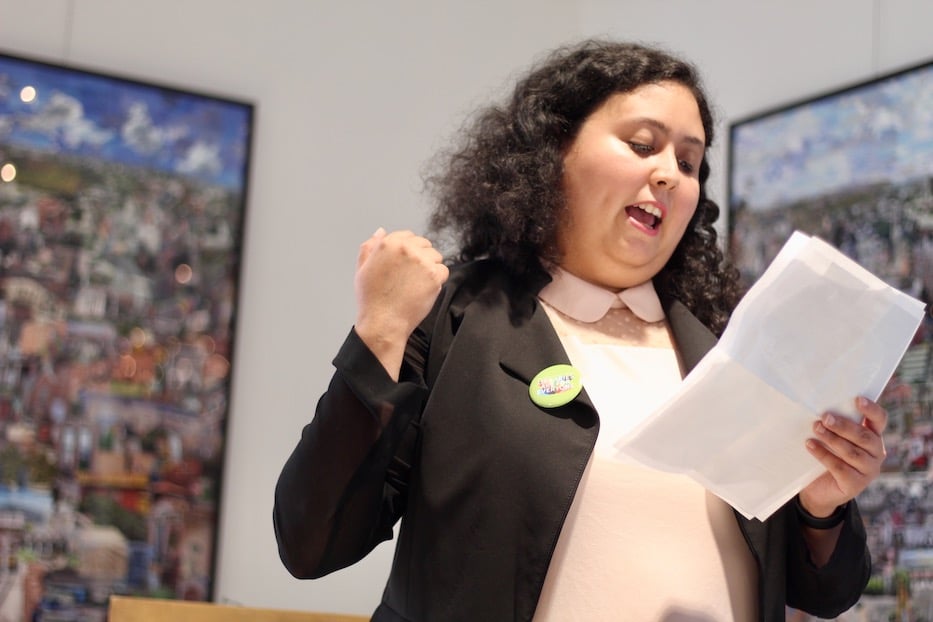 "He saw libraries as the light, the force of connection, the only place left where anyone from anywhere could come in and be greeted as a neighbor, meet other neighbors, get a great book, find a job, ask a question, talk, laugh, hang out, learn, anything, all under one roof."
Karina Gonzalez, who is now a public services administrator at the library, remembered a morning in which Jessen transformed into a literal superhero for hours, then went back to the world-mending, life-saving work he was already doing in the Hill. It was 2017, five years into Jessen's tenure as branch manager at the Wilson Branch Library, and two since he had hired Gonzalez as a library technical assistant in 2015. As he often did, Jessen had organized a "Superhero Storytime" at Hill Central School, complete with face painting.
On the morning of the event, Jessen couldn't get in touch with the face painter—so he deputized Gonzalez "in his John way," a style of gently telling colleagues what they needed to do for the community's benefit. At first, Gonzalez didn't completely understand what Jessen was asking her to do. "I've never painted a face in my life—I mean, I can't even do my makeup!" she said as laughter bubbled up through the room.
Jessen shrugged; they were going to work with what they had, which was two librarians with a love for community. While Gonzalez got ready to paint, Jessen got into a layers-thick, unwashed and odorous Captain America costume "and did the storytime with no need to prep or take a breath."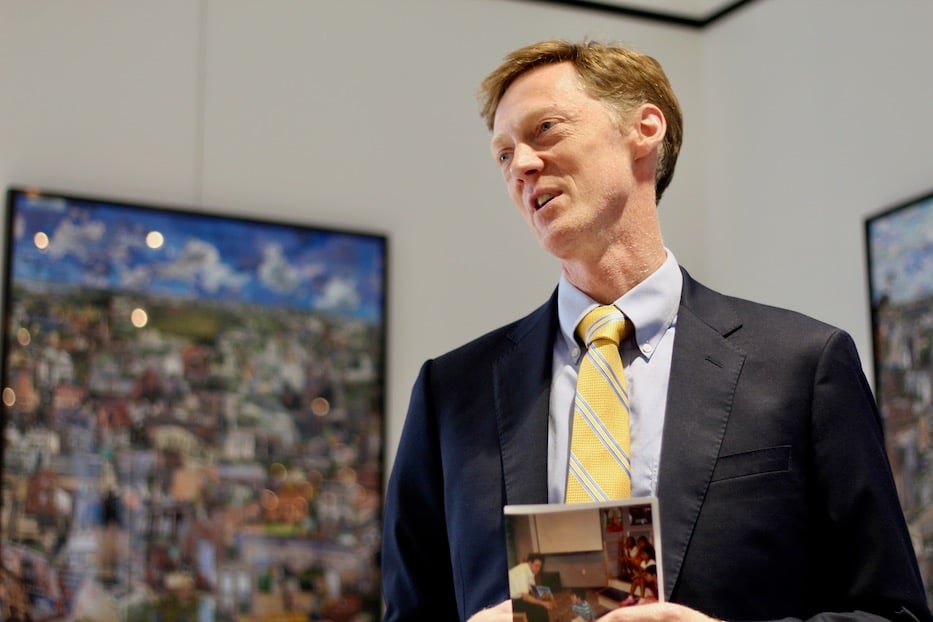 "It's about books and it's about curiosity and it's about exploration, but it is in New Haven about so much more than that," said Mayor Justin Elicker. "I mean this place was a pop-up consulate for goodness sake, where people came in to get passports, because this was a place that people felt safe no matter what their background was. This was a home to them."
No sooner had he finished than students swarmed him, excited to have their faces painted. He must have done over 40 faces, Gonzalez remembered, never pausing to take the costume off or cool down. While she stumbled through the process, he soared, putting his artistic skills to use. Among many skills, Gonzalez said, he could freehand a batman mask "on a wiggling kid's face" like it was no big deal.
"I tell this story to tell you what kind of librarian John was, and what he believed in," she said. "He saw libraries as the light, the force of connection, the only place left where anyone from anywhere could come in and be greeted as a neighbor, meet other neighbors, get a great book, find a job, ask a question, talk, laugh, hang out, learn, anything, all under one roof."
"As a librarian, and eventually as director, he worked hard to make NHFPL a sanctuary of delight, wonder, and kindness," she added. During the time that he was sick—Jessen received his cancer diagnosis just days after Mayor Toni Harp appointed him city librarian—he also saw the library through the first two years of the Covid-19 pandemic. When Gonzalez asked him about the weight of that responsibility, he never complained. He insisted that "this place is keeping me alive."
"What he wanted was not for us to be sad or mourn what could have been but to continue this work any way we can," she said. "To understand how important this library is to this community and continue to be a place of welcome and joy in the minds of all who visit."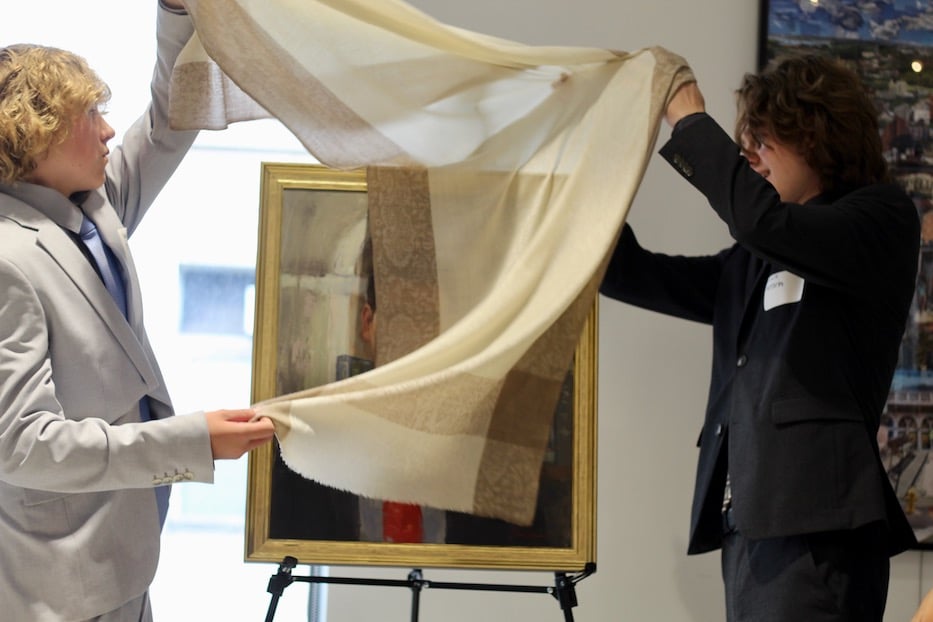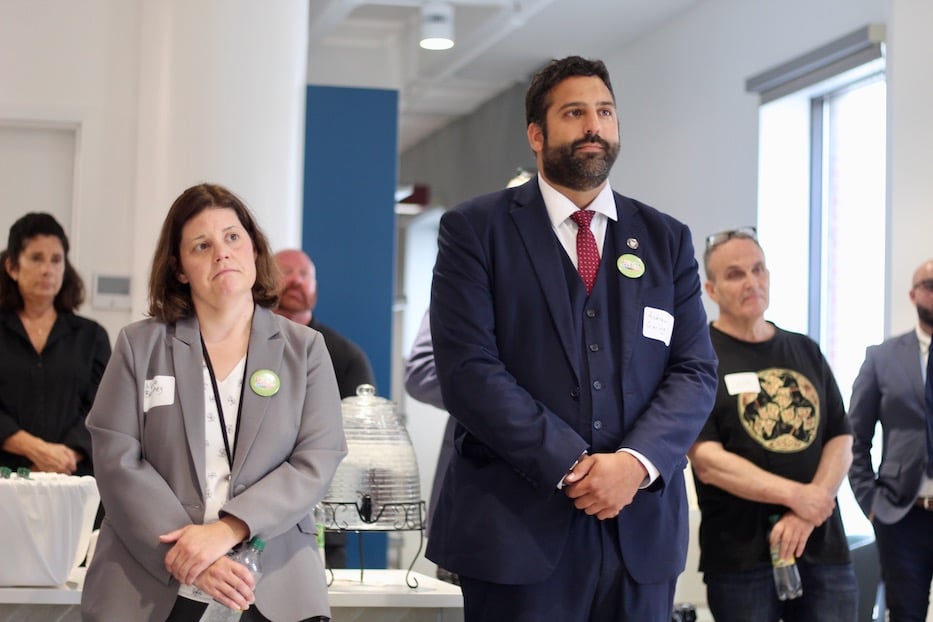 NHFPL City Librarian Maria Bernhey and NHFPL Board Member Andrew Giering.
NHFPL Deputy Director Luis Chavez-Brumell remembered meeting Jessen seven years ago, when he was the manager of young minds and family learning, and Jessen was still the branch manager at Wilson Library (a position in which he was beloved by the Hill neighborhood, and that Chavez-Brumell later held). On Fridays, the two saw each other at the library's main branch, where Jessen would fill in for him upstairs.
One Friday, Chavez-Brumell remembered, a family came into the children's section just minutes before closing, looking for a specific book that wasn't on its shelf. Jessen snapped into action, certain he could find the book before the family left. They shrugged it off, content with other titles.
But he wasn't deterred—he searched for the book, a tornado of activity, found it, and jogged down the library's staircase to get it to the family before they left.
"That just exemplifies John and his love of service and making books and resources accessible," Chavez-Brumell said. "Thank you, Jessen family, for sharing him with us."
While speakers concentrated on how Jessen lived—which is to say fully and for others—many also acknowledged that he was a light taken from the world long before his time. When he died last May after a three-year battle with cancer, he was only 56. His sons, Jack and William, are still young.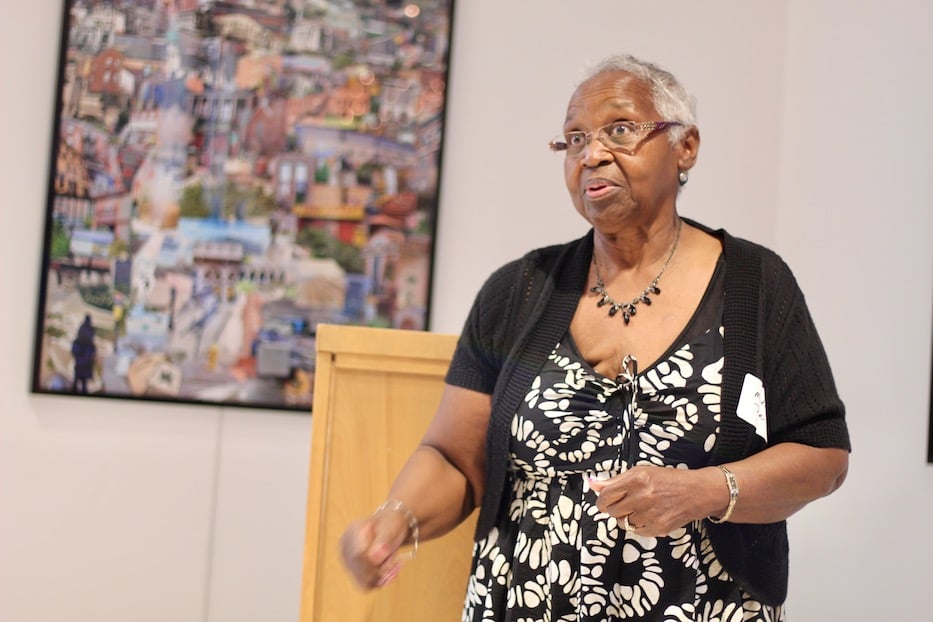 Martha Dye: "He had a light and a way about him that made you feel welcome."
There's something difficult and unusually cruel about that, noted longtime Hill matriarch Martha Dye, for whom Wilson has long been a second home and a sanctuary. Around 2015, Dye met Jessen through the Hill's annual neighborhood festival, part of the International Festival of Arts & Ideas. In all her years in the Hill, she said, "I have never met a person who is so committed to the community."
"He had a light and a way about him that made you feel welcome," she said. "He opened that library to us nights when they were closed. He didn't rush us for our meetings. When we had our Hill festival, he had our bus there, he was on the bus doing activities with the kids. He volunteered his time ... I'll tell you, it sank my heart when I heard about his passing. And even now, it hurts. It hurts."
In part, she said, it hurts because she can feel that pain as a mother too. In 2018, her son Michael was diagnosed with stage IV brain cancer, a consequence of the toxins to which he was exposed as a first responder in the Sept. 11 attacks on the World Trade Centers. Like Jessen, her son was in his mid-50s, with adoring siblings and a raft of nieces, nephews, and godchildren. The two died within a year of each other, a pain she described Friday as acute and very present.
"We loved him. We loved John so much," she said, speaking directly to Erika. "He had a light about him. He had a spirit about him. He had a kindness about him that we need to see more of today."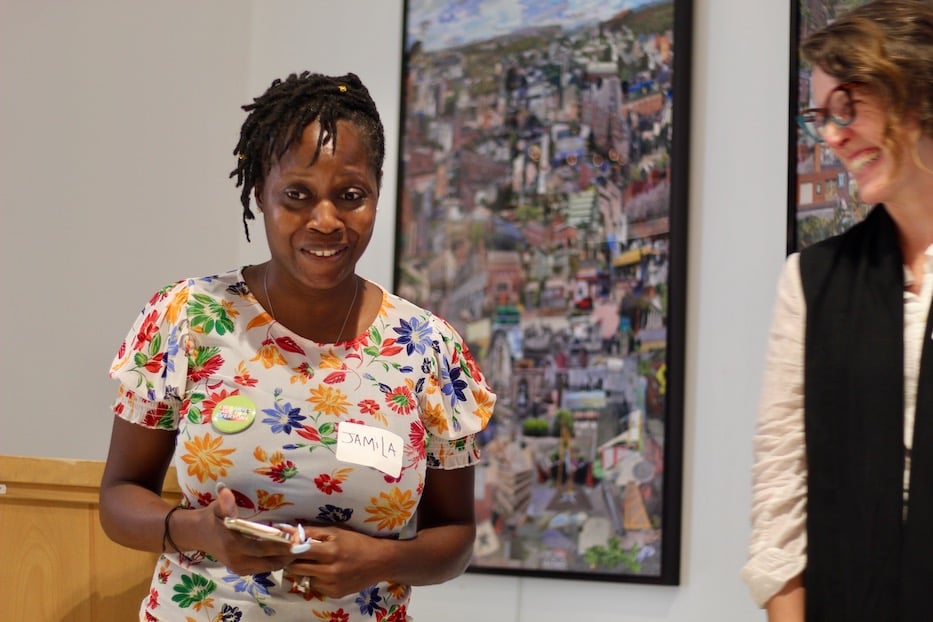 Thompson with NHFPL Board President Lauren Anderson.
Jamila Thompson, who runs Day Blessed Beginnings Care in the Hill, described Jessen as like "a brother from another mother," who somehow found time to tutor her son in chess between the daycare's visits to the Wilson Branch. The last time Thompson saw Jessen at the library, he told her that cancer had tried to take him out, but that he was pushing through it. Looking to Erika and then Jack and Will, she recalled how much he spoke about all three of them, as though they were the center of a universe that always had room for more people. "God bless you," she said.
"The Glory of God is the human being fully alive," said Michael Morand, president of the NHFPL Foundation Board of Directors, quoting St. Irenaeus of Lyons. He remembered decades through which Jessen was a caring and dedicated constant, from his very early days at the NHFPL with the series "Writer's Alive" to the library's 2021 Mardi Gras celebration, which became a remote love song to libraries.
"I can say for sure that I saw the glory of God because John Jessen was alive ... what a blessing his life has been for this place," Morand said, praising Bruckmann's portrait as keeping his light alive. "He was authentic, truly kind, and truly one of a kind. There was no other John Jessen."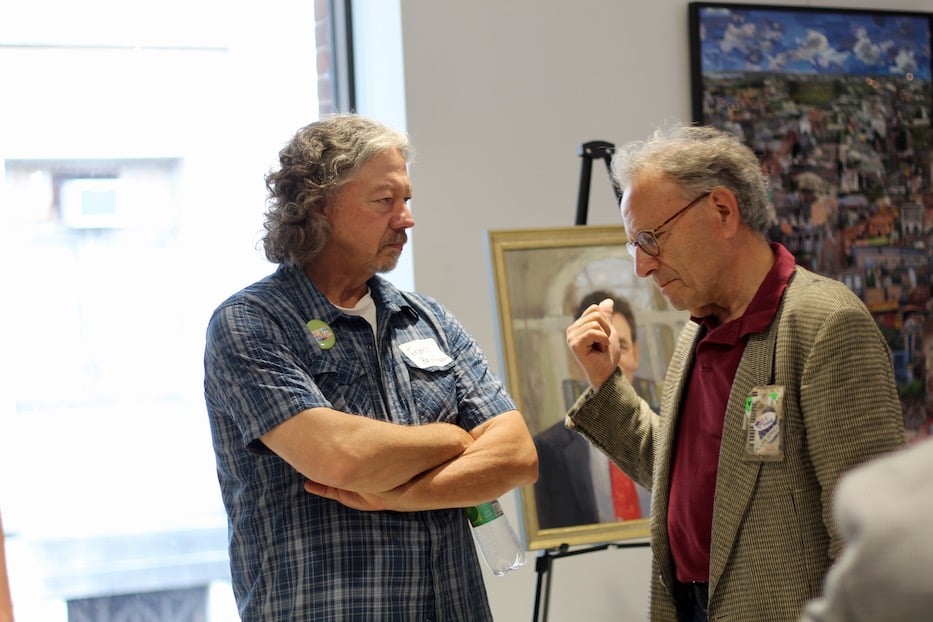 The artist Frank Bruckmann with New Haven Independent reporter Allan Appel.
Bruckmann, who has lived in Westville for over two decades and is the first New Haven based artist to paint a city librarian, said he was honored and touched to have been selected. Working from a photograph by this reporter, he painted the work in consultation with both Erika Jessen and Jessen's brothers Nick and Tom, who were both present Friday night.
"I jumped right in and started painting," he remembered, adding that the NHFPL became a very special place to him when his kids were younger, and the whole family would attend the Mitchell Branch Library in Westville. "I like it. I think it has a lot of life to it."