Books | Mardi Gras | Music | New Haven Free Public Library | Westville | Arts, Culture & Community
NHFPL Board Chair Shana Schneider and City Librarian Martha Brogan. Lucy Gellman Photos.
The balloons, gleaming gold, were literally poppin. Half-feathered faces made their way through the crowd. Brass rose and wailed from the stage. And somewhere between the stacks and the rum punch, the saints were marching in. Even the book jackets looked like they were dancing.
Over 250 attendees let the good times roll at the Mitchell Branch of the New Haven Free Public Library (NHFPL) Tuesday night, as the organization launched into its 17th annual Mardi Gras fundraiser and celebration. Tuesday marked the second year that the party has come to Westville, after a success last year while Ives Squared was under renovation downtown.
This year, NHFPL staff and board dedicated the event to "the freedom to read," zeroing in on banned and challenged books in an era of increased government censorship and surveillance. Two years after NHFPL librarians reflected on their radical opposition to the Patriot Act, a subcommittee on the board chose the theme as a reminder that libraries are, and have long been, a place where censorship is challenged and condemned.
On Wednesday afternoon, NHFPL Foundation Director of Advancement Lauren Bisio said that over $50,000 had been raised.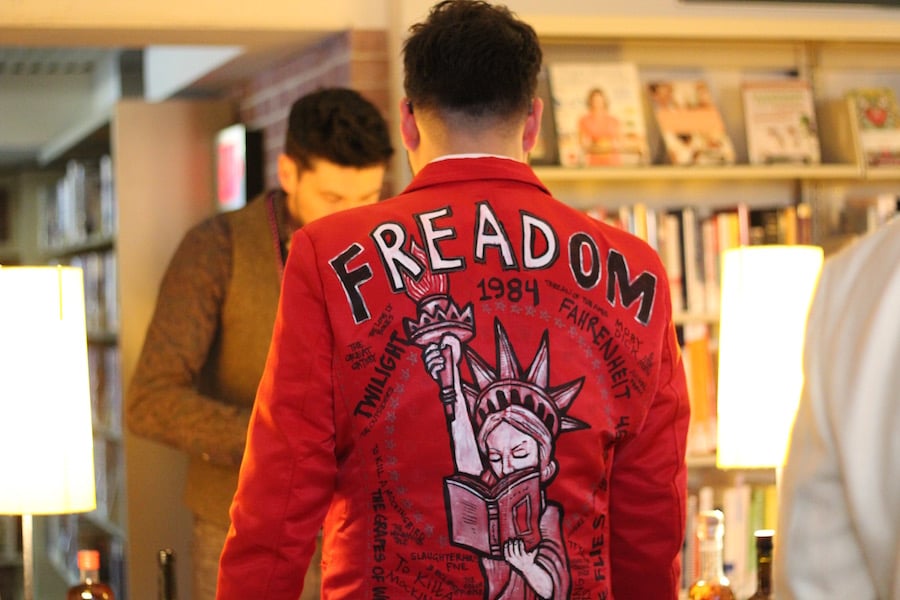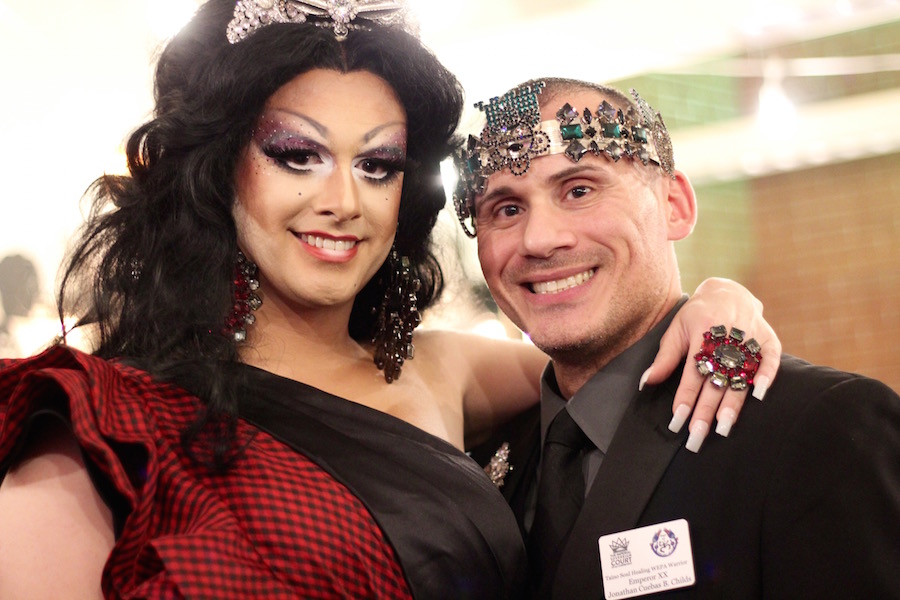 Top: artist Rikcy Mestre in his newly-painted jacket. Bottom: Imperial Sovereign Court of All CT Empress Kiki Lucia and Emperor Jonathan Cuebas B. Childs.
"I just loved the idea of looking at banned books in the time we're in," said New Haven Pride Center Director Patrick Dunn, who sits on the NHFPL Foundation Board and spent most of the night as his drag alter ego, Kiki Lucia. "There's so much silencing, and there's so much censorship. Our library is celebrating the opposite of that."
For Dunn, it's personal as much as it is political. Several years ago, he found himself working at the National Steinbeck Center in his birthplace of Salinas, Calif. During his time there, he learned that Steinbeck's East Of Eden had been burned publicly on Main Street in the 1950s, shortly after it was published. Then last summer, he arrived at the Stetson Branch to lead a new program called "Drag Queen Story Hour" and was met with protesters outside.
"All the best books in the world have been banned somewhere," he said. "Dr. Seuss. Harry Potter. The Bible!"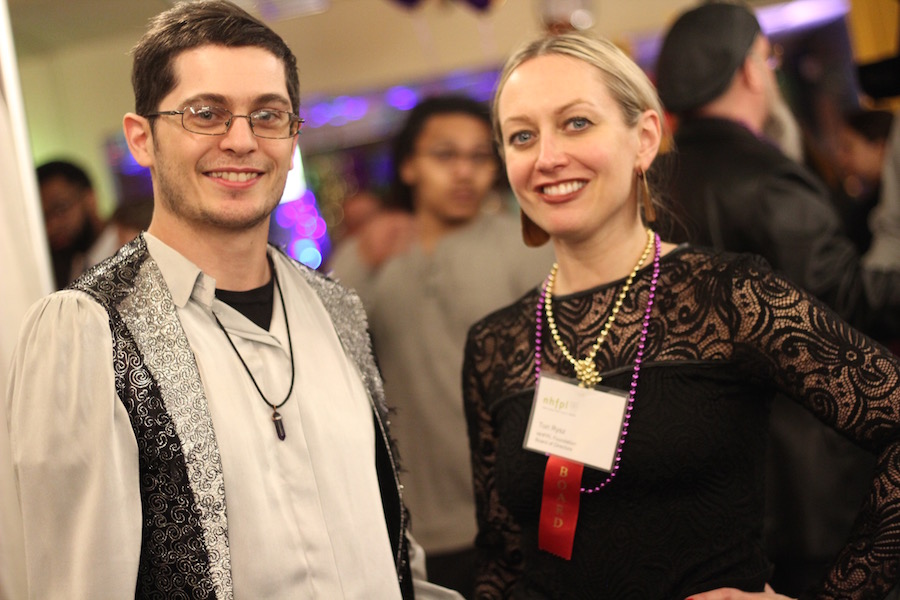 Musician and Westvillian Dylan McDonnell, who has played at Mardi Gras for the last four years, and NHFPL Board Member Tori Rysz.
He was far from the only one to raise a glass (or many) to freedom of information, a constant theme as attendees nibbled their way from the dance floor to the silent auction and swag table, and then to a reference desk-turned-bar staffed by librarians.
In the past three years, challenged books across the U.S. have included James Baldwin's Go Tell It on the Mountain, Angie Thomas's The Hate U Give, Afghan-American Khaled Hosseini's The Kite Runner, and Alex Gino's George, whose titular character is transgender. Read a full list of challenged and banned books from the American Library Association and Illinois Library Association here. The ALA has not yet released its 2018 list.
"[We are] upholding the democratic principle of giving unfettered access, free information, resources, experiences, and opportunities for all," said City Librarian Martha Brogan, presenting her remarks from the library's second story for a cheering crowd below. "To our other friends, sponsors and advocates, thank you for understanding that free public libraries are most necessary during turbulent times."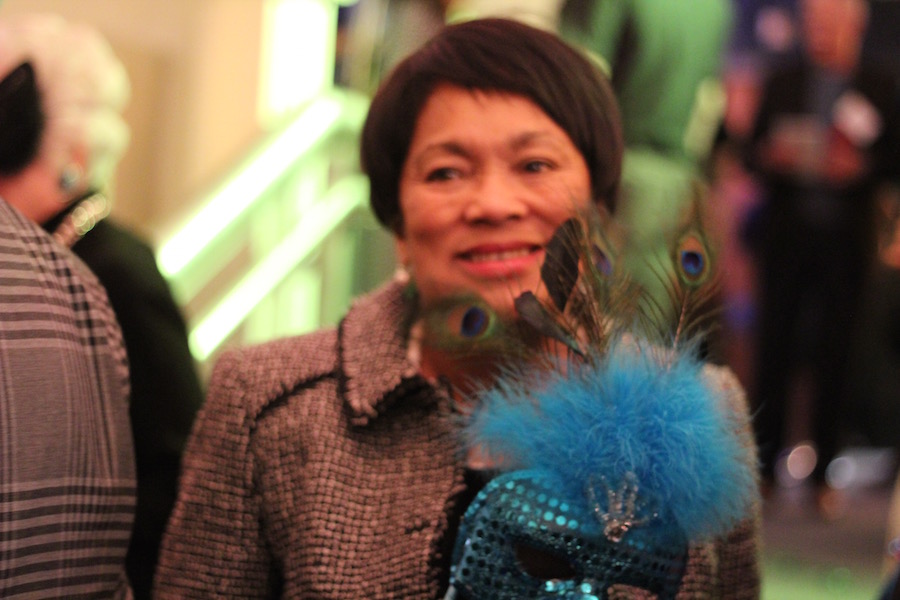 As she spoke, Brogan thanked Mayor Toni Harp and State Librarian Ken Wiggin, both of whom have been fierce supporters of the library system, as well as NHFPL staff members who work with the public each day across five branches of the library. She honed in on the importance of the library as a free and open resource to all in the New Haven community, where its branches double as emergency warming centers, citywide collaborators and resource hubs.
"My suggestion is for all of us to keep the Mardi Gras spirit alive throughout Lent," said Harp. "Let's parade through the stacks to find just the right book to read. Let's throw beads and necklaces and treats to one another in the form of new things we've learned from the reading that we've done. And let's dance with the ideas prompted by interesting articles that we've read."
"Let's respectfully debate disagreements about the best way to move forward on different policy proposals," she added, seemingly alluding to a recently-released budget that is as lean as a Beignet with no powdered sugar on top.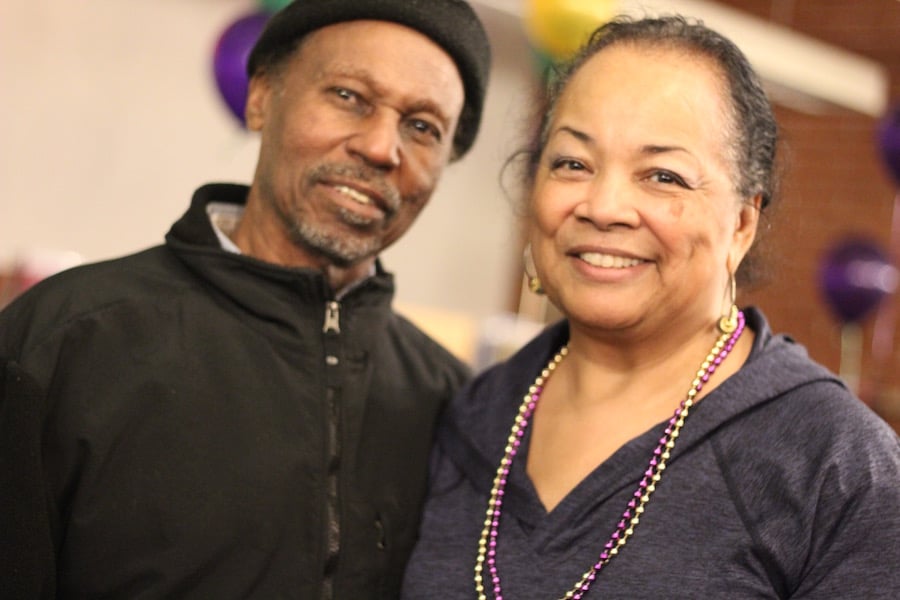 Phil Brown and Amoy Kong-Brown at their food station at the event. Kong-Brown said that libraries have long been sanctuaries for her, noting that "parents should be starting kids [on libraries] even before they can read."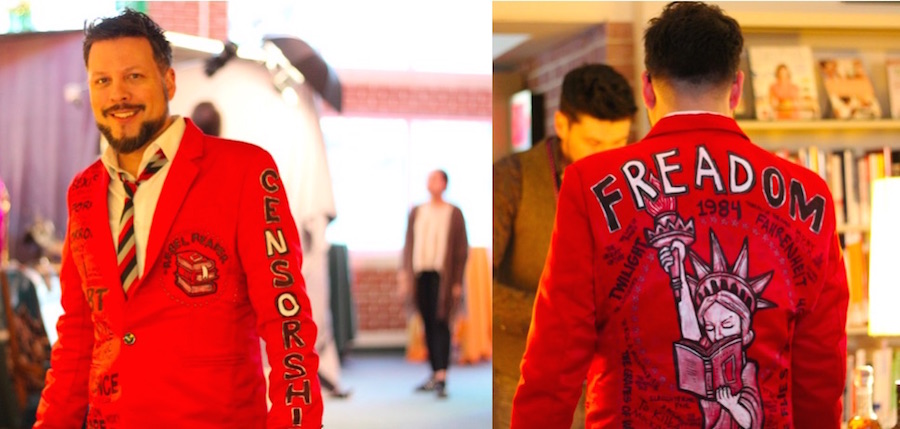 Those words rang true for artist Ricky Mestre, who arrived in a red blazer he had bought and hand-painted Monday night. On the back, he had carefully rendered Lady Liberty immersed in a book, her crown bright and pointy under the word "FREADOM."
On the front of the blazer, he painted one side with a list of topics he sees as likely to get a book challenged under the current administration—from a Muslim protagonist to feminism to LGBTQ+ subject matter. On the other sleeve, he painted the word "Censorship" in black and white. He modeled it for a few attendees as he picked up his first drink of the evening, a pink punch that smelled like butterscotch, with big ice cubes floating cheerily at the top.
Originally, Mestre said he had looked for a yellow blazer to have something that reminded attendees of caution tape. In its absence, red—the color of fire trucks and stop lights, after all—seemed like it would fit just fine. After painting from 8 p.m. until his bedtime on Monday, he woke up early to complete the jacket Tuesday, giving it time to dry before heading to the library.
"I feel like people should be able to read, no matter what might be in a book," he said. "It should be available for everyone."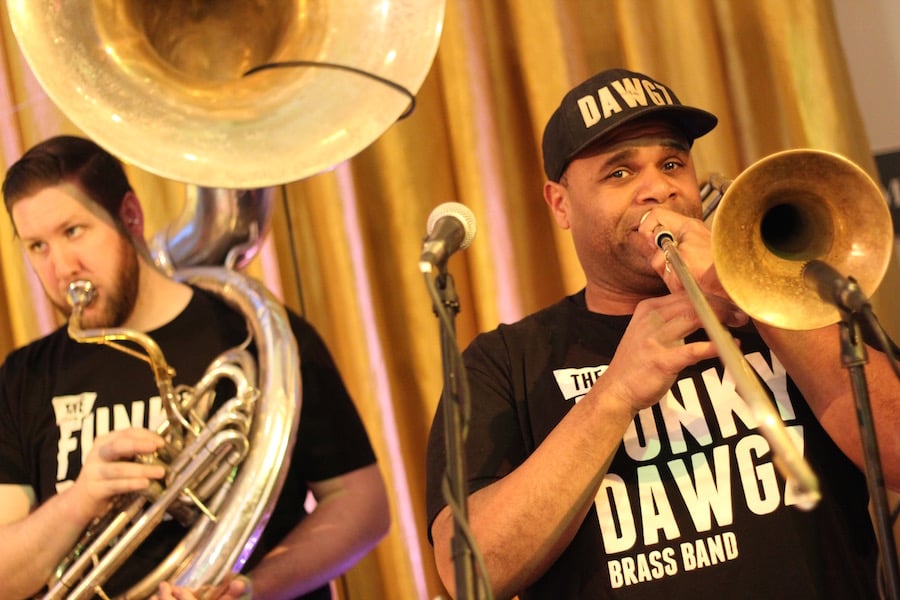 The Funky Dawgz Brass Band brought the entertainment Tuesday.
He added that he sees the theme in a greater context with the current presidential administration, under which elected representatives have been reduced to shouting "liar, liar, pants on fire" in the middle of public hearings.
"If you ban one book, you ban them all," he said. "In that sense … if you allow one thing to discriminate against or banned, you're opening it to other things."
As she perused an array of crispy tater tots, grape leaves and nutty Syrian muhammara from Sanctuary Kitchen, Cubano sandwiches and piping-hot gumbo from Zinc and Amoy's Cajun & Creole, Ife Michelle Gardin took a wider outlook on the theme. Growing up in the Dixwell neighborhood decades ago, she spent hours of her childhood at the Stetson Branch library. There and at home, she nursed a love for the Harlem Renaissance, in particular the work of Zora Neale Hurston.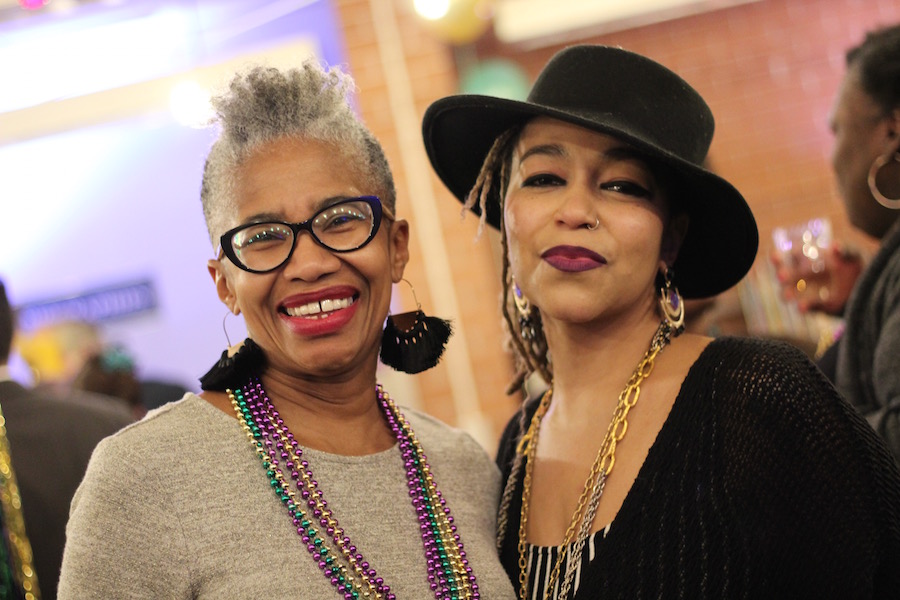 Ife Michelle Gardin with yogi and Holistic Soul Energy Founder Thema Graves.
In middle school, Gardin learned that Lorraine Hansberry's A Raisin In The Sun had had its debut in New Haven, on the stage at the Shubert Theatre before going to New York. She read a letter that the playwright had written during her time in the Elm City, during which she'd stayed at what was then the Taft Hotel. Here was history, unfolding in Gardin's own town, and younger New Haveners had no idea about it.
"There's so much in New Haven," she said. "And there are so many others who are forgotten."
For her, Gardin said, "freedom to read" extends to the inclusion of those voices—and so many more—in the books that kids are able to get their hands on. She tied the theme to a slew of current events, from an upcoming screening of The Trials of Constance Baker Motley at the New Haven Museum to a proposed bill in the Connecticut General Assembly that would require the inclusion of African-American studies in public school curricula across the state.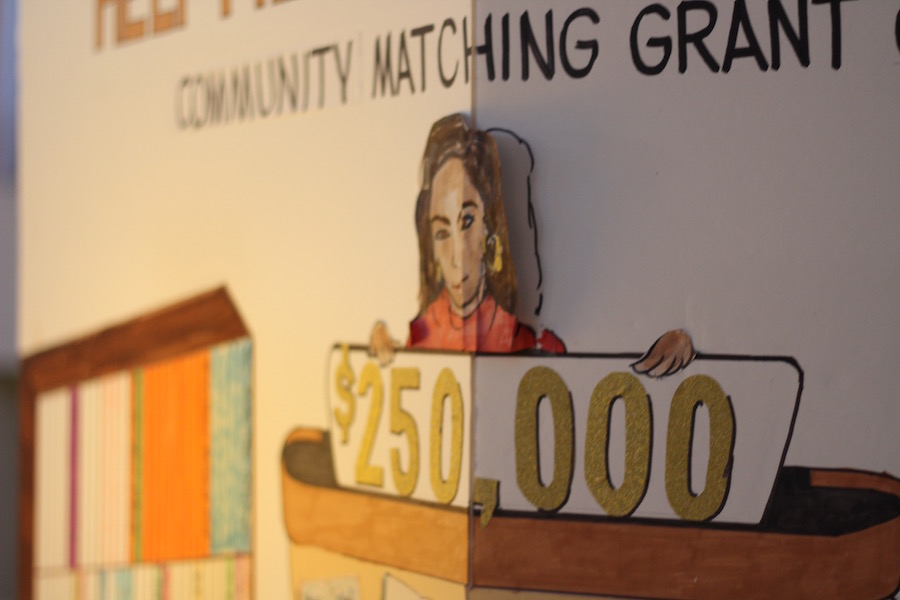 The evening included fundraising efforts for the new Stetson Branch Library in the Q House, for which the library is $300,000 away from its goal.
"How could it not," she asked aloud. She noted in-state resources that would enrich those lessons even further: the Harriet Beecher Stowe Center, Amistad Center for Art & Culture, work of Constance Baker Motley and the Lorraine Hansberry as just a primer.
Every so often, a swell of brass and pop pop pop sounds came from the front of the space, where prizes had been placed inside balloons and were being sold—then quickly popped—for $25. Next to them sat a poster showing funding progress for the new Stetson (the library needs to raise a remaining $300,000, after starting with a $2 million goal in 2017) and several silent auction prizes.
Back by the food, Gardin pushed on, explaining that she sees the freedom to read as a path to history. As a kid, she was the beneficiary of the free breakfast program provided by the Black Panthers. She remembers the Panther trials that rocked the city. She's now in the midst of planning a literary festival with the library, which she said will be held later this year.
"We need to promote literacy in this city," she said. "We gotta come together with this."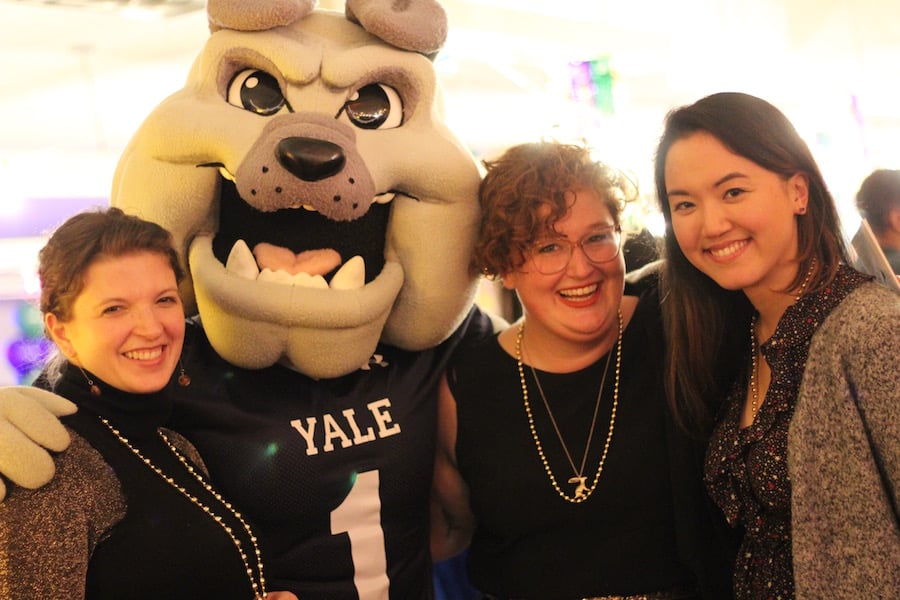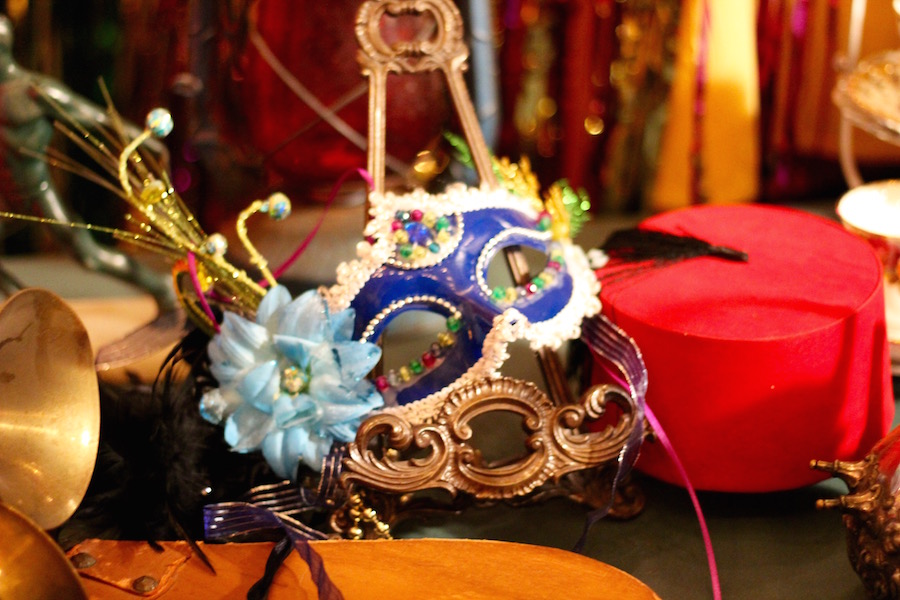 Top: Friends Ashley Sklar, Elizabeth Nearing and Margaret Lee pose with a terrifying bulldog. Bottom: props for Lotta Studio's photo booth.
Down a small flight of stairs and onto the dance floor, attendees were letting loose to a mix of shrill and soulful brass. Just yards away, Lotta Studio's Luke and Mistina Hanscom churned out tens of polaroid photos in a quirky booth. In one shot, fitness coach and NHFPL Board Chair Shana Schneider hugged a big stuffed bear on its hind legs, her velvet jumpsuit glittering in the light. In another, Inner-City News Editor Babz Rawls-Ivy balanced a teacup gingerly on her knee.
Bouncing between the photo booth and the dance floor, wives Dana and Cynthia Astmann said that the theme resonated with them too. As she prepares for a concert with the Fairfield County Chorale this weekend, Cynthia Astmann said she's been thinking about the role censorship and discrimination played for Italian composer Mario Castelnuovo-Tedesco, whose music was banned in Italy because of his Jewish heritage.
A North Haven native, Dana Astmann said it was a theme she didn't think about for some time—her elementary school had championed books, rather than challenged them.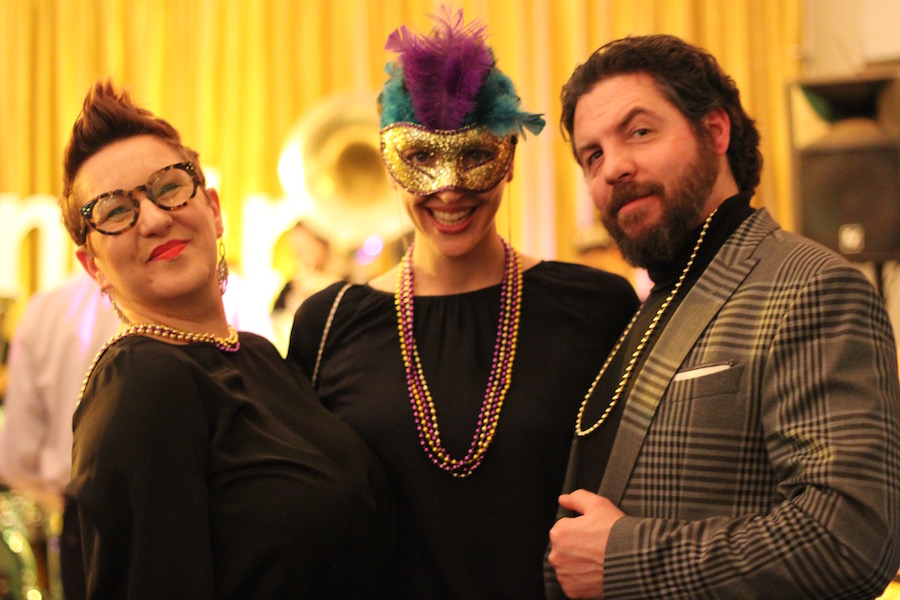 Cynthia and Dana Astmann and fellow Regicides member Louis Mangini.
"I have this memory of someone saying 'books are bad, they make you sad!'" she said. In the skit, which she'd seen in school, it was the villain who spoke those words—and a level-headed hero who came to the rescue, explaining that books can be sad, but they also led to better social and emotional intelligence.
As the grandchild of Holocaust survivors, she said she's been thinking about that kind of censorship a lot since the Trump administration banned the Centers for Disease Control and Prevention (CDC) from using a list of routine, clinical words including "fetus," "transgender," and "vulnerable" a little over a year ago.
"One of the signs of coming terror in Europe was the banning of books," she said.
To get the full video of remarks, visit the Arts Council's Facebook page.