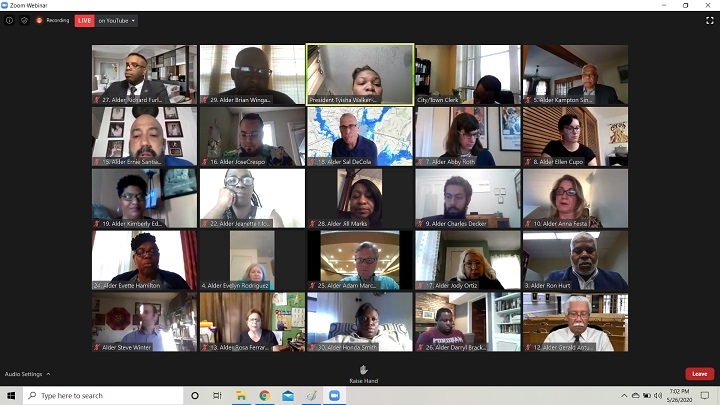 Community Management Teams | Culture & Community | Arts & Culture | New Haven Free Public Library | Elicker Administration | COVID-19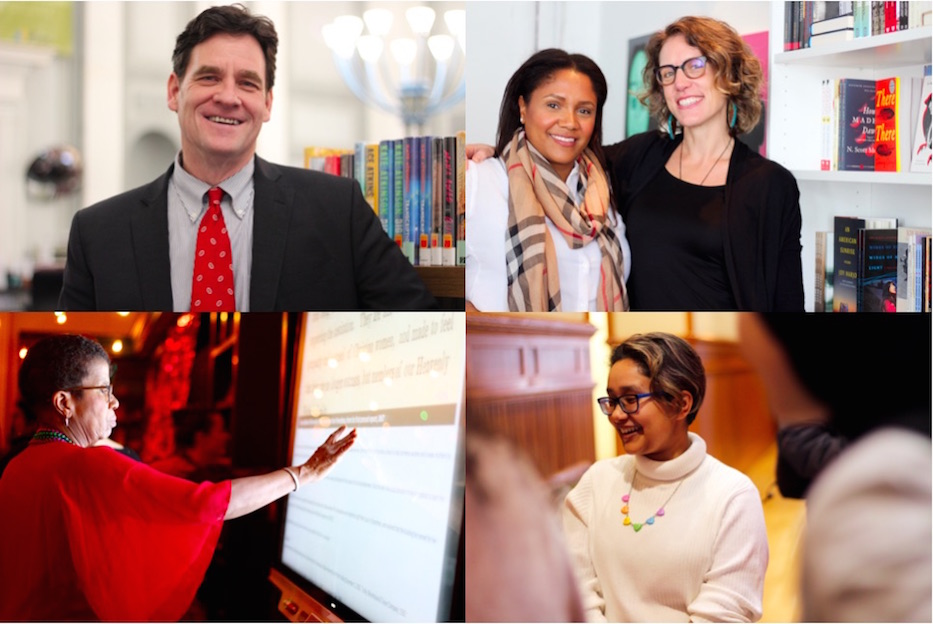 Clockwise, from top: City Librarian John Jessen, People Get Ready Co-Founder Lauren Anderson (pictured with fellow bookworm and People Get Ready Co-Founder Dolores Williams), Metropolitan Business Academy student Adrian Huq, and NHFPL Foundation President Elsie Chapman. Lucy Gellman File Photos.
The library's budget is still being cut, but two positions have been written back in. The Arts, Culture and Tourism Division will live under Economic Development, instead of the Community Services Administration. And a signature fund for community management teams is going away, taking with it support that has often gone toward neighborhood art projects.
That was the cultural news to come out of a special Board of Alders meeting Tuesday night, as the full board convened to approve the city's Fiscal Year 2020-21 budget. The final $567,990,073 budget represents over $5 million in operational and Board of Education-related cuts to the general fund budget that Mayor Justin Elicker proposed earlier this year.
Those cuts represent an effort to spare taxpayers from a proposed 3.56 tax increase (ultimately, they got an increase just over 2 percent). In part, the need for an increase comes from the fact that over 60 percent of the city's grand list—that is, the total dollar value of all city real estate—is now tax exempt. Forty-two percent of that comes from Yale University and Yale New Haven Health.
The budget passed 27 to 1, with a single dissent from East Rock/Downtown Alder Abby Roth. During the vote, Roth said that she felt that she couldn't vote in favor of the budget due to a new "Revenue Initiative" that expects an additional $2.5 million from Yale University and Yale New Haven Health. The meeting was conducted over Zoom.
Mixed Night For The New Haven Free Public Library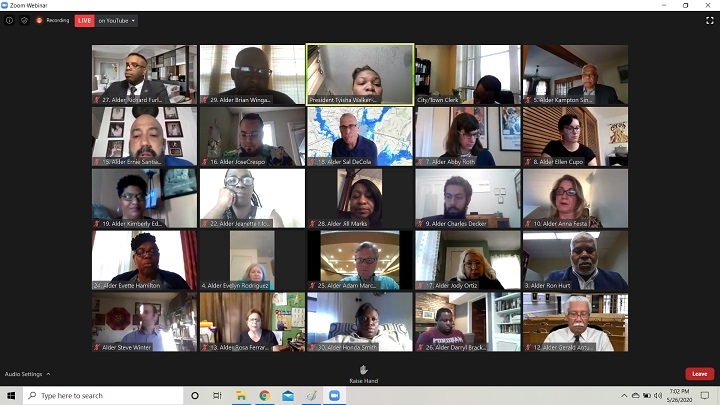 In Mayor Justin Elicker's proposed city budget earlier this year, the New Haven Free Public Library was facing a potential budget cut of over $100,000. The number represented a 4.51 percent decrease from last year's approved city budget, including a $100,000 cut from the database and collections management line item. Another $15,000 cut came from the communications and office equipment line item.
While the library had also requested two new staffing positions for the expanded Stetson Branch, set to open at the renovated Q House next year, the proposed budget did not include funding for either of them. One of those positions is for a teen and young adult librarian. The other is for a library technology information assistant.
Over multiple budget hearings from March through May, members of both the library's board and the public pushed back on the proposed cuts, noting that a $100,000 cut to library collections would result in 4,000 fewer books per year, or a digital resources budget that operates at half of what it does now.
In the midst of COVID-19, the use of those digital resources has skyrocketed. Parents have reached out to say that they are using electronic books and virtual learning resources.Viewership of movies has gone up. The library has set up a new chat function to troubleshoot questions in real time. Alders listened: $40,000 of that funding has been restored.
In a meeting of the Board of Alders Finance Committee last month, City Librarian John Jessen said that any cuts to an already-lean library budget would be difficult.
The library received more good news Tuesday: the two new staff positions specific to the Q House have now been funded, at a total of $100,000. Funding ultimately came from both public pressure and an amendment from Dixwell Alder Jeanette Morrison, who praised the new Stetson Branch as a vital community hub in a historically under-resourced neighborhood.
Tuesday, she thanked her colleagues for recognizing the library as a resource for the community, and particularly for New Haven's kids.
"This amendment shows that although we are in very tough times, we still as a board have made a commitment to our residents," she said. "In regards to the two library positions. Those positions are positions that we have talked about as a board for the past four years."
"At this very moment, the Dixwell/Newhallville community has an opportunity to have a state-of-the-art library in our community for the very first time," she said. "In talking about this dream, this hope—we've discussed it for four years. And now, it's time."
Arts & Culture To Economic Development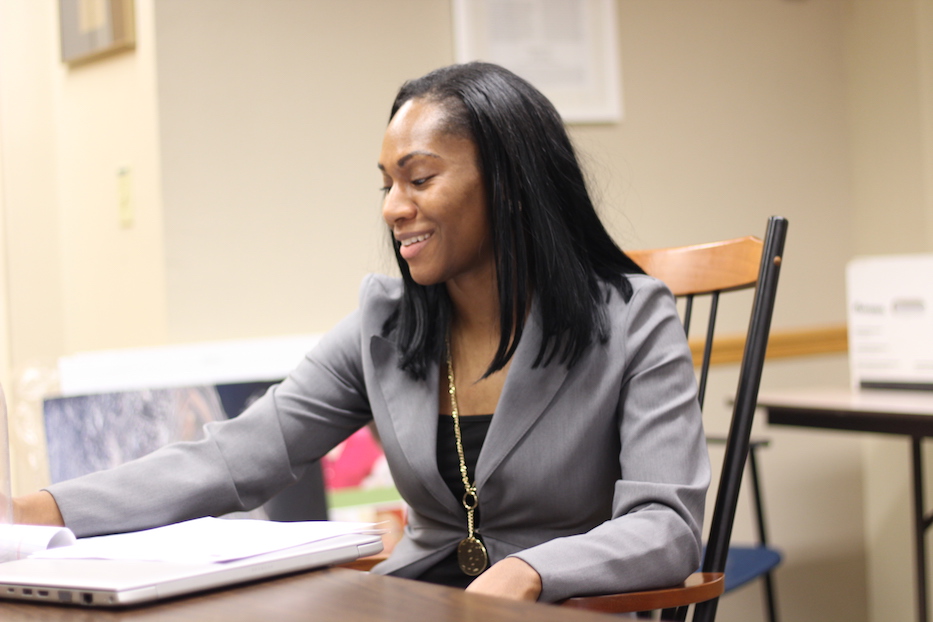 Adriane Jefferson at a Cultural Affairs Commission meeting in February. Lucy Gellman File Photo.
The final budget also represents a restructuring of city government that was already taking place, accelerated by COVID-19 collaboration among city departments. Earlier this year, Mayor Justin Elicker proposed moving Arts, Culture, and Tourism to the city's Economic Development Administration. It previously lived under the city's Community Services Administration, where it was run by the late Andy Wolf until his death last year.
In the city budget for Fiscal Year 2020-21, the division receives $329,423 from the city: $139,423 for salaries (that currently covers two employees) and $190,000 for an all-encompassing "Other Central Services" line item.
The pivot started long before Tuesday. In February, Cultural Affairs Director Adriane Jefferson joined the department and began work on a cultural equity plan that is still underway. When COVID-19 hit in March, she began working with Economic Development Administrator Michael Piscitelli to roll out emergency relief programs, including Together New Haven and the New Haven Creative Sector Relief Fund. She praised Piscitelli for making sure artists were part of the equation.
"I'm really thankful that my department now sits under that administration," she said in an interview earlier this month. "What we are doing is thinking: What can we do for economic resiliency? How do we keep businesses, including creative businesses and artists, who are businesses in their own right, how do we keep them working through all of this?"
With the city, she has put local artists on public health campaigns around COVID-19 prevention and testing. She has launched The Civic Space, a series of virtual conferences dedicated to work, arts, urban planning, organizing and mental health while living through a global pandemic.
Under the Economic Development Administration umbrella, she said that she plans to continue work on the city's cultural equity plan, the need for which she now feels even more urgently.
"The biggest part of this role is connectivity with people," she said. "No matter what that is, no matter what rolls out of this department, really has a lens on diversity, equity, and inclusion … how we are using the arts to break down barriers so that we can have some real conversation and some real problem solving about social change initiative."
Farewell NPIP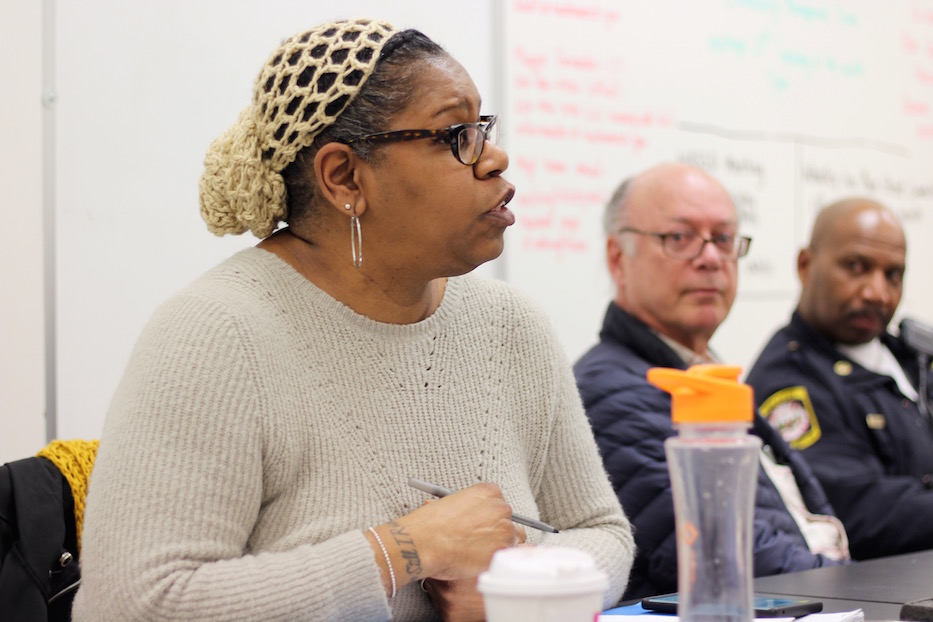 Nadine Horton, chair of the Whalley/Edgewood/Beaver Hills Community Management Team, at an NPIP vote in February. Lucy Gellman File Photo.
Tuesday's vote eliminated the Neighborhood Public Improvement Program (NPIP), a project of the city's anti-blight Livable City Initiative that has provided thousands of dollars to community projects in the last several years. Normally, the funds are distributed through the city's community management teams, of which there are 12.
The cut was proposed in an amendment earlier this month, in a meeting of the Board of Alders Finance Committee. At the time, Westville/Amity Alder Richard Furlow proposed reallocating the $100,000 in funding to a tree litigation settlement fund. Tuesday, the settlement fund was also eliminated by the full board.
The elimination brings an end to projects that have often centered community gathering and public art, from Newhallville's Teen Ambassador program to highway overpass and underpass murals, school-based arts programming, free community concerts and Fair Haven's annual Quinnipiac River Festival.
The decision comes on the heels of this year's round of funding, which included support to bookstores and literary festivals, a playground, neighborhood beautification efforts to connect Downtown and Wooster Square, and most recently Personal Protective Equipment (PPE).