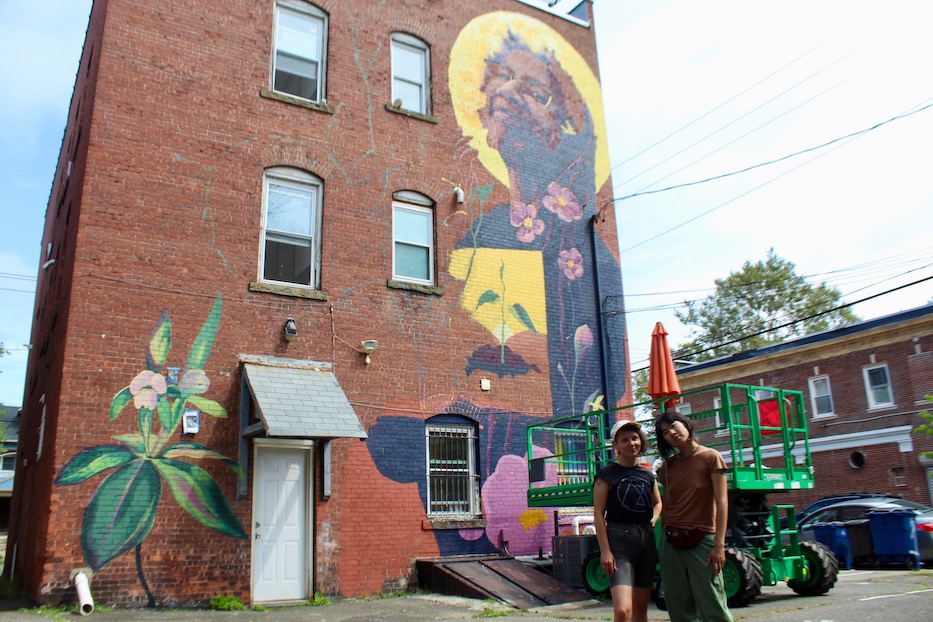 Culture & Community | Public art | Arts & Culture | Whalley/Edgewood/Beaver Hills | Arts & Anti-racism | Possible Futures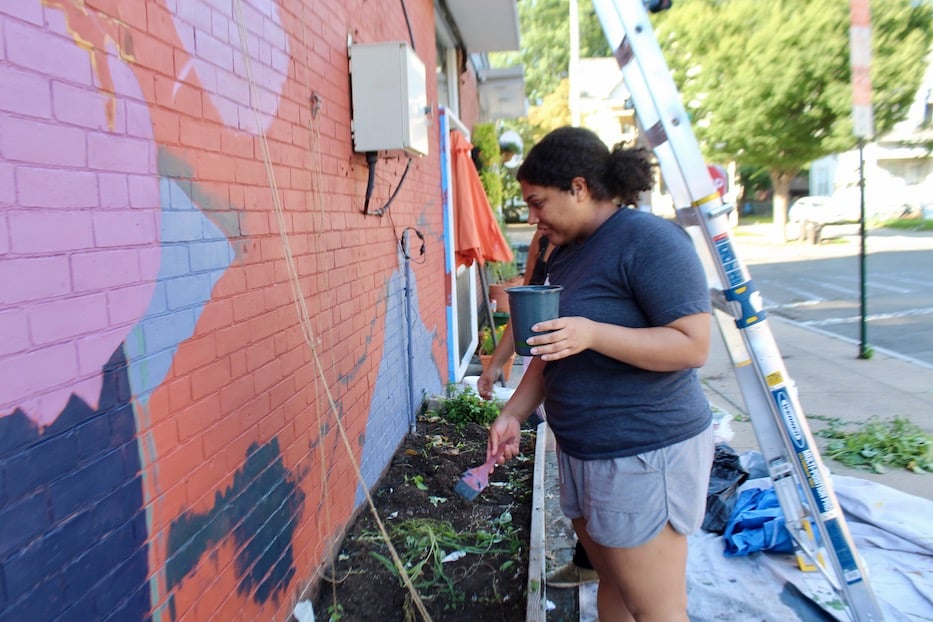 Ana Reyes, the Green Jobs Corps Coordinator at Common Ground High School. Lucy Gellman Photos.
Ana Reyes dipped her brush into a cup of deep gray paint, scanning the wall for an exposed patch of brick. One brushstroke at a time, she reconnected with New Haven's history of resistance, from the Black Panther Trials to a student walkout for an immigrant dad in sanctuary. Around her, the sun soaked the pavement, making the corner pulse with color.
Last Wednesday, Reyes was one of a dozen painters to leave her mark on a mural of Ruth "Ruthie" Wilson Gilmore in New Haven's Edgewood neighborhood, where the artist Jess X. Snow and community members have breathed new life onto the sides of Possible Futures bookspace. The project, which has been over a year in the making, is a collaboration among Snow, the Intergenerational Abolition Project, Possible Futures and several scholars, students and neighbors whose work informed the design. The mural is also supported by the Endangered Species Mural Project, an initiative of the Center for Biological Diversity.
"It's really nice to see it all come together," said Snow, who seemed to be in constant motion Wednesday as they worked, assigned various tasks, and talked to passers-by about the meaning of the mural. Half a year ago, they saw Gilmore speak at an event hosted by The People's Forum and instantly fascinated with her scholarship. "There's so much community support for this … I can see the love and care that people have put into this project."
The mural, which formally started last week and has drawn collaborators from across the city and region as well as New York, Philadelphia, and Vermont, recognizes both Gilmore's work and New Haven's revolutionary and abolitionist history, from a thriving chapter of the Black Panther Party to Black Lives Matter marches, rallies and teach-ins that defined the summer and fall of 2020. When painting began last week, it also marked the one-year anniversary of Possible Futures, which opened last August in a former neighborhood branch of the New Haven Free Public Library.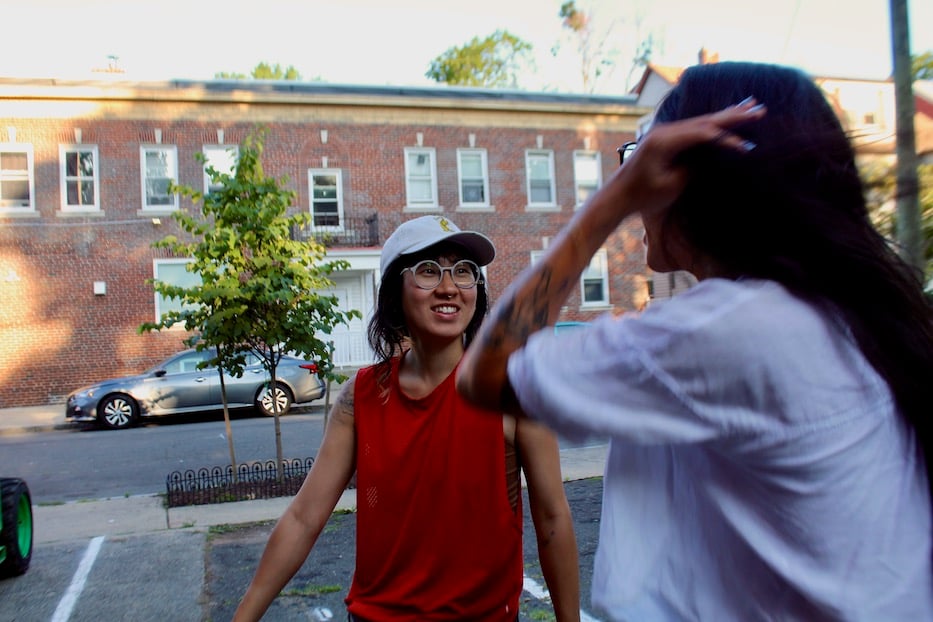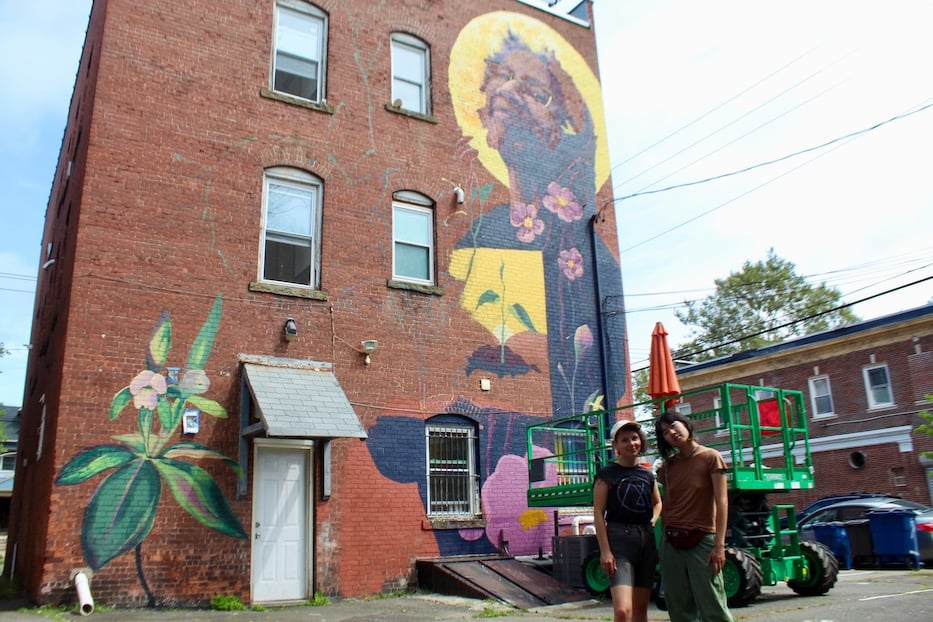 Top: Jess X. Snow last week, as artists worked on the back of the mural. Bottom: Nataliya Braginsky and Jess X. Snow with the mural on Monday.
It has been a particular labor of love for Nataliya Braginsky, a former Metropolitan Business Academy teacher who is a founding and core member of New Haven's Anti Racist Teaching and Learning Collective (ARTLC). In the spring, Braginsky ran an Intergenerational Abolitionist Project book club and working group out of Possible Futures with James Hillhouse High School senior Elsa Holahan. That, paired with the work she has done building a Black and Latinx studies curriculum for and with New Haven Public Schools students, became a foundation of the project.
"All the folks involved in the Intergenerational Abolition Project for the last several months have made it feel real," said Braginsky on Monday afternoon, as a haloed Gilmore rose behind her, keeping watch over Hotchkiss Street. "It really has been a long time in the making … it's a different thing to be here, in the presence of Ruthie."
Gilmore, who grew up in New Haven and provided input on the mural, is an internationally recognized geographer and prison abolitionist, whose pioneering work in the field of carceral geography has shifted how people think and talk about the relationship between built environments, social conditions, prisons and punitive systems.
But before she was ever an author, academic and professor at the City University of New York (CUNY), she was the daughter of New Haven activist and community organizer Courtland Seymour Wilson, whose work with unions and students alike at the Winchester Arms Factory, Yale Medical School and Yale-New Haven Hospital is only part of his story.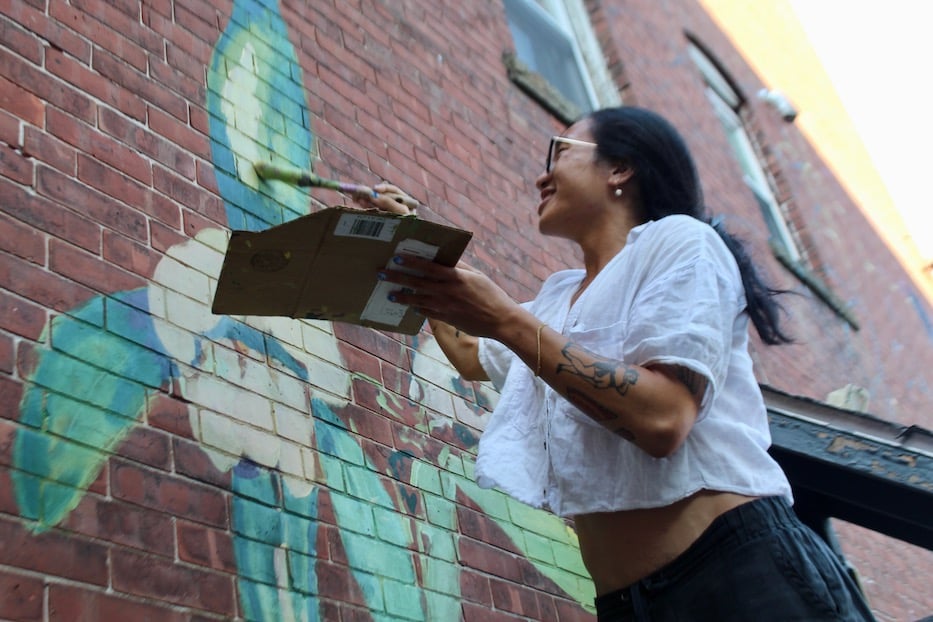 Antonius (they declined to give their last name) working on the side closest to the parking lot.
Before his death in 2000, Wilson was also instrumental in organizing in the Hill and building up the Hill Development Corporation, which for years bought and restored homes in New Haven's largest and most diverse neighborhood. The Wilson Branch Library, at which Gilmore spoke last year, is named in his honor. In its fight for access—a fight that the ARTLC and Possible Futures are also a part of—there's a continuation of the Wilson and Wilson Gilmore legacy that is very much alive in the city today.
The mural, meanwhile, marries that work with the city's history of resistance. On a side of the building facing Hotchkiss Street is a tableau of native flora and fauna that also references New Haven history, including Gilmore's childhood and family in New Haven. On the back of the building, a larger-than-life rendering of Gilmore rises to the third story, her face turned toward the sun as she smiles a warm, easy kind of smile that feels like home.
A golden halo shines around her head, making clear that the work of liberation is indeed holy. In her hands are seedlings, representing the young protest movements that have sprouted (and are continuing to sprout) from her lifetime of scholarship.
Together, they set out to tell a story of the city's past, present, and budding future or futures. With community input, Snow proposed including scenes of Gilmore's mother, Ruth Wilson, at the Black Women's Boycott, of Gilmore's father at a Machinists Union vote at the Winchester Repeating Arms Company, of Black Panther John Huggins, who was also her cousin, of the Dixwell Avenue United Congregational Church of Christ, which was founded by abolitionists seeking to end slavery and has flourished in New Haven for over two centuries.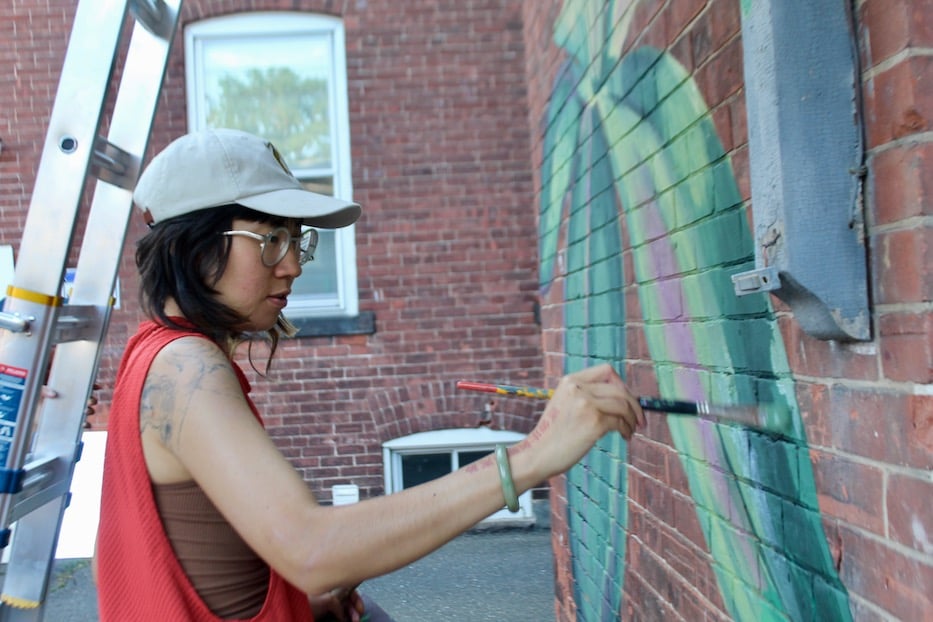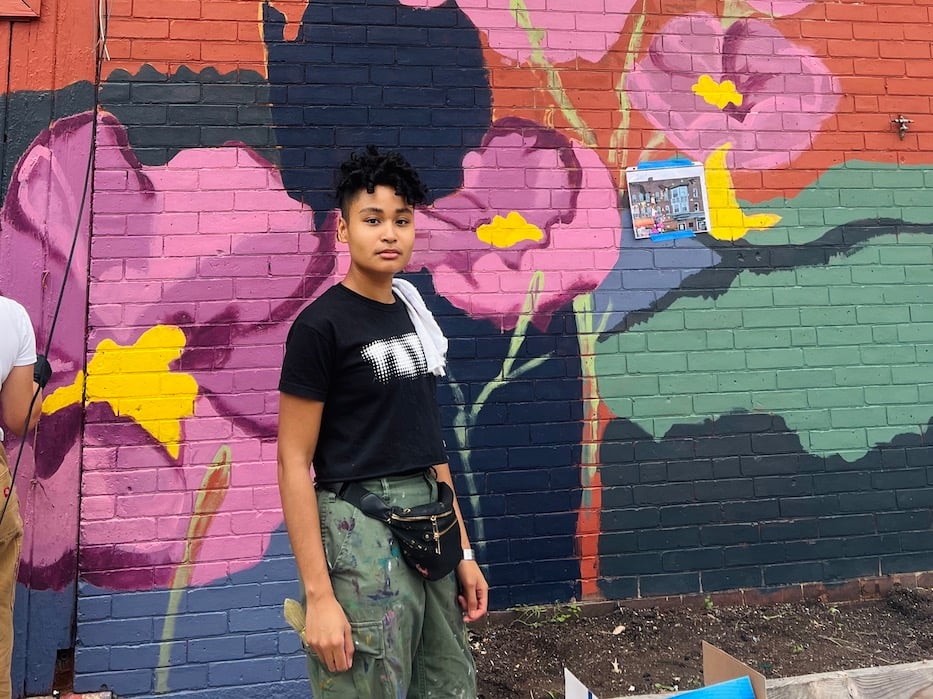 Top: The artist Jess X. Snow, who is based in New York but travels across the country for their projects, at the mural site. Bottom: Sonja John, lead assistant on the project, who lead volunteers in the street-facing side of the mural. Contributed photo.
In between, artists have added a nod to New Haven organizers of the present, including the young activists in Citywide Youth Coalition who have rallied for Black lives and called for more counselors and social workers rather than cops in their public schools. "As Ruthie teaches us, 'What the world will become already exists in fragments and pieces, experiments and possibilities,'" reads an artist's statement.
The confluence of that history and Gilmore's work also resonates at 318 Edgewood Ave., a community bookspace and apartment building in a neighborhood that was subject to redlining, and now sits just over half a mile from the New Haven Correctional Center and abandoned armory on County and Goffe Streets.
Last Wednesday and again on Monday afternoon, several community members said that it was that very legacy—and the chance to be part of it—that brought them out to work on the mural. The Green Jobs Coordinator at Common Ground High School, Reyes remembered feeling excited the first time she heard about the artwork and knowing immediately that she wanted to leave her mark on it.
The city, to which she moved from Brooklyn when she was 13, was her entryway to political consciousness and activism, which happened largely inside the classroom. During her time as a student at Common Ground—she is a 2021 graduate of the school—she learned about the Black Panther trials of 1970, the politics of being a sanctuary city, and the patterns of de facto segregation that grew out of redlining, urban renewal, and eminent domain.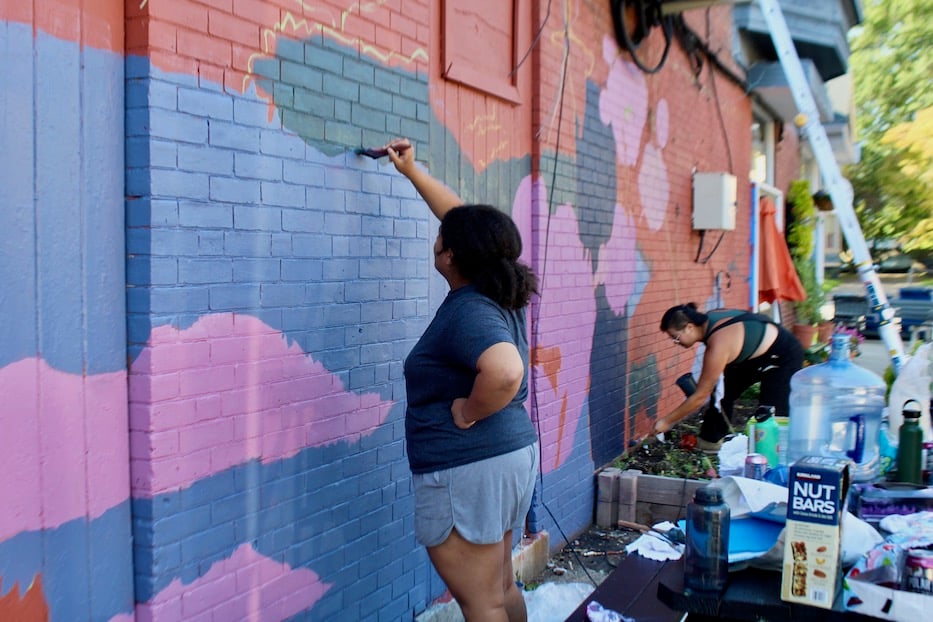 Ana Reyes (in the foreground) and Esther Chiang.
New Haven taught her how to be an advocate, she said. She and classmates saw the old Dixwell Community Q House before it was torn down. With the Urban Resources Initiative (URI), she planted trees to remember those lost to violence in the city. In 2018, she marched with hundreds of New Haven Public Schools students in support of Nelson Pinos, a New Haven father of three who spent almost four years in sanctuary at First & Summerfield United Methodist Church in downtown New Haven.
It was only after she graduated, in August 2021, that he was granted the stay of deportation that his family, advocates, and legal team had been asking for all along.
So when she had the chance to leave her mark on a work that celebrated that history, it was a no-brainer. She can still point out the trees she planted in high school, and often does when she passes them ("I'm like, I did that!" she said with a smile). This is similar, she said: she's putting down deep roots that she hopes future generations will continue to nurture and grow.
"There's a huge sense of accomplishment," she said. "Like, I'm contributing to something that will give back to the community, and the place where I live."
That was also true for Esther Chiang, the food justice education coordinator at Common Ground High School, who had told Reyes about the community paint days. Prior to this month, she wasn't familiar with Gilmore's work, but said she would have described herself as an abolitionist if asked. For her, it was a nice welcome to New Haven—she's only lived in the city for two months, and is still getting to know it. She heard about the project through a neighbor, with whom members of a creative team were staying last week.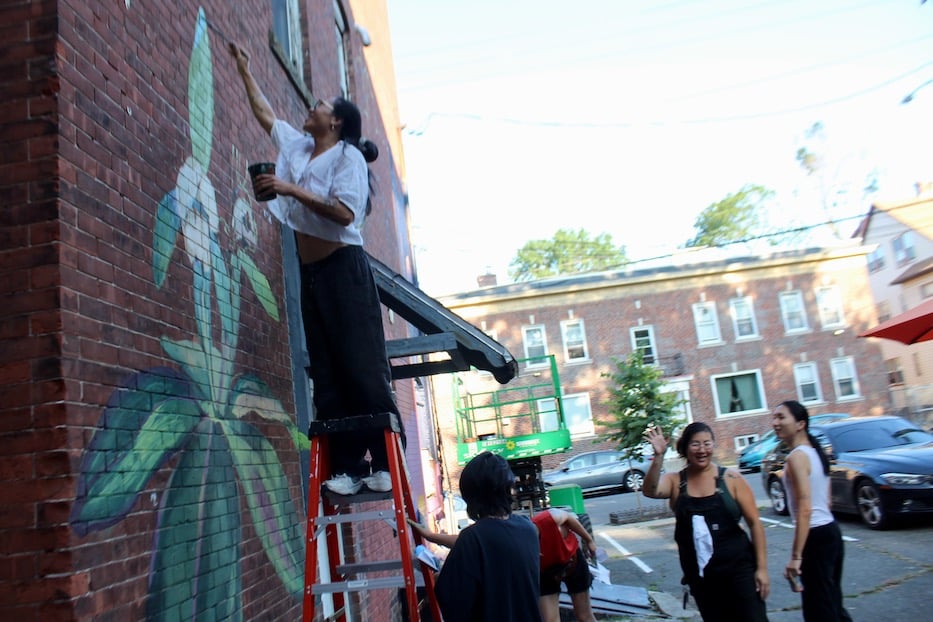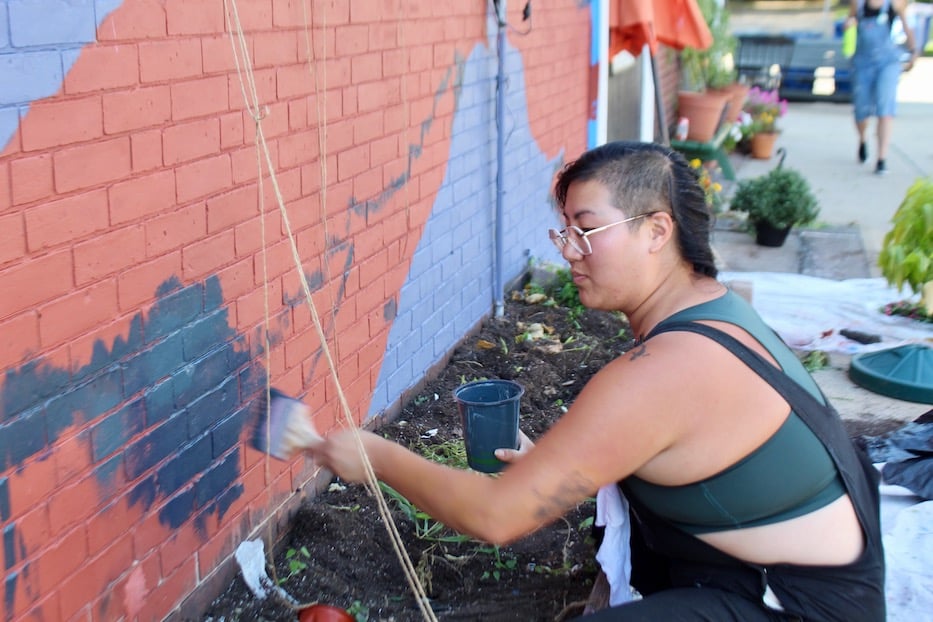 Top: Antonius and Duan, another member of the mural's creative team. Bottom: Esther Chiang.
Before coming on Wednesday, she and Reyes read up on Gilmore's work, and realized they were in lockstep with what she had to say. By 4 p.m., she had a brush and a cup of pink paint in her hand and was working on a patch of wall that would become the backdrop to Gilmore's past and present in New Haven. After taking a moment to find her rhythm, she stayed for three hours.
As the two worked on an undulating background of gray, pink, and purple, Project Manager Gavriel Cutipa-Zorn bounced from spot to spot, fielding questions as he went. Born and raised in Central Florida, he first read Gilmore's work while studying at Brown University, and found that her scholarship on agriculture and prisons put into words something he had seen and experienced for years, but never quite been able to describe.
"It gave me a language to understand those systems that you see as a child," he said. At the same time he was reading Gilmore's work, he was getting involved in Central American and Palestinian solidarity work in Providence, where he attended undergrad (he later brought that with him to New Haven).
In 2019, he and Snow launched a mural project dedicated to parallel conflicts at the U.S.-Mexico and Israel-Palestine borders. By then, he had met Braginsky in New Haven, to which he'd moved for his graduate work at Yale University.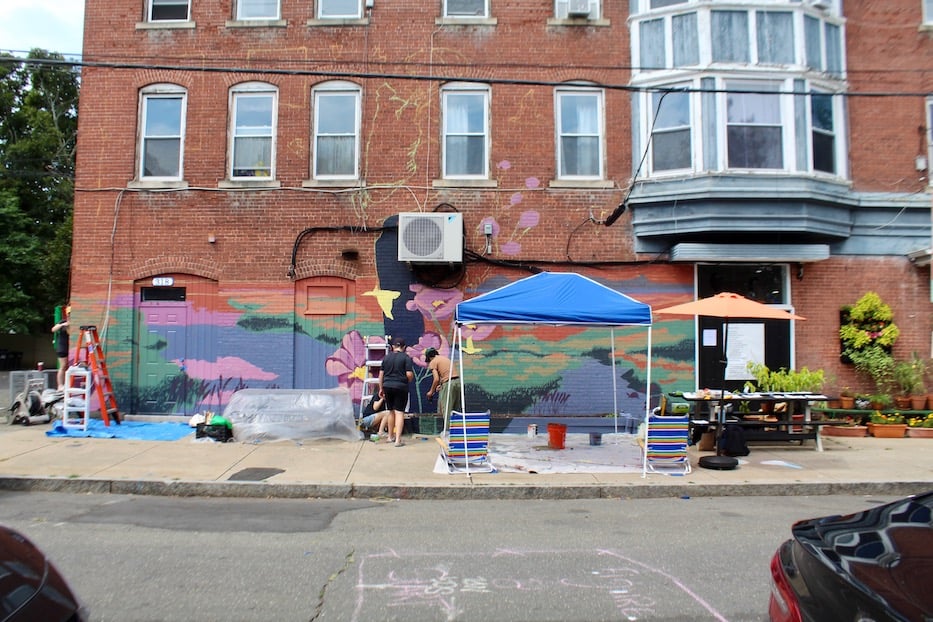 The work coming together on Monday.
"I'm not a muralist, but Jess and other people show you [what to do]," he said, pointing out the birds that fly from Gilmore's past to her present, guiding viewers from the movements of the last century to the current one. "What we're trying to capture is that there's a flashpoint, but there's also something that needed to be nurtured before that and after that."
As she bounced around the sidewalk with a hose and her faithful pup, Sugar, Possible Futures founder Lauren Anderson said she was excited to see the mural taking shape. When the Intergenerational Abolition Project started meeting, there were still questions around "where it could go and what it might look like," Anderson said. Several months later, she's finally watching it morph from a thought experiment to a vibrant corner of the neighborhood.
"It feels great," she said. "There have been all these sweet moments … I think of them as fist bumps from the universe. A silly little thing that makes you feel a little bit blessed by some higher power."
By Monday afternoon a haloed, laughing portrait of Gilmore had appeared fully, rising over the cracked asphalt of a parking lot behind the building. Sharing space with pots of green tomato plants and fragrant sprigs of lavender, Hamdenite Justin Farmer lifted a brush coated in purple paint, finishing the violet petals of poppies in bloom behind him.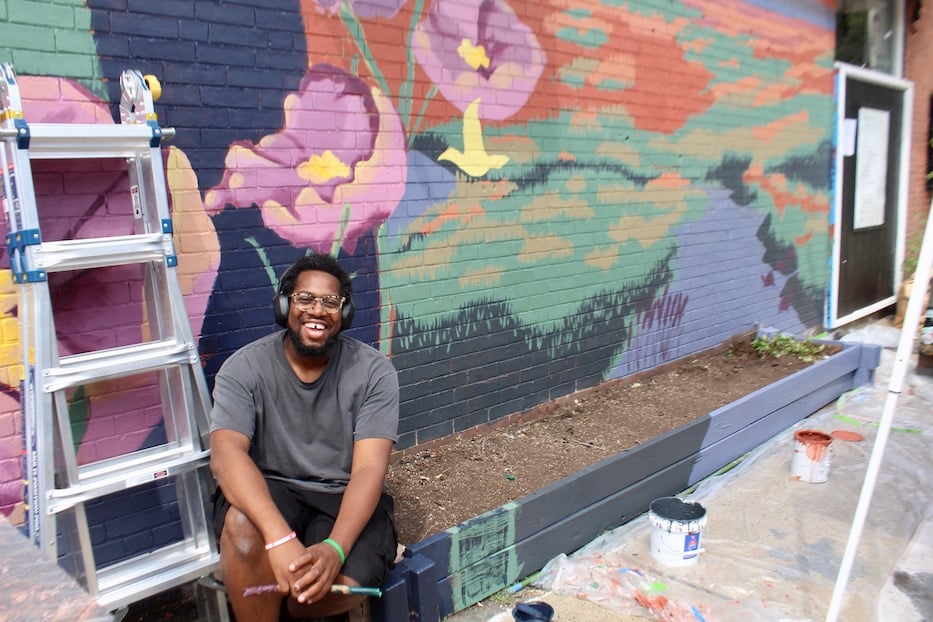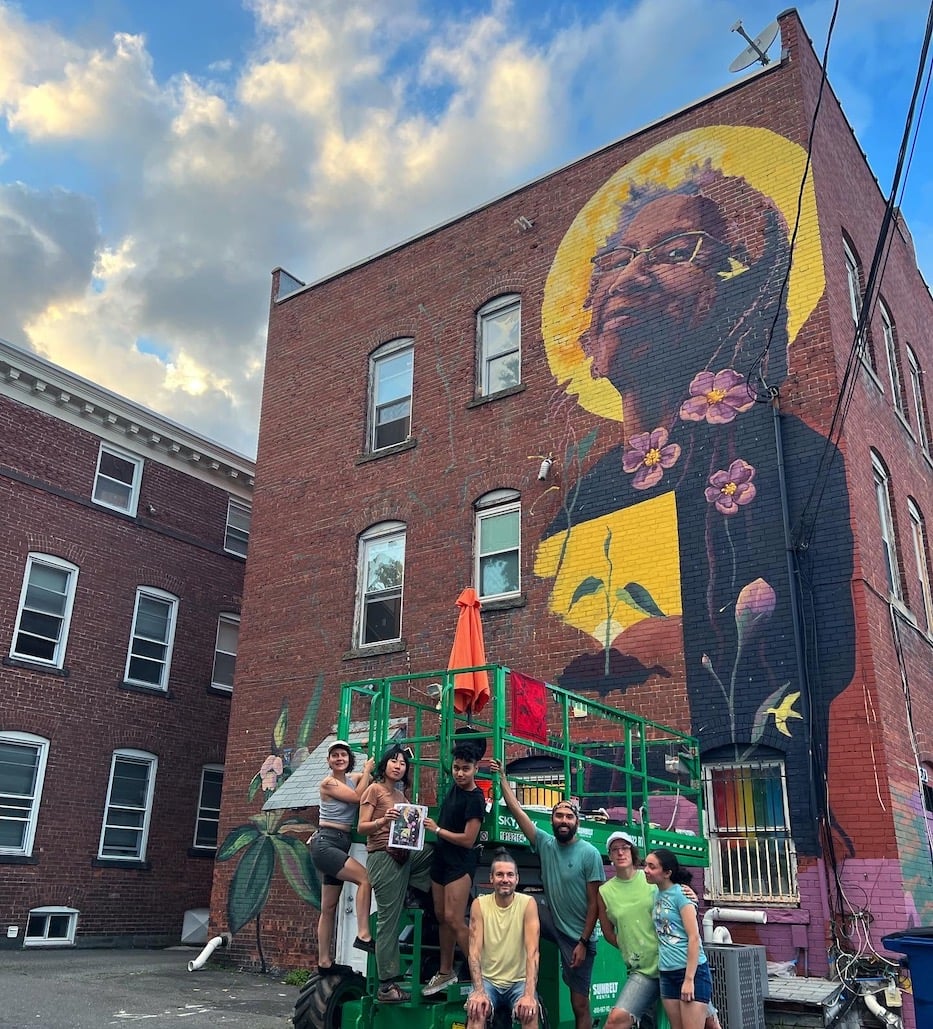 Top: Justin Farmer, who lives (and has served on the City Council) in Hamden but has contributed to several works of public art in New Haven. Bottom: Possible Futures founder Lauren Anderson and her partner Chris Barnard with Braginsky and members of the creative team, which also includes assistant William Cassidy. Contributed Photo.
"We don't always get the chance to learn about local people," he said, noting that he grew up close to the old Winchester plant, but didn't know about Wilson's organizing efforts until much later. "I feel like a lot of New Haven history is hidden."
That's also the case for Gilmore, he said: he didn't know about her work until recently, although he's been aligned with abolitionist theory for years. In the months after George Floyd's murder in May 2020, Farmer said he changed his position on law enforcement and prisons from reform—meaning that he thought they were imperfect systems that could be improved—to complete abolition. Hearing the phrase "Defund the Police" spoken in plain language "made it tangible for me."
When he had the chance to contribute to the mural, he said, he was glad to take it. While he's worked on three murals in New Haven and Hamden (read about those here, here, and here), all of them have taken place on the Farmington Canal Heritage Trail. This is the first one he's helped paint that is rooted in a neighborhood. In a city still lacking in public art, he said, he's glad to see it.
"There's so much possibility right here at Possible Futures," he said. "It shows the kind of community investment that's needed to inspire hope. This doesn't take too much. It just requires people and vision."