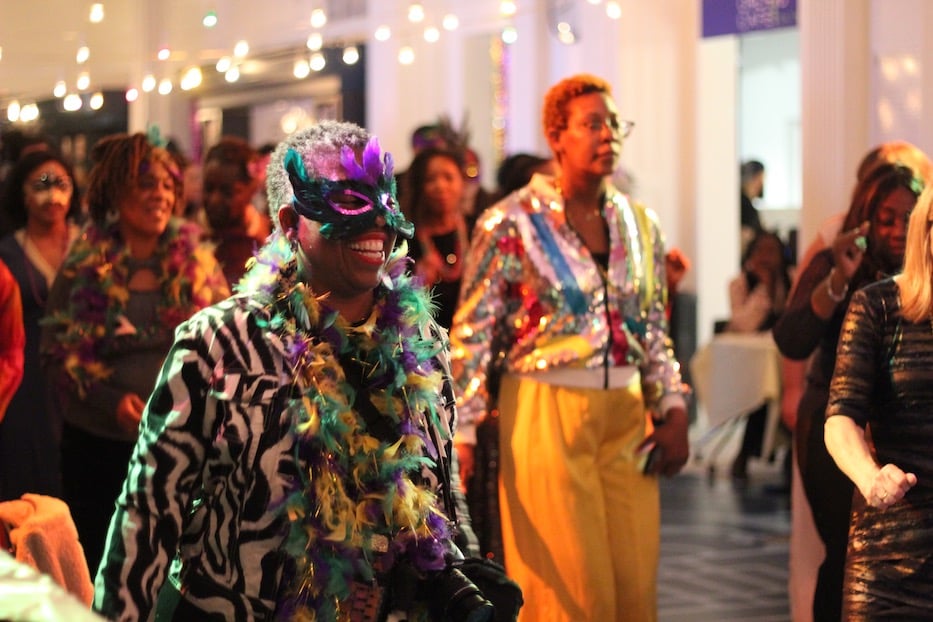 Culture & Community | Downtown | Mardi Gras | Music | Arts & Culture | New Haven Free Public Library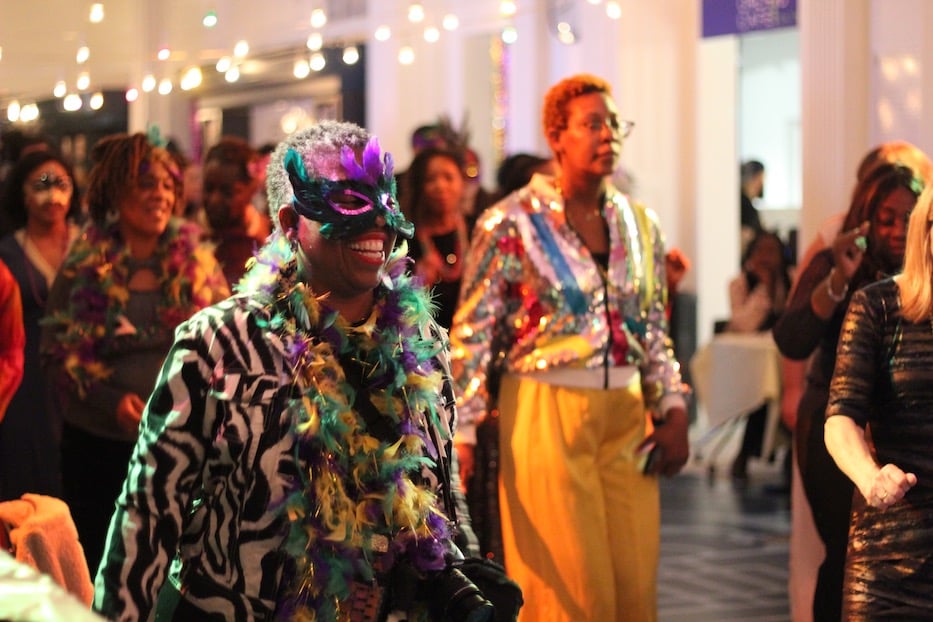 Filmmaker and photographer Lydia Douglas tears up the dance floor during the Cupid Shuffle. Lucy Gellman Photos.
Shelves packed with new releases disappeared for a table heavy with canapés and bright, festive blooms. The reference desk became a bar, with gem-colored cocktails that multiplied as the night wore on. The makerspace turned into a dance floor, the second floor lobby into a stage. And once the Cupid Shuffle came on, not a single pair of feet stayed still.
No one asked patrons to turn down the volume. No one whispered. And true to form, no one went home without a story.
The good times rolled back into the Ives Main Branch of the New Haven Free Public Library (NHFPL) Tuesday night, as 200 bibliophiles, friends and new and lifelong patrons gathered to celebrate Mardi Gras in person for the first time since early 2020. For the past two years, celebrations have continued entirely online, with conversations between literary luminaries and remote fundraising efforts.
Tuesday, it roared back to life just in time for the library's 136th birthday. The Ives Main Branch of the New Haven Free Public Library initially opened on Feb. 21, 1887.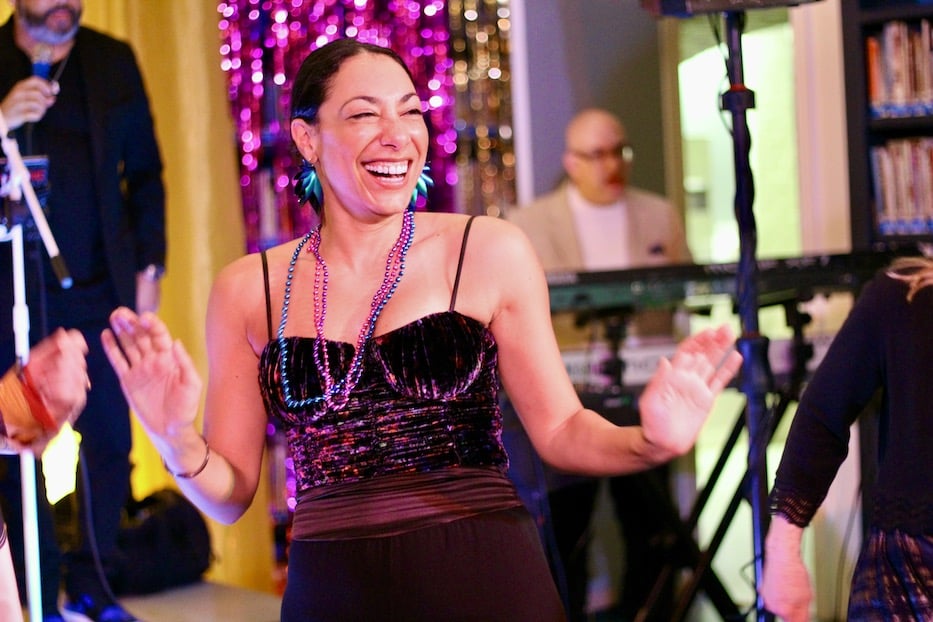 Shana Schneider, who sits on the NHFPL's board.
"Today is a special day, where we really come together beneath this beloved cosmopolitan canopy, in the place that is the greatest public good, and that is so good for the public," said Michael Morand, chair of the NHFPL Foundation's Board of Directors. "Us being together in three dimensions is fitting in this place that has led the way to being open and bringing people together."
The New Haven Free Public Library Foundation does not yet have the amount raised. Manmita Dutta, director of advancement for the foundation, said that over 200 people attended.
Throughout the night, the event became a bead-studded call to support the library and its staff as it works toward another 136 years—and more—in New Haven. In the past century, the library's branches have grown into community hubs, art galleries, warming and cooling centers, spaces for professional development, pop-up tax offices and even vaccine and booster clinics. There are currently five, which reach out from downtown like sparkling tentacles across the city.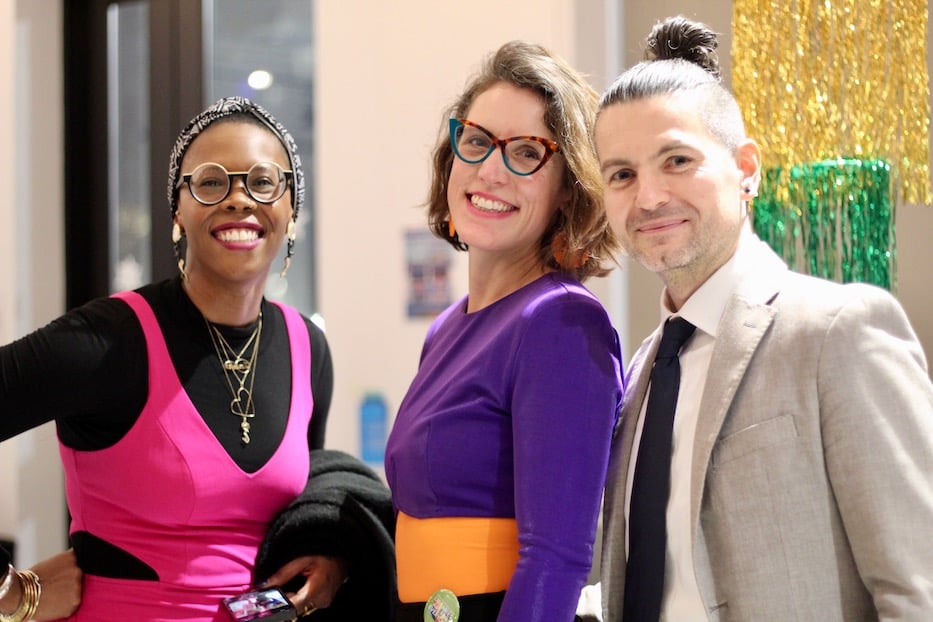 Markeshia Ricks, Lauren Anderson, and Chris Barnard.
Since the last in-person Mardi Gras, the NHFPL has navigated a pandemic, weathered the city's threat of a branch closure, lost beloved City Librarian John Jessen, opened the new Stetson Branch Library, rallied for fairer wages, and launched its search for a new city librarian. Tuesday, Acting City Librarian Maureen Sullivan, who arrived last June, said that she will likely be leaving in May.
"It's wonderful to be back together in this beautiful, sacred sanctuary—not just for books, but for ideas, identities, intersectionalities and our whole community," said NHFPL Board Chair Lauren Anderson. Lifting a copy of Nikki Giovanni's A Library to cheers, she stressed Giovanni's words, that "A library is a place to be free."
And Tuesday, it was. At the reference desk, Ordinary New Haven Co-Owner Tim Cabral turned out blush-tinted cocktails in honor of former City Librarian John Jessen, who died last May after a years-long battle with cancer. After learning that Jessen loved mojitos almost as much as his hometown of Strawberry Point, Iowa, Cabral designed a drink with a strawberry and mint simple syrup, lime juice, soda water, rum, and a strawberry-absinthe mist.
For the next month, people can also find the cocktail at Ordinary, where a portion of each drink will go back toward the library. As Jessen's memory filled the space—Tuesday was magical, but conspicuously bereft of gentle banter, well-placed dad jokes and a surprising love for flyover country—attendees toasted to him over and over again, floating across the floor.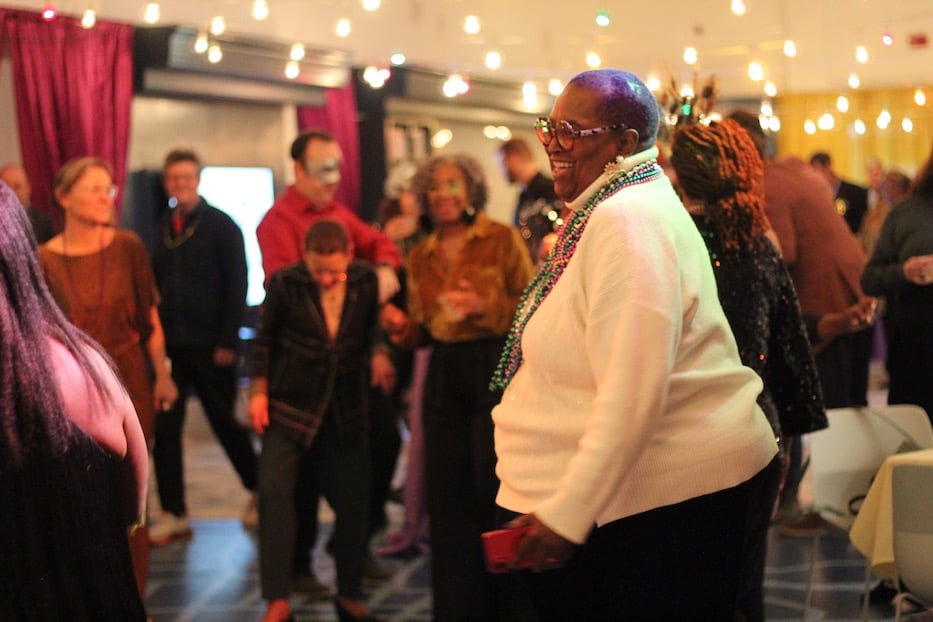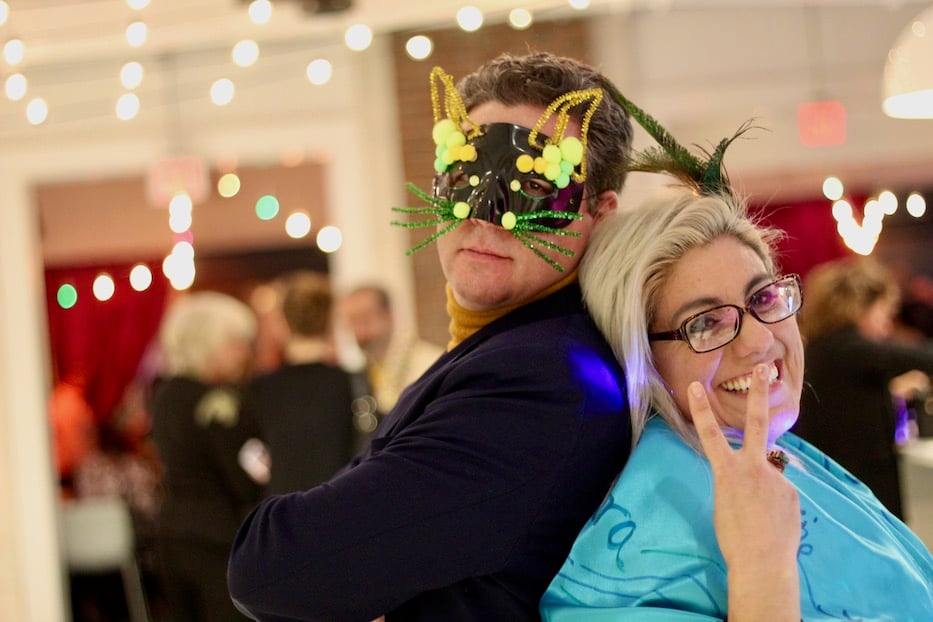 Top: Inner-City News Editor Babz Rawls Ivy. Bottom: Lou Mangini and Gabriela Campos.
One room over, Ives Squared was suddenly a ballroom, dripping with traditional Mardi Gras gold, green, and purple in every direction. As musician Timmy Maia soaked the space in sound, longtime patrons and Mardi Gras newbies alike pledged their support for the library, many taking time to reflect on what it has become for them. Beneath Maia, musicians Trever Somerville, Jay Rowe and Wayne Brown turned cover songs into a proper jam.
Taking a break from the dance floor, climate activist and organizer Gabriela Campos remembered coming to New Haven two decades ago, and falling quickly in love with the library. As an immigrant and a mom, the Ives and Fair Haven Branches became her safe havens dozens of times over—they still are today.
When her sons were young—her oldest is now 17—she would bring them to the library in search of not just books, but story hours and kids' programming with librarians, chess lessons at multiple neighborhood branches, and books that made their world seem much bigger than New Haven's 19 square miles. Thinking back, she remembered finding a well-loved Mongolian origin story among the stacks, and being able to check it out and bring it home with her. She and her sons read it over and over.
"It's just been a part of living in New Haven," she said. She recalled how proud she felt years ago, when she saw that librarians were among the first—and the most vocal—to take a stand against the U.S. Patriot Act in the early 2000s. When Lunar New Year celebrations returned to the library this year, they were there to welcome in the Year of the Rabbit. Recently, her son signed up for classes at Ives Squared, where he is learning to use a laser cutter.
"You think of librarians as mousy and quiet, and they're so badass," she said. "I just love it."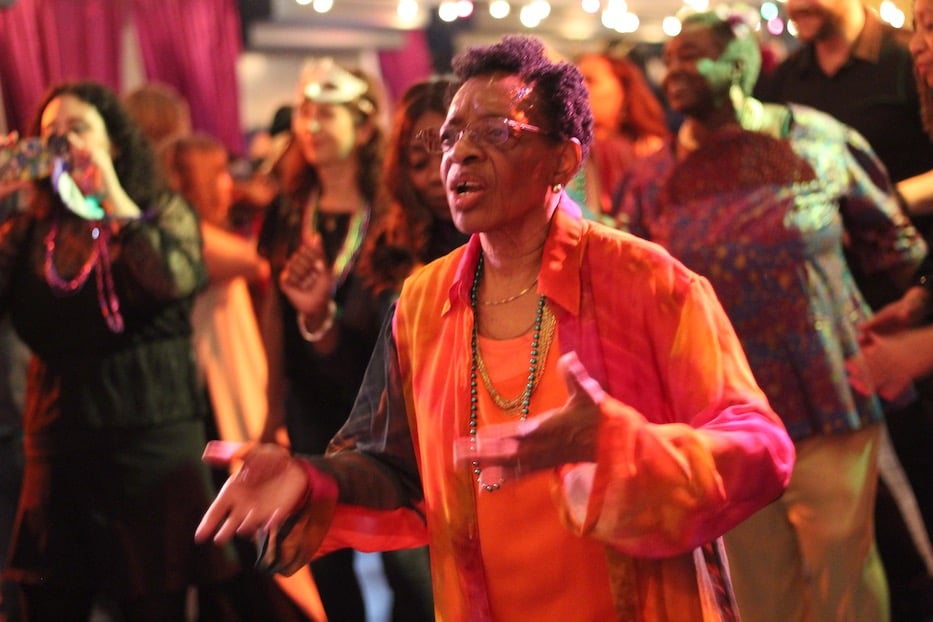 Greater New Haven African American Historical Society (GNHAAHS) Co-President Diane Petaway.
Back in Ives Squared, the party was heating up. As Maia crooned his way from The O'Jays to Prince to Frank Sinatra, dozens filled the dance floor, pulling out their best moves. At the center of the action, Greater New Haven African American Historical Society (GNHAAHS) Co-President Diane Petaway lifted her arms and let a cover of "Give It To Me" take her away. She spun slowly, a blur of orange and red silk, and Rowe hit just the right note on keys.
A longtime New Havener, Petaway had never been to Mardi Gras, and wanted to give it a try after hearing that it was a great party. Raised in New York, she grew up visiting the library on trips to see her grandmother, who lived close to Dixwell Avenue and the old Q House. In the 1960s, she moved to New Haven because she loved it so much. For her and her daughter, Valerie, the old Stetson became a space for not just books, but also programming and community meetings.
As the co-president of the GNHAAHS, she now uses the new Stetson Branch Library across Dixwell Avenue as a community meeting and event space. After trying out Mardi Gras because she loves to dance—it's how her parents met in New York years ago—she said that she'll be back next year.
"Time goes by so fast, baby, you don't know if you're going to be there tomorrow," she said. "I'm so glad I came. Really, I had a good time."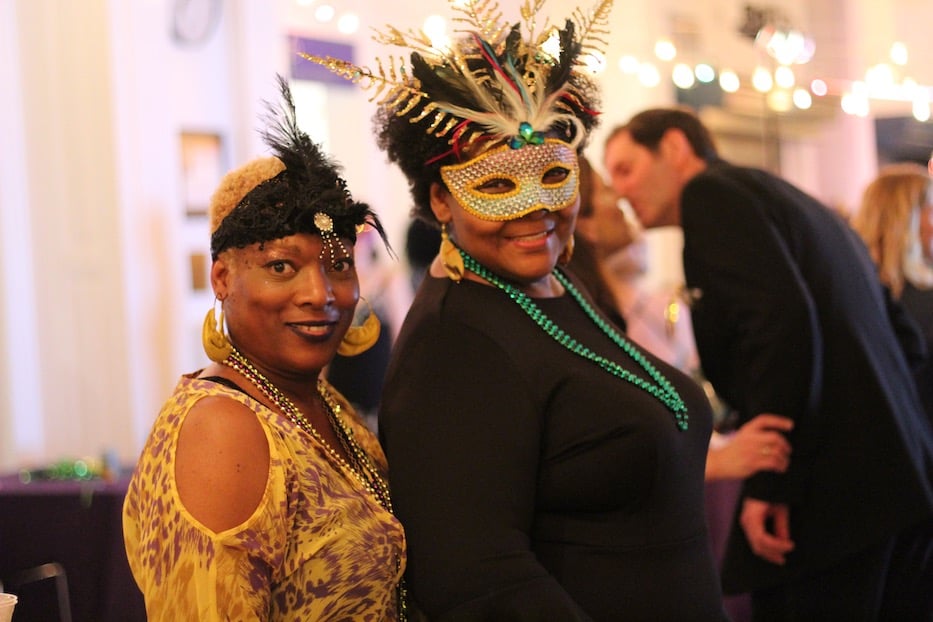 Friends Pamela Cox and Anna Marie Perkins.
Taking a break at a ribbon-draped table, friends Pamela Cox and Anna Marie Perkins both praised the library for fostering a sense of community. Moments before, they had been weaving through the room to the lyrics of "Love Train," their hands dancing atop fellow revelers' shoulders. Now, they took a breather before hitting the dance floor for the last hour of the night.
After moving to New Haven in the 1990s, Perkins spent hours each week in the library, sometimes as a doting mom and sometimes to find books for herself. For years, she took her kids to the old Stetson Branch Library for school assignments, then to Ives for storytime. Tuesday, she was excited to return with a mask that was covering her eyes, rather than her mouth and nose.
"It's not just mine, it's everybody's," added Cox, who moved to the city in high school, and never left. She's been using all five branches, with a particular penchant for Stetson and Mitchell, for over three decades.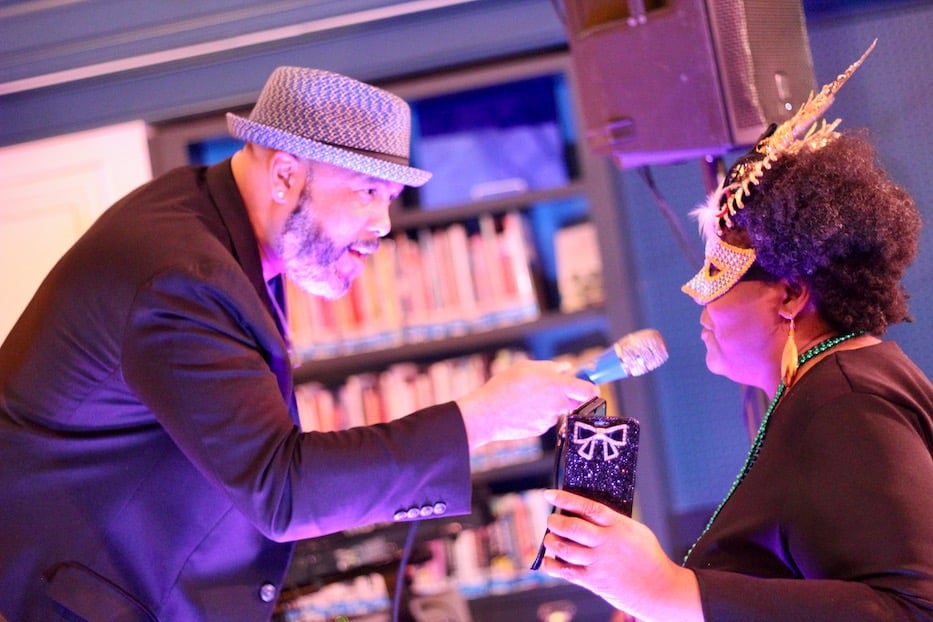 Timmy Maia and Perkins.
"Alright, librarians, you 'bout to party like it's 1999!" Maia announced from across the room, and immediately Stetson Branch Manager Diane Brown was working the crowd, pulling her colleagues onto the floor. In the green and purple light that bounced over the room, her dress glowed silver. By the time Maia eased into the first verse—I was dreamin' when I wrote this/Forgive me if it goes astray!—the librarians were out on the floor in a sea of color.
The space seemed foreign but enchanted, somewhere between a Gatsby-era party and Saturday night at the club. As he served steaming cups of red beans, rice, and spicy Andouille sausage in the former home of Orchid Café, chef and pitmaster Jose Perez looked around, taking in the moment. Perez, who is now in his early 40s, grew up in Fair Haven in the 1980s and 90s. As a kid on Fillmore Street, the Grand Avenue branch location became his second home. Tuesday was like coming full-circle.
"Growing up in Fair Haven, we didn't have money for books," he said. He remembered checking out a book he'd first seen on the show "Reading Rainbow" about whale watching, and holding on to it because he loved it so much. He never got in trouble with the library. Three decades and a move to Morris Cove later, he still visits the branch—now as a dad, with three kids who love books as much as he does.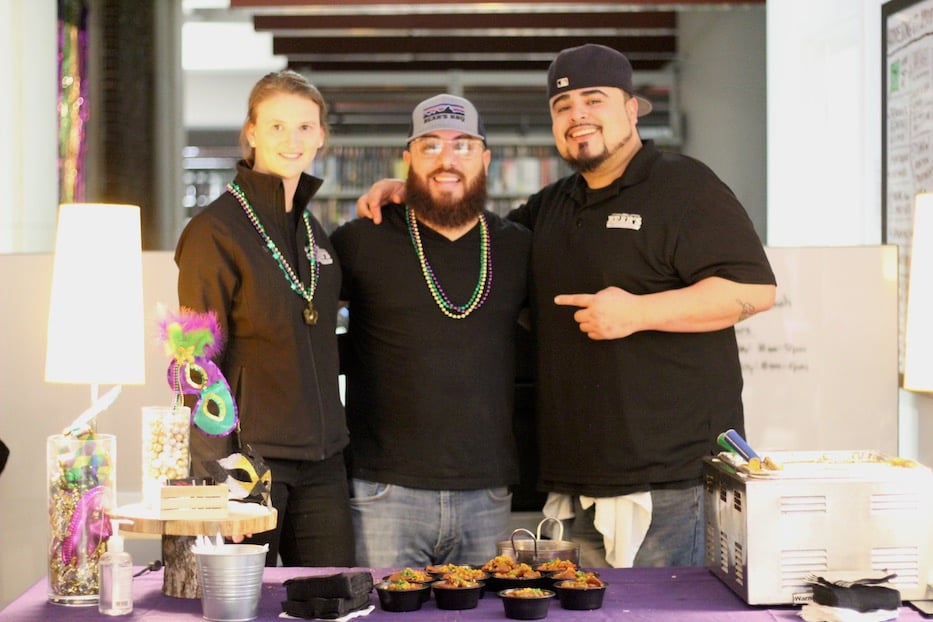 Dana Crory, Julian Garcia and Jose Perez.
Perez joined Bear's Smokehouse five years ago, after hearing they were looking for a pitmaster. In advance of Mardi Gras, he started building a recipe that would pay homage to New Orleans' kaleidoscopic culinary culture, and to his own Puerto Rican upbringing. After starting with the "holy trinity" of onions, celery, and peppers, he seasoned and cooked the sausage beneath the smokehouse's brisket, so it would collect the drippings for flavor.
"It feels like Night at the Museum," he said with a big, broad smile. "I love seeing people here."
On the dance floor, Maia was closing out the night with "New York New York." There with Newhallville neighborhood champion Jeanette Sykes, Jennifer Tillman raised her arms above her head, burst into a huge smile, and slid back onto the dance floor for one more time before the end of the night. A former psychiatric social worker, Tillman praised the library as "a place of fellowship," where patrons could find so much more than books.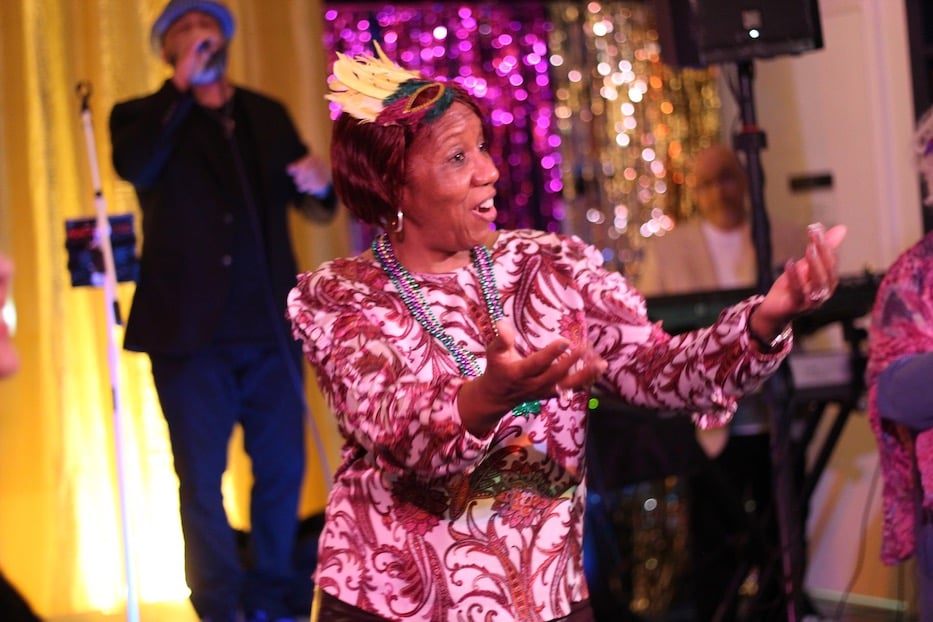 Jennifer Tillman.
Growing up in New Haven, Tillman has always loved the library, she said. As a mom, she spent time there with her kids, and now brings her grandkids. When she decided to pursue her real estate license a few years ago, the Mitchell Branch Library became her one-stop-shop for resources and study materials.
It echoed Morand's reminder from much earlier in the evening, that the library is no single thing to any one person. Between Christmas and New Year's Eve, he remembered visiting each of the library's five branches. At the Courtland Seymour Wilson Branch in the Hill, he arrived to see a line already outside the door, waiting for the library to open.
For him, that was a testament enough to the role that it plays every day.
As people trickled out of Ives and burst back into the damp night, the library fell quiet once again, ready for another day.
To learn more about the New Haven Free Public Library, including how to support it, visit its website and listen to the episode of "Arts Respond" on WNHH Community Radio above.