Culture & Community | Dixwell | Arts & Culture | Newhallville | History | Arts & Anti-racism | Elm City Freddy Fixer Parade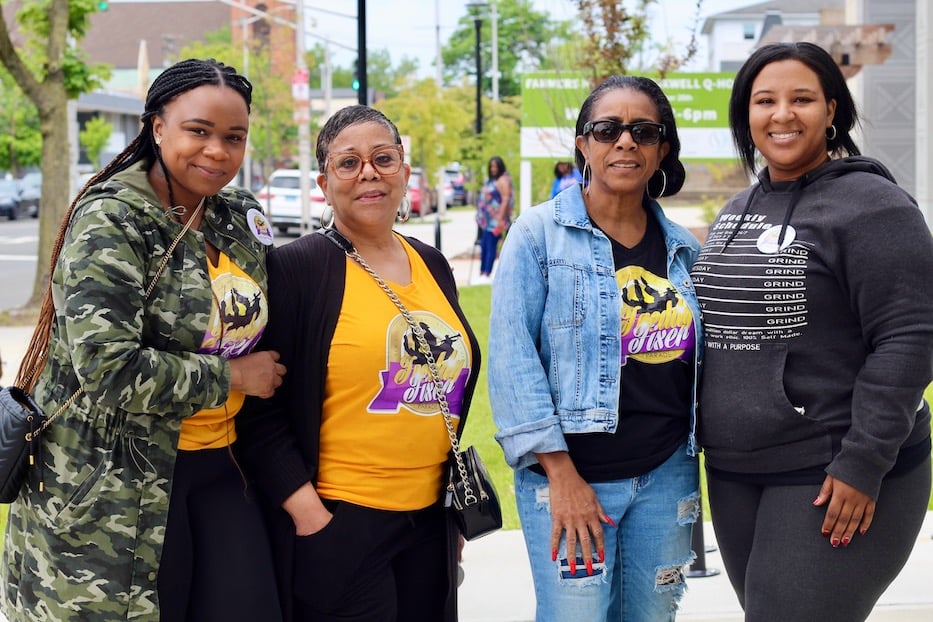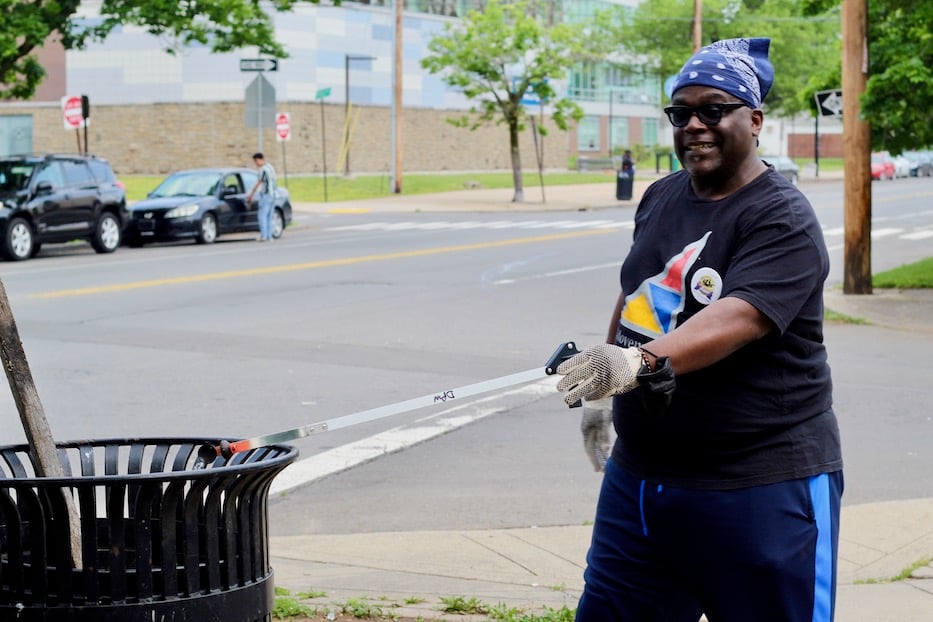 Top: ECFFPC Board Executive President Chanelle Goldson, Board Member Jacqui Glover, Board Member and Former President Diane X. Brown, and Board Vice President Tracey Joseph. Bottom: ConnCAT Director of Programs Steve Driffin. Lucy Gellman Photos.
Steve Driffin leaned over a storm drain on Dixwell Avenue, clearing away matted grass, plastic lids, a discolored carpet of flattened nip bottles. To his left, Opal Harmon raked cigarette butts and bits of plastic wrapper from the sidewalk, studying the pavement to make sure she hadn't missed a spot. Jackie Downing teased open a black trash bag, and opened it wide.
As they worked, strains of gospel wove their way onto the avenue from Mount Hope Temple, making everything feel holy.
Sunday, the three joined city workers, healthcare professionals, teams of dancers and majorettes, members of the Elm City Freddy Fixer Parade Committee (ECFFPC) and lifelong Newhallville and New Haven residents in "Take Pride in Where You Reside," a neighborhood clean-up before the 57th annual Freddy Fixer Parade on June 4. The event, like the upcoming parade, is meant to amplify neighborhood preservation after a three-year hiatus.
"I'm feeling good! I'm optimistic and excited," said ECFFPC Executive Board President Chanelle Goldson, who has spent the year rebuilding the parade with board members Diane Brown, Petisia Adger, Jacqui Glover and Board Vice President Tracey Joseph. "A few months ago, we were struggling for help. Now, these events are helping people get excited for the parade. Today is hands on—they're connecting with other residents in the community."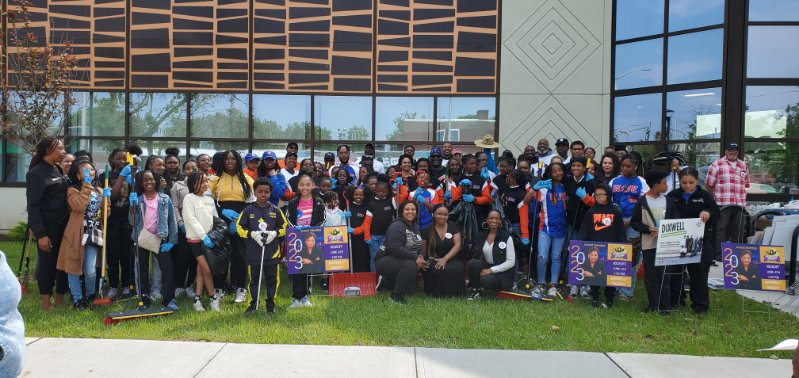 The full cleanup crew. Photo contributed by Diane Brown.
After starting at the Stetson Branch Library Sunday morning, over 75 volunteers fanned out along the parade route, which will begin at Dixwell Avenue and Bassett Street and travel roughly a mile and a half to Dixwell Avenue and Lake Place. Armed with thick gardening gloves, rakes, shovels and bags for both garbage and grass clippings, they got to work, often chatting as they walked to an assigned block and worked up and down its length.
Close to Thompson Street, a crew from the Connecticut Center for Arts & Technology (ConnCAT), the Connecticut Community Outreach Revitalization Program (ConnCORP) and the reopened Dixwell Community Q House split into two groups, taking opposite sides of the street.
On one side, Arnold Hunter and Rachel Graziano spread out, and started to take stock of the trash in front of them. On the other, Driffin and Harmon worked methodically alongside Downing, a longtime champion of the Q House who is the senior director of grantmaking and nonprofit support at the Community Foundation for Greater New Haven. Every so often, the three paused to take in the sheer amount of litter that had gathered on the street and sidewalks.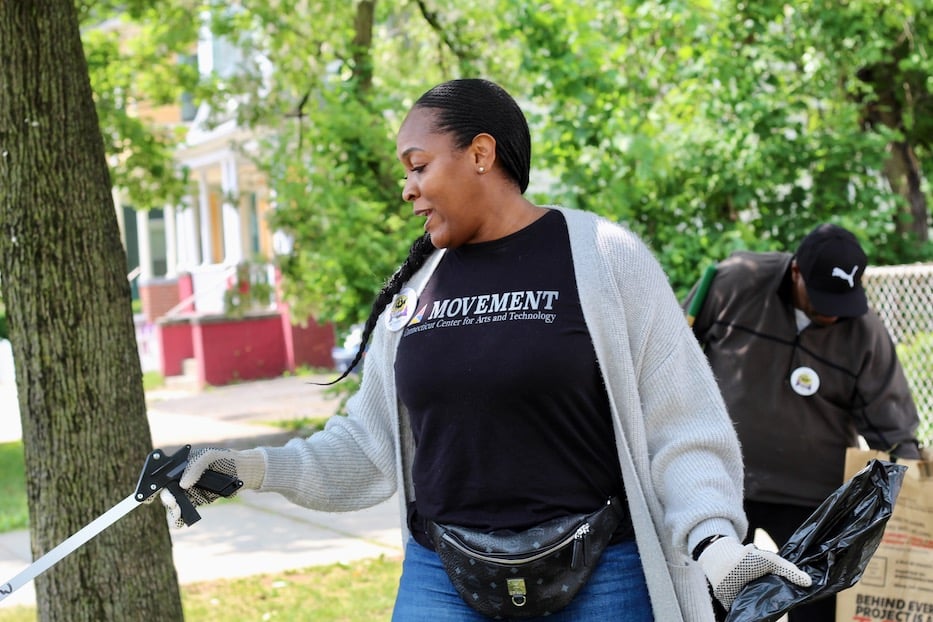 Harmon: All of New Haven is beautiful. Lucy Gellman Photos.
Harmon, who works as the human resources manager at ConnCAT, suggested aloud that it likely wasn't left by neighbors, but discarded by passing drivers as they made their way up Dixwell Avenue. She smiled at the thought of making it spotless again.
"New Haven is beautiful," she said, remembering similar neighborhood clean-up and outreach events before the annual Barnum Festival in her native Bridgeport. "All parts of New Haven are beautiful. When people see beauty, they have hope."
The Director of Programs at ConnCAT, Driffin remembered walking the same route in 2019, when ConnCAT CEO and President Erik Clemons was one of the parade's grand marshals. As he speared the flat, see-through plastic lid of a discarded to-go cup, Driffin remembered soaking in the gentle June sun as hundreds of attendees cheered marchers on.
It was, unbeknownst to event organizers at the time, the last parade that would grace Dixwell Avenue for three years.
"For me, it pretty much means building self-esteem, pride in the neighborhood," he said. The lid crackled and bent as it made its way into a nearby garbage bag.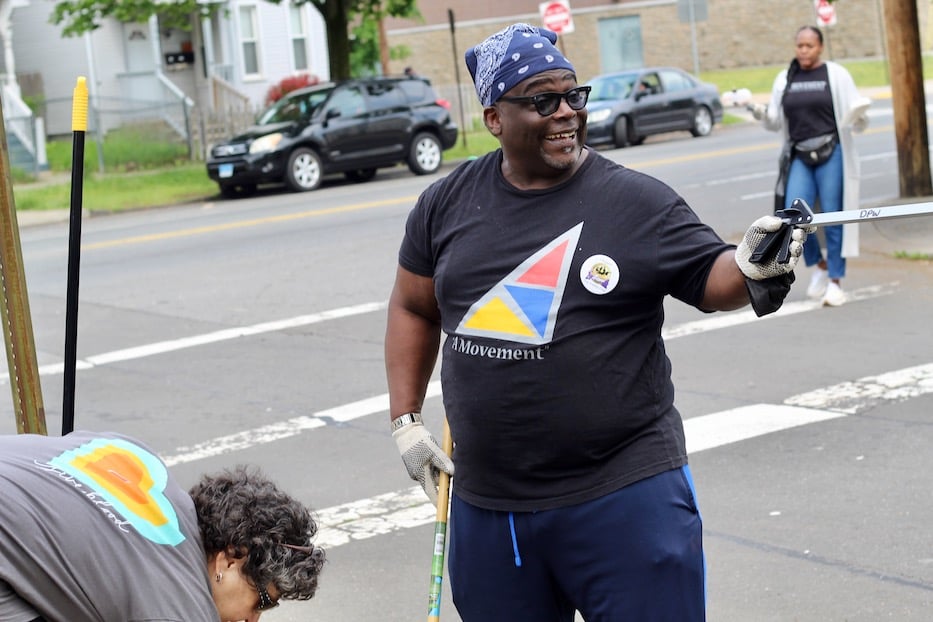 Jackie Downing and Steve Driffin. Driffin is pointing out where he used to live on Thompson Street. Lucy Gellman Photos.
Newhallville also holds a special place in his heart. In the early 1990s, Driffin lived on Thompson Street, a young playwright fresh out of college who was completely new to New Haven. After five or six years he moved further into the neighborhood, onto Shelton Avenue. Long before "the mudhole" was ever the Newhallville Learning Corridor, the neighborhood became the cradle of some of his most formative dramatic work, including Yo' Street and decades later, Death By 1,000 Cuts.
While he now lives in West Haven, his work at ConnCAT brings him back into the neighborhood at least five days a week—a kind of ritual for which he is grateful. He is currently putting the final touches on the organization's summer youth program, dedicated to the 50th anniversary of the birth of hip hop. As he spoke, a quartet of larger-than-life sparrows painted on the side of Moe's Market spread their wings wide, as if to show their excitement.
Meanwhile, he said, community-oriented events like Sunday's have also made his daughters "more civic-minded," as they watch and learn what it looks like to be in community. Harmon agreed, noting that her son and daughter often notice litter now when they are walking through a space.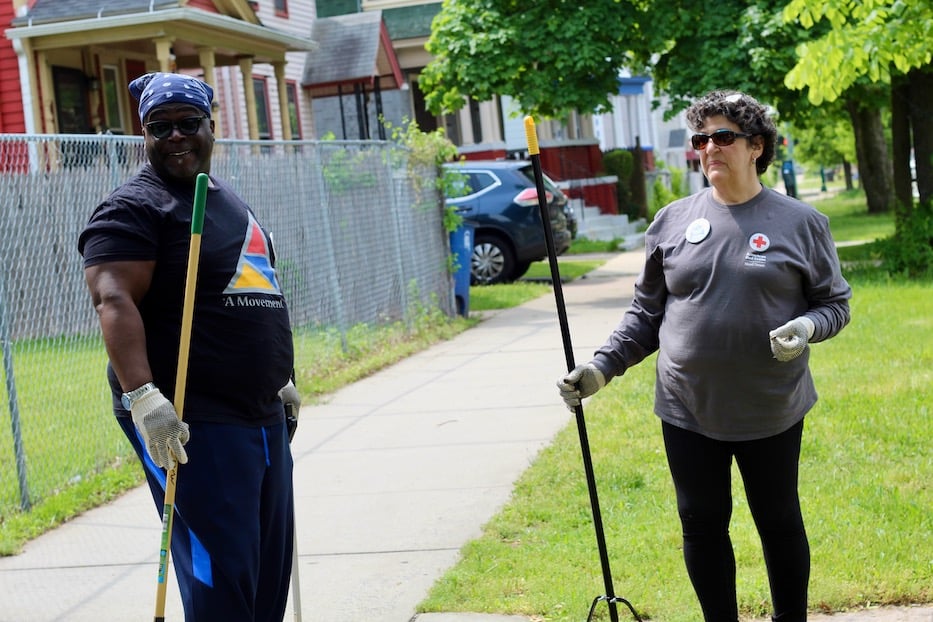 Lucy Gellman Photos.
As she leaned over remnants of a shiny, silver-colored plastic fork, Downing remembered decades of community building in the neighborhood, where she first joined the Dixwell Community Q House as a volunteer in 1985. By 1991, she was working as the space's development director part time. Four years after that, she was a program manager. She is now a board member for the reopened building, where a seasonal rotation of classes is running through June 24.
Even after she left in the late 1990s, she remained close with many of "the Q House Kids," who are now in their 30s and 40s. They include, for instance, Bereavement Care Network Founder Nakia Dawson-Douglas and political strategist Moses Nelson. When Downing attended a ribbon cutting for the building in November 2021, she was amazed when Nelson sat down next to her, and placed his head in her lap.
"It's a restoration," she said. Music spilled out onto the sidewalk from Mount Hope's Sunday services, making its way right through the sanctuary's heavy, closed doors. "It's a restoration. If you look at the houses, they're beautiful."
She motioned to the house behind her, a soaring, wood-paneled home with a red brick porch and green paint that glowed in the sunlight. For years, she knew it as the house belonging to William Spruill, a fellow neighborhood booster and advocate of the Q House alongside whom she served. While she lives in Hamden, where she was born and raised, the neighborhood feels like a second kind of home, she said.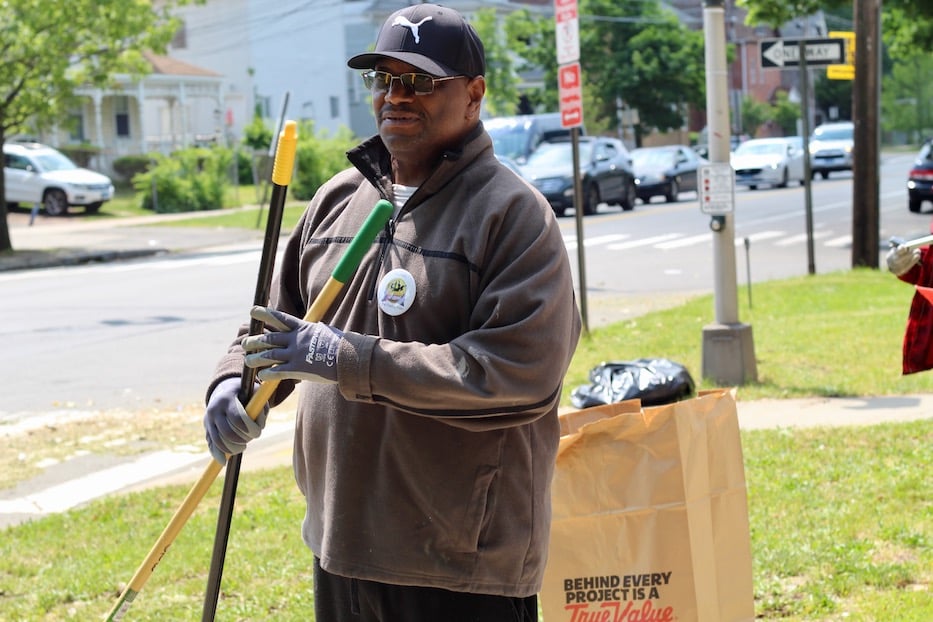 Arnold Hunter grew up watching the parade, and was eager to help. Lucy Gellman Photos.
Across the street, Hunter and Graziano worked quietly, stopping every so often to greet a pedestrian, or wave hello to a neighbor who had stepped out into the sunlight. Born and raised on Goffe Street when the Saint Martin's Townhouses were still new, Hunter remembered watching the parade as it passed his home on its way downtown. Year after year, it became the event of the season.
"Freddy Fixer was the thing," he said. "Everybody looked forward to the parade."
When Hunter retired after years as a security guard at the Yale University Art Gallery, he started looking for ways to plug back into the community. It was Brown who suggested he get involved with the parade, after which he started attending monthly board meetings at the Stetson Branch. Although he struggles with chronic pain and arthritis, he said, there was no question in his mind that he'd be out there Sunday, helping clean up before parade day.
"Even though I'm struggling, my damn knee hurts, I'd rather be here than at home," he said with a smile. "It's important. Especially in our community." Driffin, who had crossed the street and was half-listening, beamed and looked up.
"It's that feeling that he gives you in here!" he said, bringing a hand to his chest, where it rested over his heart. His smile looked like it could leave the whole block sparkling.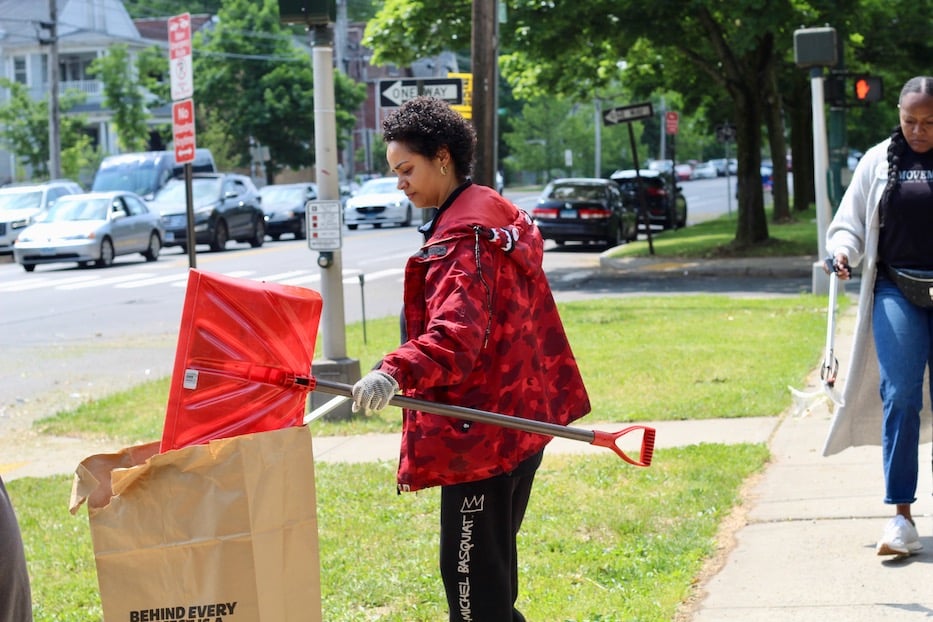 Rachel Graziano. "I just miss my city so much," she said at one point. Lucy Gellman Photos.
Nearby, Graziano recalled growing up as a young, artsy kid in New Haven and attending the Freddy as a teen. Years later, she still spends time in the city as a barber and dance teacher at ConnCAT. While she now lives in the Naugatuck Valley, she's often in New Haven, bouncing between ConnCAT and ConnCORP's Morse Street space in Hamden. "I just miss my city so much," she said.
For her, activities like the clean-up and parade aren't just for her peers, who are excited to see the event bounce back. It's also for a younger generation that hasn't yet experienced the full breadth of the Freddy Fixer. When the parade last rolled down Dixwell Avenue, dozens of attendees described it as a "family reunion," a phrase that gels with her memory of it. Years later, she's ready for young people to experience that joy anew.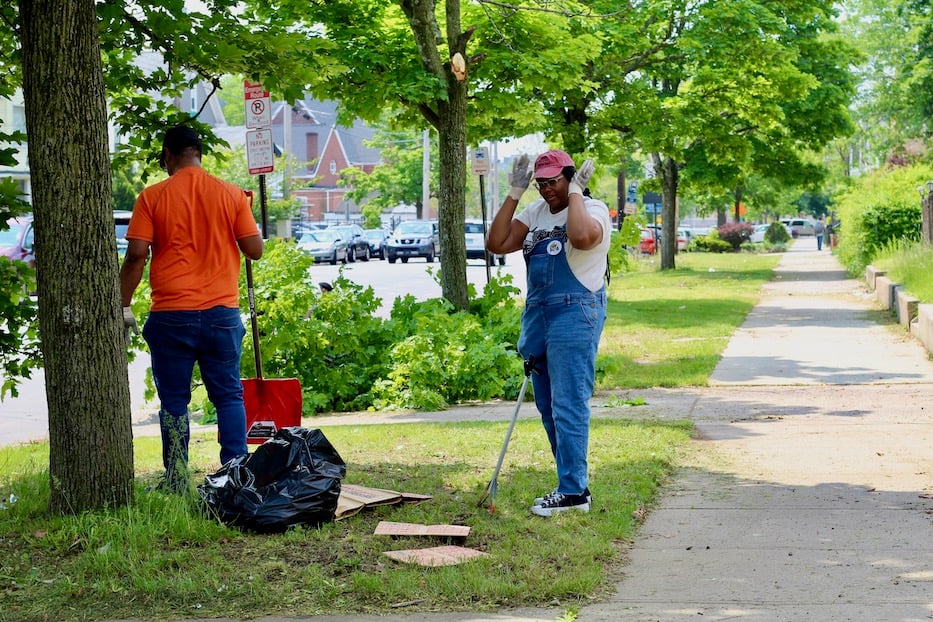 So was Jazmine Williamson, a lifelong New Havener who is now the audience development coordinator at Long Wharf Theatre. During her childhood and teenage years in the city, the Freddy "was always a big event," for which Williamson would gather with members of a big, joyful New Haven family (read about her family's advocacy to rename a Goffe Street basketball court here and here, and her aunt Bridgett's work to curb homelessness here).
"Knowing this is for us, it made me feel really special," she said. While Williamson temporarily left the city for college at Bowie State University, she returned during the pandemic. For her, the clean-up gets back to the parade's original roots as a chance to beautify and celebrate the neighborhood.
"I actually like this [the clean-up] better," she said. "This is the real work. This is why the Freddy was created. There's so much history behind this place."
Just a few feet down the sidewalk, Tajuana Page and her daughter Destiny Page-Macklin paused in matching gardening gloves, holding their tools steady for a moment On their shirts, matching blue-and-green peace signs peeked out beside new orange-and-purple buttons for the parade.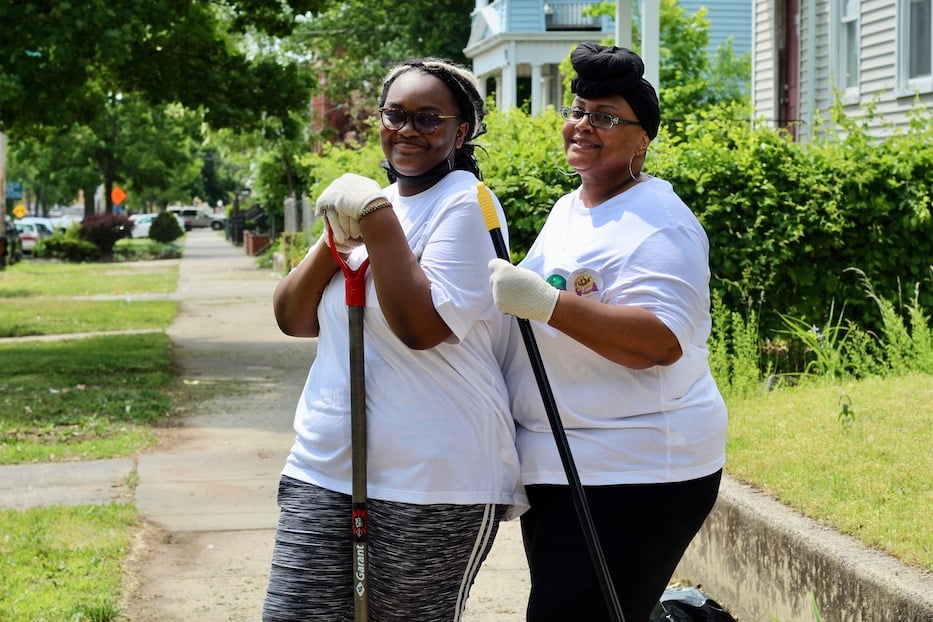 Destiny Page-Macklin and her mom, Tajuana Page. Lucy Gellman Photos.
For the decades that she's both lived in and visited family in New Haven, the Freddy "was like the highlight of the summer," Page said, remembering how she would pick out her outfit at least a month in advance. "It was like Easter Sunday."
Now, she's excited for her daughter to experience it. Page-Macklin, a student at Wilbur Cross High School, said she hasn't attended the parade, and is excited to find out what it's all about. Sunday, she both fêted the neighborhood and slipped in a few precious community service hours for school.
On the island between Dixwell Avenue and Munson Street, members of the Community Economic Development Partnership (CEDP) swept up the sidewalk as a noon ending time grew closer. For members Aquil Abdul-Salaam and Jasmine Sams, who grew up nearby on Willis and Goffe Streets respectively, the parade's return feels both new and deeply nostalgic, soaked in the memories of their childhoods in New Haven.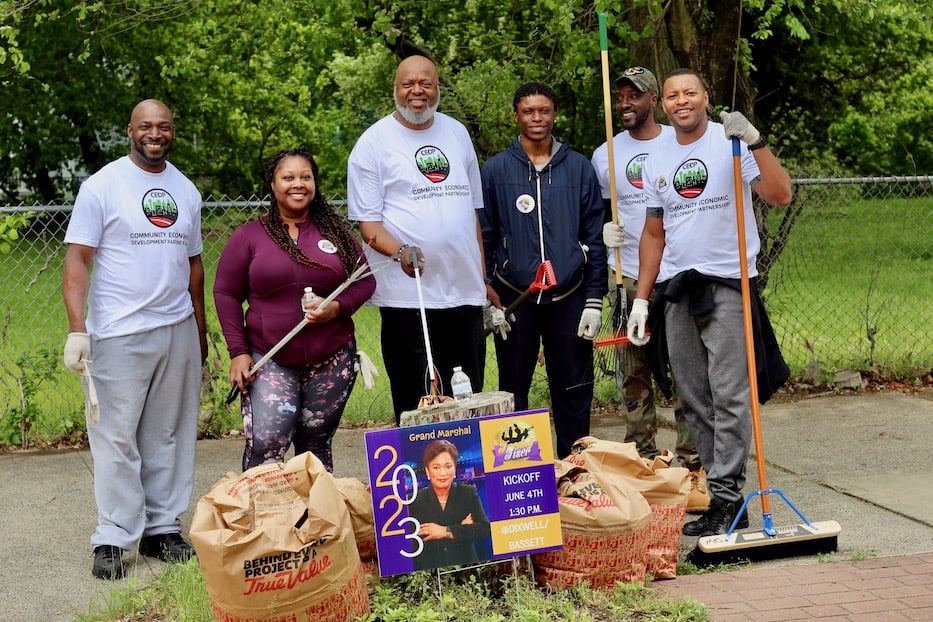 The CEDP crew. Lucy Gellman Photos.
Abdul-Salaam, who is now in his 40s, started attending the parade with his grandmother when he was just four or five. For years, he watched as the neighborhood came out to celebrate. After spending time in Atlanta for college and an early career in the fashion business, he moved back to New Haven.
For him, the Freddy's renaissance is part of New Haven's legacy of Black excellence. It is one of the longest continually running parades in the Northeast, according to ECFFPC members.
"The best part was seeing the sense of community," he said. "Everybody was happy. Everybody was upbeat."
Sams pointed to the role that CEDP is working to play in the neighborhood as the cost of homes skyrocket, and rate of neighborhood homeownership declines. In the next months and year, "We'll be bringing more programming to the community," she said.
As he walked back down Dixwell Avenue, CEDP and Sport Academy's Sean Reeves remembered growing up in Newhallville, and watching the parade pass by as it started around Hazel Street, and processed all the way to the city's Elks Club. As a kid, he would sometimes sell bags of apples at Reeves Tire Shop, his grandfather's store at Dixwell Avenue and Cherry Ann Street. As he got older, he attended the parade with family and friends. Like Page, he said, he picked out his parade day outfit well ahead of time.
"You knew you had to have a good outfit!" he said, with the same gravity that a city official might deliver budget updates. "It was about your presentation."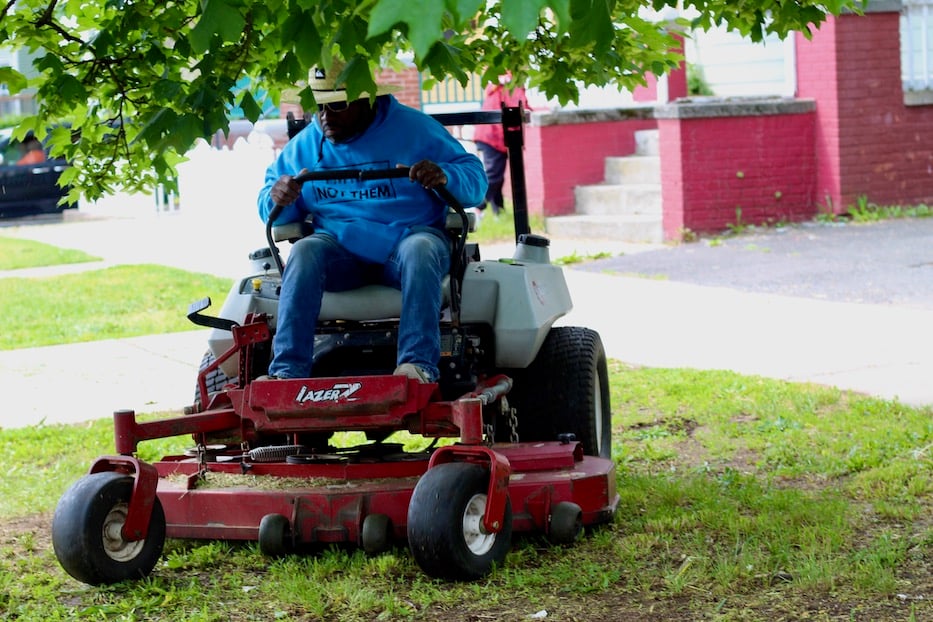 Rodney Williams of Green Elm Construction mowing grass up and down the avenue. Lucy Gellman Photos.
As the parade comes back to a changing Dixwell—plans for ConnCORP's redevelopment of Dixwell Plaza are now underway, as is the demolition of the Elks Club; the Q House is now open, as is the new Stetson Branch Library—he's thinking about how the Freddy charts a path forward. "We have to figure out how to evolve," he said, adding that gentrification can't be part of the answer. "It's a beautiful thing. It's needed."
Back at the Q House, ECFFPC board members methodically packed up their cars, looking over new signs for the parade that had appeared up and down Dixwell Avenue in just a few hours. On some, Mayor Toni Harp's face looked out with a soft smile, as if she was welcoming in the first warm days of summer. This year, she will serve as the parade's Grand Marshal, alongside a number of judges for new cash prizes.
Brown, who has spent the year passing the baton to Goldson and Joseph, said that she is grateful to be handing the parade down to a younger generation. "As an elder in the community, it's time," she said. That doesn't mean she won't be present: the Freddy has been a part of her life for as long as she can remember, and it will continue to be.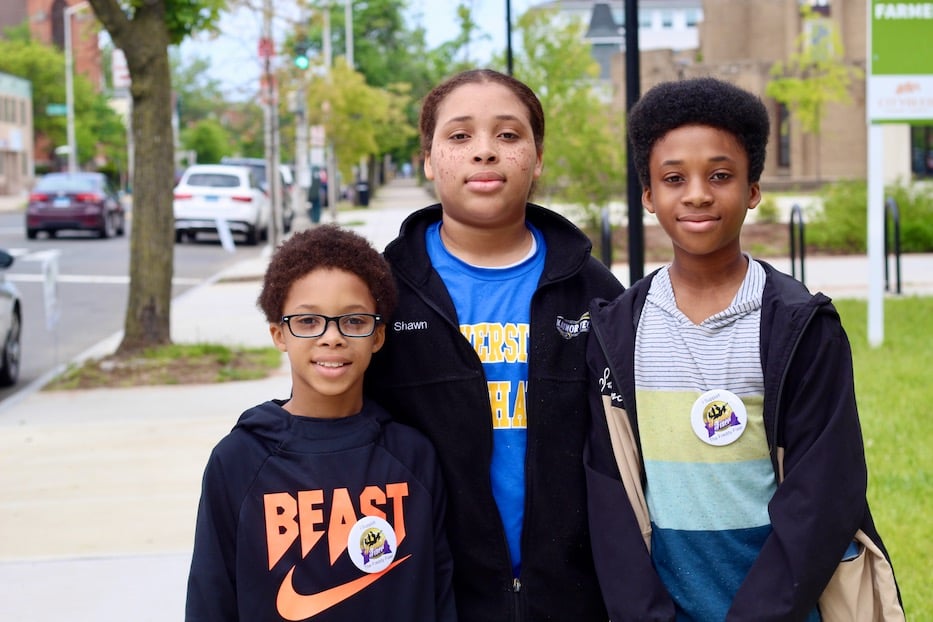 Joseph's three boys, or the next generation of the parade. From left: Nicholas, Shawn, and Michael. "It feels good to help," Shawn said.
As a kid, she and fellow board member Jacqui Glover gathered well before the parade with their mothers, the late Lillian Brown and Teddi Glover, to prepare sandwiches for their friends, family, neighbors and passers-by. Glover, like so many people Sunday, remembered the care and deliberation that went into choosing an outfit.
"If you had a best friend, you got the same outfit, just twinning down the street," Glover said. "It was like the kickoff to summer."
It marks a triumphant return for the parade, which announced last year that it would be taking time to rebuild, and then coming back in 2023. Since that first announcement, both Goldson and board members have worked to hold monthly board meetings, host community fundraisers, throw a music-soaked gala, and secure a number of sponsors for the parade.
While Goldson declined to comment on the amount raised, she said that the parade is "in a strong financial position," with 17 sponsors (read more about that here and here) and support from the City of New Haven specifically for police overtime.
She praised city Chief Administrative Officer Regina Rush-Kittle, who followed through on an offer from the Elicker Administration and to help the parade that she initially made last year.
Part of that has also included growing the board, including support from Tracey Joseph that started in December of last year. She and Goldson are often together at events, finishing each other's sentences. Sunday, Joseph checked in to see if Goldson wanted something to eat before the two headed to the Newhallville Neighborhood Festival in the park behind Lincoln Bassett School.
"We had a really great turnout. People cleaned up, people enjoyed themselves. Kids came out," she said. "That's what it's about. Educating them about the legacy."
The Elm City Freddy Fixer Parade will step off at 1:30 p.m. on Sunday, June 4 at Dixwell Avenue and Bassett Street. For more information on parade day, check out the ECFFPC's website.