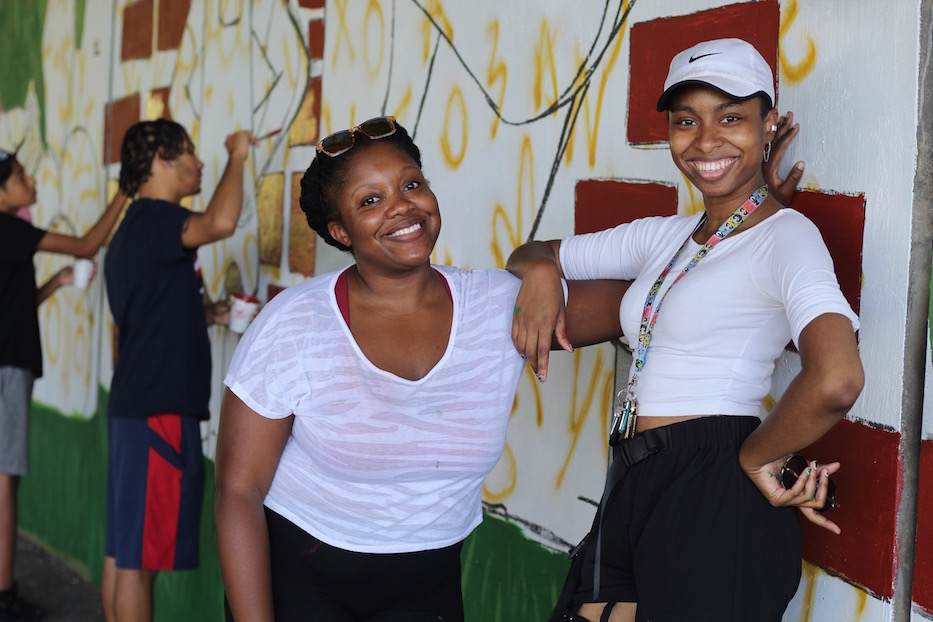 Culture & Community | Fair Haven | Painting | Public art | Arts & Culture | Visual Arts | Arts & Anti-racism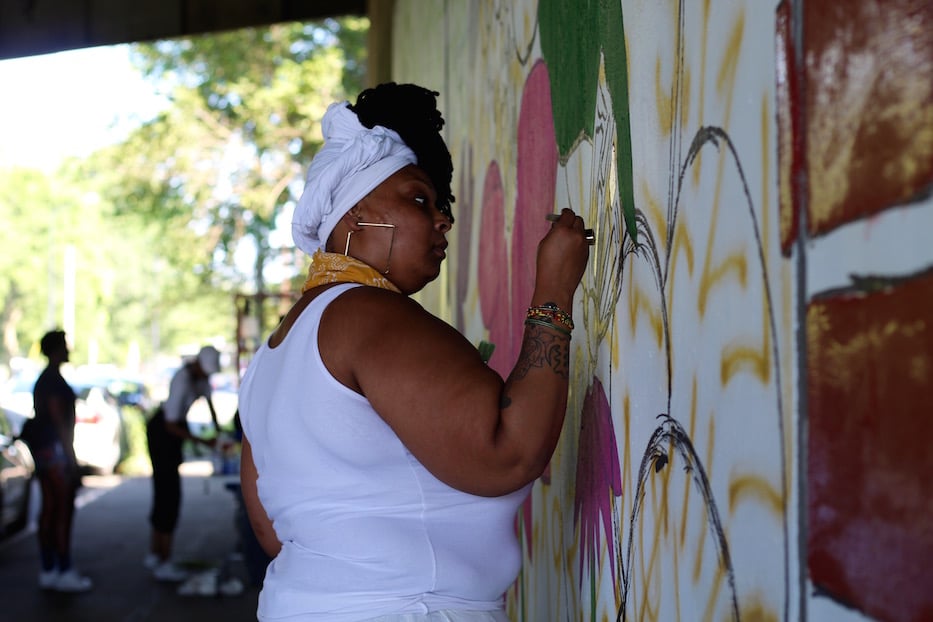 Poet and organizer Sun Queen. "People don't understand how important healing is," she said. Lucy Gellman Photos.
Sun Queen leaned in close to the underpass, her right elbow just inches from the concrete. Carefully, she dipped her brush into a cup of pink paint, and lifted it to a butterfly's black and white wings. The insect began to transform before her, the color glowing in the sunlight. With each stroke, she could feel her shoulders, arms and back start to relax. She breathed in and out methodically.
It's one of the ways the NuSpiral Collective is centering social justice through public art this summer, as members Isaac Bloodworth, Joy Meikle, Ala Ochumare-Harris and MiAsia Harris embark on two new mural projects in Fair Haven. On a recent Saturday, Queen was one of a handful of New Haveners to join the collective for a community paint day on Front Street, where a new mural is going in close to Middletown Avenue.
Both projects are meant to enliven old, pedestrian unfriendly underpasses run by the Connecticut Department of Transportation in the neighborhood. The first, from lead artist Demeree "D." Douglas and apprentice Alana Ladson, sits at ​​Front Street and Middletown Avenue, where an underpass is now covered in bright, vivid color and signs of the natural world. A second, from lead artist Carlos Perez and apprentice Ruby Gonzalez Hernandez, is slated to go in on Grand Avenue by Hamilton Street this month.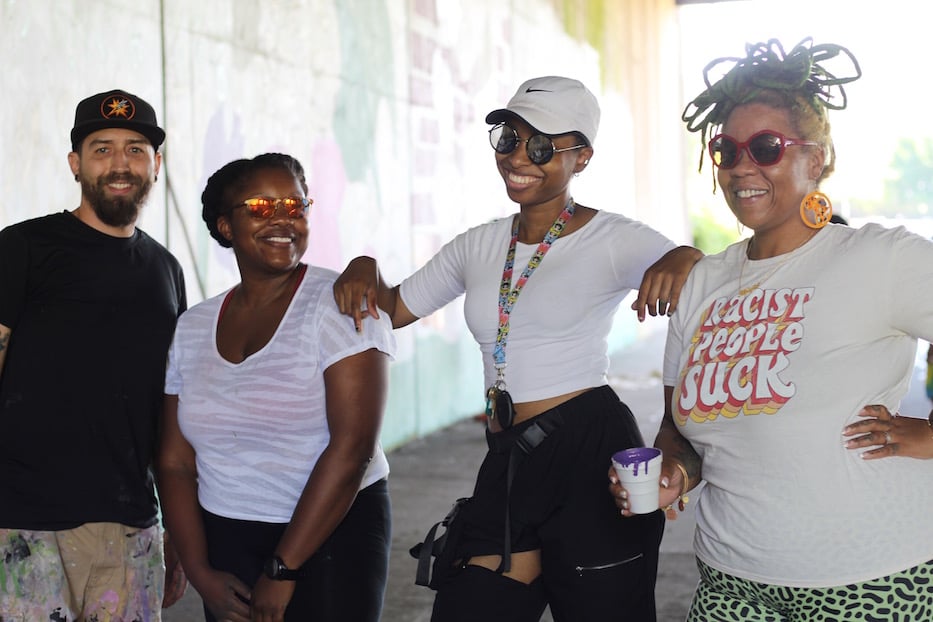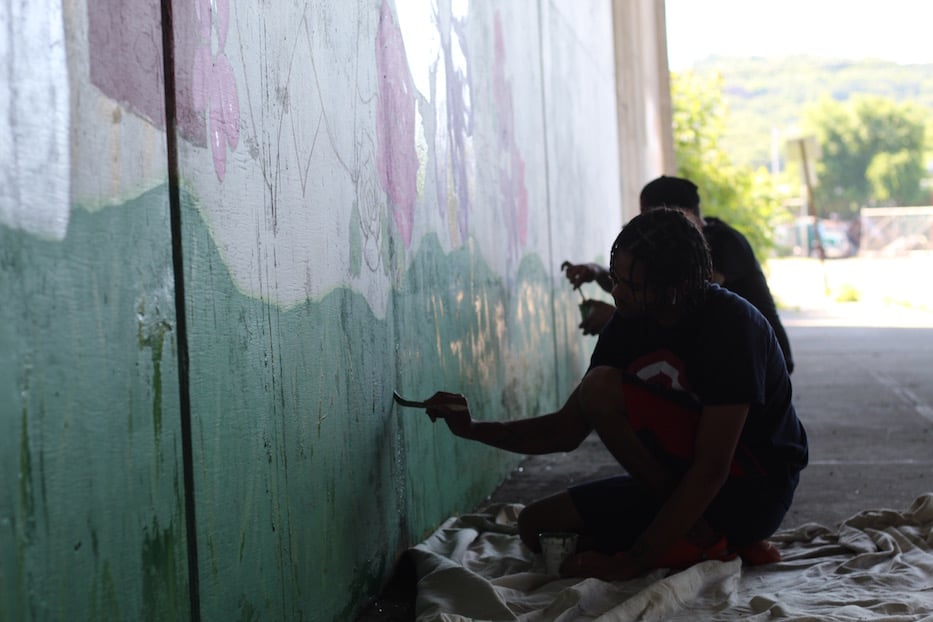 Top: Artist Carlos Perez, lead artist Demeree "D." Douglas, apprentice Alana Ladson and NuSpiral Member Ala Ochumare-Harris.
On the community paint day, Meikle, Bloodworth and artist Aly Maderson Quinlog ran logistics at a tent by the Quinnipiac River while artists directed the painting beneath the underpass. In addition to the two Fair Haven murals, the collective also funded an underpass mural that Candyce "Marsh" John and Jesse Wolf completed earlier this summer on Upper Whalley Avenue.
"It's honestly unreal," Douglas said, a cup of purple paint balanced in one hand. "This is iconic. A Black woman stopped here earlier this week and said, 'I have never seen a Black woman do a mural. You don't recognize how huge this is.' That touched my heart … this is the beauty that can come out of this experience."
The three-mural project began earlier this year, after NuSpiral secured funding from the IKEA U.S. Community Foundation, which granted $100,000 to the collective through the city's Department of Arts, Culture & Tourism (read more about that here and here). At the time, members of the collective put out a call asking artists "What does liberation look like to you?" For Douglas, it meant a young Black girl looking to an older version of herself, and seeing that she had become an astronaut.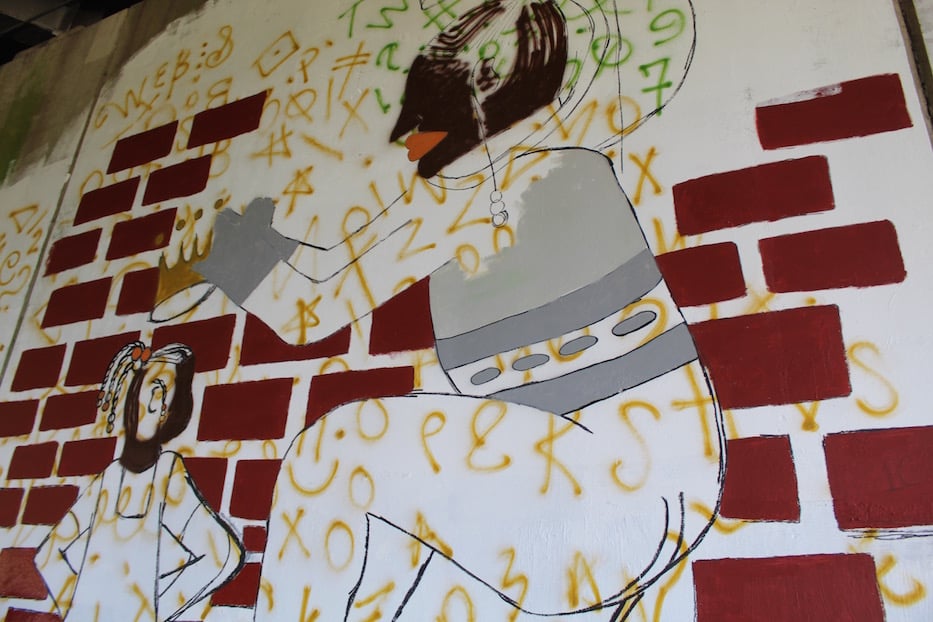 In the design, the two are rendered against a red brick wall, looking at each other with an air of adoration and reverence that vibrates from the concrete. As she crouches down, the astronaut holds a gold crown gingerly between her space-grade, Polyurethane-coated gloves. The girl places her hands squarely on her hips and turns her head, ready to receive it.
As barbecues and birthday parties unfolded at Quinnipiac River Park nearby, Fair Haveners and friends of NuSpiral gathered at the underpass to paint, taking in the large, blooming flowers, swooping birds and duet of regal Black women at the center of the mural. At the lower left hand corner of the underpass, young friends Jenzen Garcia and Harielys Mendez worked together on a red rectangle, carefully laying down a second coat. Both live in the neighborhood, and had come out to help after they saw the crew roll up to paint.
"It's fun," Jenzen said, wiping a film of sweat that had formed on his brow. Just a few paces down the wall from them, Madison resident Maureen Lopes celebrated her 73rd birthday by filling in a large, blooming fuchsia flower on a thick green stem. A member of the New Haven Friends Meeting just across the river, Lopes said she'd heard about the project from members of the Fair Haven Community Management Team, at which she is a frequent and vocal member.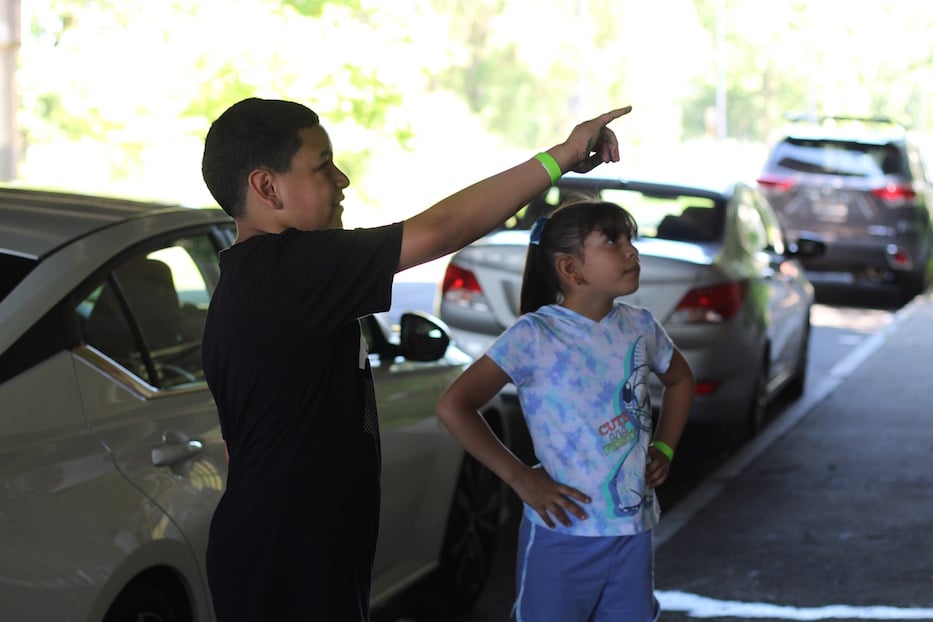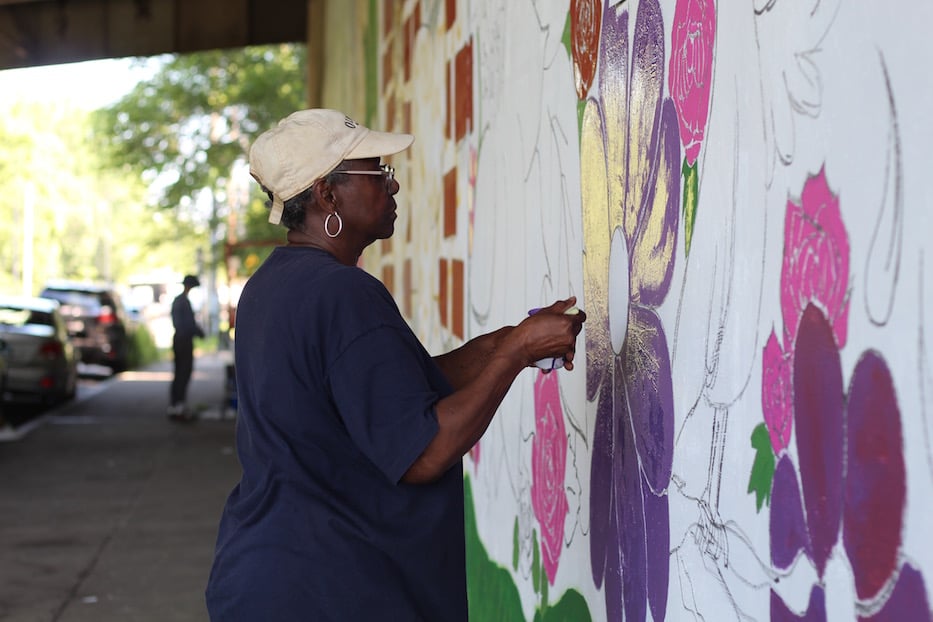 Top: Jenzen Garcia and Harielys Mendez. Bottom: Beaver Hills resident Joan Hilliard, who praised the neighborhood beautification efforts.
On the other side of the wall, Beaver Hills resident Joan Hilliard found a purple daisy, and began filling in a remaining trio of white petals at its base. A leading member of Friends of Beaver Pond Park, Hilliard first saw a notice about the community paint day online, and figured that she would see what it was all about. She only realized that Bloodworth—who she has known for decades through his mother, the pediatric nephrologist Sherene Mason—was one of the organizers after arriving at the mural site.
She was tickled by the coincidence, she said. Born and raised in New York—where some artists have elevated graffiti from street practice to fine art—she said she was also grateful to see the beautification efforts reaching across the city. Each week, she walks into Beaver Pond Park with the intention of making it that much more welcoming for her neighbors. With its three-part project, NuSpiral has taken a similar approach, very deliberately reaching beyond downtown, where murals bloom from the Ninth Square and Pitkin Plaza all the way to Temple Street.
"I love to have a mural in an area," she said as cars zoomed past on Middletown Avenue, some slowing down as they rounded the corner onto Front Street and rolled down their windows to take in the mural. "It just brings life to an area."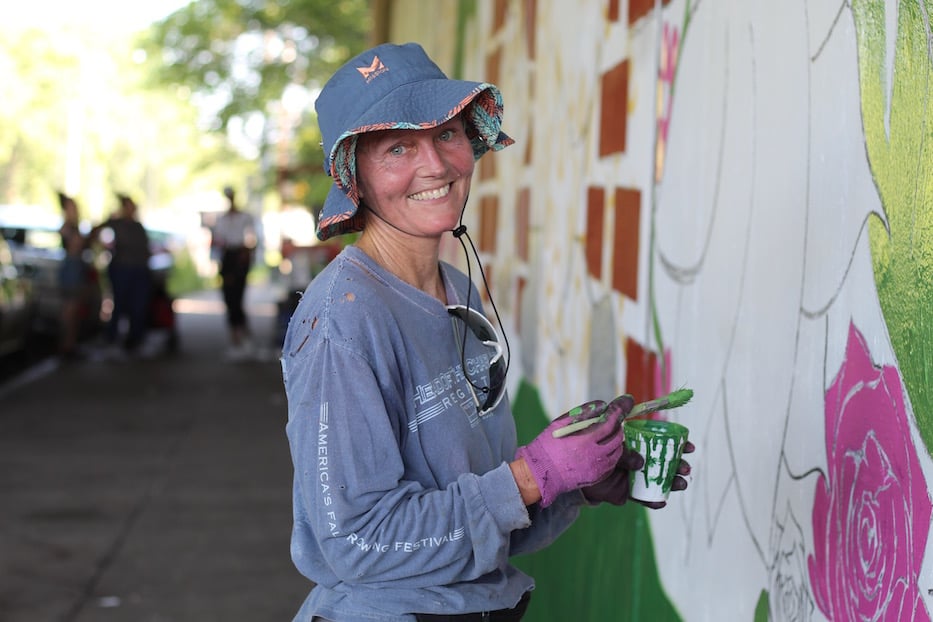 Christel Manning, who lives on Front Street and has been watching the mural go up.
As Hilliard spoke, Fair Havener Christel Manning peered out from where her van was parked across the street, and examined the progress the group had made in just a few hours. A resident of Front Street, Manning spends time tidying a small stretch of the underpass where grass and weeds run wild. Saturday, she had finished mowing when a new row of purple and pink flowers appeared, blooming as they spread across the wall. She jogged across the street to get a better look.
Ladson spotted her, and came over with an invitation to paint. In just minutes, Manning had a styrofoam cup of green paint in one hand and a brush in the other. She kept her pruning gloves on as she filled in an undulating, bright block of green grass beneath the central panel. As she worked, she said she was excited to see the design go up in the neighborhood, which she has called home for years. It's never the same, she added: when she'd driven by on Friday, Douglas was in a scissor lift.
Fighting the heat, painters continued to roll in, some with their friends and family members. A poet, founding member of Black Lives Matter New Haven and the founder of Black Girls Are Sunshine, Sun Queen praised the community paint day as creating community when the city—and the world—seemed completely turned on its head.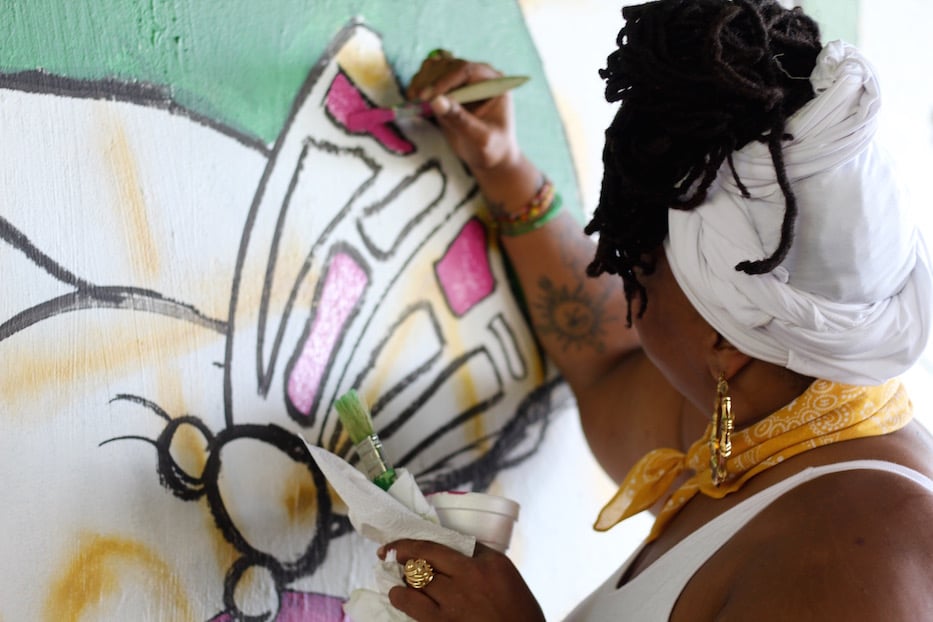 Top: Sun Queen. Bottom: Douglas and Ladson.
A single week in late June had left her reeling from both the news of Richard "Randy" Cox's paralysis at the hands of the New Haven Police Department and the U.S. Supreme Court's ruling to overturn Roe v. Wade.
She was exhausted, she said. And in that moment, she was choosing joy as a way to keep going.
"I have to remind myself that there's room for all the emotions," she said. "People don't understand how important healing is. The stroke and the brush and how you hold it. Like yes, I'm painting, but I'm also releasing. That's the thing with the world being on fire. I feel like more of us are able to center what joy means for us."
She recalled a recent conversation with a member of Black Lives Matter Houston, who had reminded her that "radical rest is part of the movement." For her, the sentiment resonated. Without it, she cannot do the organizing and mutual aid work that is also part of her life as an artist-activist.
"This is just the beginning," she said, and it seemed that she was talking about Roe and New Haven's reckoning with police brutality all at once. "So much more is gonna happen after this. This is the time to organize, mobilize. We're out here dying from this lack of resources, and we have to save ourselves. So I'm taking all the time I can to rest."
Stopping to watch her paint, Carlos Perez took in her all-white outfit, crisp and clean in a landscape of wet paint and smudged dropcloths. "You're brave," he said.
"Of course I'm brave," she said. Her eyes remained focused on the butterfly's wings. "I'm a Black woman."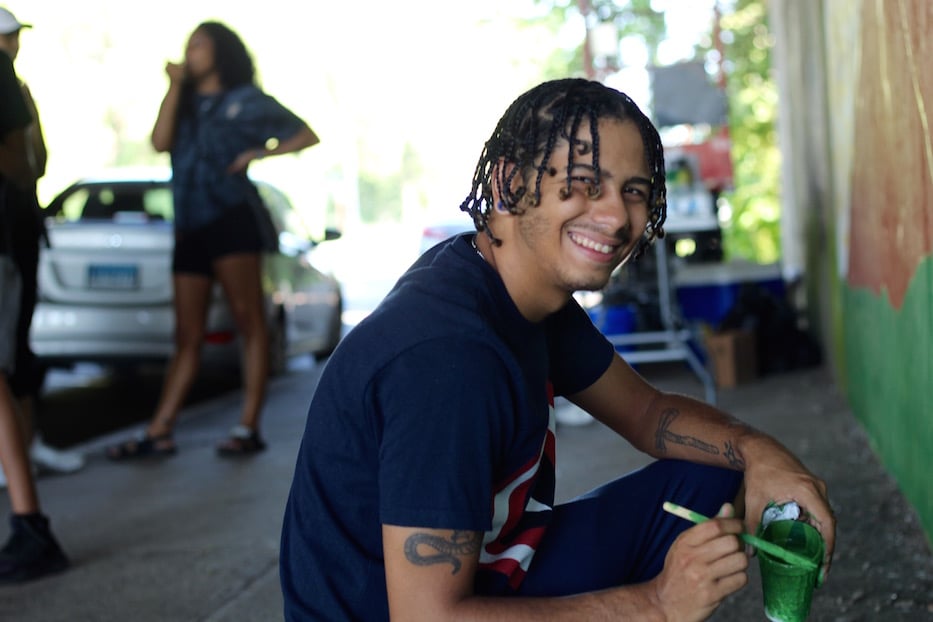 CJ Perez.
Down the wall from her, Cooperative Arts & Humanities High School grad CJ Perez agreed that there was something peaceful about the day. Art runs in his family: his dad is the artist Carlos Perez, who will be painting the second Fair Haven mural and brought his whole family out with him Saturday. The younger Perez said he thinks of public art as not only calming, but a way to give back to a community that has nurtured him for decades.
"I have a lot of fun here," he said. "Art is something that means a lot to me and my family. It helps me feel good about what I accomplish and it gives me confidence in myself."
As they entered the final hour of the community paint day, both Douglas and Ladson said that they hope to continue growing their visual footprint across the city. Both have spent hundreds of hours beneath the underpass painting as the mural nears completion. Both are also artists who place community at the center of their work.
Douglas has used her craft to uplift other Black women in the arts, and Ladson uses her work as vehicle to talk about feminism, intentional community building, and Black women who are the authors and protaginists of their own stories.
"I've never painted a mural before and I wanted to get the hang of it," Ladson said. "We just have so many places in New Haven that need beautification."
Ochumare, a founding member of Black Lives Matter New Haven who is also an artist, youth organizer and member of NuSpiral, said that the paint day represented so many of her hopes for the project. When NuSpiral began, the four members of the collective placed anti-racism and cultural equity at the forefront of the work they were doing. Several months, city contracts, and negotiations with the Connecticut Department of Transportation later, they can see it coming to fruition.
"It's amazing," Ochumare said. When she saw Douglas' design, "I was like, 'You had me at the crown.' It's really exciting to see these different perspectives on liberation."
NuSpiral's third and final mural of the season, from lead artist Carlos Perez and apprentice Ruby Gonzalez Hernandez, is slated to go in on Grand Avenue by Hamilton Street this month. A community paint day is scheduled for July 23 from 3 p.m. to 7 p.m.; RSVP here.