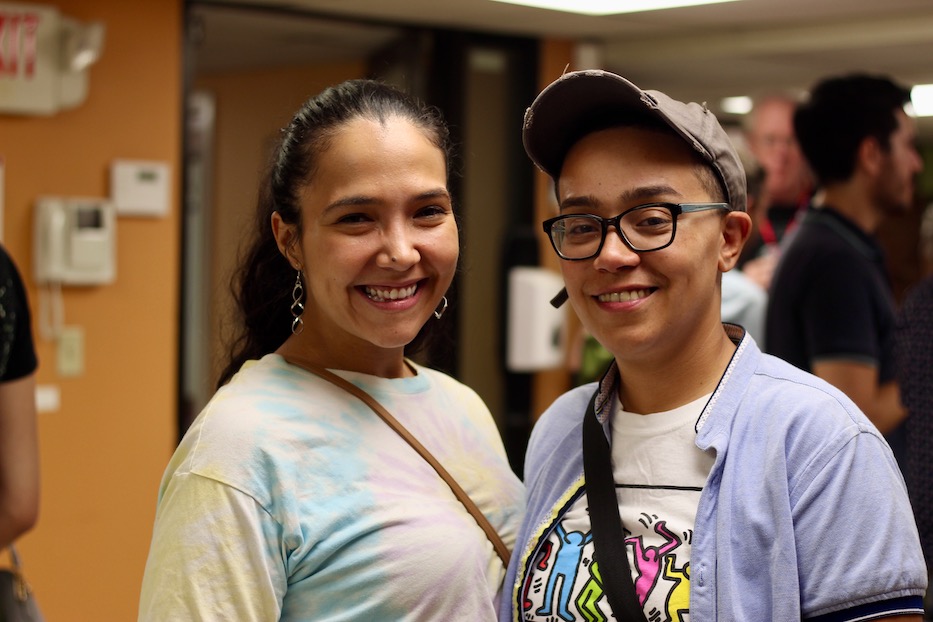 Culture & Community | Drag | LGBTQ | Pride Month | Puerto Rico | Arts & Culture | New Haven Pride | New Haven Pride Center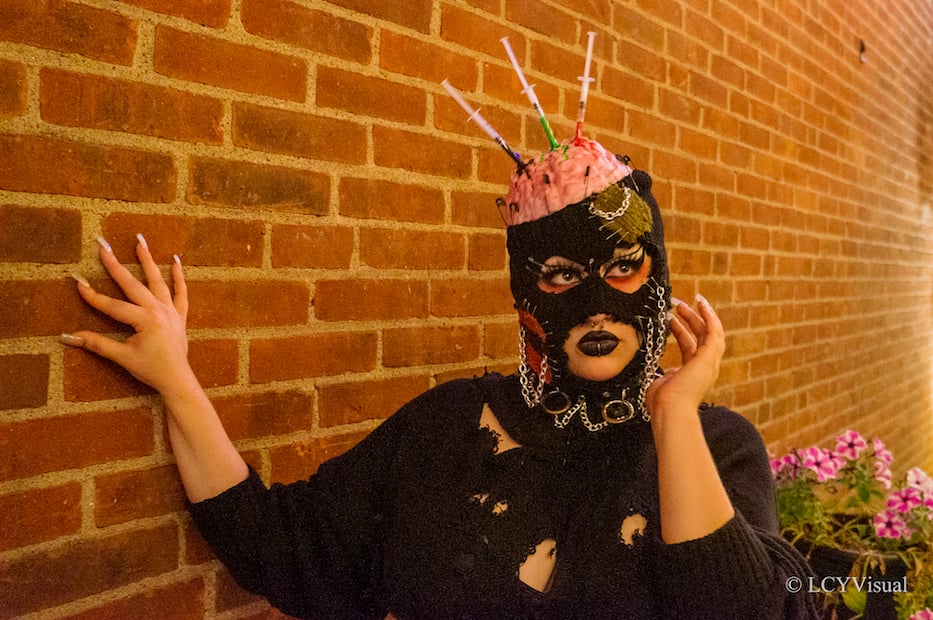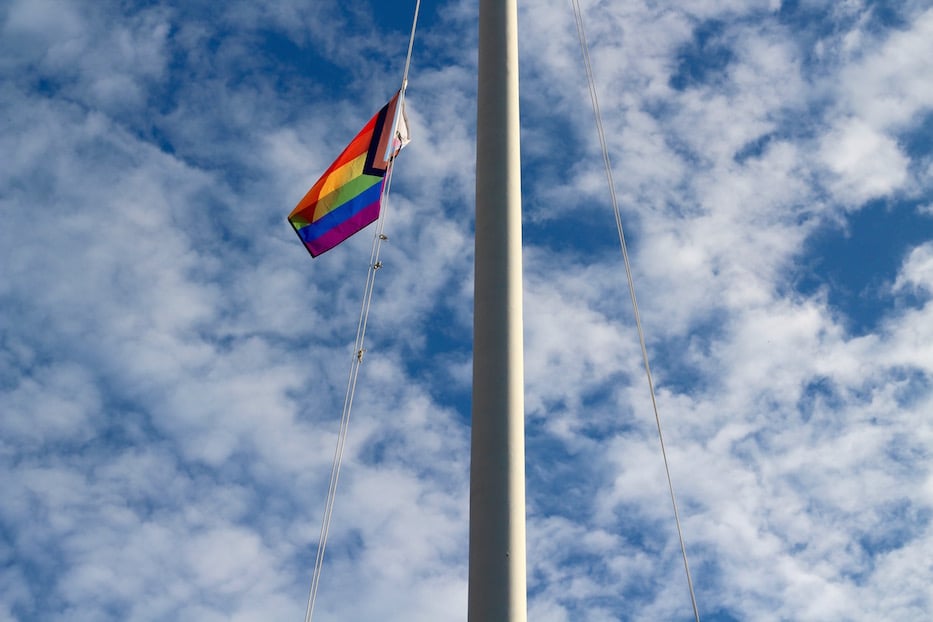 Top: The drag artist Chai at "Drag on the Edge" last year. The event will take place again at Gotham Citi Cafe on Sept. 14. Linda-Cristal Young File Photo. Bottom: Daniel Quasar's Pride Flag the first time it flew on the Green in 2019. Lucy Gellman File Photos.
A pioneering Puerto Rican activist who has made space for queer elders at the table. A night of drag that brings in the kings, the queens, the cosplay lovers and everything in between. A concert for rappers who are Black, queer, and tired of being pushed to the margins. A seven-hour celebration of the depth and breadth of a community—complete with some long overdue conversations.
All of those—and much more—are part of PRIDE New Haven next month, as the weeklong celebration spreads from the Ninth Square to Bregamos Community Theater to the historic New Haven Green for the first time in over 15 years. After over a decade downtown, a global pandemic, and a move to North Haven, the news marks a homecoming for the event.
The festivities run Sept. 11 through 18 in-person and online, with a slate that includes panels, multiple forms of drag and burlesque, food tastings and drag brunches, and a day-long outdoor festival that has become PRIDE's trademark. For the first time ever, there is also a Fringefest—a collection of events that celebrate Pride, but come from partner organizations. View a full lineup here.
"I feel good," said Patrick Dunn, executive director of the New Haven Pride Center (NHPC), at a PRIDE Month launch Wednesday night at the Center's 84 Orange St. home. "I'm excited. I think that we have done a very good job this year—better than we ever have—of making sure that there's something for everyone.
"We're trying to think through, thoughtfully, how we're creating space," he continued. "And where we can't create space the way we want to, finding ways of creating that space in unexpected ways."
It has been a long time coming. In 1998, Gotham Citi Cafe owner Robb Bartolomeo funded the first-ever PRIDE in New Haven on the Green. It remained there consistently until 2005, when it moved to Center Street in downtown New Haven, where Gotham now stands across from a bubble tea and crepe shop. While a rainbow flag flew over the Green in September 2019 and again in 2020, PRIDEfest itself remained on Center Street until the pandemic, when it moved to the North Haven fairgrounds. Bartolomeo, who still owns Gotham, has remained a steadfast supporter of the celebration and of the region's queer community for years.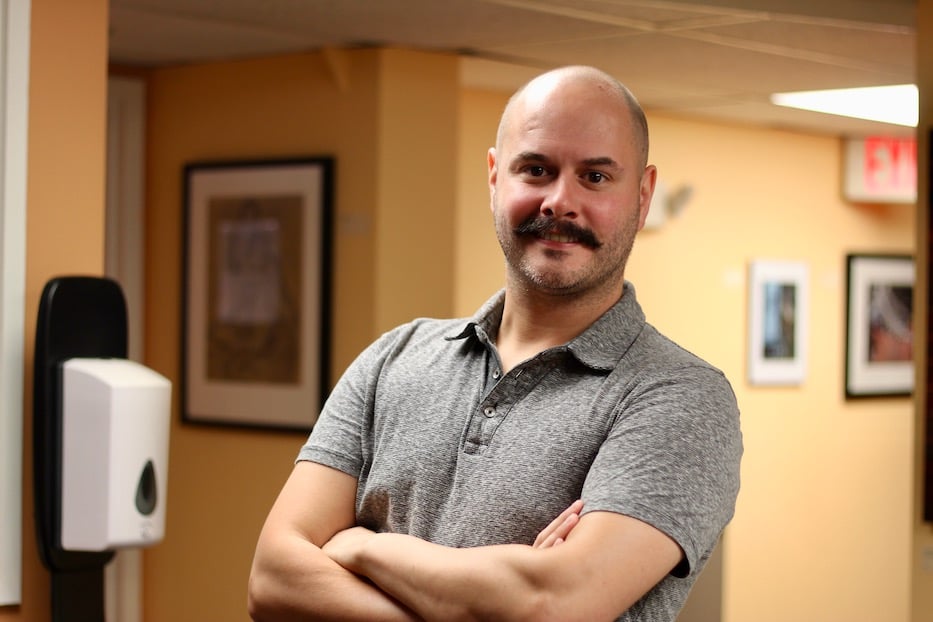 New Haven Pride Center Executive Director Patrick Dunn. Lucy Gellman Photo.
For Dunn and a small but mighty staff, planning a return to the Green this year meant thinking very broadly about who makes up Connecticut's queer community, and what each of those people want and need from a celebration of who they are. For years, Dunn has stressed that queer people exist at every intersection of identity, and the NHPC has responded with multimedia programming around what it means to be queer and disabled, queer and Latinx, Black and trans, trapped in a binary-focused society, and a queer person making art among other topics.
In many ways, this year's PRIDE New Haven celebration is an extension of that approach, and a recognition of the queer artists, activists, and business owners that build the greater New Haven community. Over eight days, the NHPC's marathon 25 events include food tastings at Tavern On State and Blue Orchid, an exhibition at 84 Orange St. featuring Connecticut illustrators, a State House concert with Black trans musicians, activism-fueled panels, and a drag queen story hour intended for listeners of all ages.
On Sept. 17, PRIDEfest runs on the New Haven Green from noon to 7 p.m., followed by a "burlesque extravaganza" at 168 York Street Cafe and afterparty at Gotham Citi. Per tradition, the Mx. PRIDE New Haven Pageant will return the night before that closing weekend.
Festivities close on Sept. 18 with a noontime drag brunch at Te Amo Tequila—a queer-owned business on Temple Street that has been a huge supporter of the Center— and customary Tea Dance at 168 York Street, one of the oldest and now last gay bars standing in the state.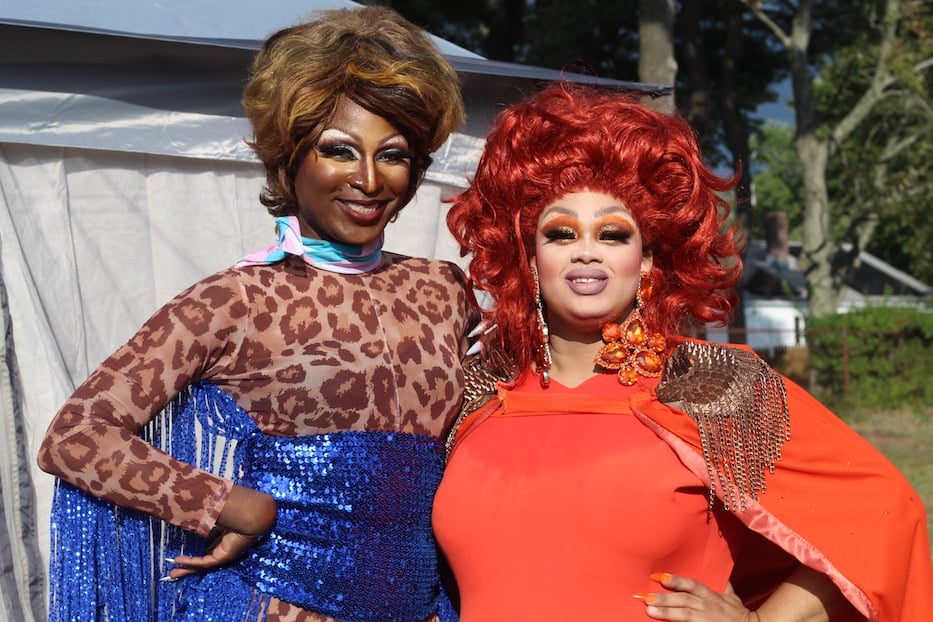 Sparkle Diamond and Xiomarie LaBeija at PRIDEfest 2021 last year in North Haven. Lucy Gellman File Photo.
At Wednesday's launch, Dunn said that he is proud to have supported dozens of queer artists from around and beyond the state, all of whom the Center has paid "between $30 and $35,000" in recognition of their work. Thanks to the support of several institutional and individual sponsors, most of PRIDE's events have remained free for attendees. Ticketed events are marked on the lineup, with the option of buying them beforehand.
This year, the weeklong festival is also a launchpad for discussions about discrimination within the queer community. While the Pride Center has never been shy in talking about white supremacy, racism, anti-AAPI discrimination, ableism, and anti-immigrant sentiment both within and outside of LGBTQ+ circles, panels during PRIDE will take on fatphobia, Greek culture, ageism, rainbow capitalism, and transphobia within the lesbian community. View all of them here.
NHPC Deputy Director Juancarlos Soto said that he's ready—and then some—for the Center to be a home base for these conversations.
"We're going there. We're talking about these things," he said. "We center the voices that even within our own community are not centered. And … it's fun to be at the Green too."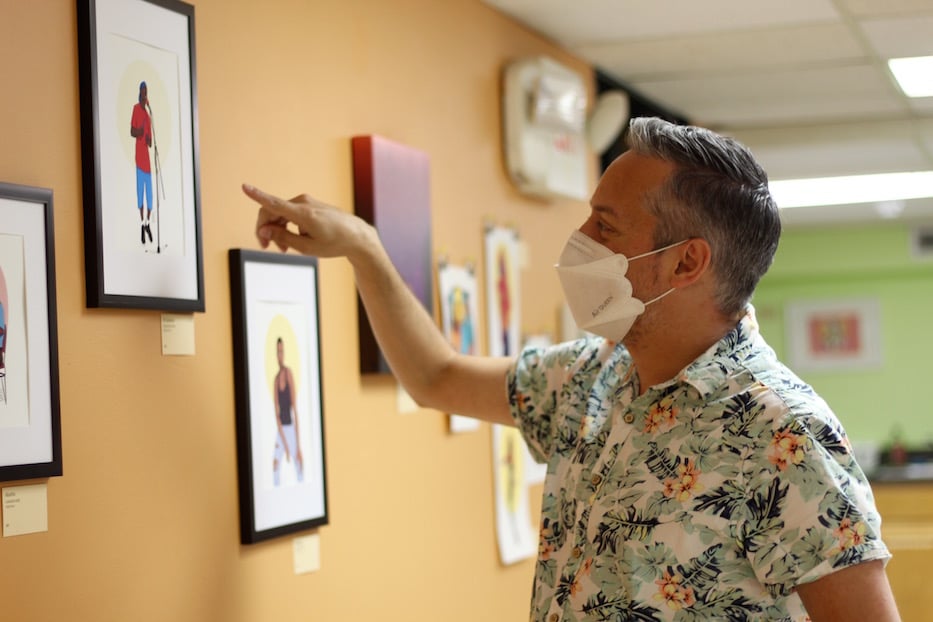 Deputy Director Juancarlos Soto last year with his artwork at the Center. Lucy Gellman File Photo.
Soto added that he is especially stoked for keynote speaker Pedro Julio Serrano, an outspoken LGBTQ+ activist from Puerto Rico whose leadership of Waves Ahead and Puerto Rico Para Todes and has made him a champion of queer rights, particularly for elders, at a critical time. In the past three years, Puerto Rico has seen a rise in anti-LGBTQ and anti-women violence so alarming that Governor Pedro Pierluisi declared a state of emergency regarding gender violence in early 2021.
Both 2020 and 2021 marked years of record violence against trans and gender nonconforming people, particularly trans women, in Puerto Rico as in the rest of the world. At a time when Connecticut's Puerto Rican population is continually growing, Soto said, the discussion could not be more timely. He and Serrano will take the stage in-person at Bregamos Community Theater on Sept. 13 at 7 p.m. Puerto Ricans United and JUNTA have both come onboard to support the discussion.
"I wanted to have a conversation about what's really going on in the archipelago, on the island," he said. "I appreciate conversations around Latinidad, but I also think as our services in the Center shift, and we are serving more queer Puerto Ricans, we have to make sure that we bring those conversations here as well."
He echoed Dunn's suggestion that there is something for everyone this year, from queer comic book nerds like himself to drag artists who are interested in folding in the spooky, the weird, the otherworldly, the androgynous and the punk into their acts. (this year, "Drag On the Edge" returns on the night of Sept 14). Through Fringefest, organizations including JUNTA, the New Haven Free Public Library, and Artspace New Haven will also be holding Pride-themed and Pride-adjacent events during the week.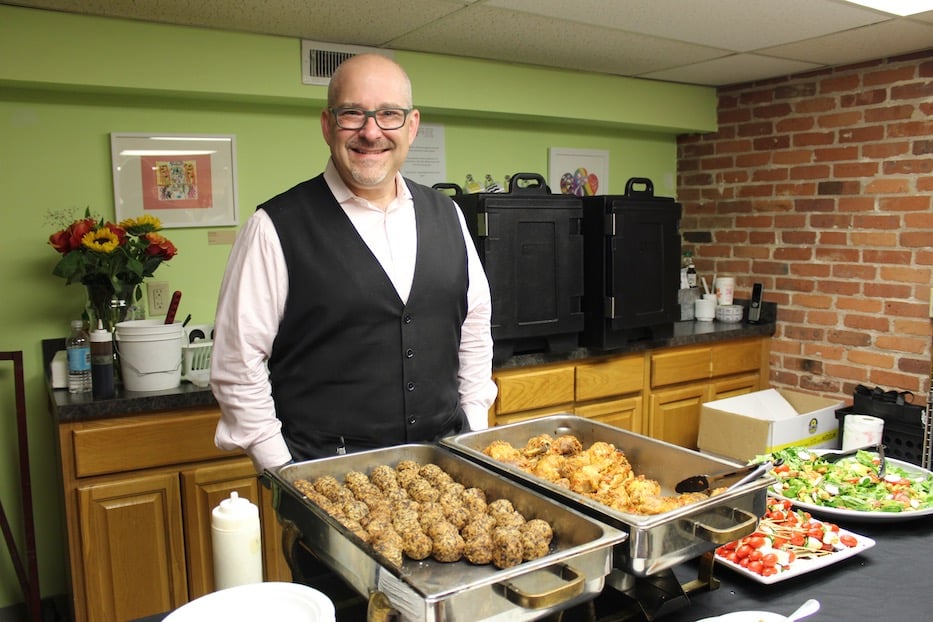 Black Rock Social House owner Mark Turocy.
At a launch event Wednesday night, three dozen attendees cheered on the announcement as they filled the center, sipping wine, nibbling food from Black Rock Social House and catching up with old friends as they also introduced themselves to new ones. From a table in the corner of the Center's main room, Black Rock Social House owner Mark Turocy served up mushroom arancini, chicken, and caprese skewers with crispy fattoush salad.
As a gay business owner in Connecticut, Turocy holds monthly drag brunches at his restaurant to support the New Haven Pride Center and fellow queer service organizations in the state. Last year, he managed to raise and donate $7,000. This year, he's hoping to double that. Wednesday, he beamed as Dunn announced over two dozen events. The two are close, as are Turocy and Dunn's drag alter ego, Ms. Kiki Lucia.
Samantha Ayala and Cristina Gonzalez. Lucy Gellman Photo.
Girlfriends Samantha Ayala and Cristina Gonzalez, who met Dunn through Turocy's fundraising efforts, praised the breadth of events at this year's PRIDEfest. Both born and raised in the Bronx, the two met in 2019, at a networking event during Pride Month in New York.
They ended up in Shelton two years ago, after Gonzalez's brother lost his partner, and she moved to the Valley to help him raise his kids. Ayala followed. The two learned about the Pride Center months ago, when they went to Black Rock Social house for a drag brunch.
Coming from the cultural vitality of New York, both said that they're excited to see such inclusive programming in Connecticut. Gonzalez added that she's excited "to meet people, have fun, enjoy every moment of the eight days."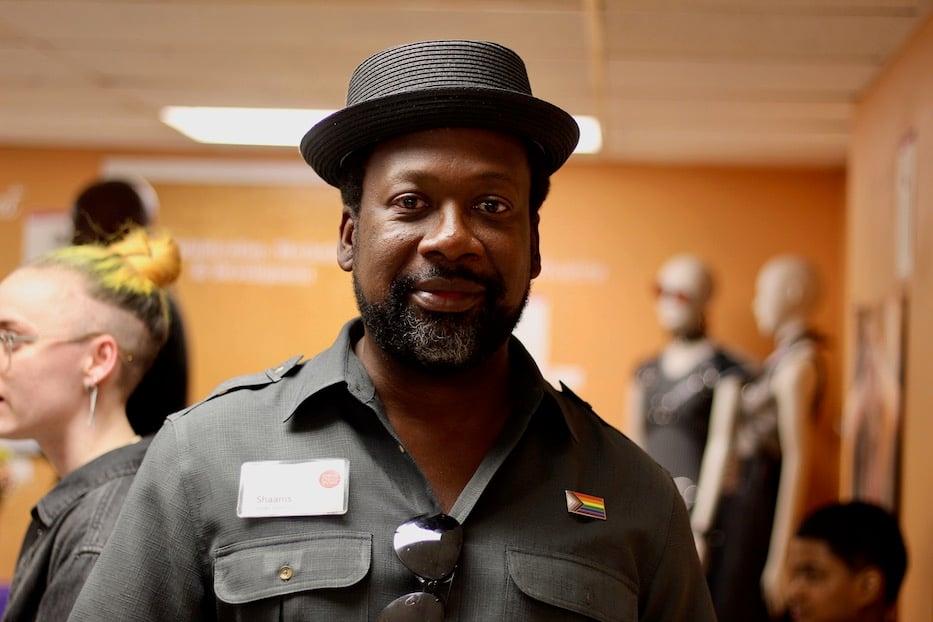 Shaams Ashiq. Lucy Gellman Photo.
Closer to the Center's entrance—which doubles as its offices, art gallery, and networking hub—Shaams Ashiq said he is ready for celebrations to begin, and especially for them to return to the Green. A longtime New Havener—he moved to the city decades ago, when he was in his twenties, left for Norwalk, and then moved back in 2008—he's watched the Center go through several transformations. He remembered seeking them out years ago, when it was still on 50 Fitch Street at the lip of New Haven's Westville neighborhood.
He said that he would love for his drag alter ego, Laiylah Alf Wa Laiylah, to perform during the festivities. The name comes from 1,001 Nights—quite possibly "the second most important book in the Muslim world," he said—the title of which is Alf Layla Wa-layla in Arabic. In the past two years, drag on the Green has become a sort of reclamation: the space was once the scene of a public execution for the ostensible "crime" of sodomy, and has long since become a space to celebrate New Haven's LGBTQ+ community.
"It's our own little Pride season in New Haven," Ashiq said. As this year's fest unfolds downtown and on the Green, "It's gonna be visible. It's gonna be publicized. There's no hiding it."
PRIDE New Haven runs from Sept. 11 through 18. View a full lineup of events here.