Politics | Arts, Culture & Community | Mayoral Campaign 2019
Lizzy Donius, who currently leads the Westville Village Renaissance Alliance (WVRA), is one of the members of the transition team dedicated to arts, museums and libraries. Lucy Gellman Photos.
Imagine a local artist is contracted by New Haven's Public Works Department. In her first few months on the job, she gets to know all of the city's trash collectors by name. She installs huge sculptures made of garbage to get residents talking. She choreographs a ballet of snow plows just as it starts to get cold. She talks to community management teams about what isn't working, and brings it back to City Hall.
Suddenly, the mayoral administration streamlines the street sweeping process. Complaints go down on snow removal and tagged and towed cars. And that early-morning garbage collection doesn't feel so mystifying anymore.
That cultural collaboration was just one of the ideas floated Saturday morning at High School in the Community, as over 200 New Haveners packed the school's cafeteria for an input meeting with Mayor-elect Justin Elicker's Transition Team. Facilitated by Kia Levey-Burden and Elizabeth Nearing, the meeting followed a call for increased transparency, community input and open communication that became a common refrain in Elicker's 2019 mayoral campaign.
A second meeting is scheduled for Sunday Dec. 8 at 2 p.m., also at High School in the Community. New Haveners wishing to reach out before then can contact Transition@JustinElicker.com.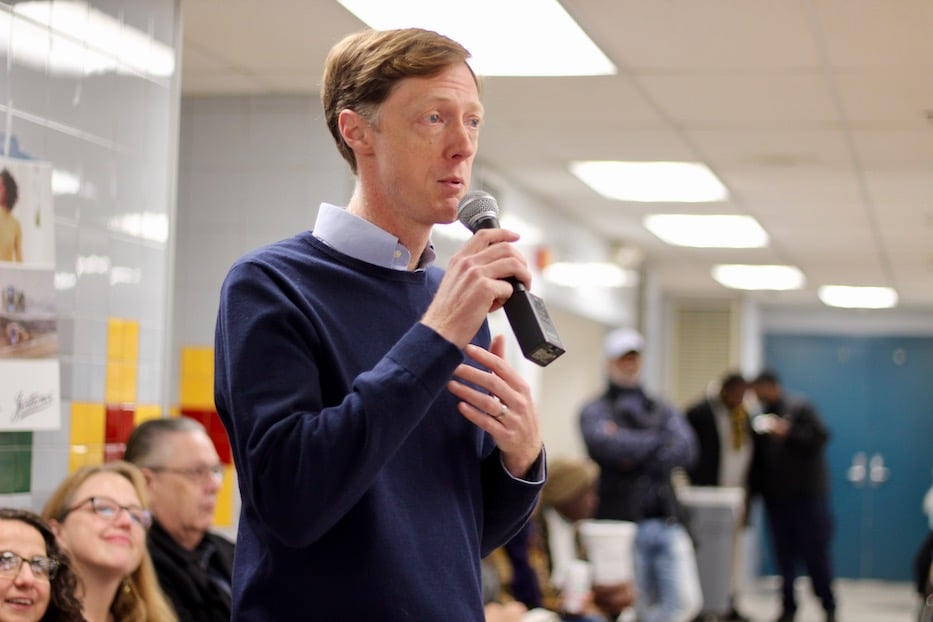 Elicker: "People want more of a voice in the way that our city is headed. "
"We're so excited that there are so many people here to give feedback and input, and I think it's a real indication of what I heard knocking on doors around this city," Elicker said at the beginning of the meeting. "That people want more of a voice in the way that our city is headed. "
"This transition process should be happening all of the time, not just a month and a half [before January 2020] but on an ongoing basis," he later added. "It may take different forms along the way, but the spirit is inclusion, the spirit is giving people a voice in the way that this city is run. And I feel like today is an indication that we're taking a really strong step in that direction."
Among calls for stronger schools, minority teacher recruitment and retention, affordable housing, independent business development, and official sanctuary city status, arts and culture became one potential through line, with a framework that could work to increase communication among city departments, prioritize local artists, and grow the city's creative economy.
It comes as Elicker works on appointing a new director to the Division of Arts, Culture and Tourism, a position that has been vacant since the passing of arts czar Andy Wolf in July. In the meantime, cultural advocate Lizzy Donius, head of the Westville Village Renaissance Alliance, has become a member of his transition team supervising arts, culture, and libraries.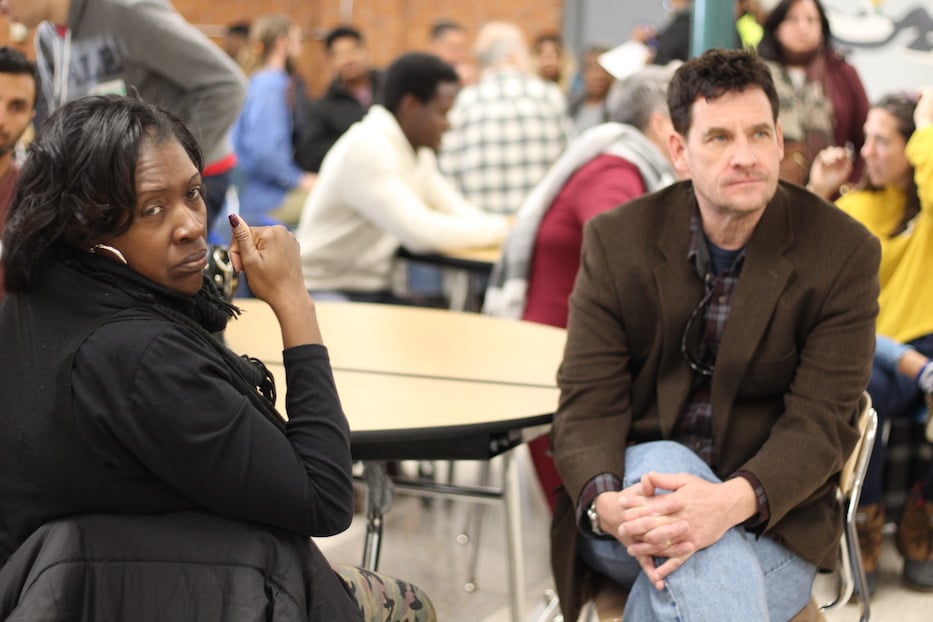 Saturday, Donius welcomed arts leaders, library staff, and cultural enthusiasts to a single table (education, by comparison, attracted two tables and a third largely populated by current students), listening for concerns, new proposals and suggestions that she can bring back to the transition team.
Even before attendees spoke, the table reflected one area that the Elicker administration may need to work on: the overwhelming whiteness of arts organizations in a city populated with Black and Brown artists who are looking for work, and frequently passed over for commissions, performances, and mentorship programs. In an otherwise diverse room, the table attracted no participants of color, its melanin deficiency matched only by a brainstorming session dedicated to city government and climate.
While several participants lauded paid apprenticeship programs at Artspace New Haven and the International Festival of Arts & Ideas, there was no mention of youth programming that Kim Harris has started almost single-handedly in Newhallville, or that Chaz Carmon has grown with Ice The Beef in Whalley/Edgewood/Beaver Hills. Under Mayor Toni Harp, several city commissions have gone to older, white, male artists who live and pay taxes outside of New Haven, but are making large scale work about people of color in the city.
"How can the city function better for artists?" Donius asked.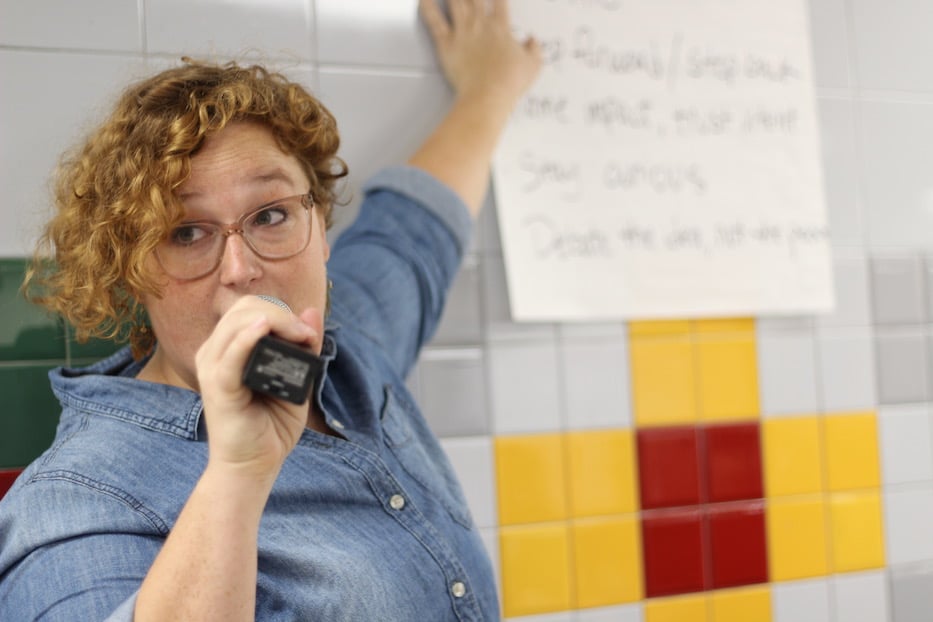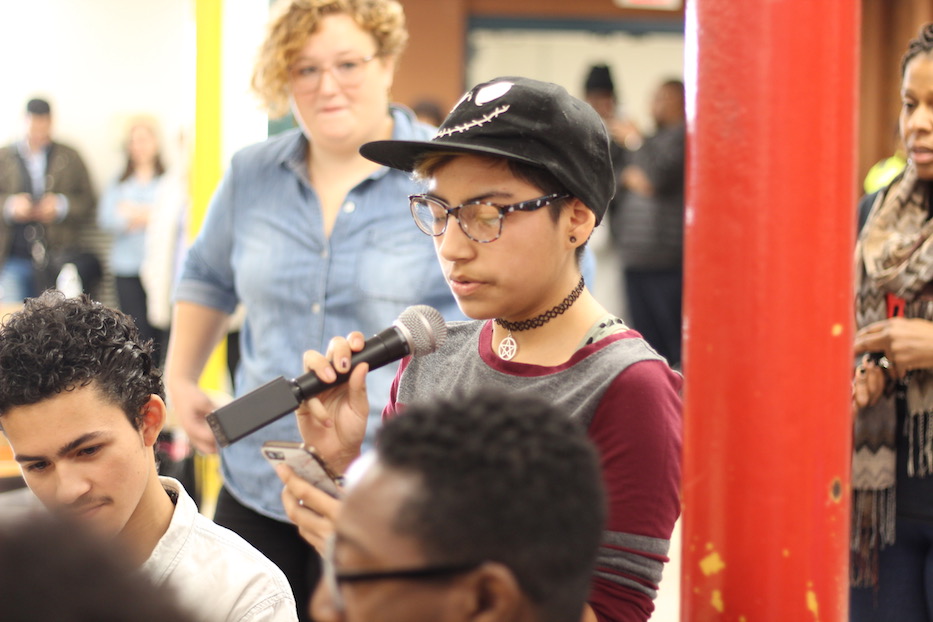 Top: Nearing and Levey-Burden explained that ground rules included speaking from the "I," using one microphone, naming potential impact and trusting intent, and debating an idea rather than the person pitching that idea. Bottom: Kassandra Martel spoke on immigrant rights in the city, drawing applause as they announced "we want ICE out of our community!"
One way, suggested longtime New Haven cheerleader and Beinecke Library Communications Director Michael Morand, is to support the New Haven Free Public Library when the city budget is good—and when it isn't. A board member for the NHFPL Foundation, Morand noted that the library is often the first public institution on the chopping block when the city is struggling to balance its budget. That's despite the fact that it has become a safe haven, warming and cooling center, and social services hub open to the community six days a week, with outposts in five New Haven neighborhoods.
"Historically, when things are going well, it's nice to have," he said. "And then when things aren't going so well, it's the first to get cut."
John Jessen, acting director at the New Haven Free Public Library, pointed to the fact that a lot of people don't know that the arts are a strong economic provider for both practicing artists, art makers, and arts administrators and consumers. Last year, arts and culture raised $9 billion is in the state of Connecticut, providing 57,000 jobs. It constituted five percent of the state's economy. Do New Haveners have any sense data like that, he asked?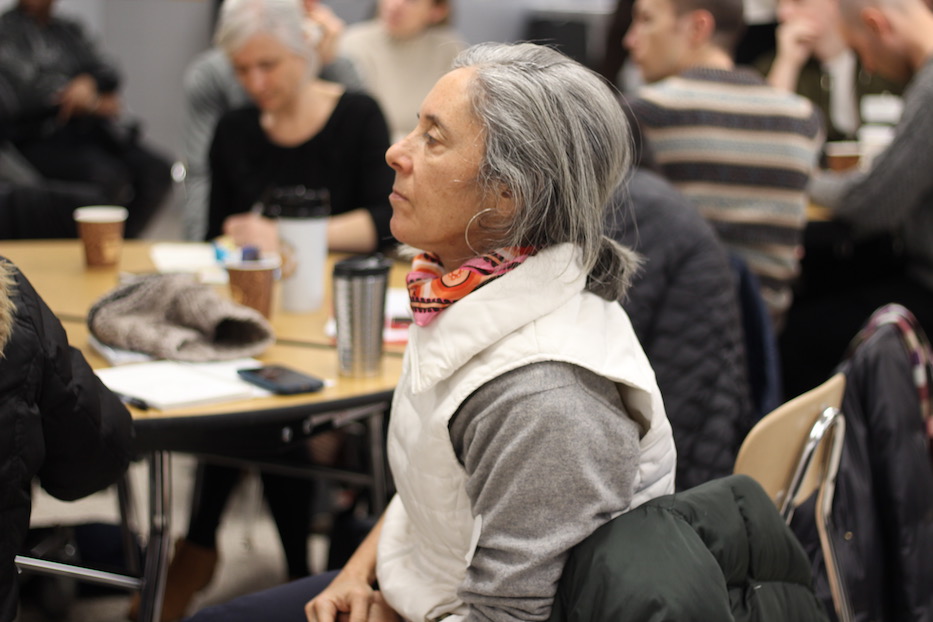 Helen Kauder, executive director at Artspace New Haven, noted the lack of affordable housing for artists in the city. Both she and artist Linda Lindroth, who has a studio in the Marlinworks Building, pointed to a public perception that artists aren't in need of housing support and wondered aloud how ho fight it.
Others mined the potential that the arts—and local artists—have to spread information between city departments, alders, and the residents they serve. Helen Kauder, executive director at Artspace New Haven, referenced the work of Mierle Laderman Ukeles, who has been an artist in residence with the New York Department of Sanitation since 1976. In that time, Ukeles has brought attention to the work of the department with large-scale installation, a year-long performance that involved shaking the hand of every sanitation worker, and choreographing dances that involved sanitation vehicles.
Both Donius and Aicha Woods, director of the City Plan Department, jumped on the idea, noting that it could be a template for city departments to engage the public on climate change, public health, and immigration policy—while also compensating artists and creating opportunities for young people. Woods added that putting artists in city departments is a no-brainer for her, particularly in a city that currently has no design framework in zoning appeals and plans for public space.
"We can use arts to help solve a key part of how messages get out to the public," she said. "People trust the arts."
"This isn't just arts as we're thinking about art," added Daniel Fitzmaurice, executive director of the Arts Council of Greater New Haven. "Food is part of this. Dancing casually is part of this. The end goal is to connect people together … this can be as expansive as we imagine it being."
It's a suggestion that already has precedent in the city, sometimes reaching back decades. In the 1990s, Rafael Ramos launched Bregamos Community Theater with a goal of teaching public health and social justice through the dramatic arts (his first play, performed at BAR, was a bilingual comedy about cervical cancer that taught women what symptoms to look for and debunked medical myths). In early 2016, members of Unidad Latina en Acción worked with Mayor Toni Harp to use short plays as a form of "know your rights" training as the city braced for immigration raids.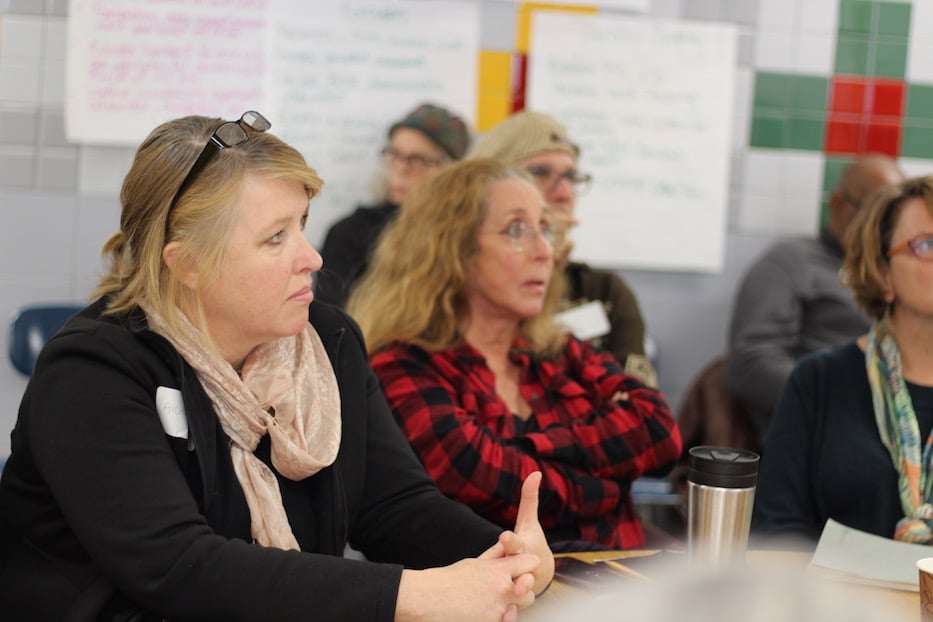 Aicha Woods and Mona Berman, director of Mona Berman Fine Arts.
In March, a student at the Yale School of Public Health wrote a play to advocate for emergency service workers, bringing their low wages, battles with addiction, and vicarious trauma very much into plain view. Lots of Fish is teaching New Haveners watershed protection through storm drain art, and has recently gotten city support to help it. Jessen pointed to a poster contest that the NHFPL is currently running, with the hope that local artists can help get the word out about the 2020 census.
Together, those ideas multiplied into a potential arts equity framework, under which city funding to artists and arts organizations would be contingent on the racial and socioeconomic diversity of their staffs, boards, and audiences, and members of the city's Cultural Affairs Commission would better reflect all of the city's neighborhoods. It has a model at the state level, where the Connecticut Office of the Arts evaluates applications for grant funding on their relative relevance, equity, access, diversity and inclusion (READI).
It's also a mantle that other cities around the country have already taken up. This month, Chicago announced that it would increase arts funding to under-resourced neighborhoods by hundreds of thousands of dollars. In summer 2019, Boston finalized and rolled out a revised 10-year cultural plan that includes working with community members and neighborhood activists to sculpt a municipal cultural footprint. Models focused on equity in the arts have dropped in cities from New York to Dallas to Akron.
Moran, who has served as a downtown alder and been a longtime cultural advocate in the city, added that New Haven needs a cultural plan that binds equity and inclusion with a need for cross-regional programming. He praised Kauder for including a letter from the mayors of New Haven, West Haven, and Hamden in Artspace's month-spanning brochure for City-Wide Open Studios, acknowledging that "art is not an 18 square mile municipal thing."
Echoing a call for subsidized artist housing from both Kauder and artist Linda Lindroth, he also noted that the city needs to be thinking about the larger cultural region, where housing may make more sense in West Haven or Hamden's Whitneyville neighborhood than New Haven alone.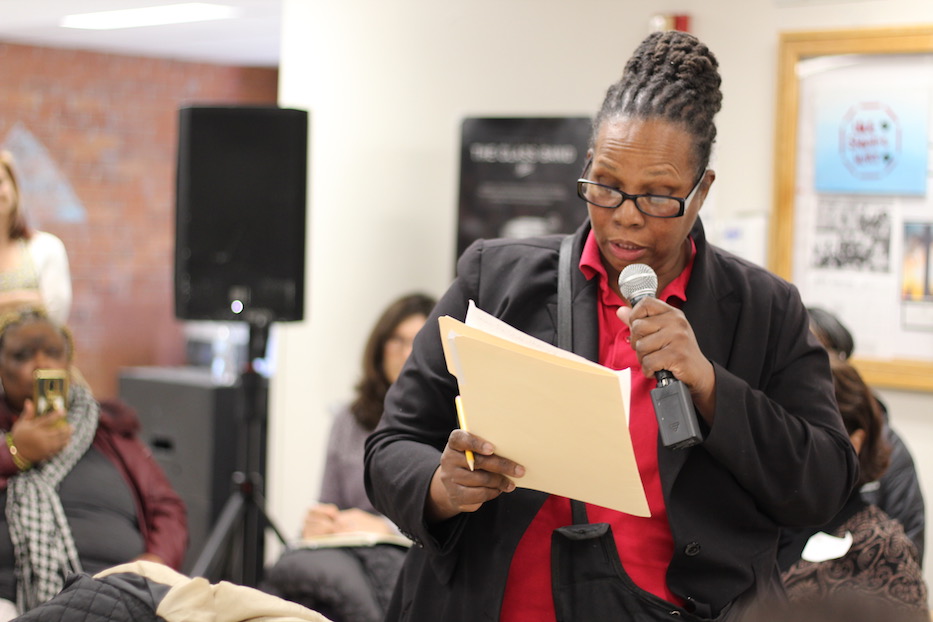 Kim Harris, who leads New Haven's One City Initiative and the Harris-Tucker School in Newhallville, is a member of the transition team and chair of Newhallville's Community Management Team. Throughout the meeting, she called for an acute need for unity in the city.
The idea comes at a time when New Haven's arts organizations—and as a result, their audiences—remain disproportionately white in a city that is not. Of the city's so-dubbed arts "anchor" institutions (the International Festival of Arts & Ideas, Creative Arts Workshop, Arts Council of Greater New Haven, Long Wharf Theatre, Neighborhood Music School, Shubert Theater, New Haven Museum, New Haven Symphony Orchestra), only Long Wharf Theatre is led by a person of color. Similarly, only one (also Long Wharf) is outside of downtown, just blocks from the city's historic Hill neighborhood.
In the city, Donuis suggested, an arts equity framework could mark an economic shift that champions New Haven and its residents, reallocating funding to artists within the community instead of those outside it. Where the city has commissioned projects including Joe Standart's We Are A Nation Of Immigrants and Rob Goldman's iMatter Project, it would prioritize funding local artists and projects who look like the community they are serving because they grew up there.
Noting the need for increased youth programming in the city, she added that the framework might be a pathway to compensating young, local artists who are already embedded in the city's neighborhoods.
Other suggestions dovetailed with calls for greater transparency and access to information that rose throughout the three-hour meeting. Cultural Affairs Commission member Barbara Segaloff cited the need for a comprehensive arts and culture calendar at a time when events get lost between institutional calendars, university calendars, and social media (for contrast, the New Haven Advocate had an editor dedicated entirely to posting weekly events in the paper's heyday). Multiple arts advocates also echoed calls for stronger schools, in which the arts and humanities are not constantly in danger.
The meeting, Elicker said, is just a start. Thanking attendees, facilitators, and transition team members for showing up on a Saturday morning—particularly those who did not vote for him and still turned out—he urged them to spread information about his transition to their friends and colleagues, to keep the conversation going before he takes office in January.
"You people have huge networks," he said as pizza arrived for those who wanted to stay and continue the conversation. "Please, please, please go out into your networks and ask other people what they think the direction of the city should be. And bring that back."