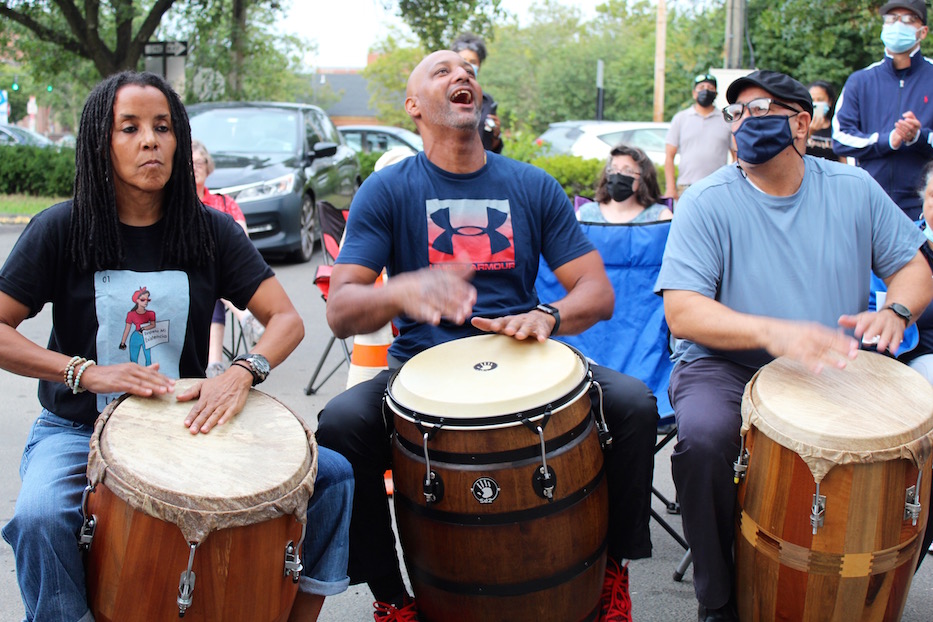 Culture & Community | Dia de los Muertos | Ice The Beef | International Festival of Arts & Ideas | Poetry & Spoken Word | Public art | Arts & Culture | Artspace New Haven | New Haven Pride Center | New Haven Symphony Orchestra | violence | Westville | Wilbur Cross High School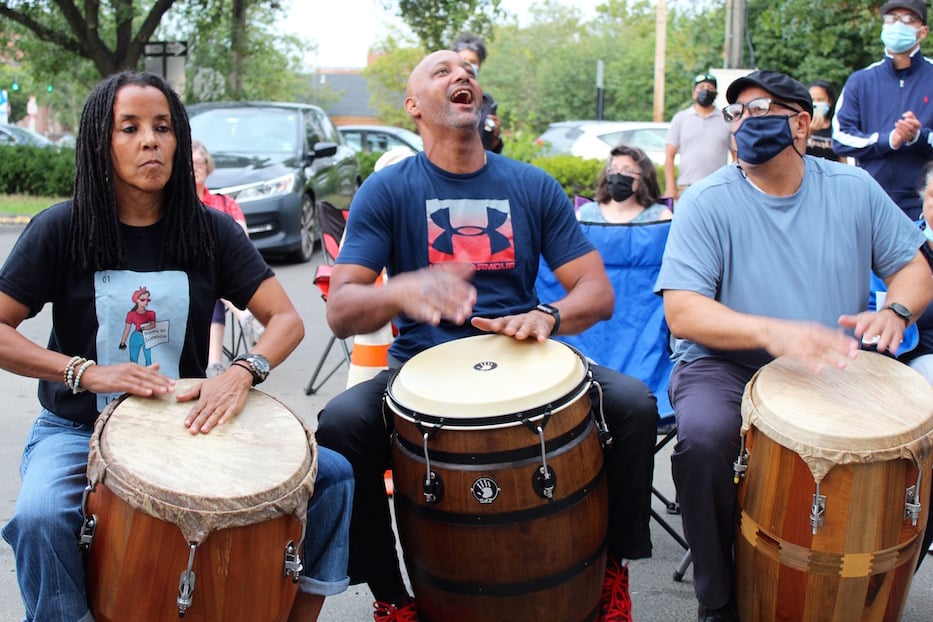 Kica Matos, Alex Rosado and Kevin Diaz. Lucy Gellman Photos.
In 2021, New Haven held its sweet with its bitter. Neighbors rallied to get each other vaccinated, and death still came for some of the city's most beloved artists, writers, magic makers and cultural connectors. One branch of the library launched a community initiative to plant sunflowers as another was forced to justify its existence. Festivals bounced back, celebrating the city's vibrant canvas. At the same time, a city commission voted to erect a memorial to white male nostalgia where a memorial to colonialism had been.
New Haven inched closer to implementing a cultural equity plan in one department, and militarized its police force in another. New Haveners gathered to dream about how to spend pandemic relief dollars, then watched $3.8 million go towards surveillance cameras.
Often working around an administration defined by its lack of imagination, artists were there to lift up and amplify the sweet—the light and healing. They did it on shoestring budgets and behind cloth, surgical, and N95 masks. They geeked out in masked library lectures, dreamed up summer school theater projects and brought city history to life in murals from the Hill to Dixwell. They wrote, sang, played, and painted it into being, holding handfuls of this year's messy innards while the world burned. They kept us afloat.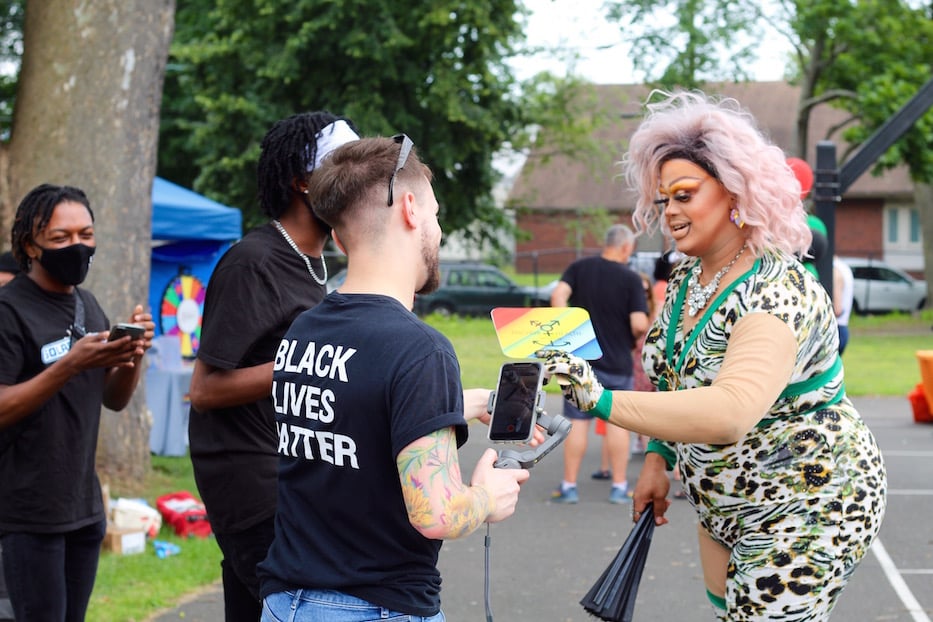 Emcee Xiomarie LaBeija with members of Anchor Health at Black Gay Pride.
For instance: On the same day that white nationalists stormed the U.S. Capitol, the Wilson Branch Library handed out books and taught outdoor accordion lessons to celebrate Three Kings Day in multiple languages. St. Luke's Church switched up its sermon and leaned into a gospel of anti-racism.
When gun violence gripped the city—again, and again, and again, and again—it was a poet who marched on City Hall to plead for resources. In the wake of a shooting on Lawrence Street, another delivered a reflection that was also a prayer. When landlords found loopholes in the eviction moratorium, a polymer clay artist formed new partnerships with housing advocates and pastors. They spearheaded public health efforts and opened their theaters as vaccine clinics. They spoke out and organized against racism in the city's streets, aldermanic chambers, businesses, choir classrooms, and on its stages.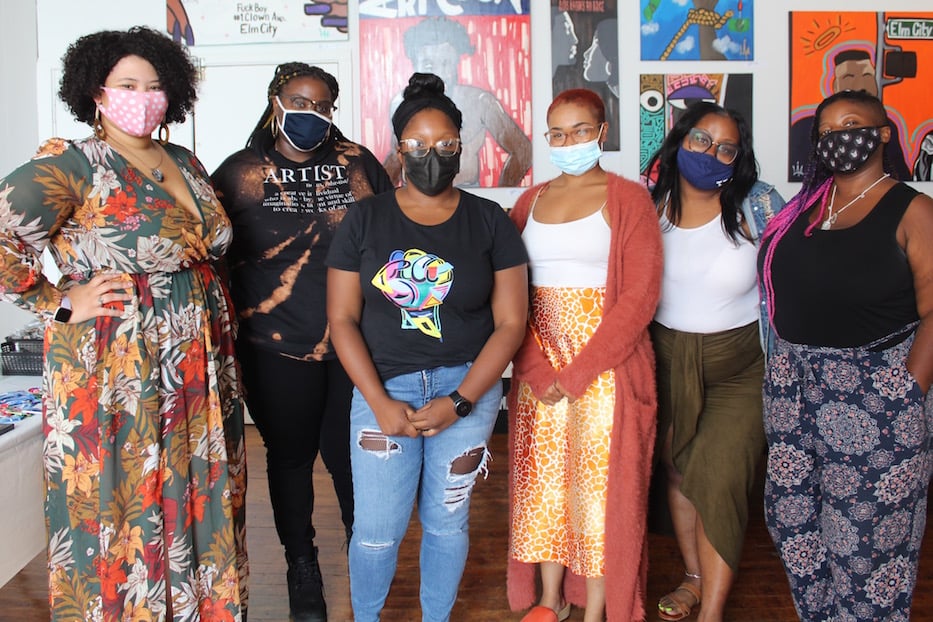 From left to right: Carin Bernard, Venita Bledsoe, D. Douglas, Aliya Stevenson, Annissa Carter, and Jade Streater at "Make It Melanin" in September. Artist Quentesa Pierce was also part of the pop-up exhibition.
This is not an exhaustive list. It never is. We could have written an entire lovesong on New Haven authors alone, from an eco-friendly read for kids to Ainissa Ramirez' award-winning The Alchemy of Us. Or a thought piece about how exciting it is that the Cultural Affairs Commission is younger, queerer, and more diverse than it has ever been. Or an ode to watching theater come back, from Long Wharf's outdoor performance of Passing Strange to Doug Lyons' stunning Broadway debut that paid homage to New Haven. And there would still be more.
But this is the list. We ultimately found that events that centered healing, even when it felt impossible, sustained us this year. Thanks to the artists who surprised and delighted us and left our hearts full.
10. George Street Skate Bowl & Open Source 2021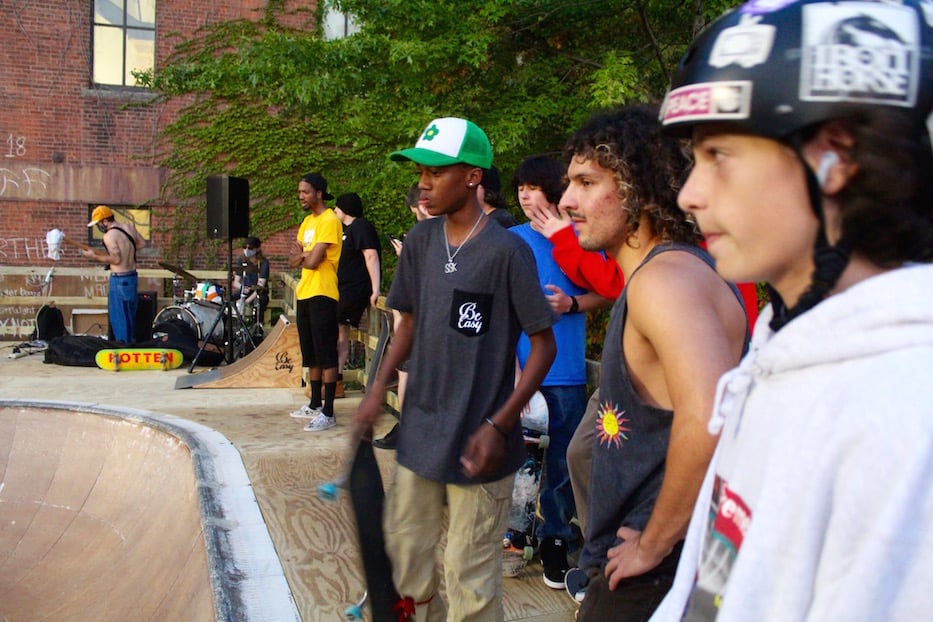 A new, modular skate bowl in New Haven's Ninth Square took center stage this fall as ​​Artspace New Haven launched its 2021 Open Source Festival in October. Based in a George Street parking lot, the bowl brought skaters from across the city, becoming a lesson in sharing space in real time. Photographer Herve Locus, himself a skater who ended the year with a pop-up show at The Devil's Gear Bike Shop, was there to document it all. So was U.S. Ambassador of Skateboarding Neftalie Williams, a visiting fellow in race, culture and community ​​at the Yale Schwarzman Center. The day after the bowl opened, Williams taught a masterclass at the Scantlebury Skate Park.
Set to remain on George Street for a year, the skate bowl is a collaboration among Scantlebury Skate Park leaders Steve Roberts and J. Joseph, the Kennedy Center's Finding A Line initiative, the Yale Schwarzman Center and the City of New Haven. The modular skate park first appeared at the Kennedy Center in 2015 and is the brainchild of designer Ben Ashworth, a skateboarder and member of the D.C-based Workingman Collective.
As a reimagined version of City Wide Open Studios, Open Source 2021 stretched across multiple weekends in October. Our writers and our colleagues at the New Haven Independent were lucky to catch some of that programming, from a former toy factory filled with art to a live weaving demonstration in the middle of Orange Street.
Read about the skate bowl here, Locus' documentary practice here, and Open Source here, here and here.
9. The Mane Event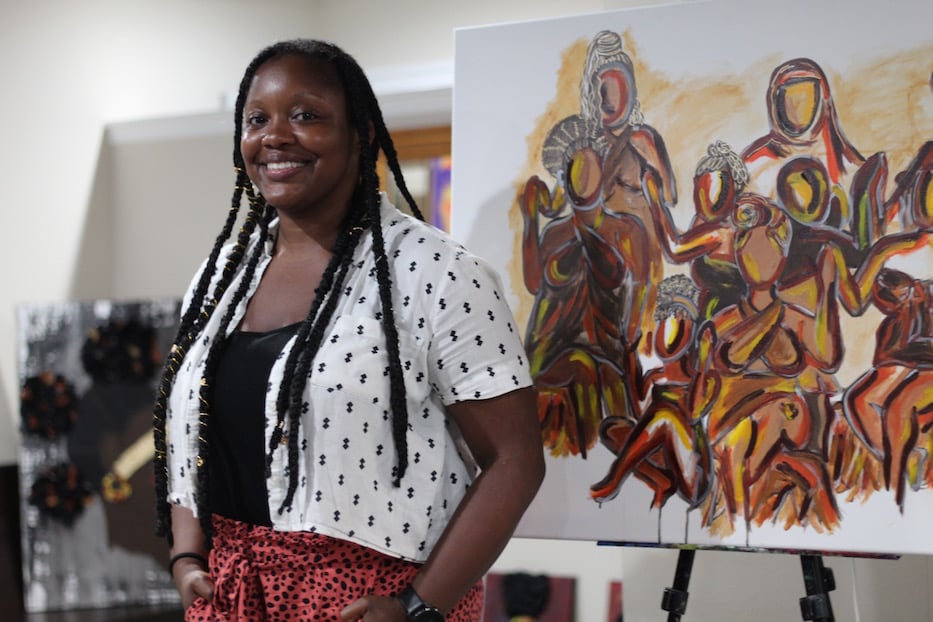 Demeree Douglas, who signs her work as "D. Douglas." The artist, who removed her mask only for the photo, is standing in front of #SistersKeeper at The Mane Event. The work in the background is titled #Covered. Lucy Gellman Photos.
In early June, we walked into The Mane Event: Kinks, Coils, & In Between Those Roots, a years-in-the-making hairstory from Hill-based artist Demeree or D. Douglas at Poetic Haven in Newhallville. The exhibition, which centered and celebrated Black hair, marked the artist's first solo show. After the show ran in the city's Newhallville neighborhood the month of June, Douglas worked to empower other Black women artists through her fall pop-up exhibition "Make It Melanin" at Erector Square.
The show came in a year that saw salons and barber shops both survive and thrive against pandemic odds. It came just months after Connecticut passed the CROWN (Creating A Respectful and Open World for Natural Hair) Act after hours of passionate, sometimes gut-wrenching testimony from state legislators and members of the public. State Rep. Robyn Porter, who represents Newhallville and a section of Hamden, led the charge. Earlier this year, she raised her fist triumphantly as she watched Gov. Ned Lamont sign the bill into law.
June also saw the inaugural hair show from the International Festival of Arts & Ideas, which held both virtual and in-person, outdoor programming this year. The show doubled as a tribute to Sharon Clemons, a beloved New Havener who passed away in November 2020 at the age of 51. The festival later came under fire for anti-Black "unwarranted disrespect, hostility, and unprofessionalism," an allegation that catalyzed a conversation that is still ongoing as it works toward 2022 programming.
Read about The Mane Event here.
8. "Romeo & Juliet" Ices The Beef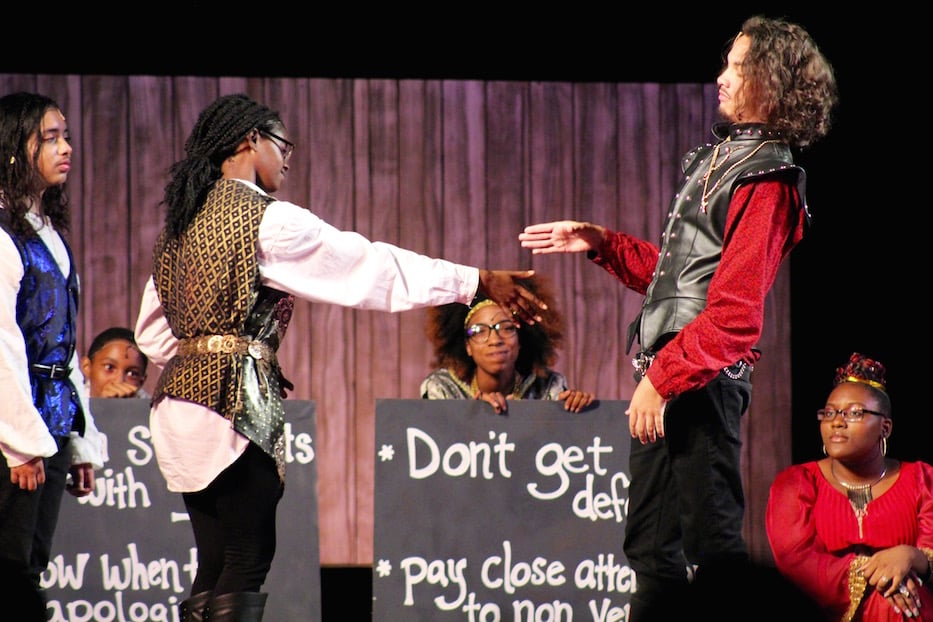 A series of artistic risks paid off this summer as Elm Shakespeare Company and youth anti-violence group Ice The Beef brought their adaptation of William Shakespeare's Romeo & Juliet to the International Festival of Arts & Ideas and Elm's inaugural Youth Shakespeare Festival in Edgerton Park. After months of rehearsal, the play grafted fair Verona right onto present-day New Haven.
​​The version flipped Shakspeare's well-worn drama on its head, asking whether anti-violence tactics like deep breathing, candid conversation, compromise and conflict resolution could have prevented the untimely deaths of Mercutio (Catherine Wicks), Tybalt (Brian Starbird), Paris (Eliza Vargas), Romeo (Manuel Camacho) and Juliet (Zahra Hutchinson) in the play. Young actors and a fearless directing team pulled from Augusto Boal's Theatre of the Oppressed, which places theater at the crosshairs of lived experience, present-day conflict and restorative justice.
It provided, in real time, a creative response to the most violent year New Haven has seen since 2013. When the group began in-person rehearsals in February, the city had seen seven homicides. By their performance in June, it had experienced 15. When they brought the play to an audience of hundreds in August, that number was 18. Tyshaun Hargrove, a baby-faced teenager who was just 14, was shot and killed less than a week after the final performance. As of the publication of this story, Lemuel Hamilton marked the city's 25th homicide.
While City Hall put a "Thin Blue Line" cop in charge of the New Haven Police Department and voted to make New Haven a surveillance state, a group of teenagers proposed a different approach that centered discussion, deescalation, and allocation of resources to anti-violence initiatives like Ice The Beef. Maybe 2022 can be the year we start listening to them.
Read about the performance here and the rehearsal process here.
7. Poets Breathe New Life Into Vivaldi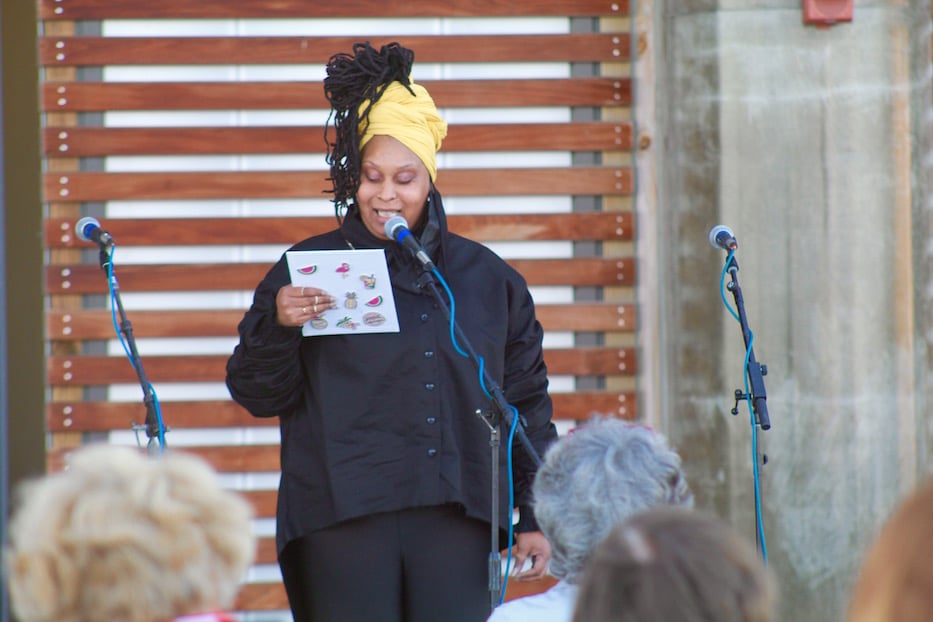 The poet Sun Queen, who is a co-founder of Black Lives Matter New Haven and the author of It Happened Within The Sun.
At the end of May, poets Sun Queen, Draya Wilbur, Aaron Jafferis, and Brother Bear joined members of the New Haven Symphony Orchestra (NHSO) for Antonio Vivaldi's The Four Seasons, performed outside the Canal Dock Boathouse on the city's Long Wharf. In the space of an hour, poets and musicians cracked open the work, making it entirely Vivaldi's and entirely their own.
To pull off the performance, the NHSO worked with artists who had read and performed with Elm City Lit Fest, which runs a semi-weekly podcast dedicated to poets and writers. The four come from different backgrounds: Sun Queen and Jafferis are both poets and activists based in New Haven; Brother Bear is based in Hartford; and Wilbur is a writer and director of The Writer's Block, InK in New London.
It represented part of a transformation that the NHSO, severed unexpectedly from its longtime home of Woolsey Hall during the pandemic, has been quietly undergoing since Maestro Alasdair Neale began his tenure as artistic director in fall 2019. Slowly, and much to Neale's credit, the symphony has worked to step beyond the Great Pantheon of Dead White Men and fold contemporary voices, as well as canonical but overlooked artists of color, into its programming.
Even as Covid-19 placed the arts in a state of emergency, it used the pandemic to experiment and innovate. Before it was warm enough to perform outdoors this year, the symphony filled downtown storefronts with music. It moved outside in the summer, then cautiously returned to masked, vaccinated indoor concerts at the Shubert Theatre this fall. It closed the year back onstage at the Lyman Center for the Performing Arts, with Dr. Tiffany Renée Jackson starring in a spectacular holiday concert.
Read the article here.
6. Dia De Muertos, From Westville To Fair Haven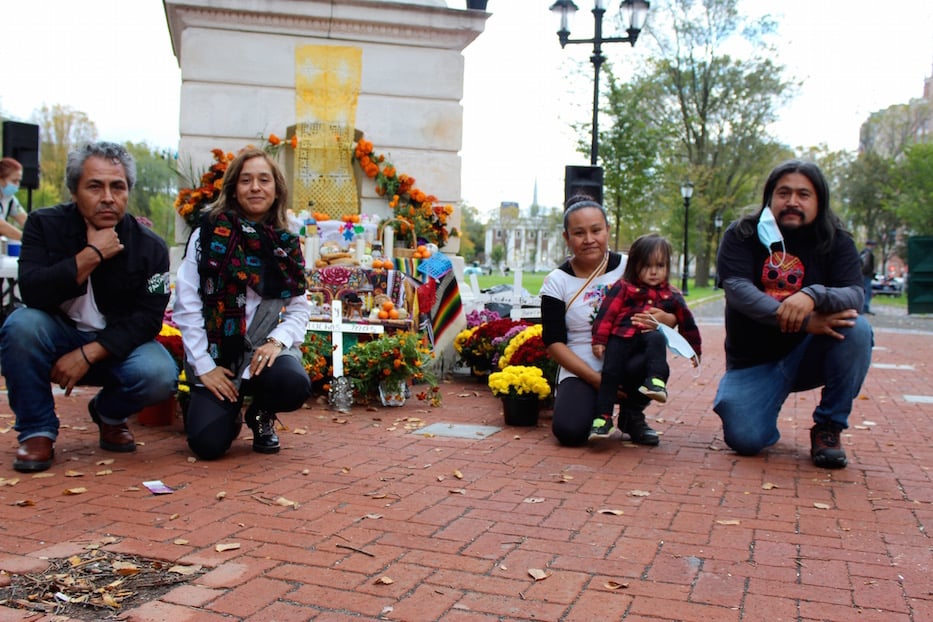 Gabino Trujillo, Sarahi Zacatelco, Enedelia Cruz and Itandehui Foran-Cruz, and Erick Sarmiento at a Dia de Muertos celebration earlier this year.
On a Sunday afternoon at the end of October, a small, community-built ofrenda appeared on the New Haven Green. Around it, a circle of artist-activist friends gathered to usher in Día de Muertos, or Day of the Dead, in the heart of the city they now call home. It marked the culmination of a weekend of celebration, including "Fiesta de Catrinas" at Amaru Peruvian Bistro in Westville, and music on the Green. The organizer, artist Sarahi Zacatelco, is a champion of Mexican culture alive in New Haven; she helped bring a craft fair from Oaxaca to New Haven earlier this year.
Across town, Guatemalan artist Pedro Lopez returned to New Haven this fall for Unidad Latina en Acción's (ULA) annual Día de Muertos parade. In advance of the Nov. 6 event, Lopez and organizer Tamara Nuñez del Prado held nightly art workshops at a Mill Street warehouse filled with cardboard, bamboo, and Papier-mâché puppets. The parade paid homage to 23 victims of gun violence that the city had lost at that point in the year.
Read about those ceremonies here and here.
5. Wilbur Cross Marching Band Returns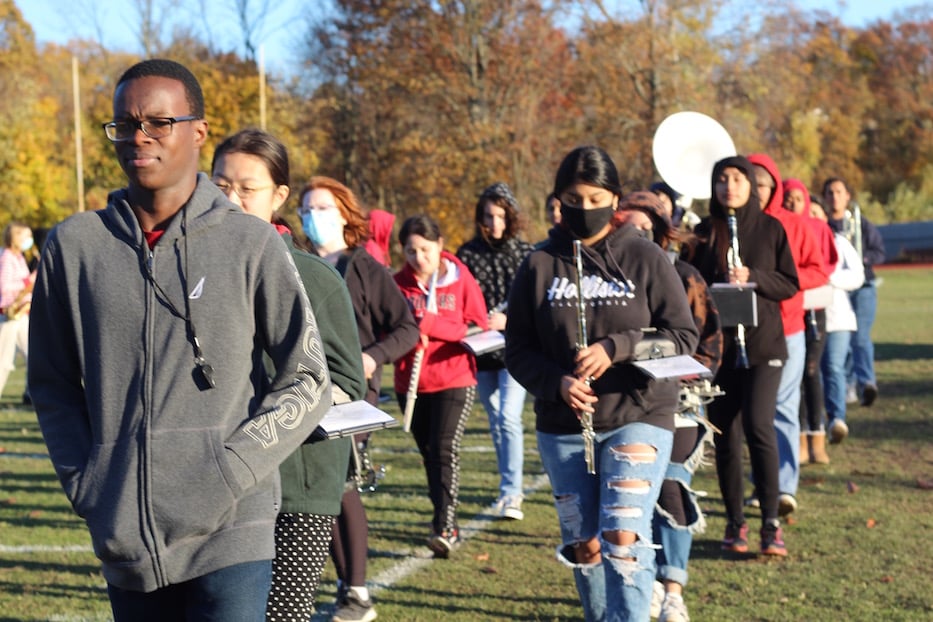 Jordan Wabahati, now newly minted as Mr. Wilbur Cross 2022, leads the band across the field.
On Thanksgiving Day, a completely rebuilt marching band at Wilbur Cross High School took the field at the Elm City Bowl, an annual football game between rivals Wilbur Cross and James Hillhouse High School that became a casualty of Covid-19 last year. When the pandemic forced schools to go remote in March 2020, Wilbur Cross lost its band—and musicians lost the chance to play together for the better part of 19 months. Many described the isolation of that time, when ensemble work was replaced with an endless back-and-forth of online feedback.
When students picked up their instruments and launched into song—led by senior Jordan Wabahati, Mr. Wilbur Cross himself—it told a story of rebuilding, resilience, and keeping both the beat and the faith during a global pandemic. We caught up with them at a final rehearsal on the Friday before the game, as they hammered out hits from the American Authors, Bruno Mars and The Sugarhill Gang in freezing cold gusts of wind.
Get the story here.
4. New Haven Pride Center Turns 25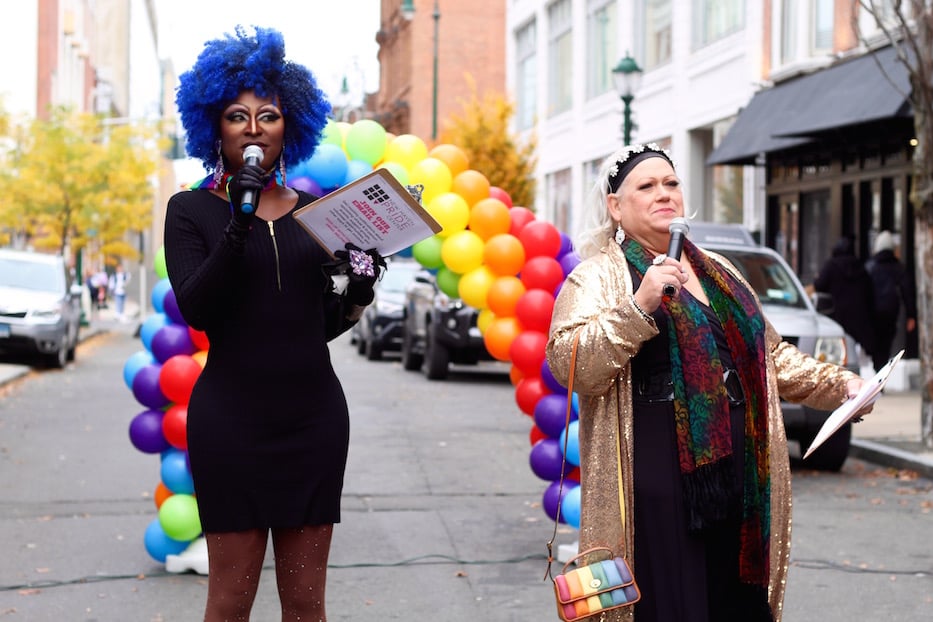 Emcees Sparkle Diamond and Dolores Dégagé Hopkins at the New Haven Pride Center's 25th anniversary party.
In November, a block party and celebration rang in the 25-year anniversary of the New Haven Pride Center, a community hub that has sustained and grown LGBTQ+ life in New Haven for two and a half decades. From drag queen story hour and public art to performances that banished a wintry chill, the event brought hundreds of people to lower Orange Street to dance away the afternoon.
It marked a second pandemic year of adapting to fit the needs of an expanding and kaleidoscopic LGBTQ+ community. This year, the Pride Center continued its schedule of rotating exhibitions, weekly programming online and in-person, support and affinity groups, and events from PRIDE New Haven to the Transgender Day of Remembrance.
In June, Executive Director Patrick Dunn worked with Connecticut drag queens and the International Festival of Arts & Ideas to share a history of LGBTQ+ justice through drag. It also mounted its fourth annual Black and Brown Queer Camp, harnessing joy and self-care for students coming out of the second year of pandemic learning, and supported a celebration of Black Gay Pride in Goffee Street Park.
Just a few weeks before the end of the year, Dunn received the Gerald B. Roemer Award from DOJ Pride, an LGBTQ+ affirming employee-run member organization within the U.S. Department of Justice. Read about the work that has gone into the Center's last 25 years here.
This year, the Pride Center also lost a friend and fierce advocate when Maia Leonardo died unexpectedly at the age of 28. The world is not as bright without her.
3. The New Haven Botanical Garden of Healing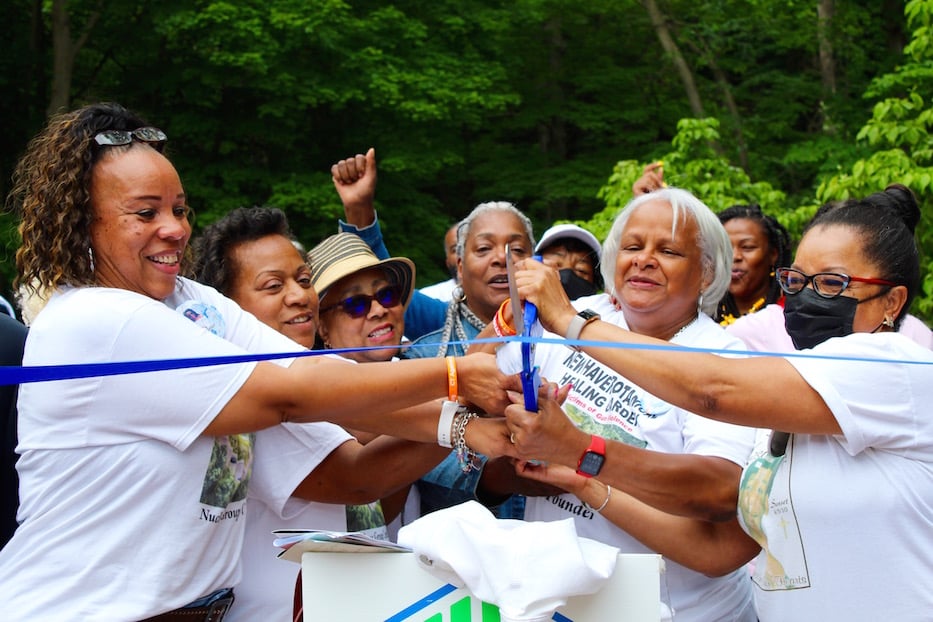 Celeste Robinson-Fulcher, Pamela Jaynez, Damonne Jones, Helena Moore, Marlene Miller-Pratt and others cut the ribbon at the New Haven Botanical Garden of Healing.
The sculpture rises just off Valley Street, the outline of a family stark in a silvery grey. The closer a visitor gets, the harder the family is to see. The "Magnitude Walkway" winds around it, its bricks bearing the names of 700 New Haveners who have lost their lives to gun violence since 1976. Beside it there is the gentle hymn of wind chimes and water slipping over rocks in the West River.
That scene greets people at the New Haven Botanical Garden of Healing, a space dedicated to victims of gun violence that now sits on Valley Street in the city's West Rock neighborhood. The garden is a collaboration among mothers Marlene Miller-Pratt, Pamela Jaynez and Celeste Robinson-Fulcher, the architecture firm Svigals + Partners and the Urban Resources Initiative. All three mothers have lost children to gun violence.
"Moms, our babies are laying here," said Marlene Miller-Pratt at a dedication in June. "Just know, in that walkway, we have their names. This belongs to you. This belongs to this city … it belongs to us."
Read about it here.
2. Festival Joy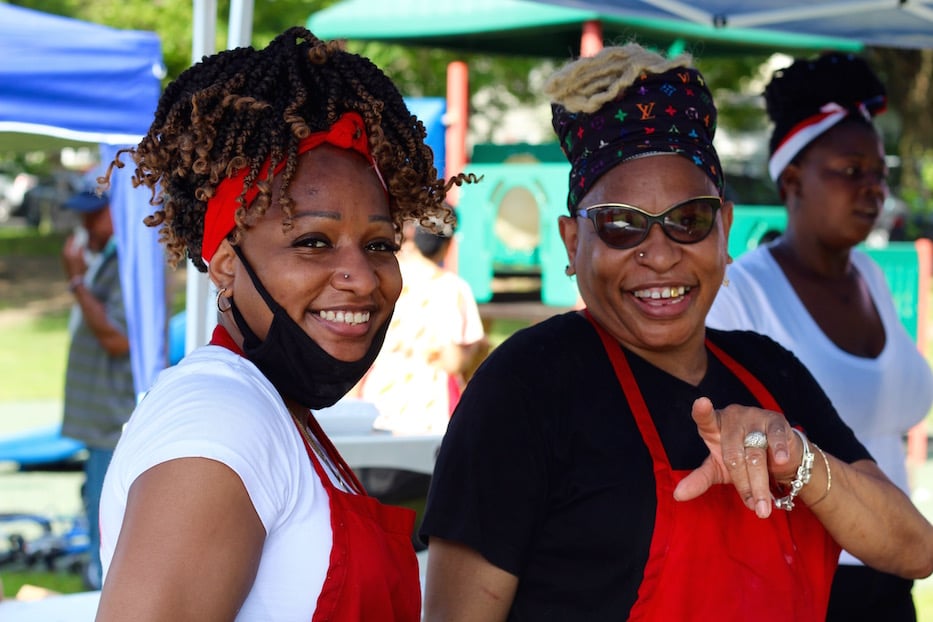 Patty Deroche (at right), who runs the restaurant Patty's on Congress Avenue, and her daughter at the Caribbean Heritage Festival in DeGale Field.
Artwalk bounced back with public art and Black-owned small businesses. Juneteenth celebrations, including Black Gay Pride, sparked jubilation from Whalley Avenue bookstores to the virtual sphere. Families, friends, and some fierce salsa dancers braved the heat for a scaled-down, Covid-cautious Puerto Rican Festival in Criscuolo Park.
Newhallville neighbors organized a summer of arts, culture, and public speaking that kept a whole section of the city dancing. Hamden cooked up a summer concert series with Connecticut talent. The Caribbean Heritage Festival began and ended with communal dancing, as the smell of curried potatoes, rice and peas and fresh roti wafted through the air as drums sang across the grass.
An honorable mention goes to the outdoor (and indoor!) markets that popped up across the city, from the semi-weekly Westville Arts Market and New Haven Night Market downtown to the Holiday Market on the New Haven Green and maker fair at the New Haven Free Public Library earlier this month.
1. At Grand Cafe, Art Interrupted Violence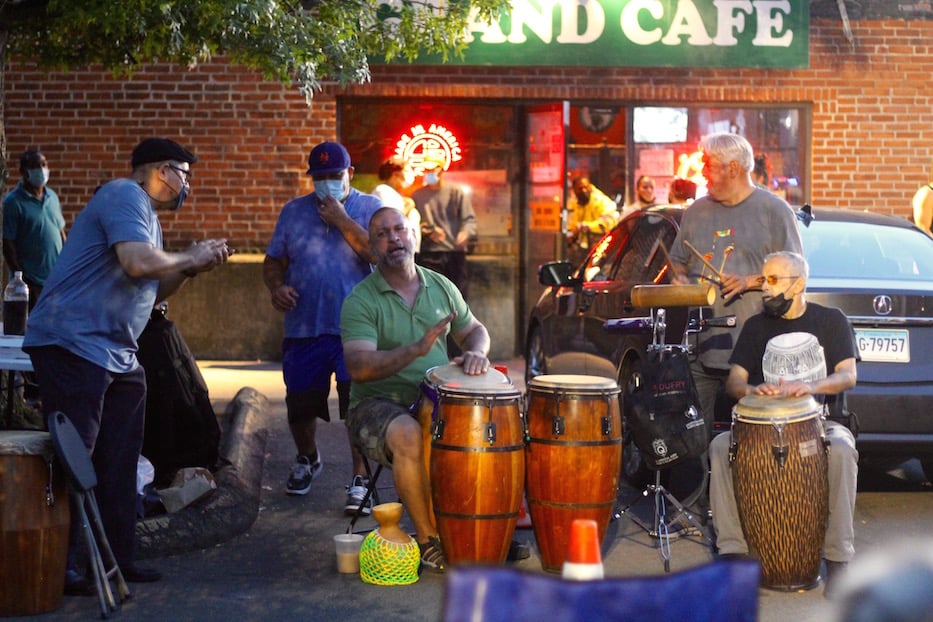 Kica Matos, Alex Rosado and Kevin Diaz on the first night of the Grand Cafe occupation.
Bomba, poetry, string music, jazz, dance, accordion, board game nights and even a Sukkah filled a Fair Haven parking lot during the month of September, as three dozen neighbors led an effort to interrupt neighborhood violence with arts and culture. Organized by Fair Haveners Kica Matos, Karen DuBois-Walton and Sarah Miller, the intervention followed a spate of violent crime near Grand Café, which sits at 124 East Pearl St. It follows a model of occupying and activating the space that unfolded in North Minneapolis (and on a much smaller scale, the New Haven Green) earlier this year.
Almost two weeks in, the Haven String Quartet added music by Luis Prado, Javier Álvarez, Johann Sebastian Bach, and Los Lobos to the lineup. Roughly two dozen neighbors and supporters cycled through. Then on the final night, jazz and prayer played out the occupation. Over several weeks, the effort gave neighbors—many of whom spoke openly of their fear of crime in the neighborhood—a chance to meet each other.
Read about those efforts here, here, and here. Since the Arts Paper first reported this story, our colleagues at the New Haven Independent have covered efforts to strip the cafe of its liquor license.
Have a safe and restful end of 2021. For a year-end arts show on with our partners at WNHH Community Radio, click on the video above. Thank you to writers Arturo Pineda, Liney Kindler, Jadan Anderson, Charlotte Hughes, Jacquelyn Gleisner, Shawn Murray, Jamiah Green and Alma Mendoza, who all contributed to this article.